DIY LEGO Table on a Frugal Budget
This post may contain affiliate links, view our disclosure policy for details.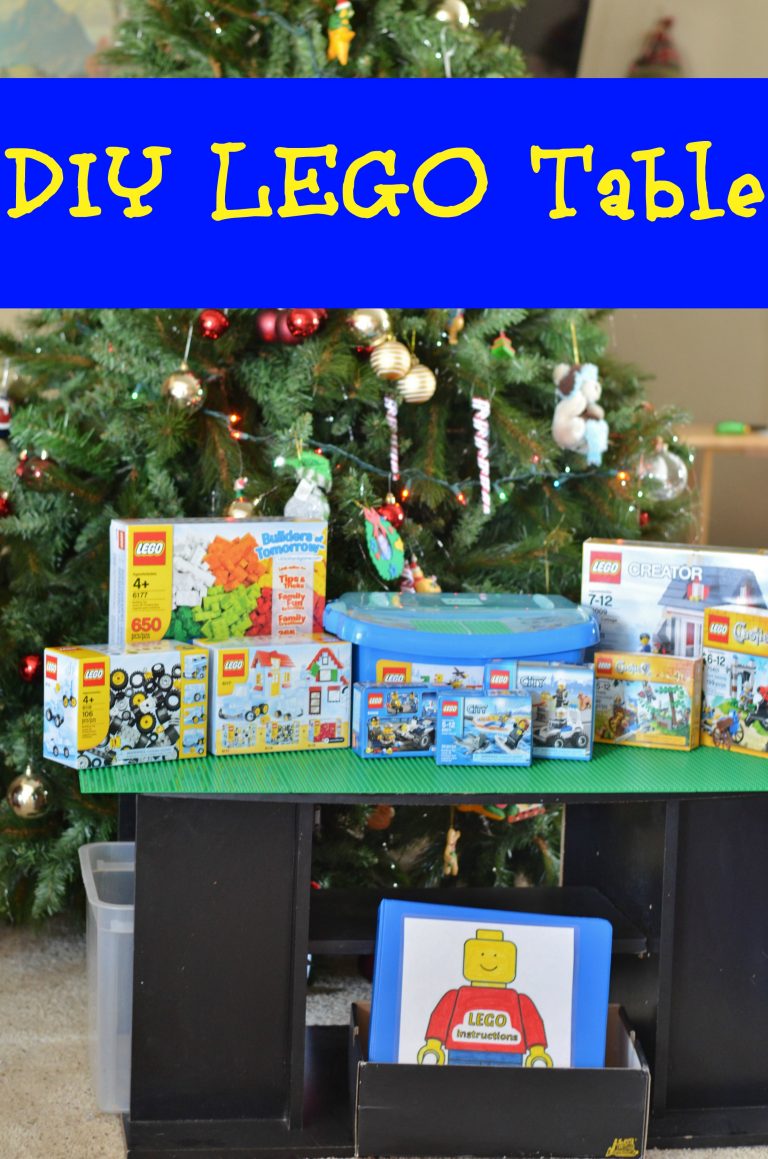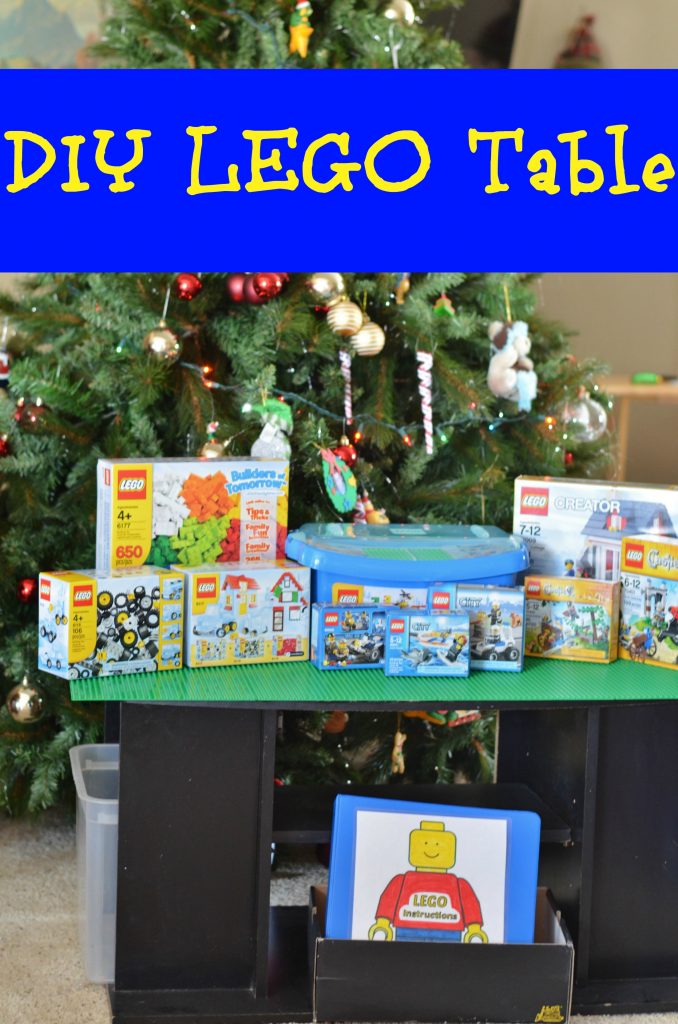 I just LOVE the idea of these LEGO tables but knew there was no way that would fit into our budget. I knew I could create something for MUCH cheaper. In fact our actual LEGO "table" is actually a TV stand with plenty of shelf storage and cost me a whole $5 at the thrift store!! Let me tell you how hard it is to hide this big thing though! This will be our boys biggest gift this year for the holidays and Santa will be dropping right into our living for Christmas morning!
Since it is their main gift and we could afford a little extra this year we set a combined budget of $100 to create their "table" LEGO station and kick start their LEGO set. When I priced out the LEGO pieces we wanted them to start with (plenty of bricks, wheels, doors, windows, mini-figures, etc) it came out to under $60! You can see my break down of the LEGO starter sets we chose for under $60 here.
Since our LEGO station and starter pieces that we purchased came so far under our budget I decided to watch the Black Friday sales really hard and was able to snag a few great deals on LEGOs.
I decided to buy some of the LEGO Castle sets
since they have great accessories like horses, treasure chests, etc as well as some LEGO Creator sets
 so the kids have roof tiles and other house accessories. I knew my kids wouldn't want to actually follow the directions on all of their sets so I purposefully purchased sets based on price and accessories so that my kids could be creative in their LEGO play without the directions.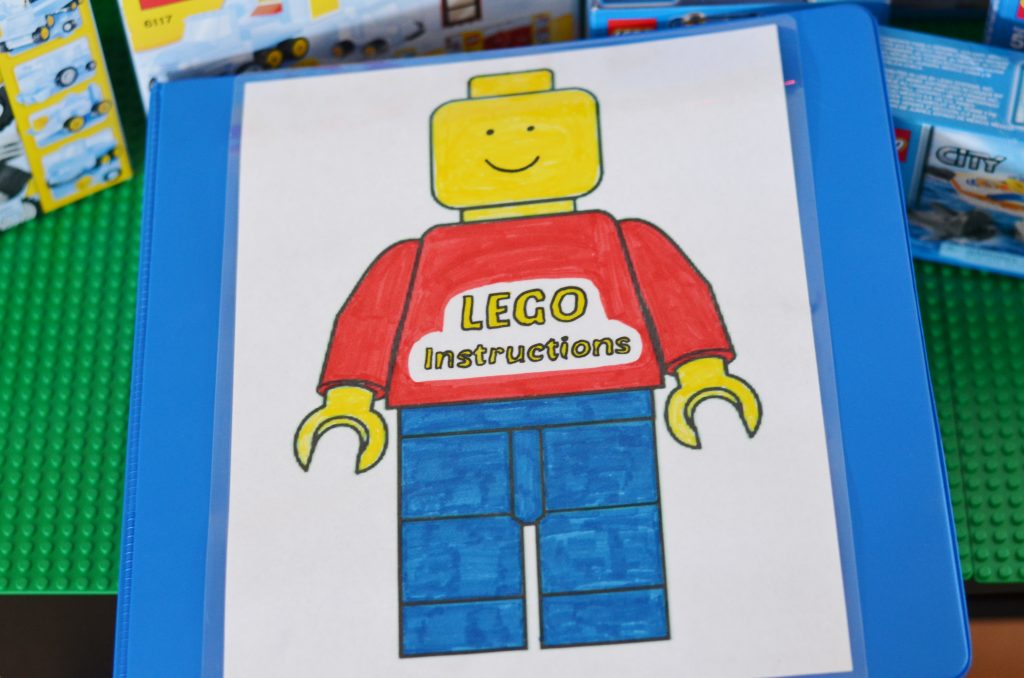 Although they don't want to follow the directions in the LEGO manuals I wanted to keep all of the directions in one place in case they decided to use them someday so I bought a cheap 3 ring binder, a small pack of sheet protectors
, and printed this LEGO printable that you see above and colored it to match!
This way the binder can be stored on a shelf with their new homemade LEGO station. If you don't have the time to make a binder with protector sheets you can purchase this LEGO storage
which is the perfect size for storing the instruction pamphlets!

Now for the station itself – I visited our small town local thrift store several times looking for something with a fairly large flat top and plenty of shelf or drawer storage. This TV entertainment table did the trick and for $5 I definitely couldn't beat the price!
I saw a really cool old vanity dresser but since this station was going to be in our small living room I didn't want anything overly huge. There were shelves in the front, and on each side of the TV stand.
On the each side of our TV stand are small little shelves, perfect for these cute and colorful buckets I found at the Dollar Tree 2 for $1! These will be great to hold minifigures, completed small pieces and random parts. On the front shelf I just used an old shoebox to start with but have recently ordered this LEGO Project Case to slide onto the shelf.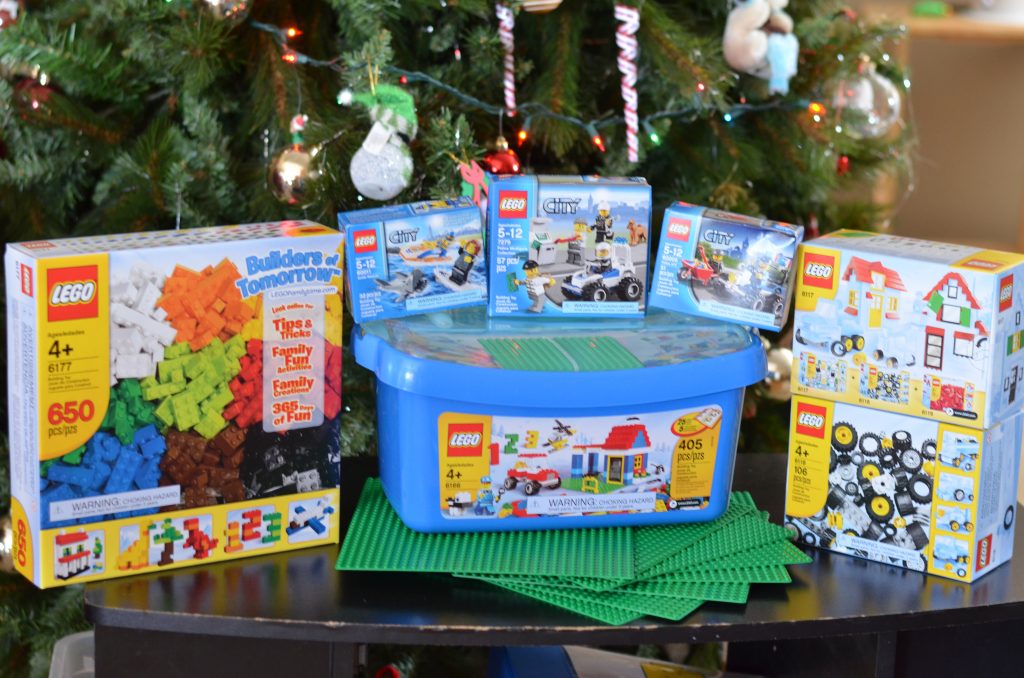 (this was my original "starter LEGO" sets)
 Lastly I had to decide what to do with the LEGO bases that we purchased. I didn't want the bases to be permanently on the TV base in case we wanted to pull it off later but I wanted them to stick on hard for durable play so we used Glue Dots. The PERFECT choice!
This is the exact Glue Dots that we used which are not easy to pull off during LEGO play but can easily be removed if you want to pull the bases off in the future. That way the bases would stay put but could easily be popped off in the future if we ever decided to get rid of the LEGO "station" and just put everything in a big storage tub for floor play.
I just placed a Glue Dot in each corner of the bases and pressed firmly down onto the TV stand.
BONUS – Check out our extensive LIST of FREE LEGO apps for Kids of ALL ages or click on the image below!