College Care Package Ideas for Girls: Everything They Need!
This post may contain affiliate links, view our disclosure policy for details.
Disclosure: This is a sponsored conversation written by me on behalf of Schick®. The opinions and text are all mine.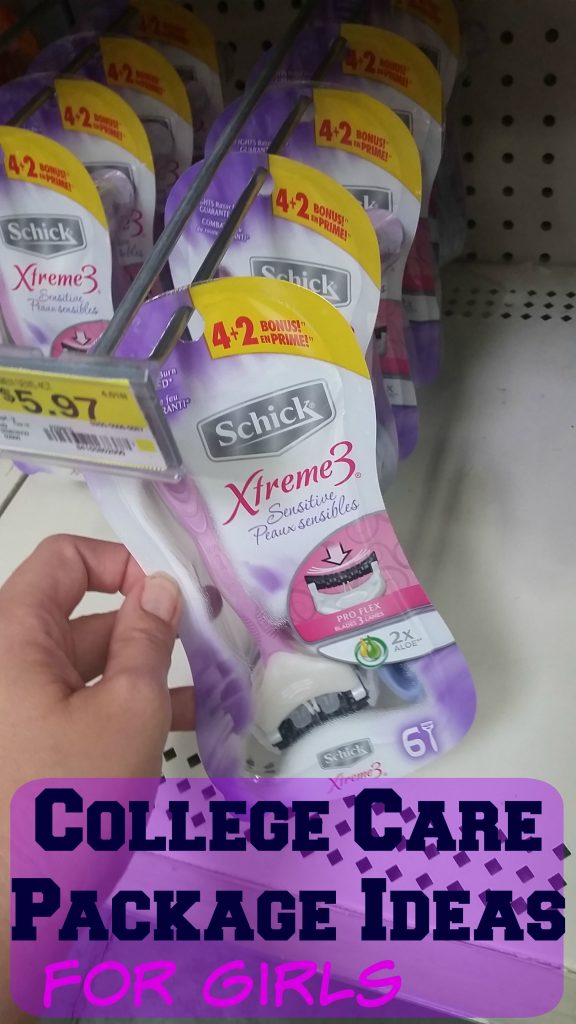 Receiving care packages in college are the BEST whether or not your student is a little homesick. And to be honest putting together special care packages is almost as exciting! This college care package ideas for girls post is chock full of practical ideas and thoughtful splurges! It's a great way to encourage your college student, put a smile on their face, and help save them a little money too! Some of my happiest surprises in college was finding a package slip in my campus mailbox with a care package waiting for me!
While you definitely want to include plenty of snacks and splurge items you should include a lot of practical things too. Practical items not only saves your college student time from needing to shop but it will help their rather meager budget stretch that much further! I love stopping in at Walmart since it has everything from groceries to dorm supplies! Below are a few ideas for your care package.
College Care Package Idea for Girls: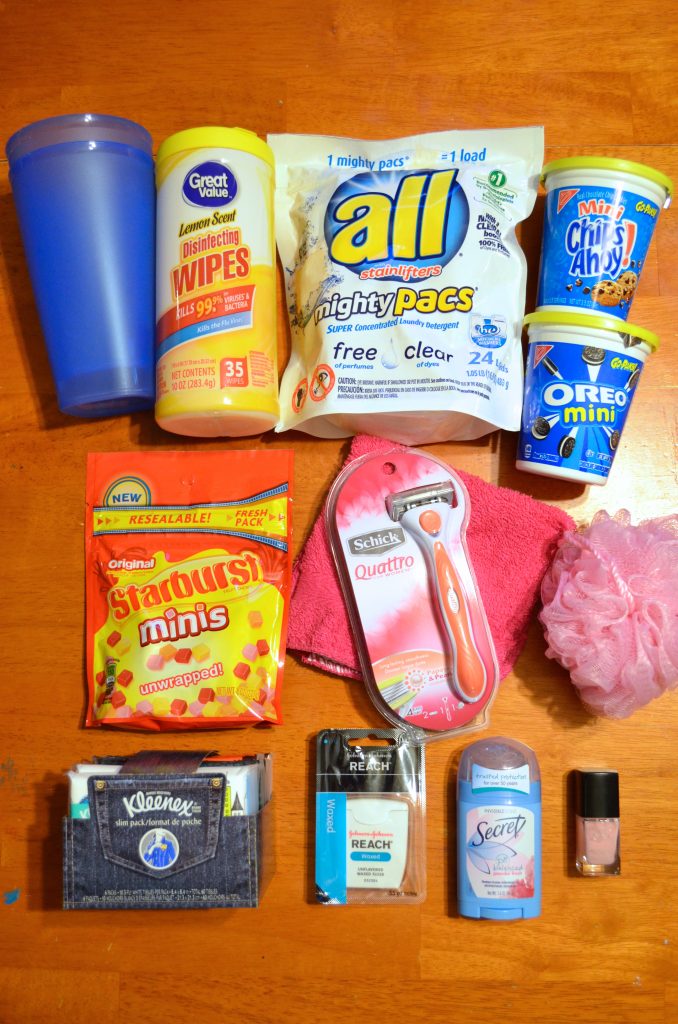 Toiletries & Hair Care:
The toiletries needed for a girl depend on their preference but it's pretty never ending. I always felt like I was running out of things in college that I needed to get! Some great ideas to include in your care package are disposable razors (we love the Schick® Quattro For Women®
), toothbrushes, toothpaste, floss, loofah, deodorant, soaps, sunscreen, burn cream, shave gel
, qtips, feminine products, makeup and remover, nail polish and remover, pony tail holders, bobby pins, makeup wedges
, etc. If you're dropping the package off rather than shipping you can include items like shampoo, body wash, conditioner, hair spray, detangler, etc. Make sure to buy a good brand razor- especially if your student will be wearing shorts or skirts often. Nothing is worse in college than having a dull non-working razor and feeling embarrassed about not shaving!
School Supplies:
School supplies are always needed and college students seem to chew right through them! Although today's generation does much electronically there are still plenty of items they could use. Pens, pencils, post it notes, Wite Out, notebooks, USB flash drives
, scissors, staplers, staple removers, sheet protectors
, tape index cards, memory cards and others are helpful to a college student of any gender. Consider cute fashion things for the girl who likes some different!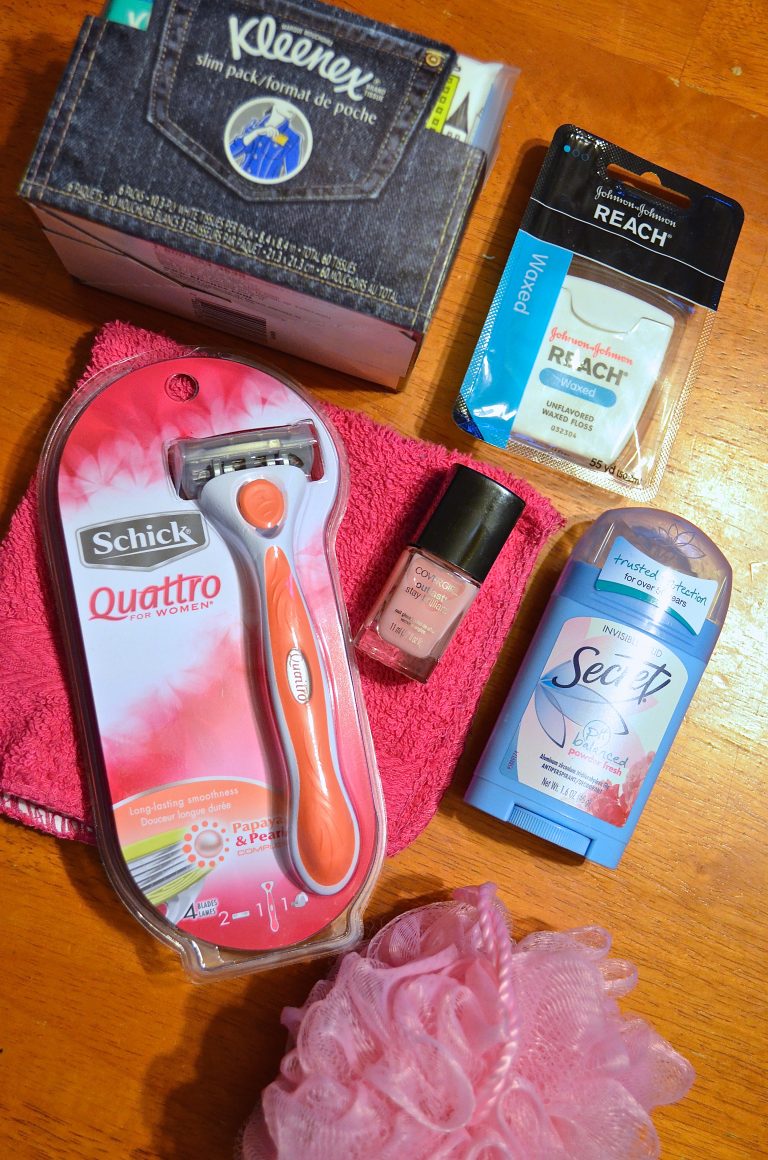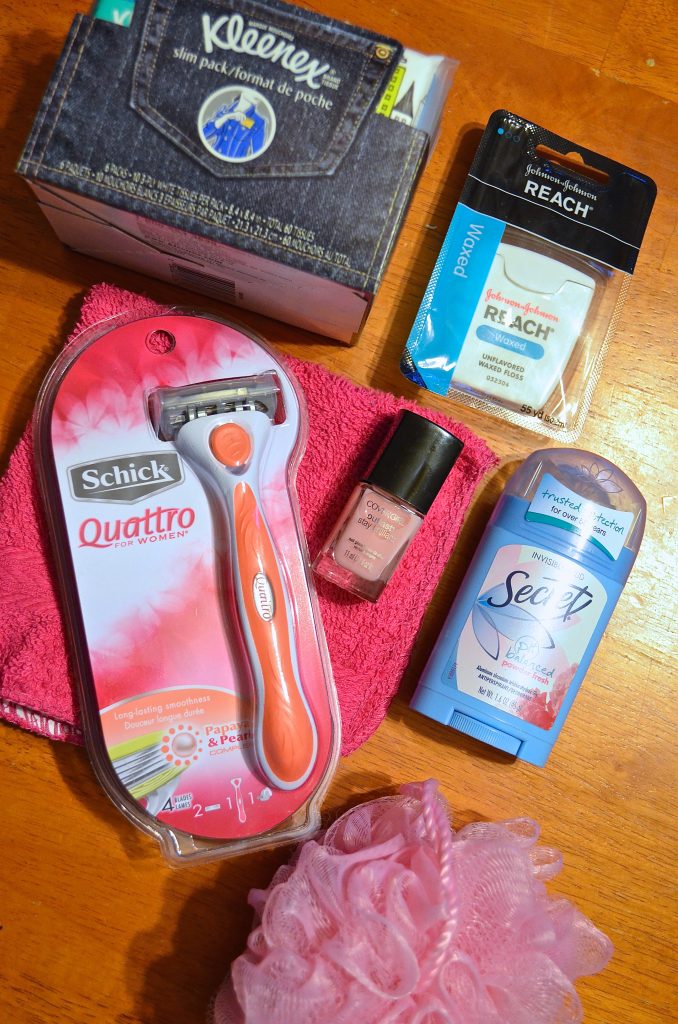 Health:
Being away at college and getting sick is just the worst! Especially knowing you have a heaping pile of school work and tests to prep for. I found that I never had anything on hand that I needed when I came down with an illness. Although your student might need them now they will absolutely be glad they have health products available when they are ill. Consider things like pain relievers, anti-inflammatories, sinus and cold medicine, sore throat lozenges, migraine meds, cough drops, pre-menstrual medicine, hand sanitizer, sports wraps, bandages, antibiotic ointment
, burn cream, allergy medication
, etc.

Cleaning and Laundry Ideas:
I know my dorm room was (mostly) really clean and after sicknesses or muddy days came and passed we spent a lot of time making sure things were sanitary and spotless. Disinfecting wipes are AMAZING to have on hand in a college dorm along with scrubby brushes, and glass wipes for mirrors and windows. When it comes to laundry college students usually go cheap but I prefer to buy them all in one laundry detergent pacs to make it easy for them to store and do their laundry quickly. Stain remover, dryer sheets, fabric softener pods and yes, even toilet bowl cleaner
are just a few other great cleaning and laundry care products your girl might like. And don't forget to add a bag of quarters for the laundry machines – those are golden!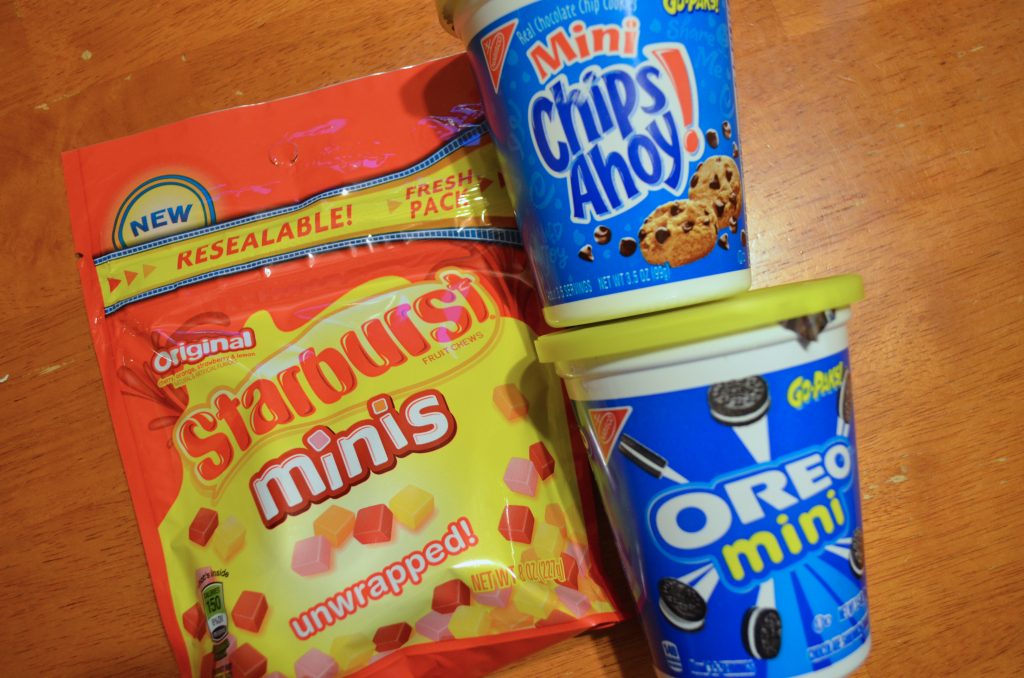 Food, Snacks, & Drinks:
Unfortunately you can't keep your college student stashed with pizza very well but you can send chocolates, gummy worms, cookies, candy, bags of popcorn, crackers and cheese, gourmet tea
, instant coffee, hot cocoa, chips, dehydrated fruit, pretzels, and other snack type food. If they cook their own meals instant foods are good to consider as well.
Extras:
It's amazing how much stuff a girl can bring to college with her and she still doesn't have everything she needs! I remember the mountains and piles of stuff I brought. Not only do I have no idea how I actually fit it all in my dorm room but I don't know how I managed to bring so much stuff and have so little of what I really needed! Stackable storage boxes and drawers of all sorts are really great to have on hand and are perfect for sending care packages in. Other things a college student can use are towels, washcloths, napkins and silverware, hangers, stationary and stamps if she likes snail mail, travel sewing kit, party decorations, wall decals, perfume, etc.
The cost of a care package can really add up but please don't skimp out on quality! Your college student doesn't need something that won't work or will break shortly after they get it! (which is why we went with Schick® disposable razors
!) AND while you're planning your care package(s) make sure you stock up for yourself!
This is a sponsored conversation written by me on behalf of Schick®. The opinions and text are all mine.
N/A