Keep Your Belongings Safe During the Back to School Frenzy
This post may contain affiliate links, view our disclosure policy for details.
Brought to you by Master Lock.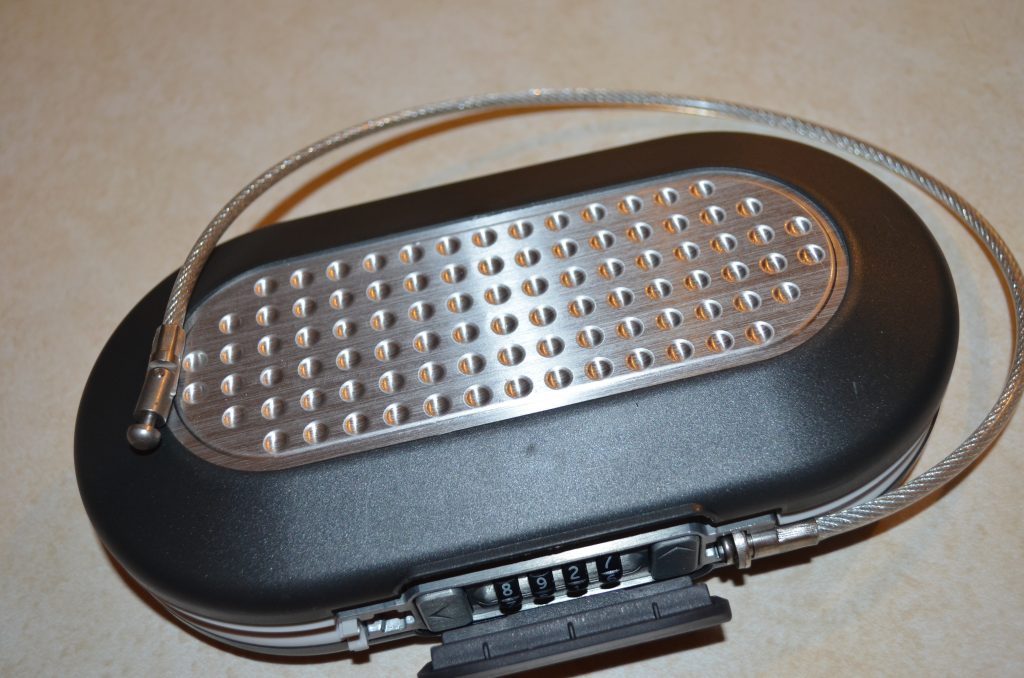 Did you know that 60% of people worry about the security of their belongings while they or their children are at school?  (Survey conducted by Survey Monkey from 3/12/13 – 3/14/13 among Americans representative of a National U.S. database.)
I know from my husband's personal experience at his previous school that things were constantly stolen….even out of his elementary classroom! Sadly it's a pretty common problem for both teachers and students. And I'm not just talking pencils or markers….I'm talking laptops, iPods, gaming systems and more! And that's all just at school! I'm not even going to get into having items stolen while you're traveling!! The above Master Lock 5900D SafeSpace is an absolutely fantastic way to lock up your phones, small cameras, MP3 players, cash, passports, jewelry, and more!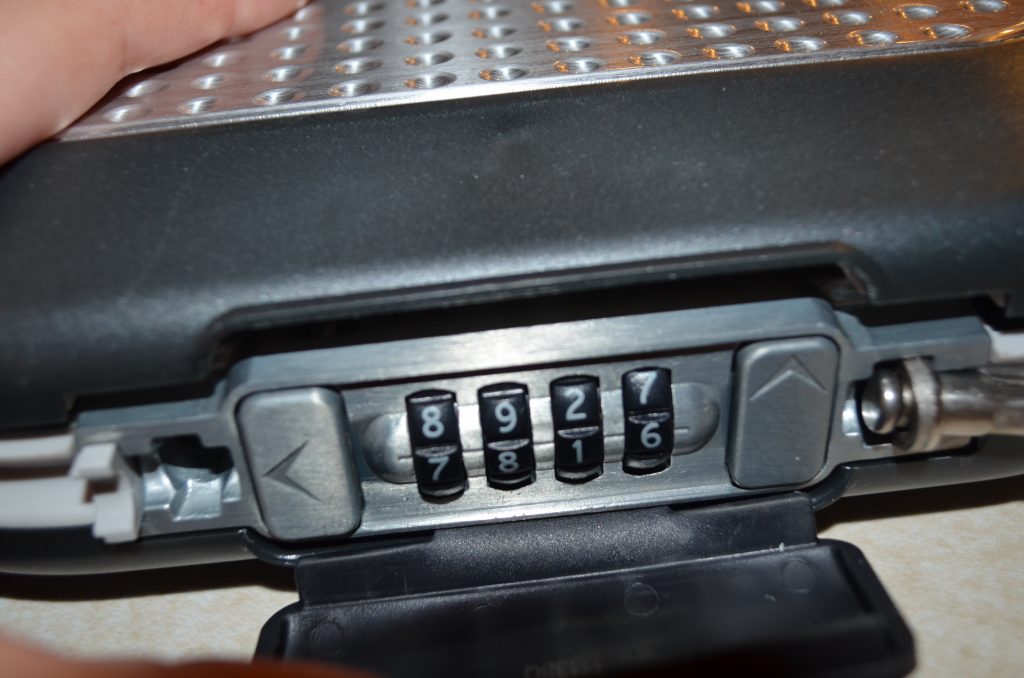 The Master Lock 5900D SafeSpace is very reasonably priced and is incredibly tough stuff. It uses a combination system and has the option to use a cable to actually "tie" your case down to something so that it doesn't walk off. It is plenty spacious inside for quite a few objects as well! This is also great for kids that can't remember their combination locks easily or need to lock up their medication or electronics and keep it in their backpack. In this digital world there is all sorts of electronics that are small and easily stolen. For under $30 this is a great way to go to a greater length to protect your stuff. I'd also like to note that this is a great idea for protecting things like hearing aids as well which are easy to get stolen or damaged! Here are a few other back to school items that Master Lock has available:
dialSpeed Digital Combination Lock – it features a digital keypad with an online backup master code that can be looked up at masterlockvault.com
SafeSpace Portable Safe – it's pretty self explanatory! a portable safe on the go!
SafeSpace Laptop Computer Lock – also pretty self explanatory – helps keep your laptop where you left it!
Speed Dial Set-Your-Own Combination Lock – an innovative idea. You can unlock by shifting up, down, left & right!
Set-Your-Own Combination Locks – personalize and customize your lock for easier remembering!
Master Lock Vault – it's like a digital safe deposit box, store your data privately in the cloud for access anywhere anytime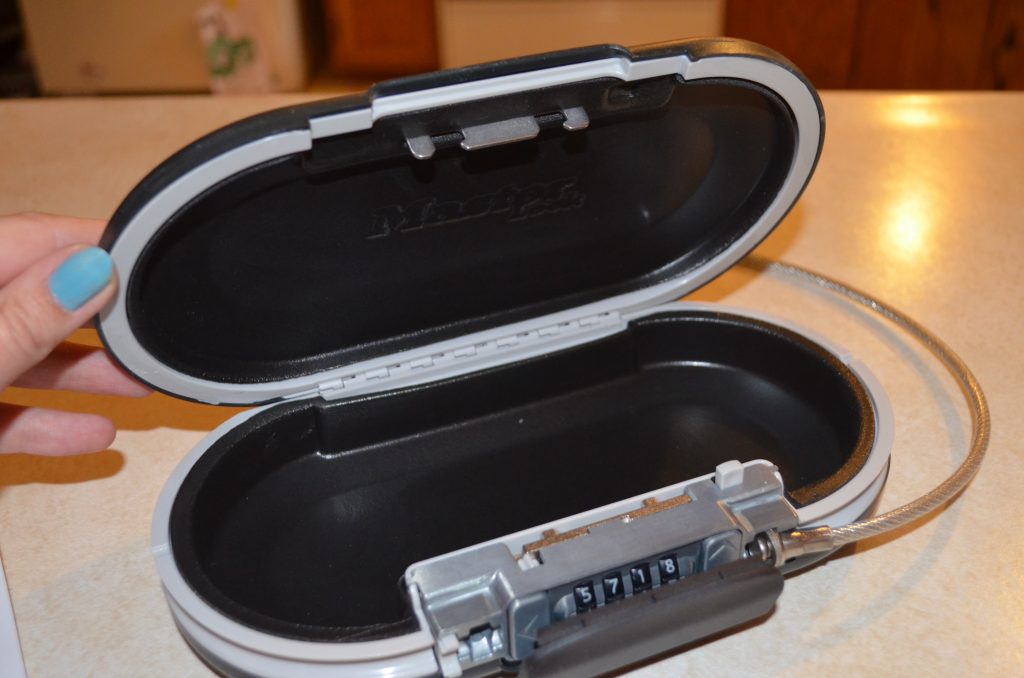 JOIN in the Master Lock Back to School Game
Master Lock has a fun back to school game going on from July 15-September 8 where daily instant prizes will be awarded to players as well as weekly sweepstakes which will gain additional points to enter for the grand prize. (Players can earn up to 12 points per day). You can find the interactive online game on the Master Lock FB page or at www.MasterCampusChallenge.com. Prizes include gift cards, video games, electronics, and of course Master Lock products! Every week a new game features a different animated lock on a unique campus location. Hints will be posted in order to help you crack the code! Points can also be earned for a chance at the grand prize and a digital SLR camera by using #MasterCampusChallenge. Snap a neat photo or video of their Master Lock product and post it to Instagram or Twitter!
PLUS make sure to join Master Lock during their Twitter Party on August 6, 2013 at 8PM EST. It will be hosted by @ResourcefulMom and you can follow at #MasterBacktoSchool.
Don't know who Master Lock is? They are the world's largest manufacturer of padlocks and security related products ranging from solutions for home, school, bike, storage, power sports, automotive and more since 1921. Their products tend to be stylish and customizable and can help students keep their belongings safe in school/gym lockers, laptop locks, backpack locks, and even have an online website & mobile app for storing passwords and other important documents. In 2010 they launched their Speed Dial, the first padlock that actually uses directional movements (up, down, left, right) instead of the traditional rotary dial. In 2012 they launched dialSpeed, the first ever digital padlock.
This post compensated by Master Lock.