Charlotte's Web Unit Study – Writing, Vocabulary & Craft Ideas
This post may contain affiliate links, view our disclosure policy for details.
Salutations! There is a reason why one of our favorite children's books, Charlotte's Web, has stood the test of time. This sweet classic story makes a wonderful unit study on it's own. Add in a little math and science and you have a full week or two of learning.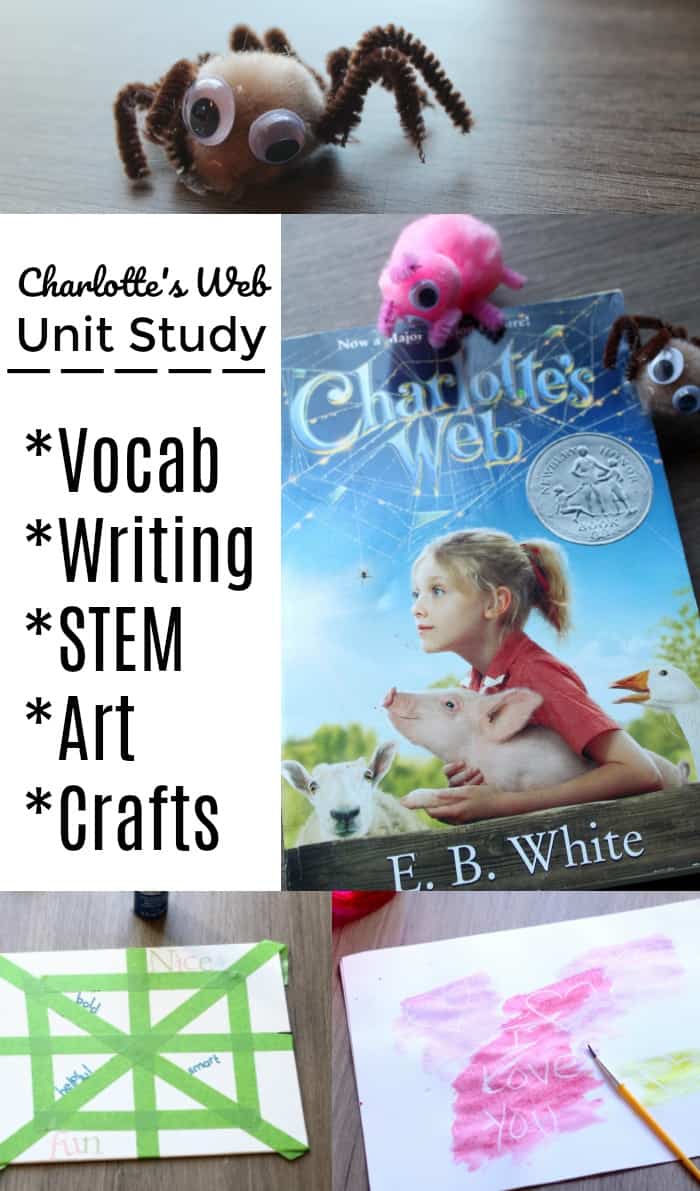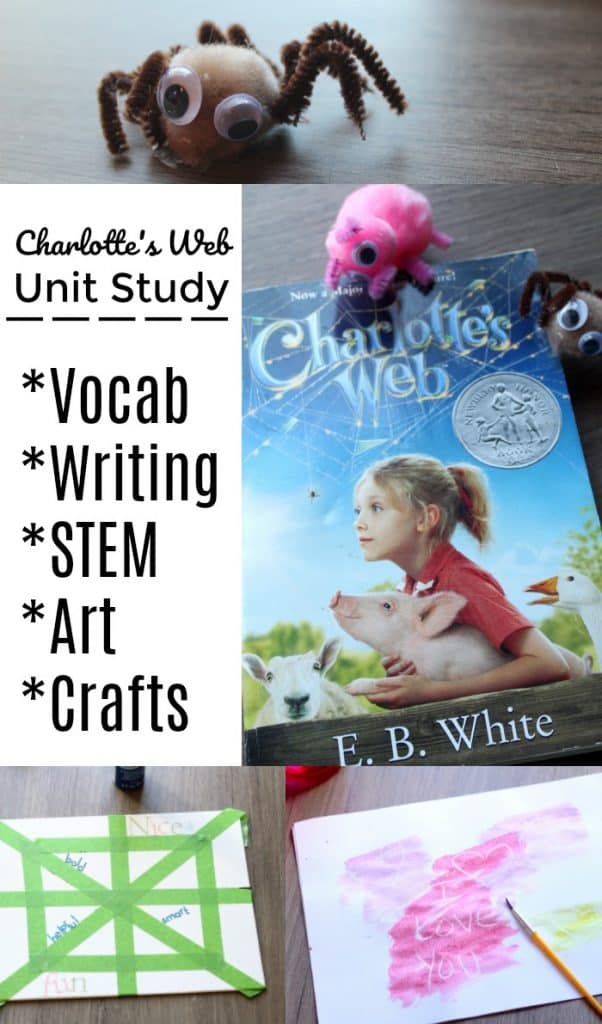 The first time I read about Fern, Wilbur, Charlotte, Templeton and the rest of the barnyard cast I fell in love with them like millions of others. This book works wonderfully as a read aloud story time favorite or for your child's independent reading time.
Turning your favorite book into a unit study is just a matter of taking your theme and applying it to different areas you want your child to work on like-math, vocabulary, science, and history. You can make it as simple or as elaborate as you like, it is completely up to you and how interested your child is in the subject matter.
Below are vocabulary words for Charlotte's Web, crafts, and several activities you can pair with the book.
---
Charlotte's Web Handwriting Practice:
To practice handwriting your child can use quotes from the book as copy work and are great practice for punctuation, spelling, and capitalization practice. Some of my favorite's are:
● " Salutations is my fancy way of saying hello."
● "With the right words you can change the world."
● " It's not often someone comes along who is a true friend and a good writer"
● "You have been my friend" replied Charlotte "That in itself is a tremendous thing."
● "Chin up Chin up. Everybody loves a happy face."
---
Charlotte's Web Research Ideas:
1.Learn about and draw a picture of the spiders life cycle from egg sack to adult spider.
2. Choose one creature from the story and learn about what they eat, their habitat, lifecycle, fun facts, etc… There are so many to choose from! Charlotte, Wilbur, Templeton, the geese, the sheep, or even Fern herself!
3. Dig deeper into learning about farms! Great for field trips too! Farm Anatomy is a great book for this!
---
Charlotte's Web Writing Prompt Ideas:
1.The other day I overheard Charlotte saying…
2. If I were on the farm with Charlotte and Wilbur I would like to…
3. If a pig started talking to me I would…
---
Charlotte's Web Vocabulary Words:
*injustice
*specimen
*appetite
*runt
*humble
*gullible
*bitterly
*hysterics
*salutations
*conscience
*modest
*objectionable
*detested
*trough
*glutton
*pleasant
*gnawing
*perspiration
*hullabaloo
*cautiously
*objectionable
*scruples
*untenable
*conspiracy
*hysterics
*gratified
*sedentary
*idiosyncrasy
*monotonous particles
*veritable
*versatile
*bewitched
*languishing
*carousing
TIP: Write these words in sentences, practice them in cursive, spell them out loud, look up the definitions and copy them down, alphabetize them, they can be used with whatever skill you are working on with your child.
---
Charlotte's Web Crafts & Activities: