Celebrating Hubby's Birthday at the Knoxville Raceway in Iowa
This post may contain affiliate links, view our disclosure policy for details.

You may have spotted on Facebook yesterday that it was my husband's birthday! We weren't really planning on doing anything too exciting until he spotted a Groupon deal for the Knoxville Raceway here in Iowa. The Dirt Racin' Capital of the world! It was just $15 for 2 admissions, $4 for our 6 year old & free for our 4 year old. We've never taken our kids to Dirt Races before (or any races for that matter) so we thought it would be an awesome experience for them and a fun way to celebrate hubby's birthday. What boy doesn't love loud wheels and an intensity for speed?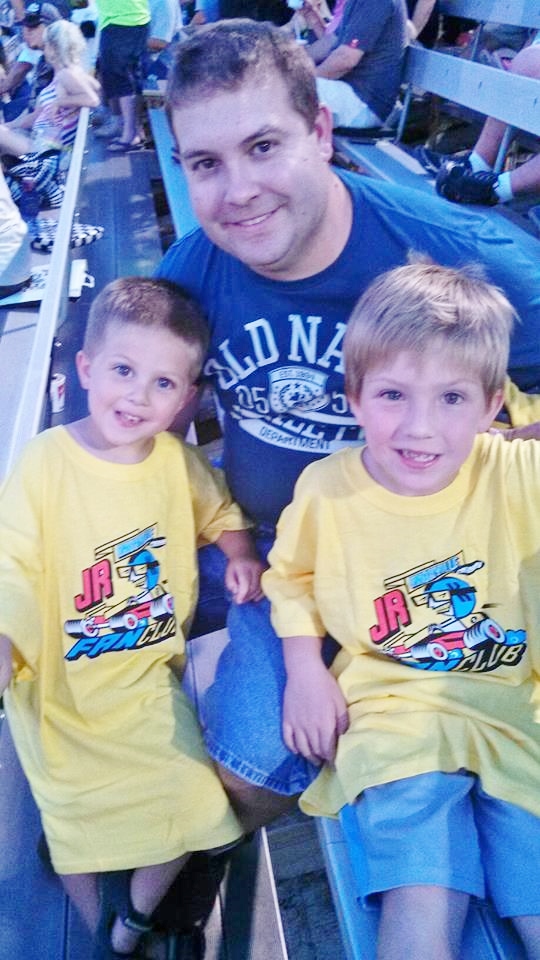 I wish I had a picture of my boys faces as we walked into the grandstand and the cars ZOOOOOMED by! It was just PRICELESS! I knew they were hooked as the first car sped by! During an intermission a t-shirt cannon came out and the crowd went nuts trying to catch t-shirts! The cannons began shooting shirts in our section of the grandstand and my oldest son grabbed one off the floor that was sliding down the grandstand! Talk about LUCKY! He is still incredibly proud of himself for snagging his own Jr. Knoxville Raceway Fan Club shirt! Shortly after my husband had given up trying to catch shirts as the cannon passed our area a t-shirt literally fell right into his hands! It was crazy and a total fluke! Happy birthday to hubby! Our little guy was SUPER excited to also have a shirt and both boys immediately changed into their new shirts and wore them for the rest of the night….and to bed!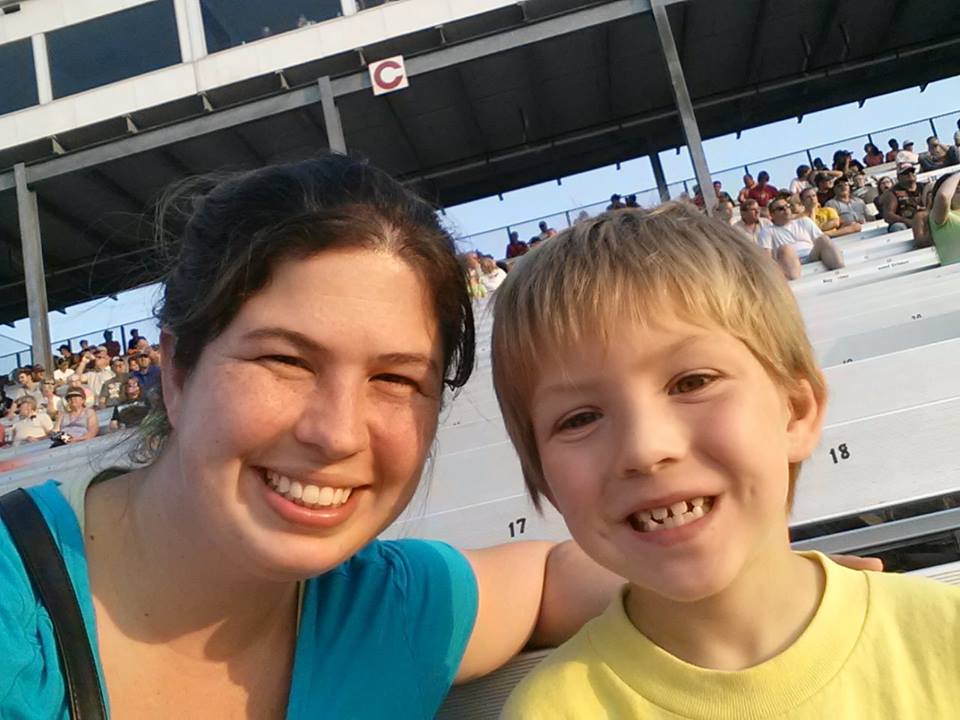 Visiting the Knoxville Raceway was such an awesome experience and it certainly won't be our last time there! I'm thankful for daily deals sites like Groupon and companies like the Knoxville Raceway that run specials on their tickets. You guys know we moved here to Iowa last fall and I had no idea the Raceway was even near here! Our family LOVES new adventures and my oldest son, who is currently teaching himself bike stunts & tricks, was especially excited about the races.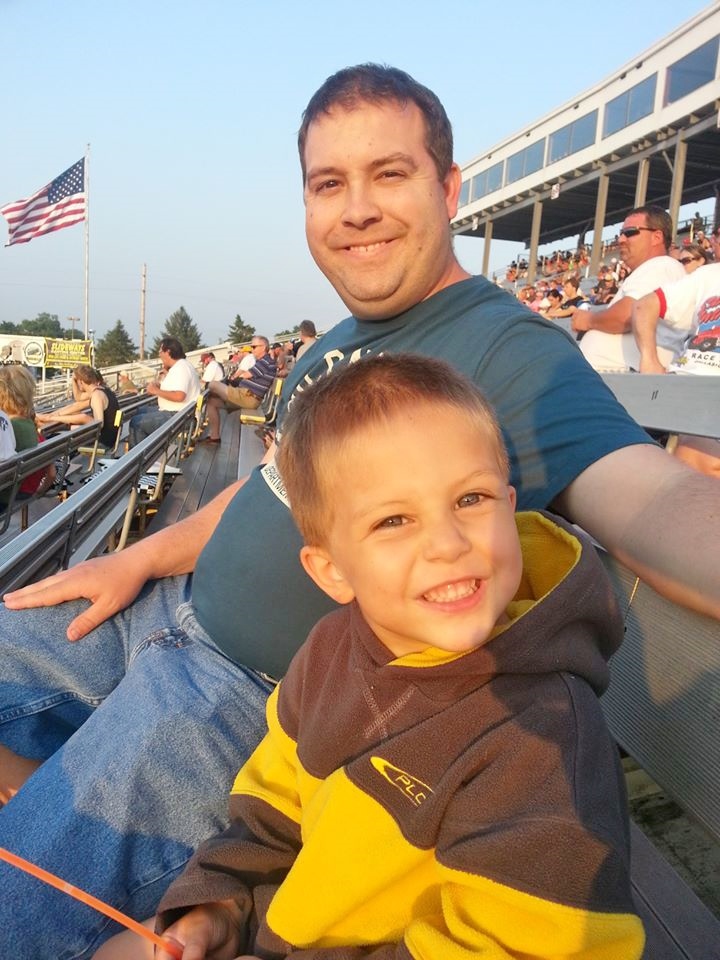 When we walked into the grandstand the first 15 rows were completely empty. It was so weird….we figured there MUST be a reason why no one was sitting down in the front rows so we traveled up about 15 rows and settled in for the evening. Shortly after the races started we realized why no one sits in the front – because so much dirt  flies off of the raceway as the cars are racing that it can get in your eyes! Talk about an extra-sensory experience! I think my kids might want to wear their swim goggles next time! 🙂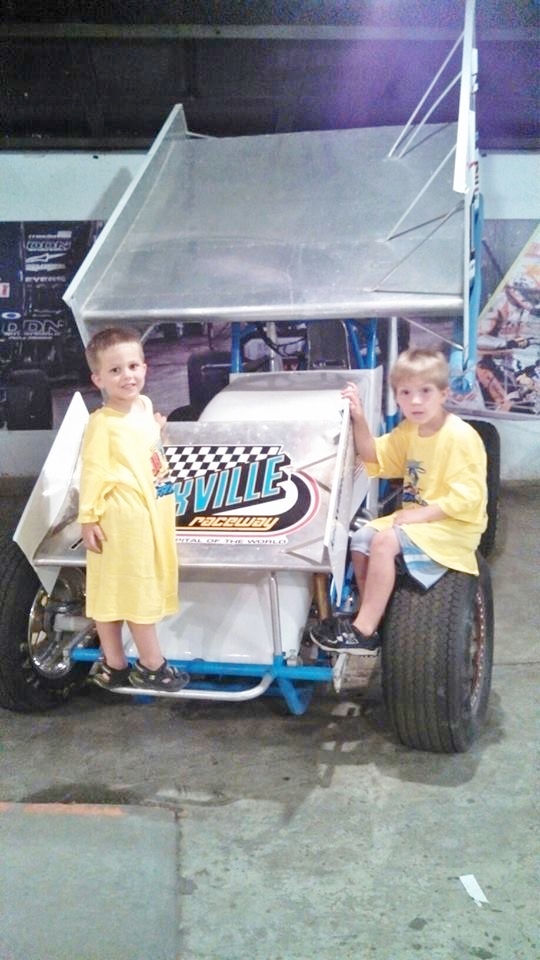 By about 10:30pm it was just getting SO late for the kids after our summer of travels. The races were going on and we decided to head down under the grandstand so the kids could climb in this kids sprint car for photos! It was a real-world experience for the kids. They witnessed many accidents, saw cars flipping over and flying down the raceway, and several times watched ambulances dart out into the raceway to rescue drivers….one of whom needed to go to the hospital. We used it as a vital learning lesson about the enjoyments and dangers of extreme sports. My husband left the raceway with smiles all over his face declaring it was the best birthday ever! The kids are already asking to go back! Next weekend kids are free….guess where we're headed?