An Insider Tour of Procter & Gamble #AccessPG
This post may contain affiliate links, view our disclosure policy for details.
This trip was provided thanks to P&G. All opinions are my own.
PHEW! This summer is just flying by! A few weeks ago if you were following me on Instagram or Twitter you may have been swept up in the adventurous and informative trip I attended to Procter & Gamble's Headquarters in Cincinnati, Ohio via #AccessPG. But I just got back into town last night from my trip/family vacation and I really wanted to share with you a sneak peek into the fun I had! I would have updated sooner except that I had extremely limited internet access over the past 2 weeks!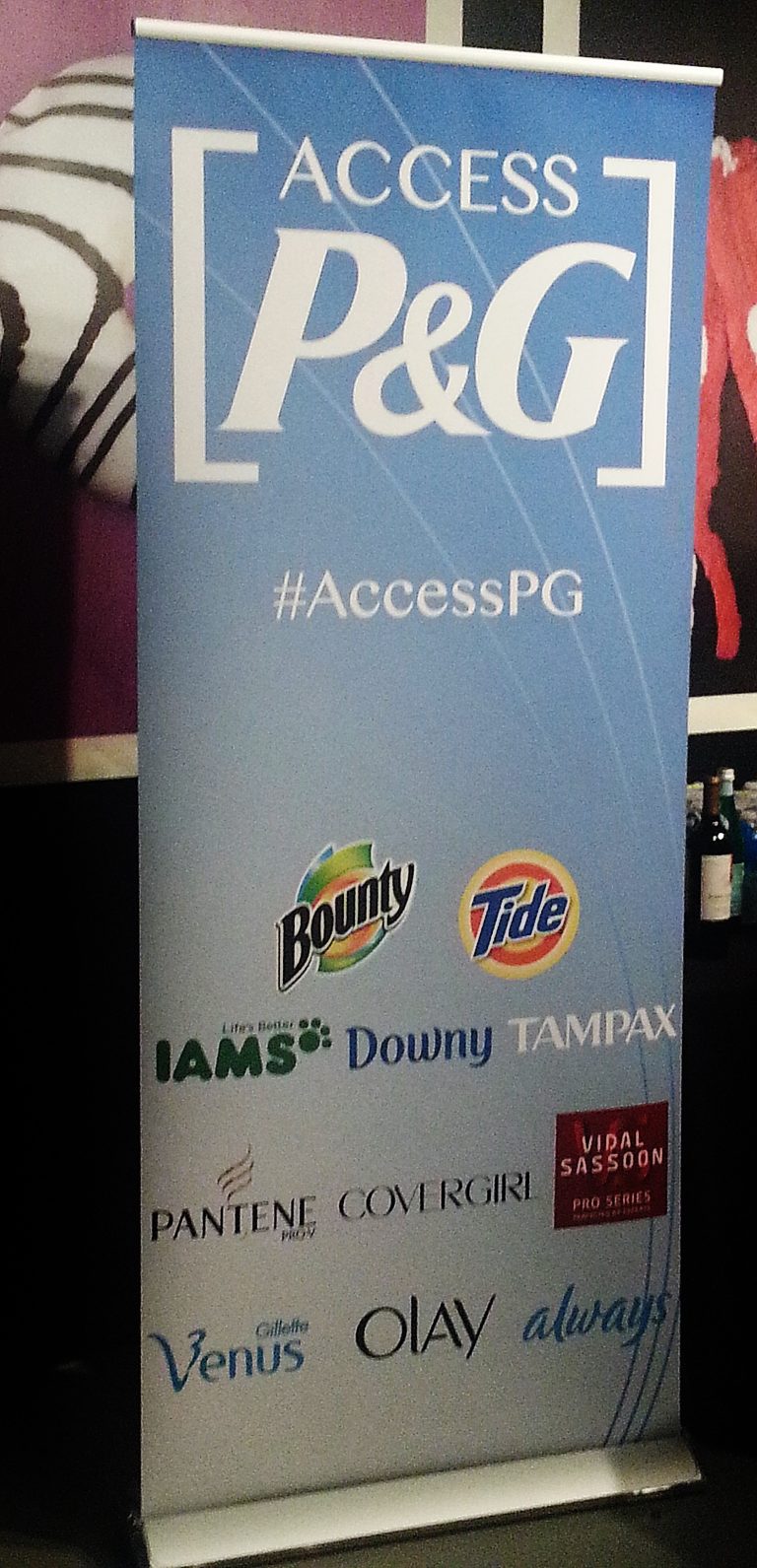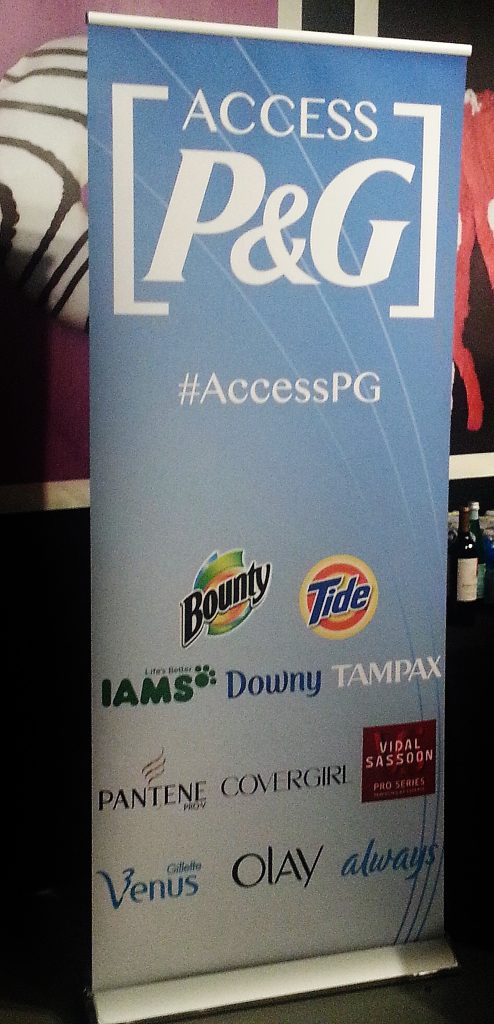 I flew in on a Thursday and that afternoon we had a fun get together thanks to Bounty and Tide Pods. It was just a great way to relax after a day of traveling and get to mingle with some of the great folks at P&G as well as other bloggers.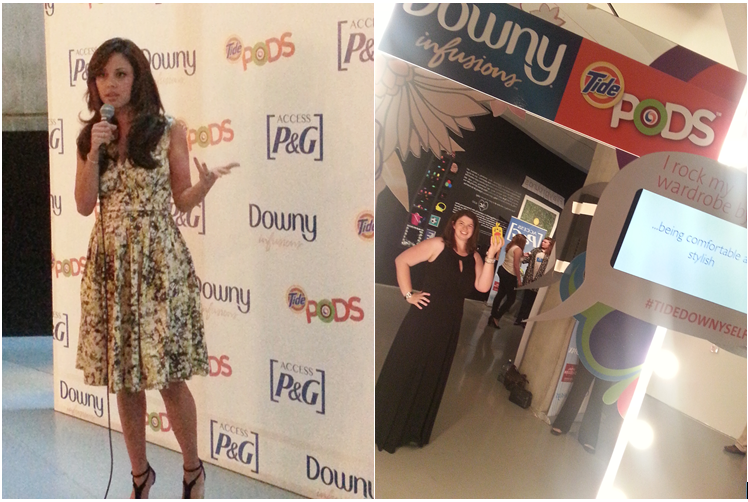 Not only were there fun photo opp areas to interact with the brands but we were also surprised with a visit from Vanessa Lachey who was just hilarious and totally down to earth!  It was great to have another mom around to relate too with that never ending pile of dirty clothes in my laundry room!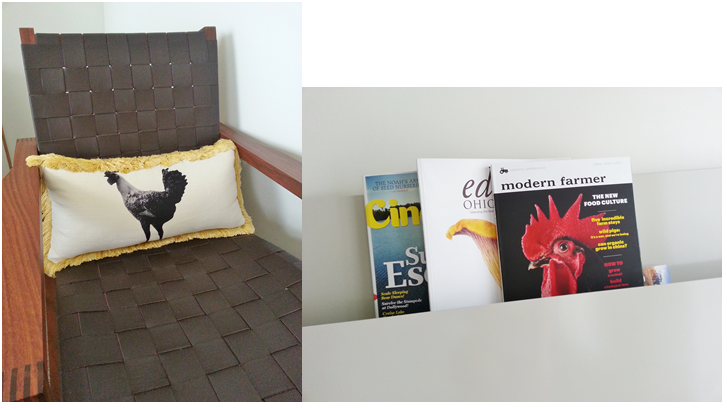 That evening I checked into the 21c Museum Hotel & it was SO awesome! I absolutely LOVED it! Every floor had artwork or an art gallery incorporated into! My room made me feel right at home – there were chickens everywhere!! 🙂 (Not real ones of course!) My friend from Mommy Moment had pigs in her room! Even my room was rather eclectic! The tile in the bathroom seriously had body parts sticking out of it! A nose here….an ear there…..it was pretty fantastic! If you ever get a chance to stay in a 21c Museum Hotel I highly recommend staying there! We even had a special morning yoga session with Tampax!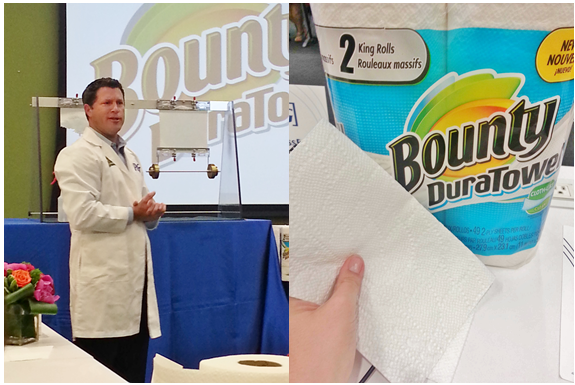 Friday was packed full of various tours at the P&G headquarters which was a real treat. I felt so honored to be a part of the first #AccessPG and spend time with the brands in a more intimate setting. I've been reading through a book that they gave me about P&G's history and it's absolutely phenomenal! (It's called Rising Tide: Lessons from 165 Years of Brand Building at Procter & Gamble)I have learned SO much! The first "tour" we did was a great session with Bounty DuraTowel and famous winner of Top Chef Stephanie Izzard, who owns two restaurants in Chicago (Little Goat Diner and Girl and the Goat). It was a real treat – the food was INCREDIBLE! And our time with Bounty DuraTowel was also impressive. Behind the chemist in the photo above to the left you see a sheet of Bounty DuraTowel WITH a 6 pound weight hanging on it AND it was sprayed down with water….lots of it. PLUS they poked about 10 holes IN the paper towel and it NEVER ripped or tore! I couldn't believe it! I was duly impressed. I certainly won't be forgetting that demonstration any time soon.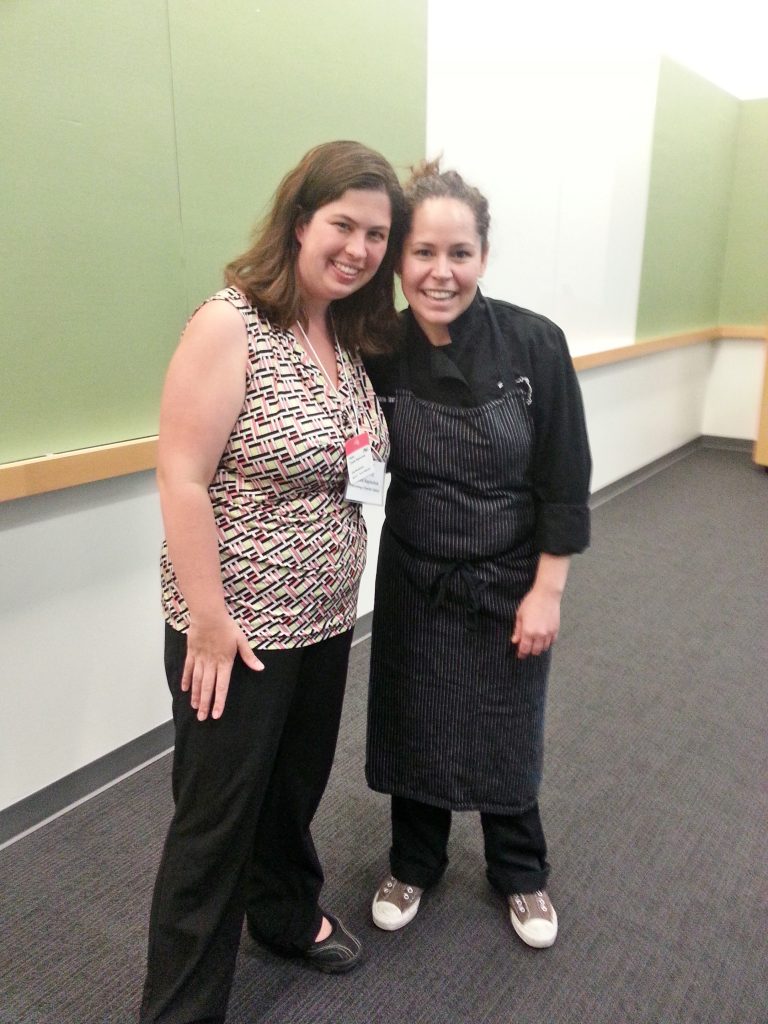 Here I am with Chef Stephanie Izzard! In fact just last weekend I had the chance to go to her Little Goat Diner which was fabulous!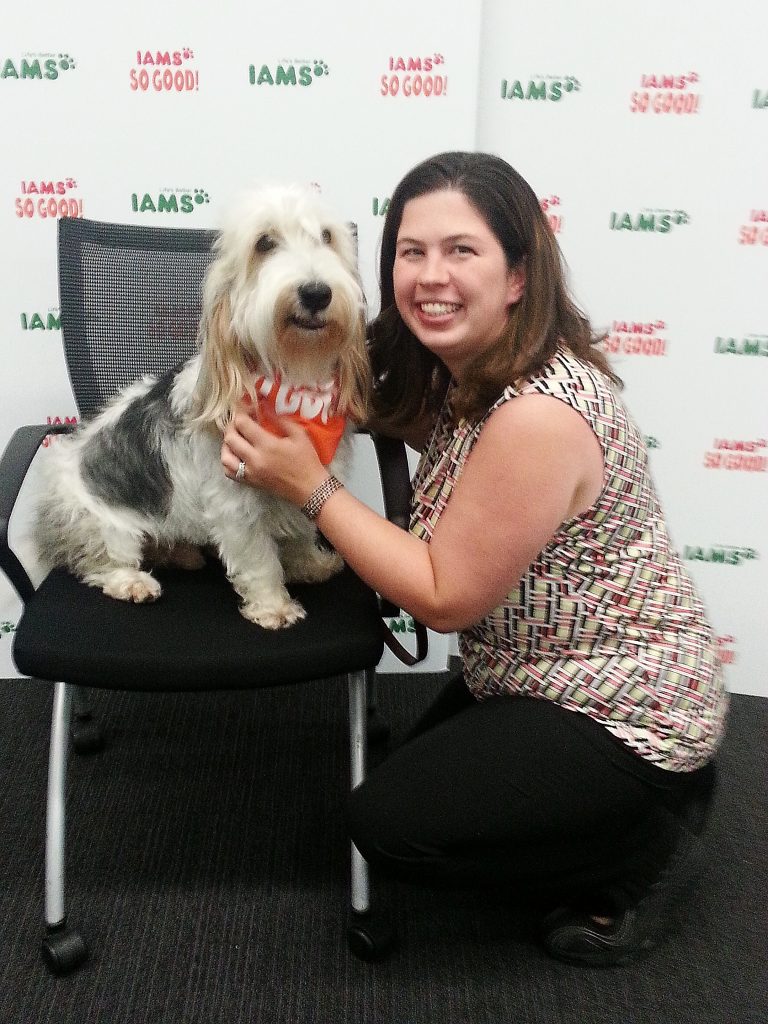 Next I attended an informative sessions with IAMS…..and cute little Pawl Griffin, VP of K9 Communications for IAMS! You can also follow him on twitter @PawlGriffin ! It was a great Q&A time with a nutritionist which helps formulate the IAMS food and he talked with us about their NEW IAMS SO GOOD food for dogs which has NO added sugar, NO Dyes, and NO artificial Preservatives! (Check out the new Shakeables Dog Treats as well!) AND I didn't realize this but did you know that IAMS is backed by a 100% satisfaction guarantee? You guys know we adopted a German Shepherd last fall and we quickly found that she is incredibly fickle with her food so I was very interested in trying out the IAMS SO GOOD product. We've even been buying her the very expensive all natural food and she just doesn't seem to want anything we've tried. Now we've only been home for a day but this is the first time I've seen her actually gobble up her food…..normally it sits in the bowl till the very end of the day till she gets hungry enough to eat it.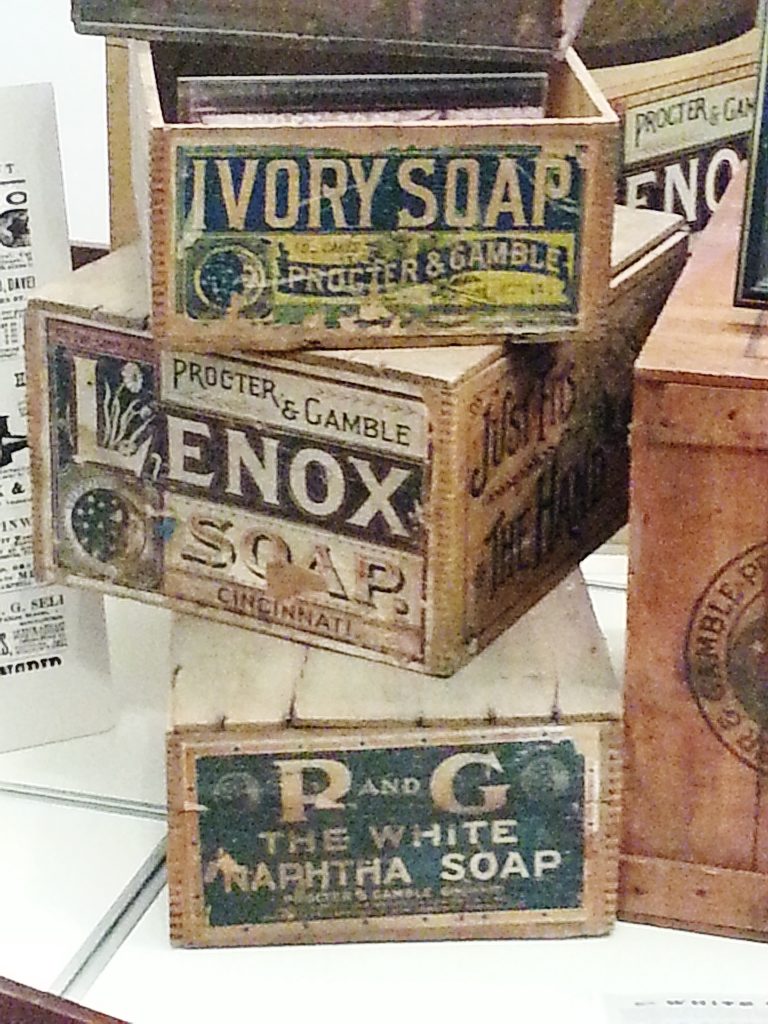 Next came the P&G Archives Tour which is by private tour only so I was really honored to be able to see the history of so many P&G brands – Ivory, Tide, Pampers, Head & Shoulders, etc. They had products from 175 years ago on display along with these awesome soap crates! It was just SO neat! And did you know that the two men who founded the company, Mr. Procter and Mr. Gamble (one sold soap and one sold candles) met in Cincinnati 175 years ago after they immigrated here from Europe, married two sisters, and then decided to combine their businesses as Procter & Gamble?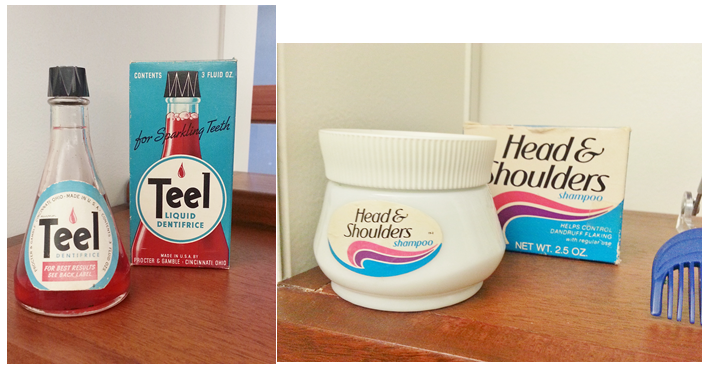 Some of you may even remember their Teel brand from when you were little! And you should have seen the original Pampers diapers – it looked like a flat sheet! It was crazy – I can't even imagine having to use some of these products…..which were quite innovative and revolutionary for its time!!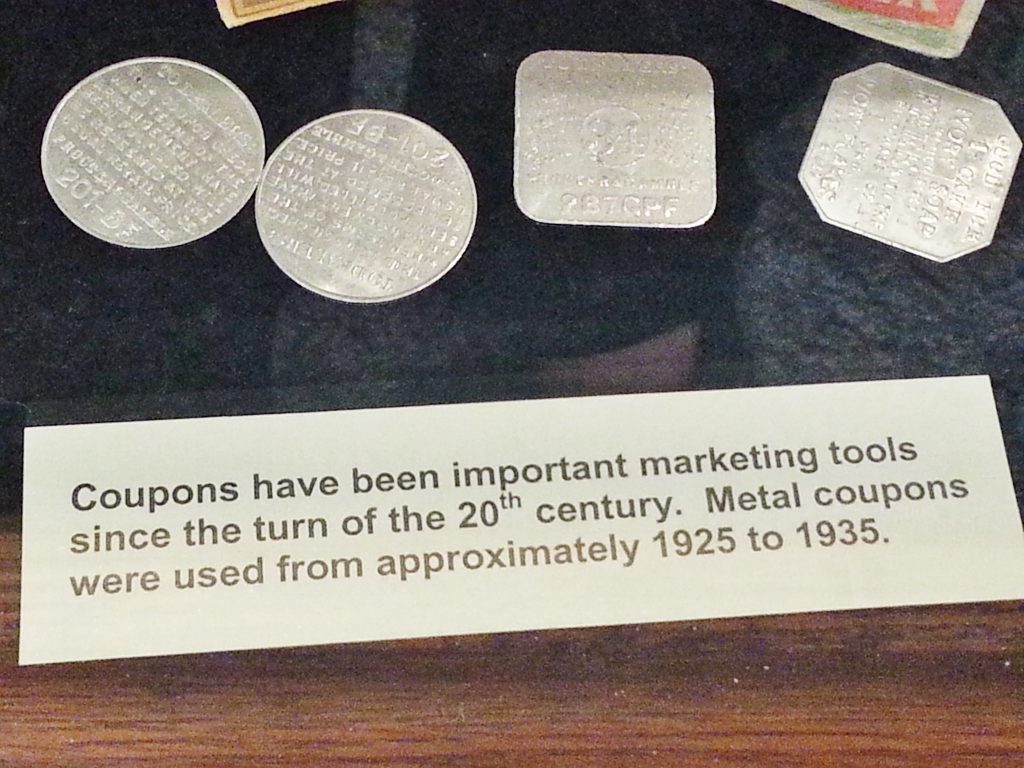 And did you know that from 1925-1935 people used METAL coupons?! I sure didn't and most people that I've talked to didn't either! How cool! After our very eye-opening history and archives tour at P&G they surprised us with a special celebrity makeover session with a world-renowned hair stylist AND makeup artist! Let me tell you I needed it! I learned some FABULOUS tips that I've been using since our #AccessPG trip and have had SO many compliments.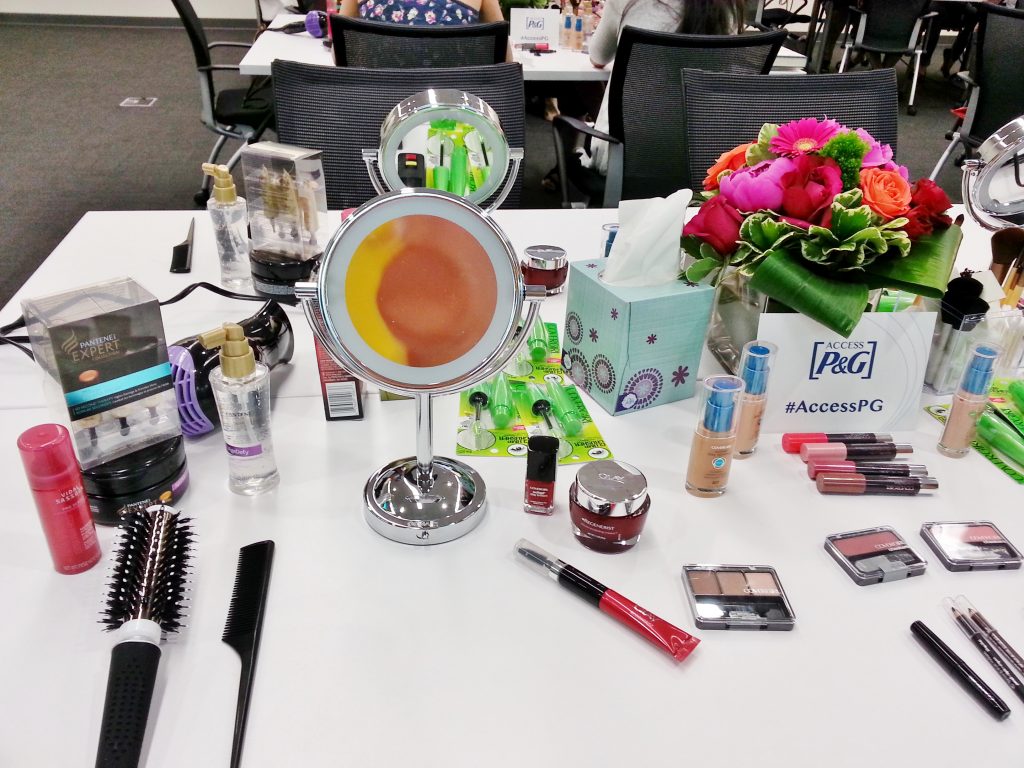 We walked into a well-lit room full of tables stuffed with cosmetic mirrors, brushes, curling irons, straighteners, and all sorts of CoverGirl makeup, Olay Regenerist products and Pantene and Vidal Sassoon products! My FAV? This Olay Regenerist Mirco-Sculpting Cream – it's absolutely heaven! I use it all the time now!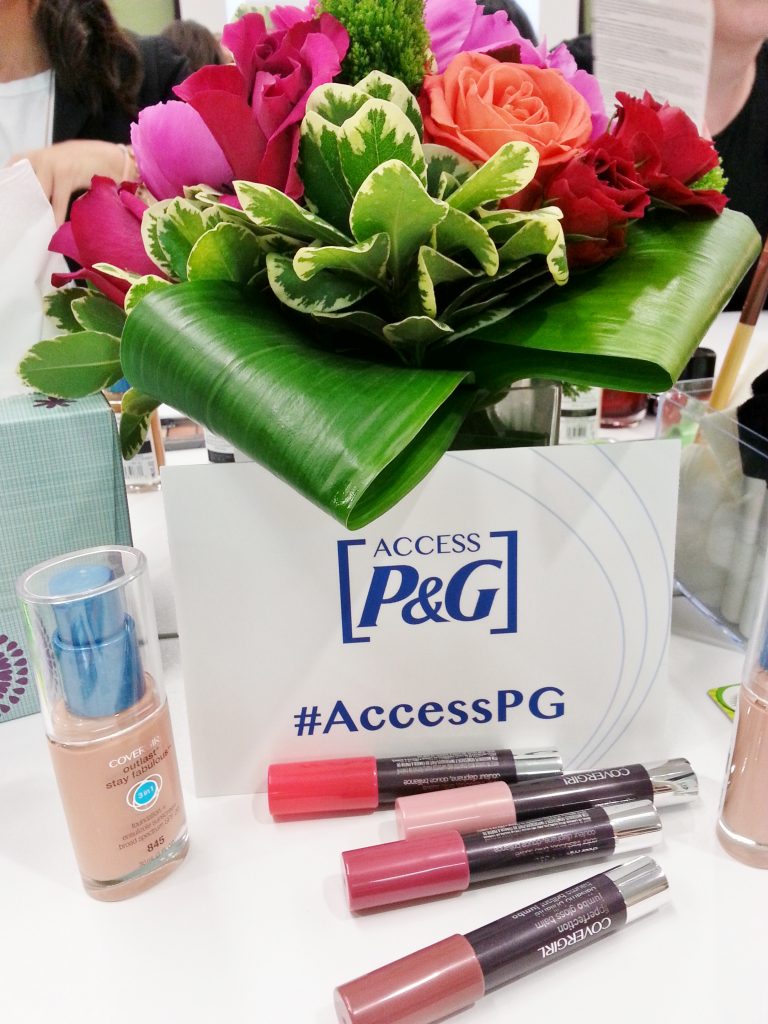 They had all sorts of colors and shades, and then at the end of the session told us we could take it all home! It was very generous and I LOVED that I could start using my new tips and products right away!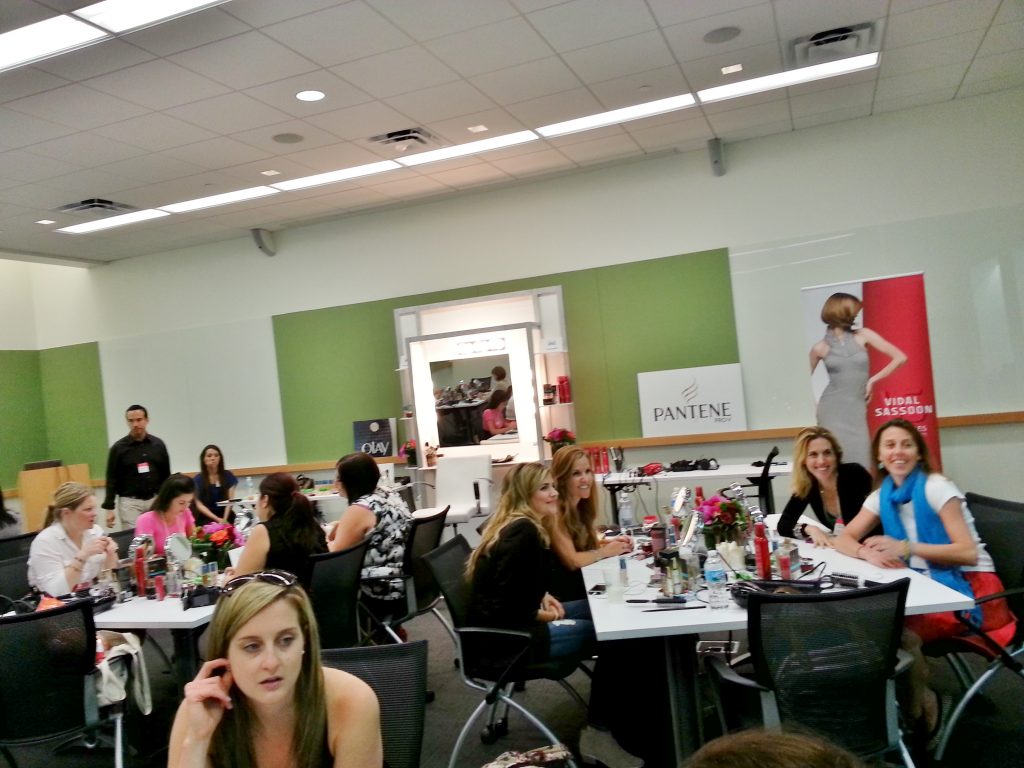 You should have heard all of the excited chatter throughout this session! It was a very lively pick-me-up which was great since it was afternoon and I know I was already thinking about dinner! 🙂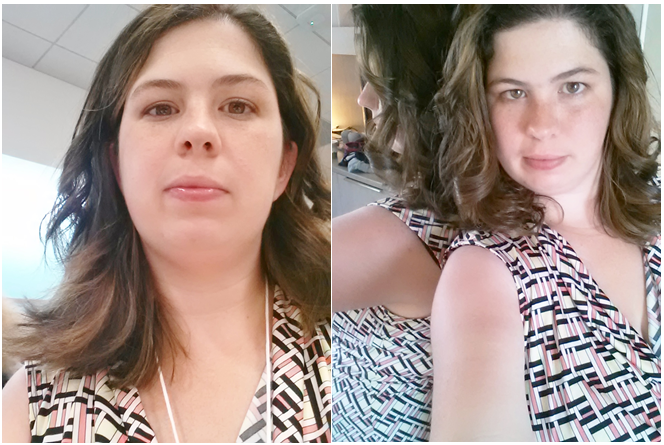 In fact, even though I usually hate pictures of myself, I even got a little camera happy! 🙂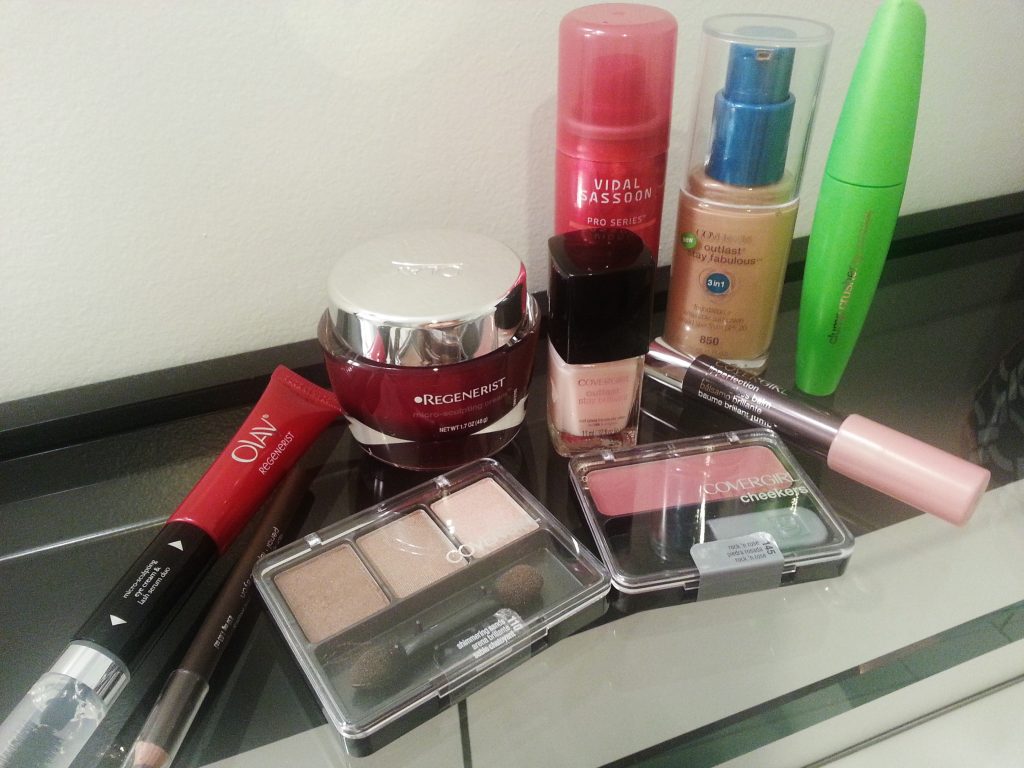 Look at all this! I am not a girly girl and have always struggled with knowing what kind of makeup to wear when so this was a fantastic opportunity for me to just soak up some tips and learn how to apply everything.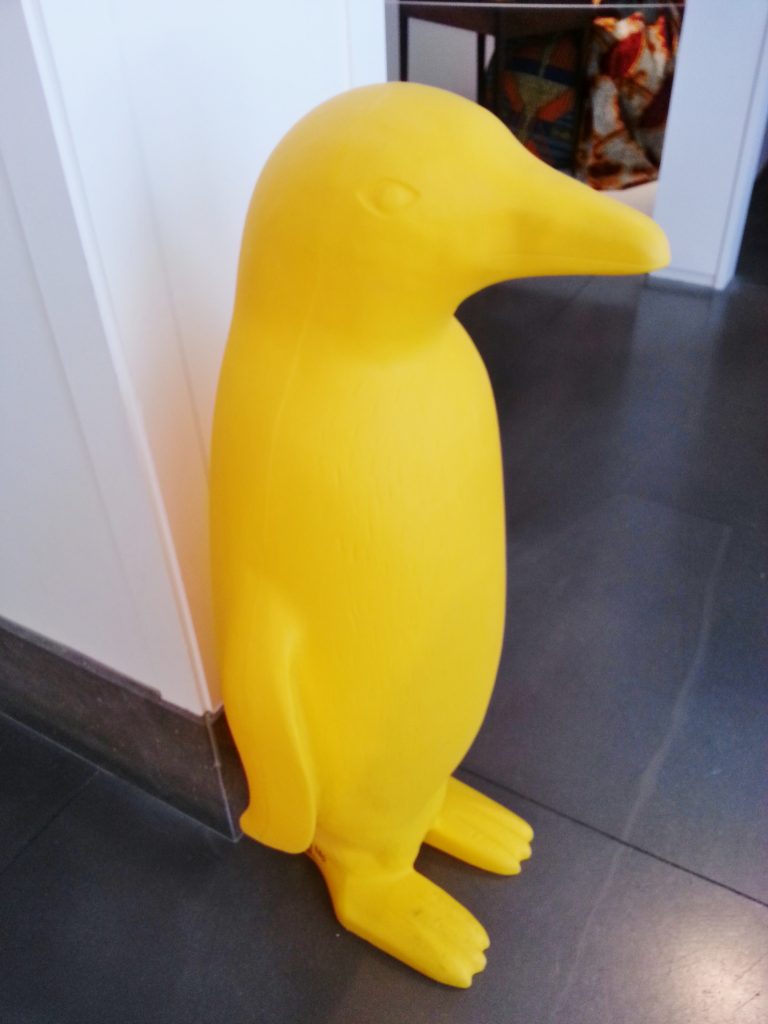 Remember the cool 21c Museum Hotel I mentioned earlier? Here is one of the penguins in the lobby!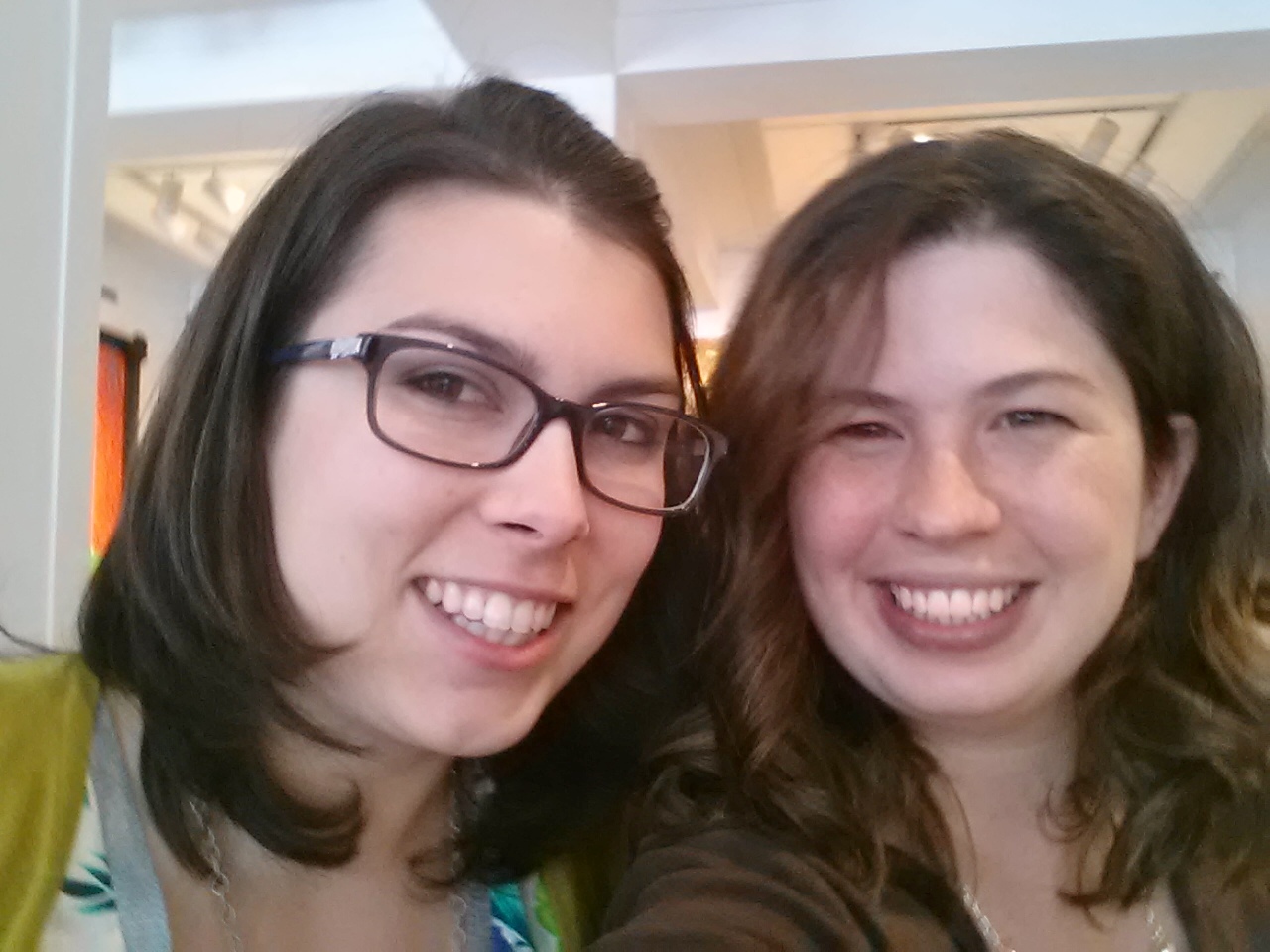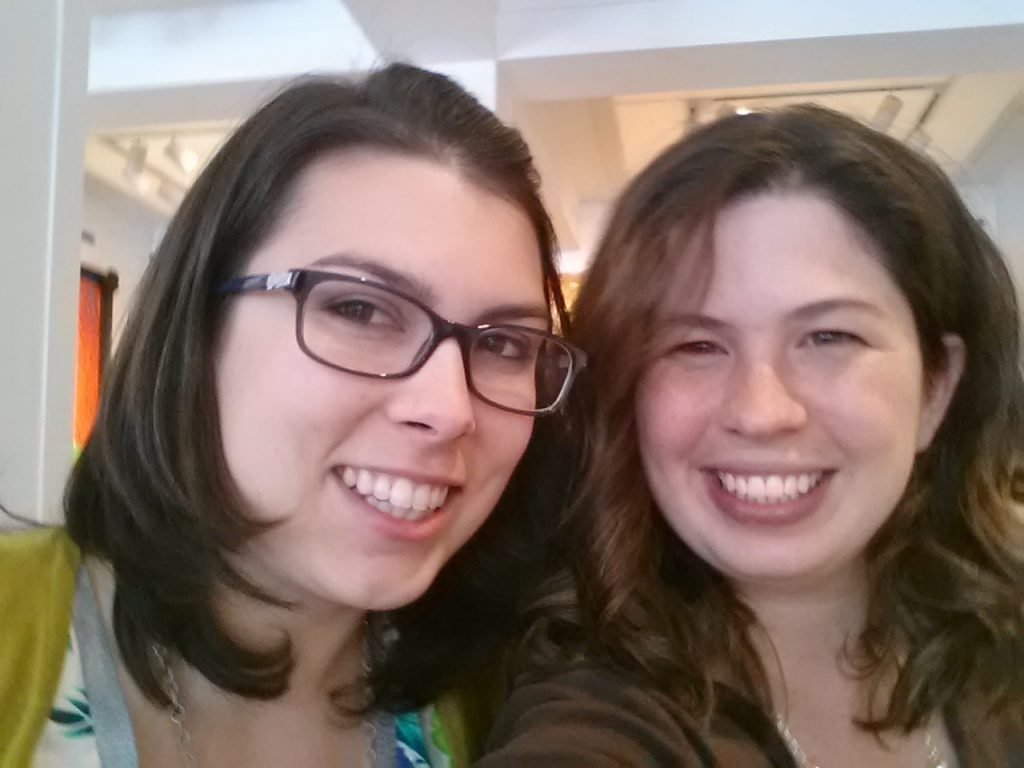 I met so many great bloggers! This is me & Chelsea from Someday I'll Learn.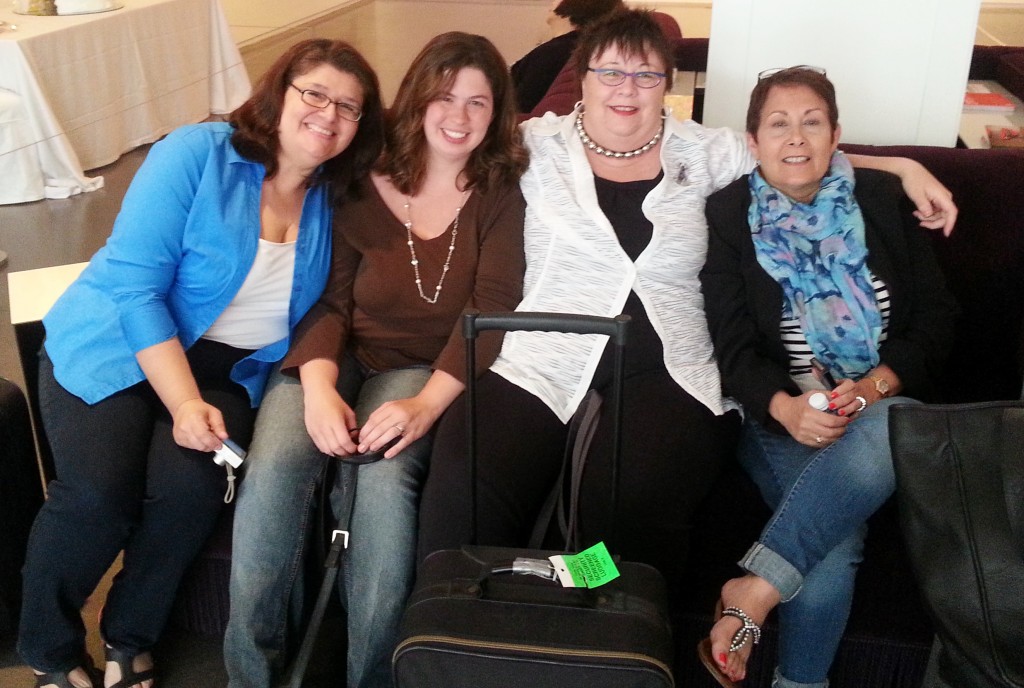 And from left to right is Carolyn from The Art of Random Willynillyness, me, Bev (IAMS guru) and Zippy from Champagne Living.
I just want to say a HUGE thank you to P&G for providing this intimate time to get a closer look at their brands and learn a little bit more about the company. It has a fascinating history and as you guys know they have high quality products as well! Make sure to keep an eye out for more from P&G throughout the year!
A special thanks to P&G who invited and provided this trip for me free-of-charge. All opinions are my own.