bekids Reading App for Kids Review
This post may contain affiliate links, view our disclosure policy for details.
If you have a toddler or preschool child at home then let me introduce you to the world of bekids educational learning apps! There are quite a few apps in the series from bekids, but we specifically were asked to check out their bekids Reading app for this sponsored review.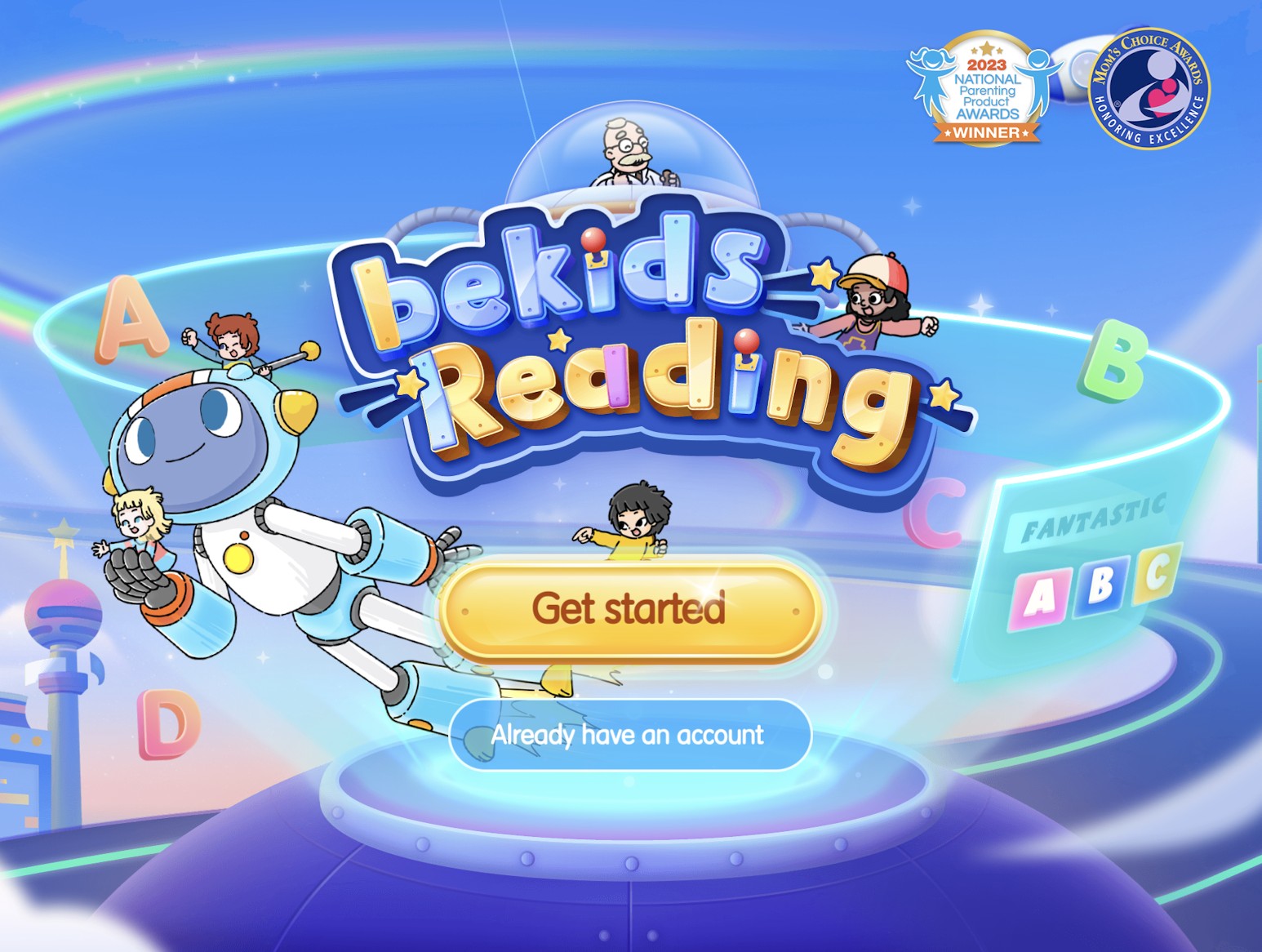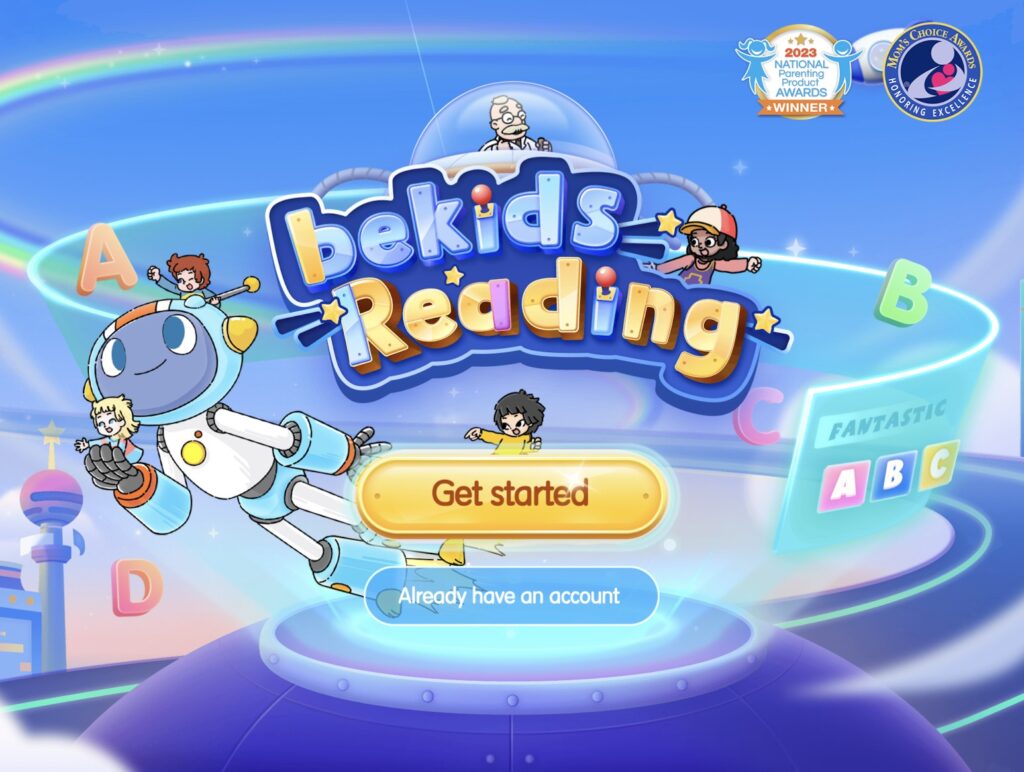 What do parents need to know about the bekids Reading app?
You can find the bekids learning apps both in the Google Play store and the Apple App store – plus it's ad-free which is always preferred for kids! While not optimized for it, I have also used the app on my Mac computer from the Play Store in a pinch.
You will need to set up an account the first time before your child has access to this app though so it's best for parents to pre-set up this app before your child tries to experience it. (subscription options listed below) Afterwards your child will be able to open the app at any time. I think this app would be really great for kids about ages 4-6 years old.
This eye-catching kids reading app is set in Sci-city, a robotic tech playground for kids! Definitely always a big interest for kids when robots and futuristic tech are involved! It really opens up the imagination!
Inside you'll find Edwin the Robot and his friend Tommy enjoyable hosts to read books, play games, and explore innovation alongside their good pal Professor Proton! The content is created by Oxford University Press and children's author Paul Shipton.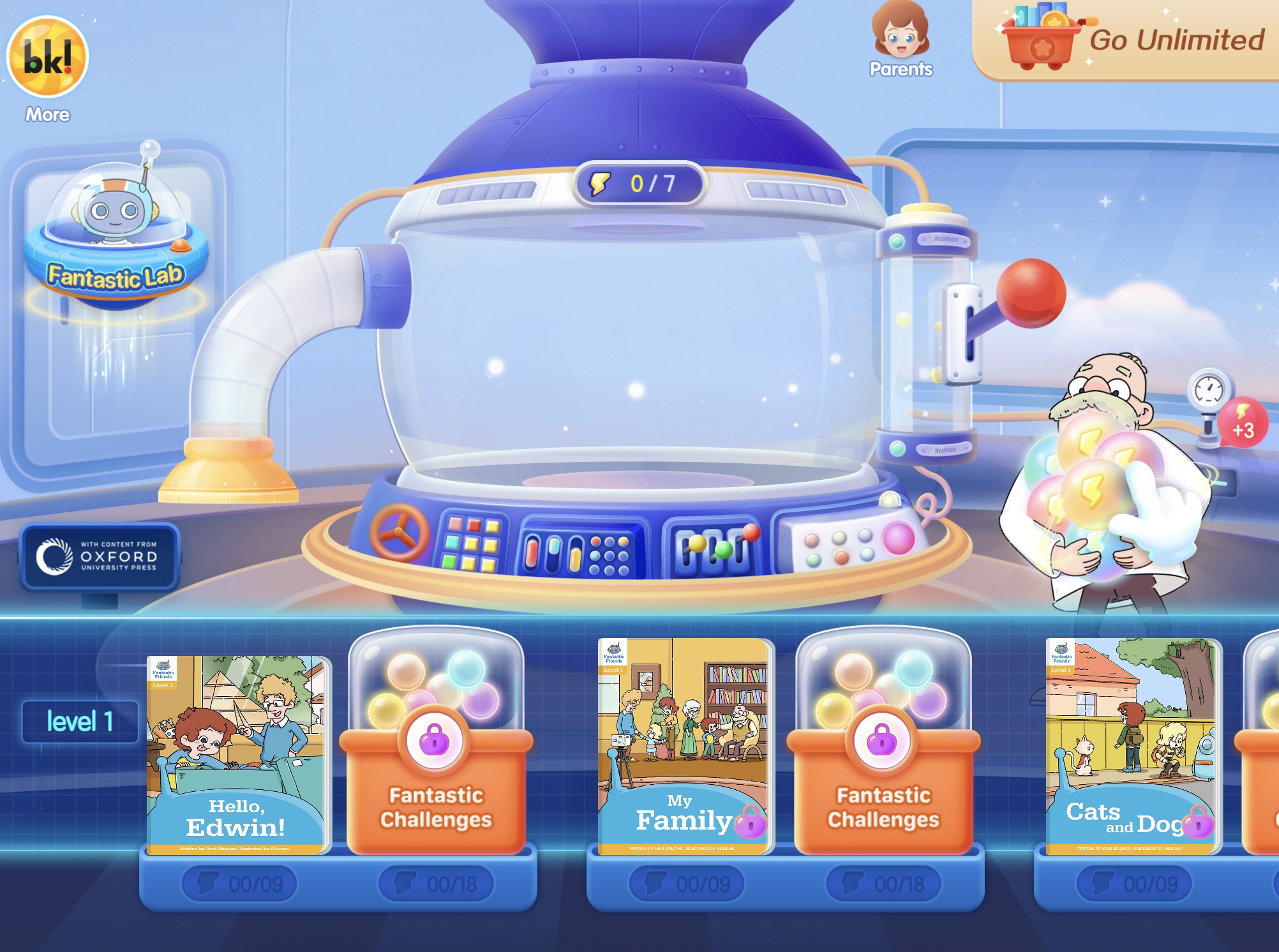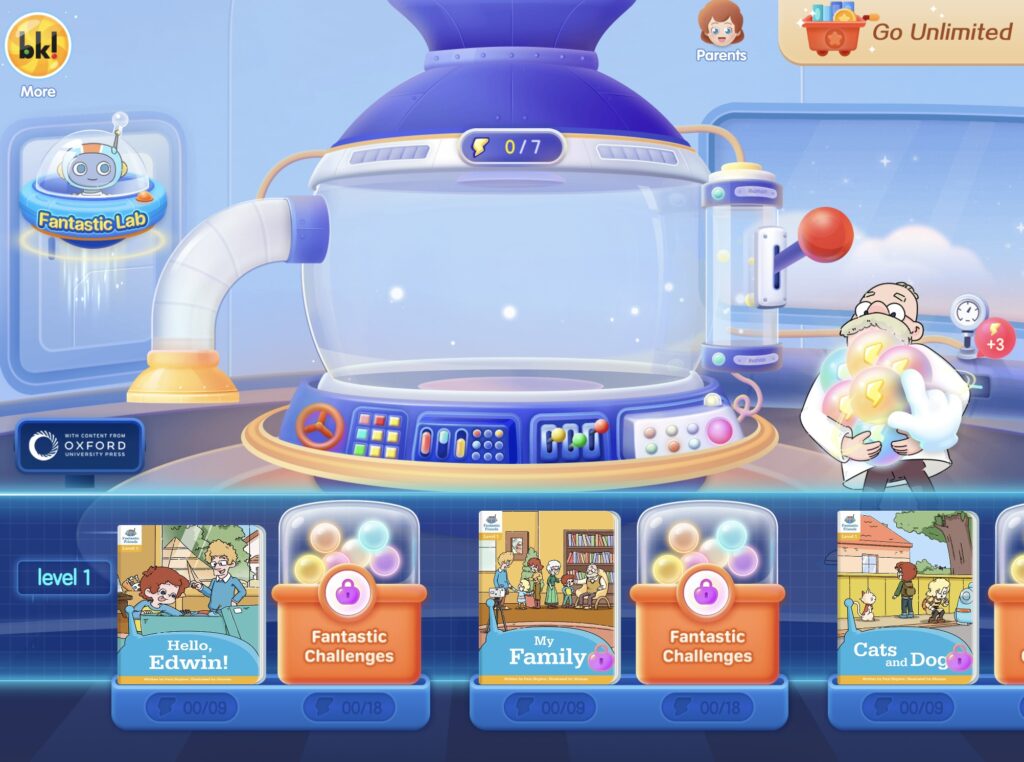 My favorite & coolest part of the reading app:
The entire app is very organized and easy to find things. Each day when you open the app you'll be able to collect "Energy Balls" which can be used to create things for your "Fantastic Lab". (More about the "Fantastic Lab" below!)
The app is broken up into levels where you progress and unlock specific stories and "Fantastic Challenges". You can swipe through all of these levels at the bottom of the screen as you see above. Each animated, leveled storybook has a reading section, a quiz, and then a play activity. Once you've completed all three things in that book series, you'll earn additional "Energy Balls" and unlock additional books.
When your "Energy Balls" are full enough, you can pull the lever on the large machine in the image above and it will create a new invention! Skip down below to our Fantastic Lab description for more about this!
Interactive Story Books: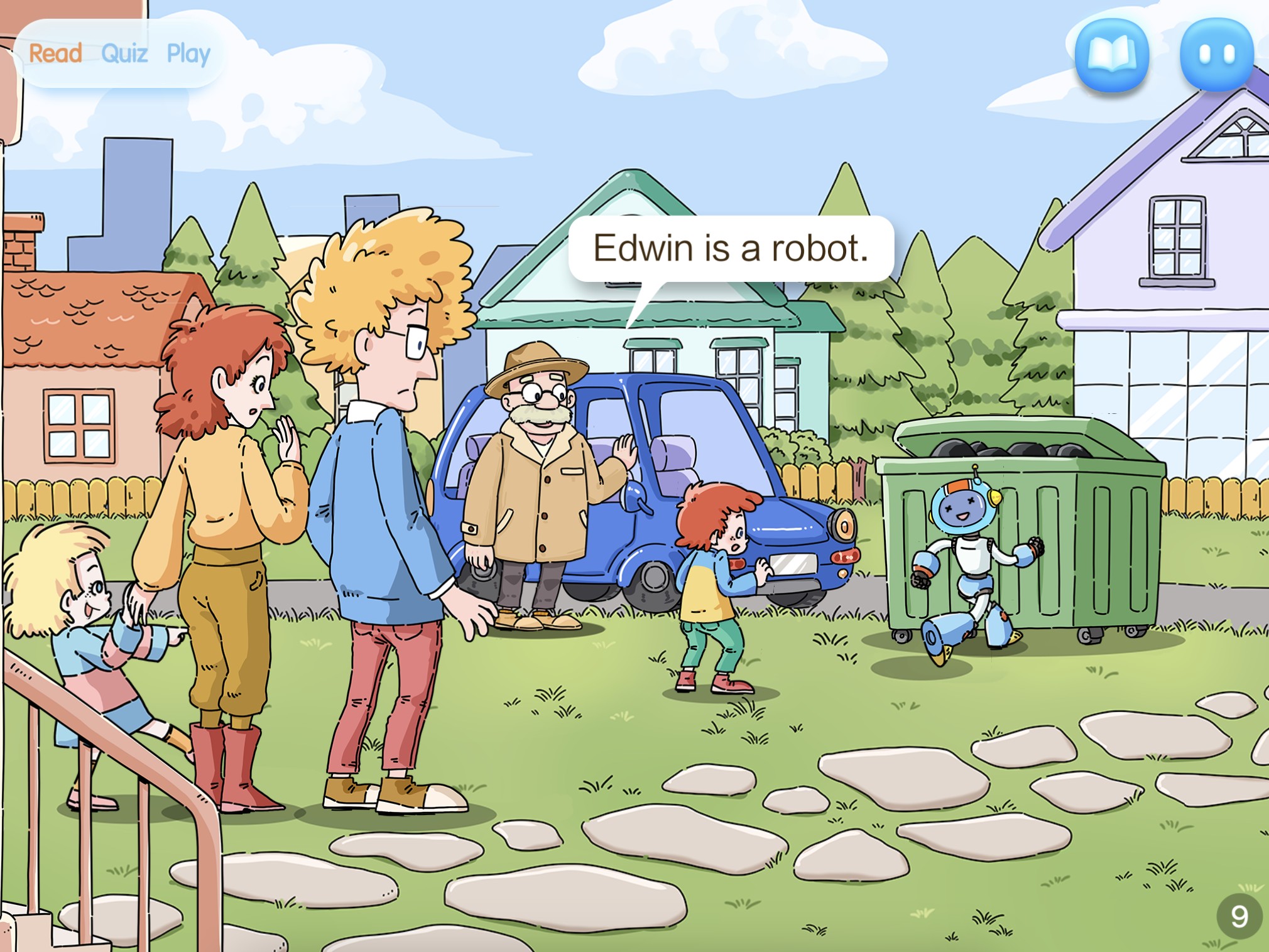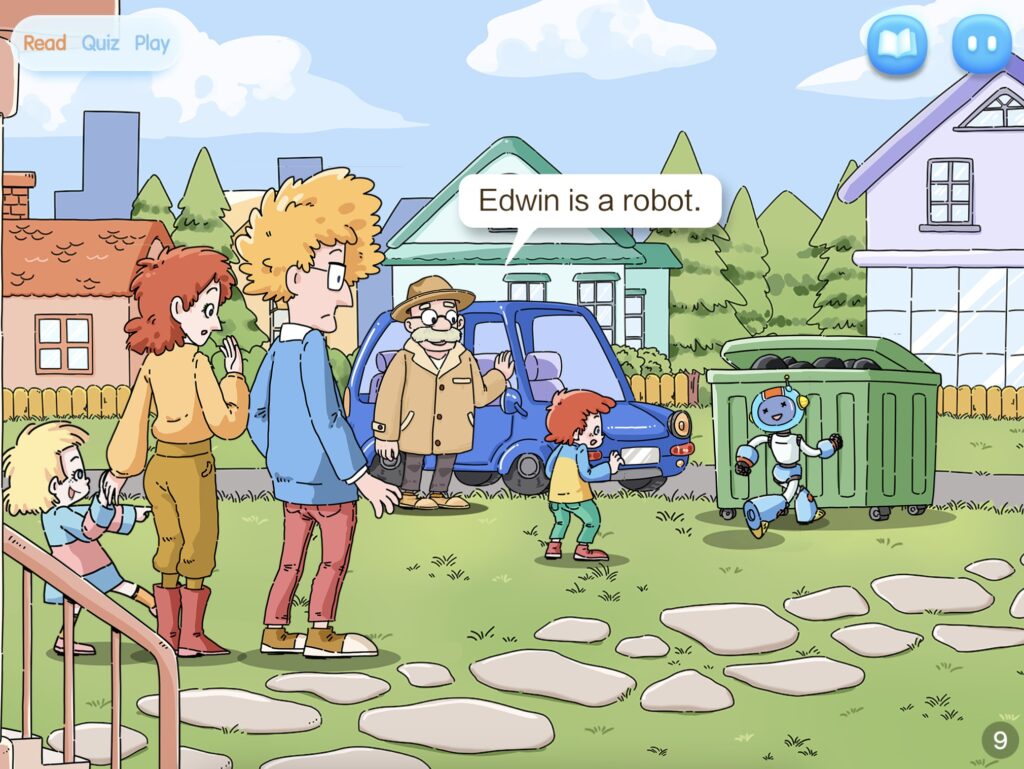 From the main page, there are story book choices to "read". It's really a three part activity. You'll first need to "read" the book, then take the quiz, then play an activity. You must complete all three of these activities in order to unlock new books and to earn Energy Balls for your Fantastic Lab (invention room).
One nice thing is that the story books are partially interactive if you've got the right setting on. The app also reads the story out loud as well as displays the text on the screen like you see above. However there is NOT a setting to mute the app, so if you are somewhere that needs a quiet app you'll either need to use headphones or simply place your actual device in a no sound mode.
Once you've completed your storybook, a quiz will appear. As with the story time, the quiz questions will be verbally spoken. Some of the answers will have visual cues, however not all of them do. Some of the answers are just text.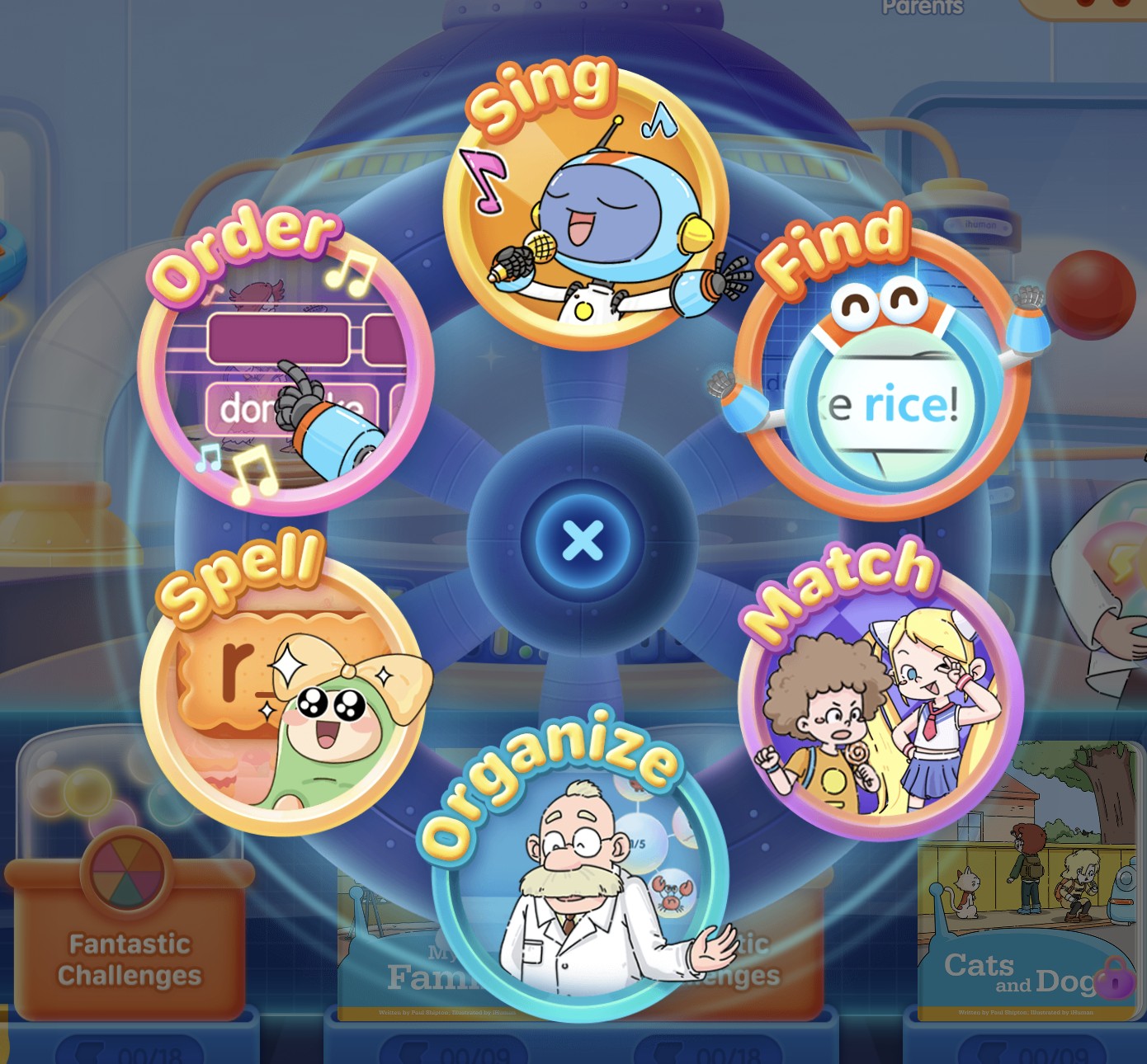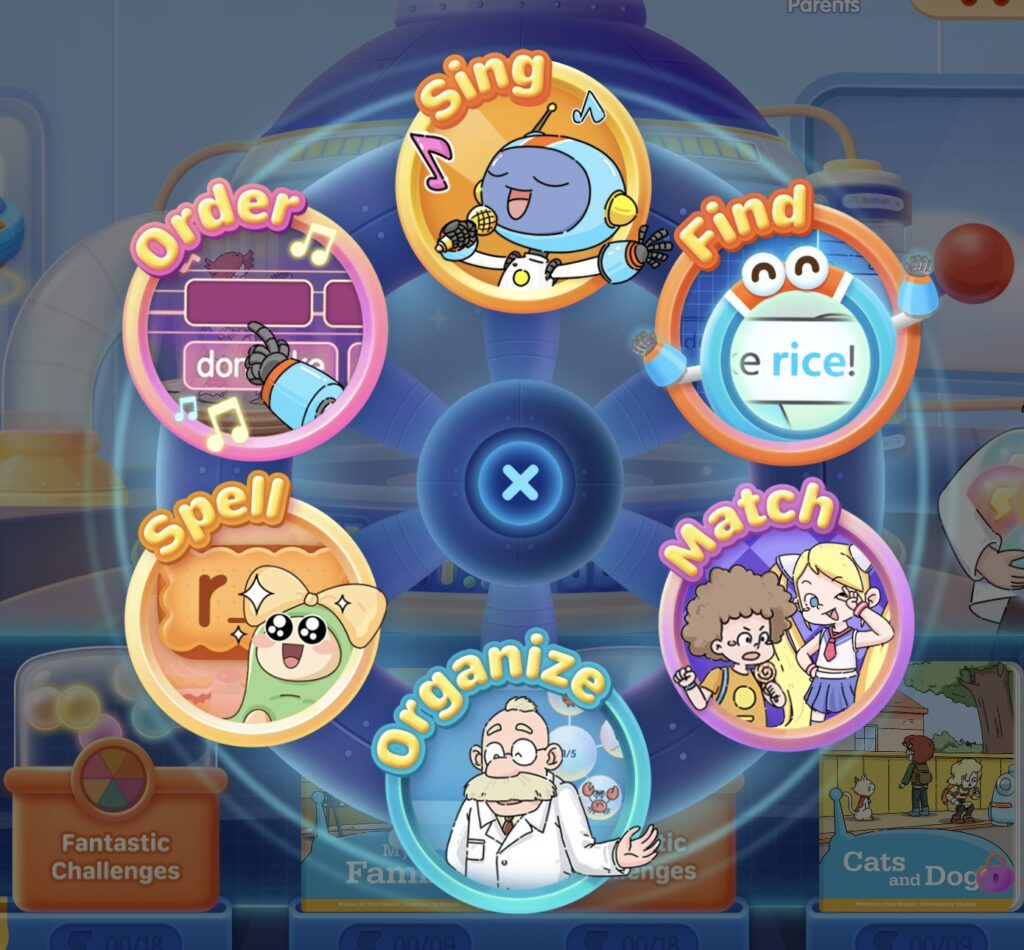 Once you've passed your story book AND your quiz, then you will have the option to play an activity. A screen like the one you see above will pop up and you will have the option of the type of activity that you would like to play!
The repetitive review nature of activities and songs help to strengthen and build their vocabulary through each of the storybooks as well as improve word recognition and spelling skills! Repetition is so important for kids to help them remember what they've learned!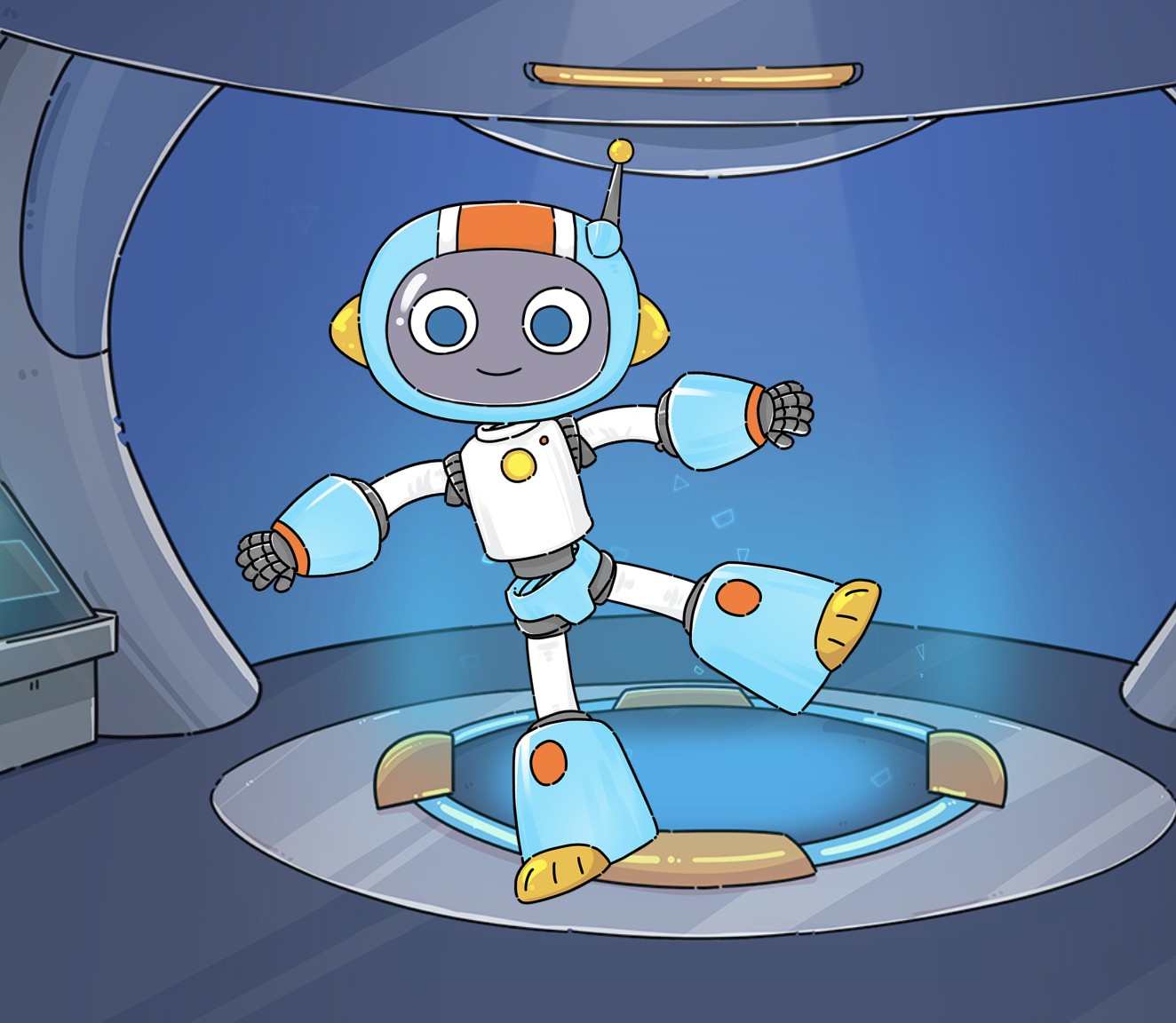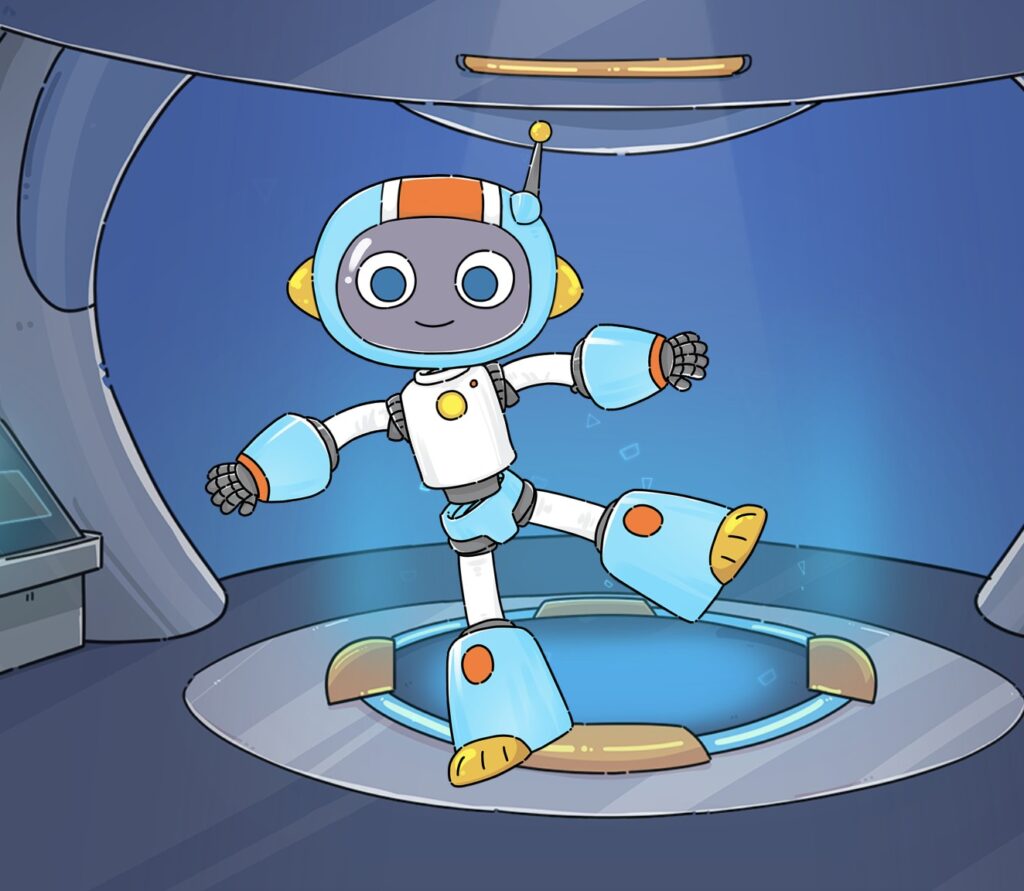 As you can see the graphics in general are very kid-friendly and the activities are simple enough for your youngest child that can use a tablet or phone. This particular activity above required the child to drag robot parts to the correct places.
Other games geared perfectly to younger children are things like racing to feed little monsters, grabbing toys in a claw machine, and solving simple puzzles!
Sneak Peek into the Fantastic Lab: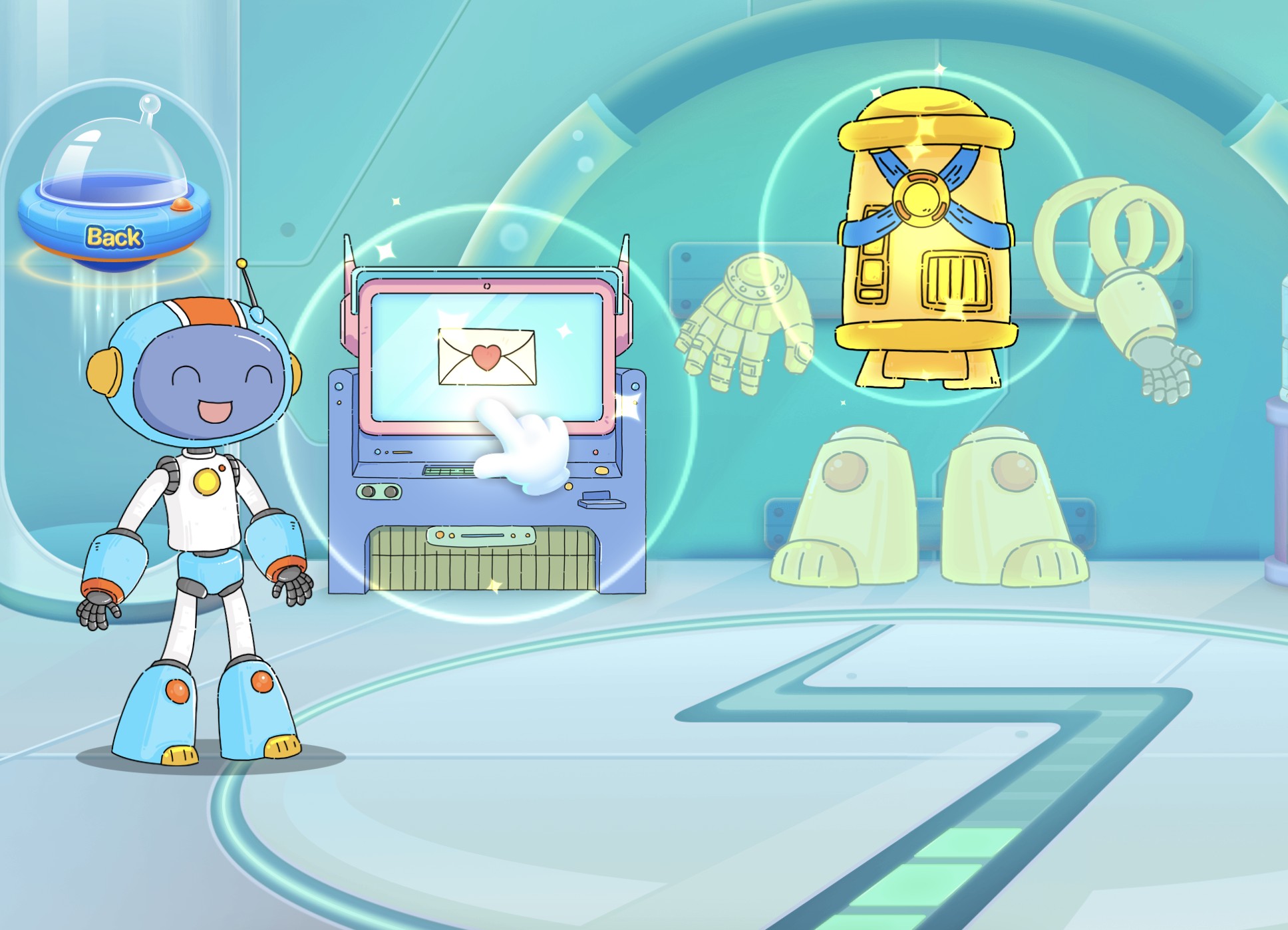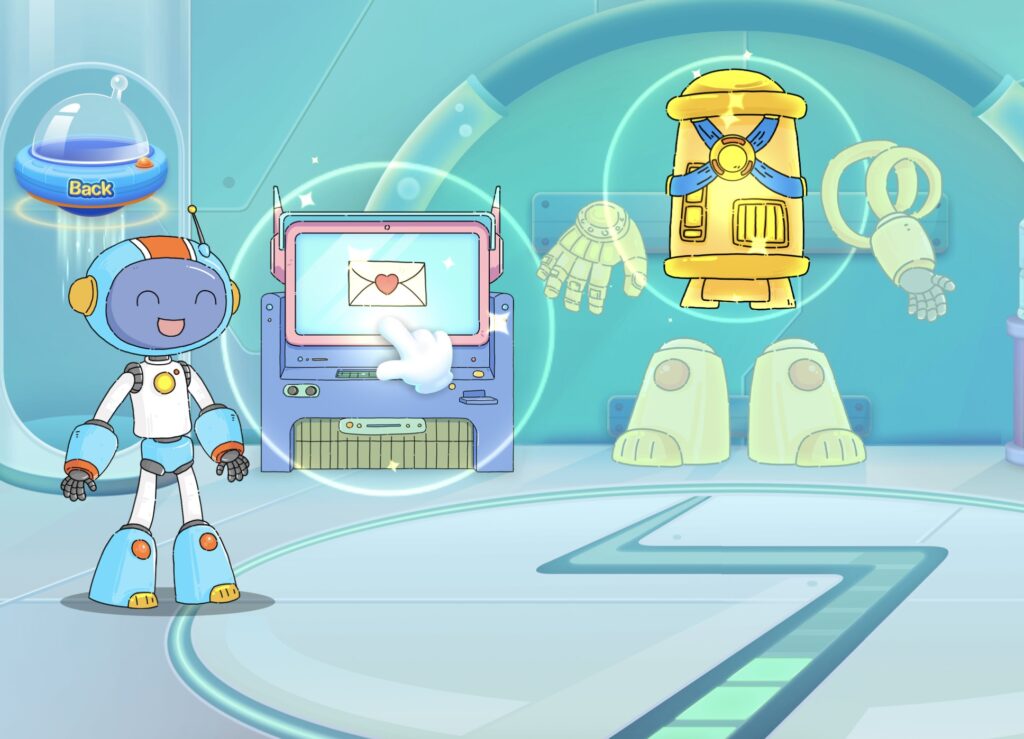 The Fantastic Lab is a COOL place that collects special tech inventions like a rocket backpack, holographic machine, zero gravity machine, etc. Definitely one of the coolest places in the app to visit.
Our first invention was a Holographic machine! It was a fun surprise to see such a cool tech place for younger kids to find. It felt very futuristic to me even though many of these inventions are actually real things!
Each item on display in your Fantastic Lab can be touched and demonstrated.
How safe are the parental settings and shop features?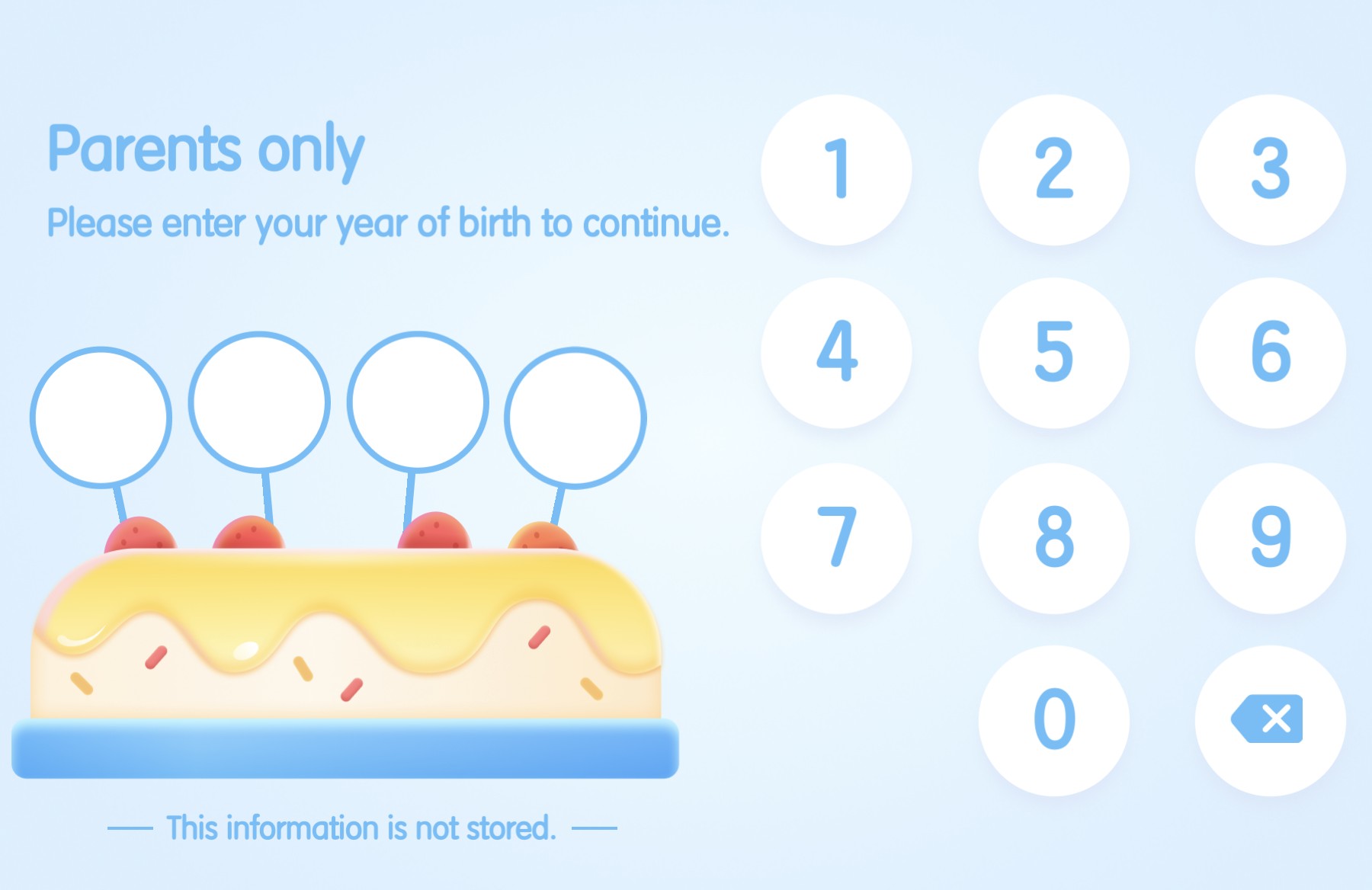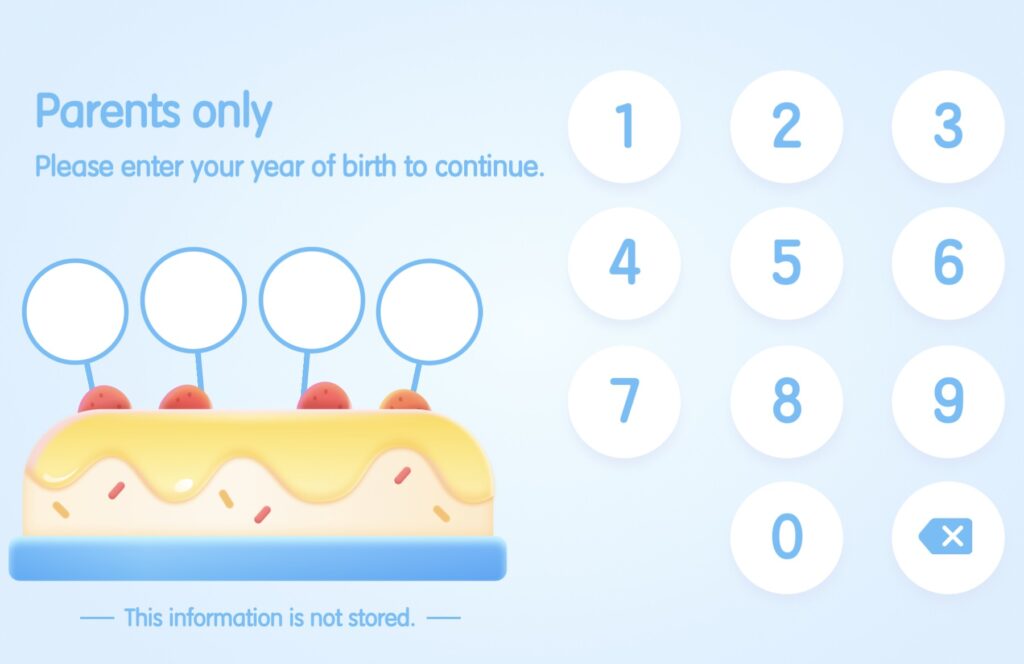 As with all good children's apps, there are certain things that require a parent to access. While there is some effort to create a locked area that kids can't access, as you can see above it is incredibly easy to bypass and access the parental areas if your child is old enough to understand birth years!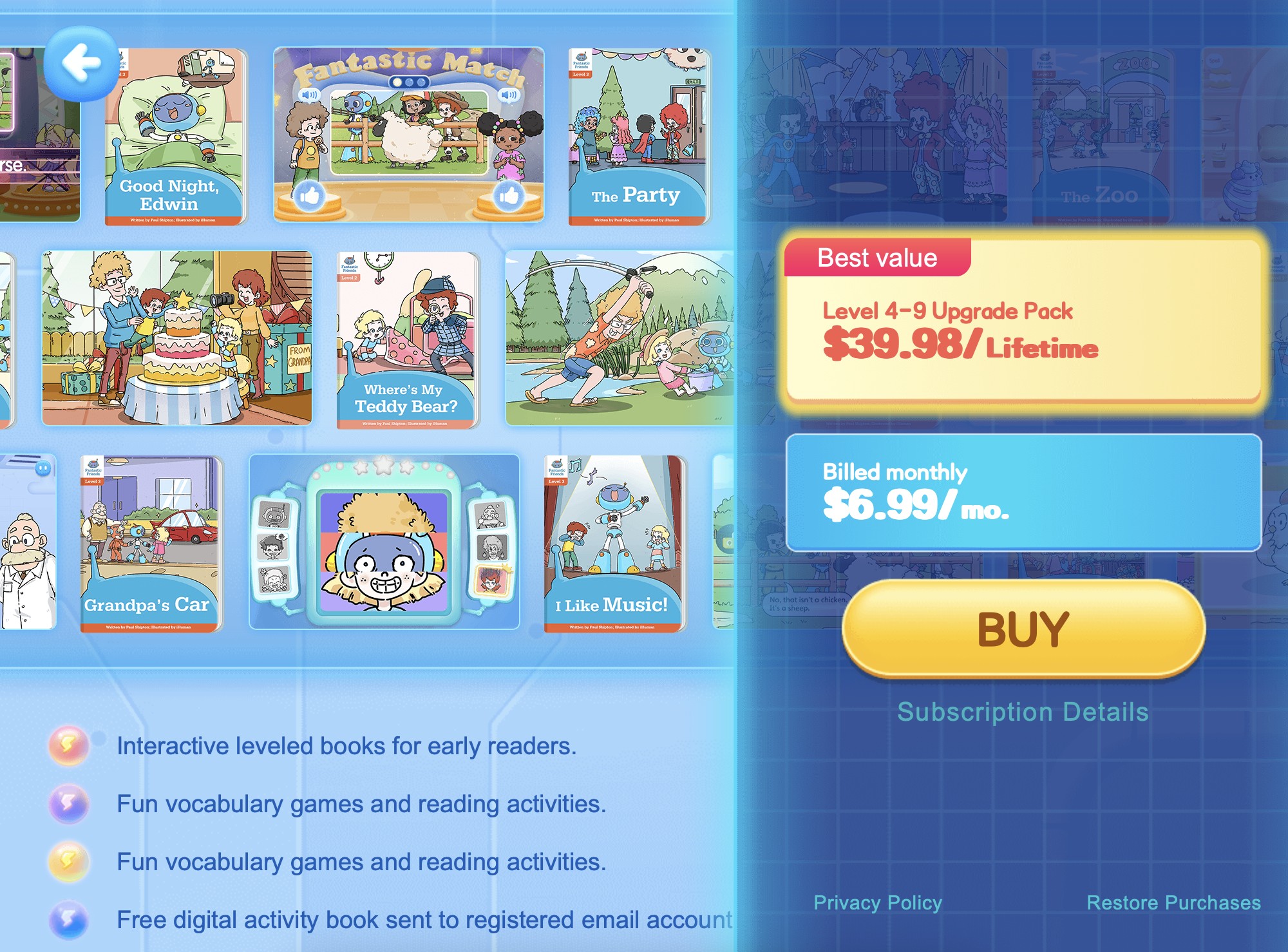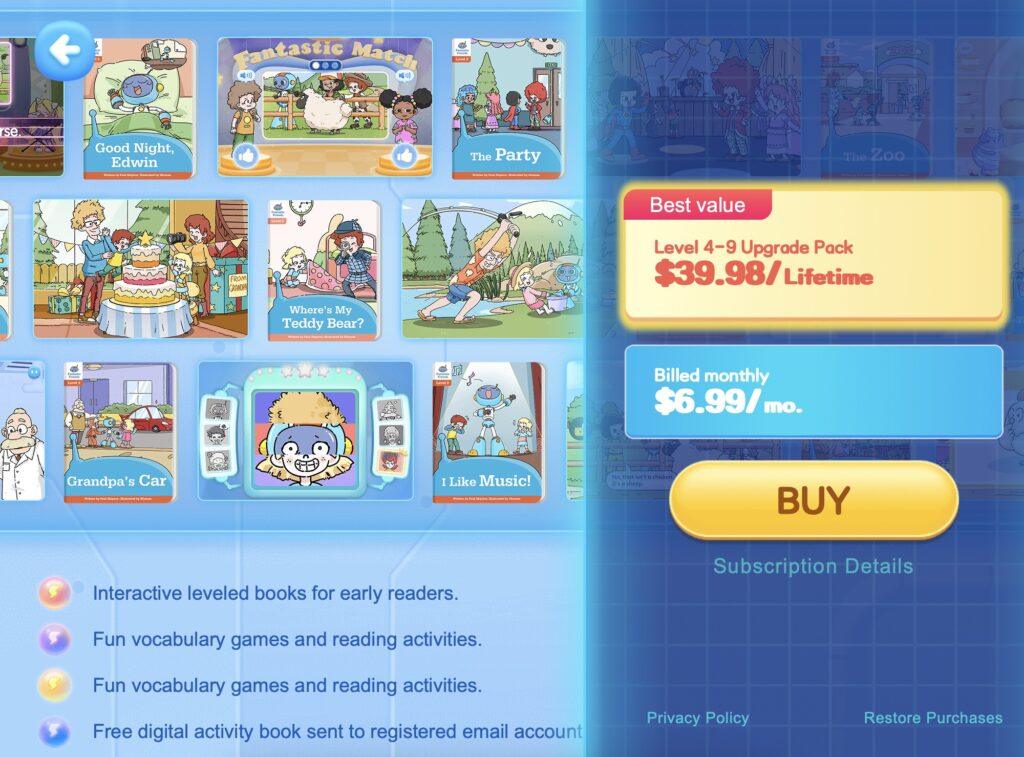 Additionally, if you touch the "Go Unlimited" button at the top of the main screen, it allows anybody to head to the shop to purchase a subscription without initially requiring the birthday code input. (see above)
Once you've chosen a subscription and clicked to purchase, at that point it will ask you to confirm you're a grown-up. Again, easily by-passed if you aren't a toddler, so make sure you have your app phone settings to require additional information before any payments are made.
The bekids Reading App has two different subscription options: billed monthly or as a lifetime purchase. The monthly subscription auto-renews unless you turn it off at least 24 hours before the end of your billing cycle.
Final Thoughts:
Overall the app theme and illustrations are fantastic and very kid-friendly. While I wish the parental security code was better, as long as your phone settings are not set to automatically accept app payments and charges, you're pretty safe in this area. Plus the app is ad-free which is a huge plus.
You cannot easily skip around in the app without completing whatever you have already opened, so this in and of itself is a pro and a con depending on the user. In general though, the activities are nice and short and geared appropriately for this age group.
My daughter is currently 8 years old at the time of this review and she's even been enjoying using this app!