BISSELL Symphony All in One Vacuum & Steam Mop Review
This post may contain affiliate links, view our disclosure policy for details.
Disclosure: The reviewer has been compensated in the form of a Best Buy Gift Card and/or received the product/service at a reduced price or for free.
This BISSELL Symphony All in One Vacuum & Steam Mop Review will help you to learn more about the features that it has to offer and decide whether or not you want to purchase one.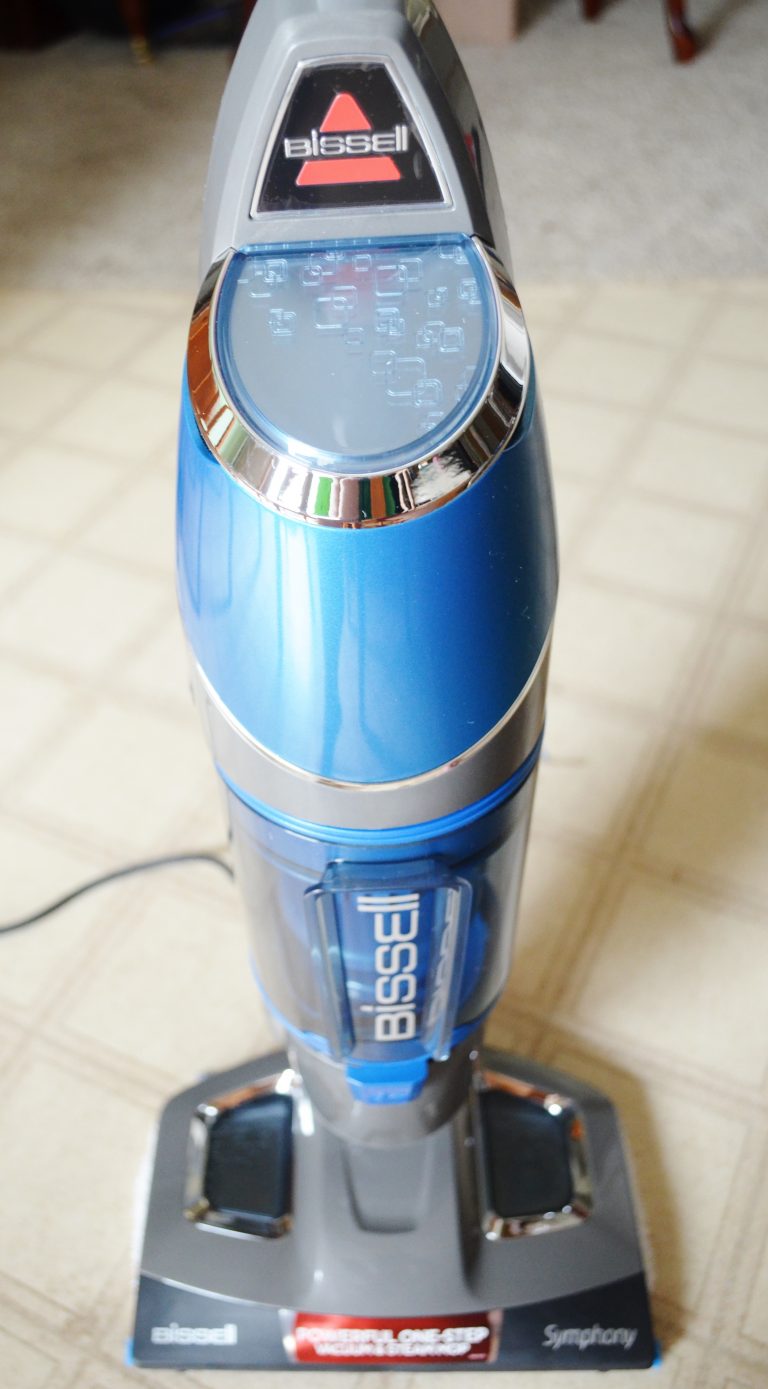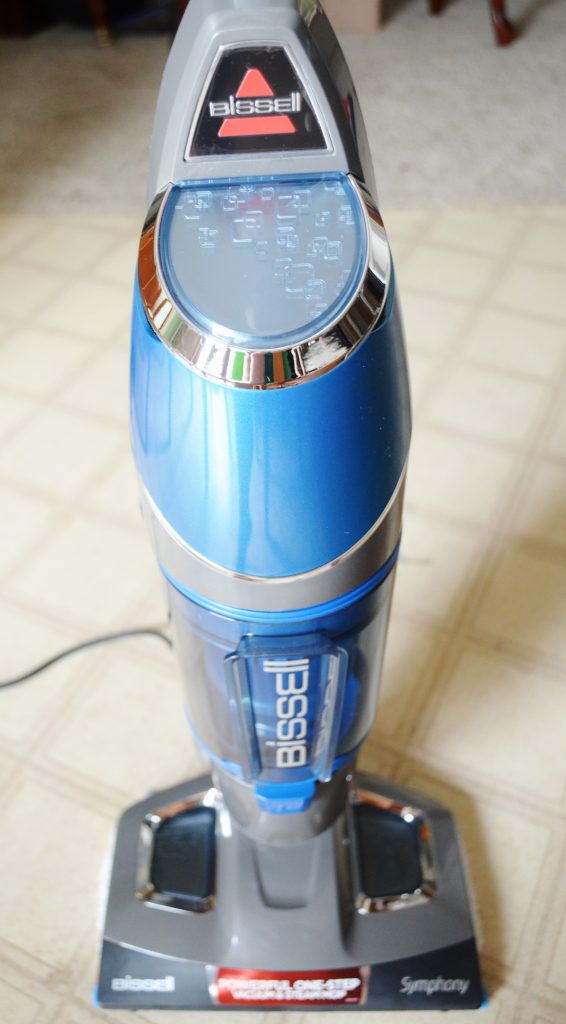 One of the hardest household chores for me to keep up with in our house other than the insane amount of laundry that comes with kids is keeping our floors clean – particularly our hard floors. It's amazing how absolutely disgusting our floors can get before we realize how bad it is!
We live out in the country where there is a LOT of farming going on all around us which produces just buckets and buckets full of dust and dirt in the house during the year – not to mention having 2 kids, a pig, a dog, and several cats in and out of the house! When Best Buy offered for me to check out the new BISSELL Symphony All in One Vacuum and Steam Mop I was pretty intrigued because not only does this machine vacuum and steam clean your hard floors – it can do it at the SAME TIME!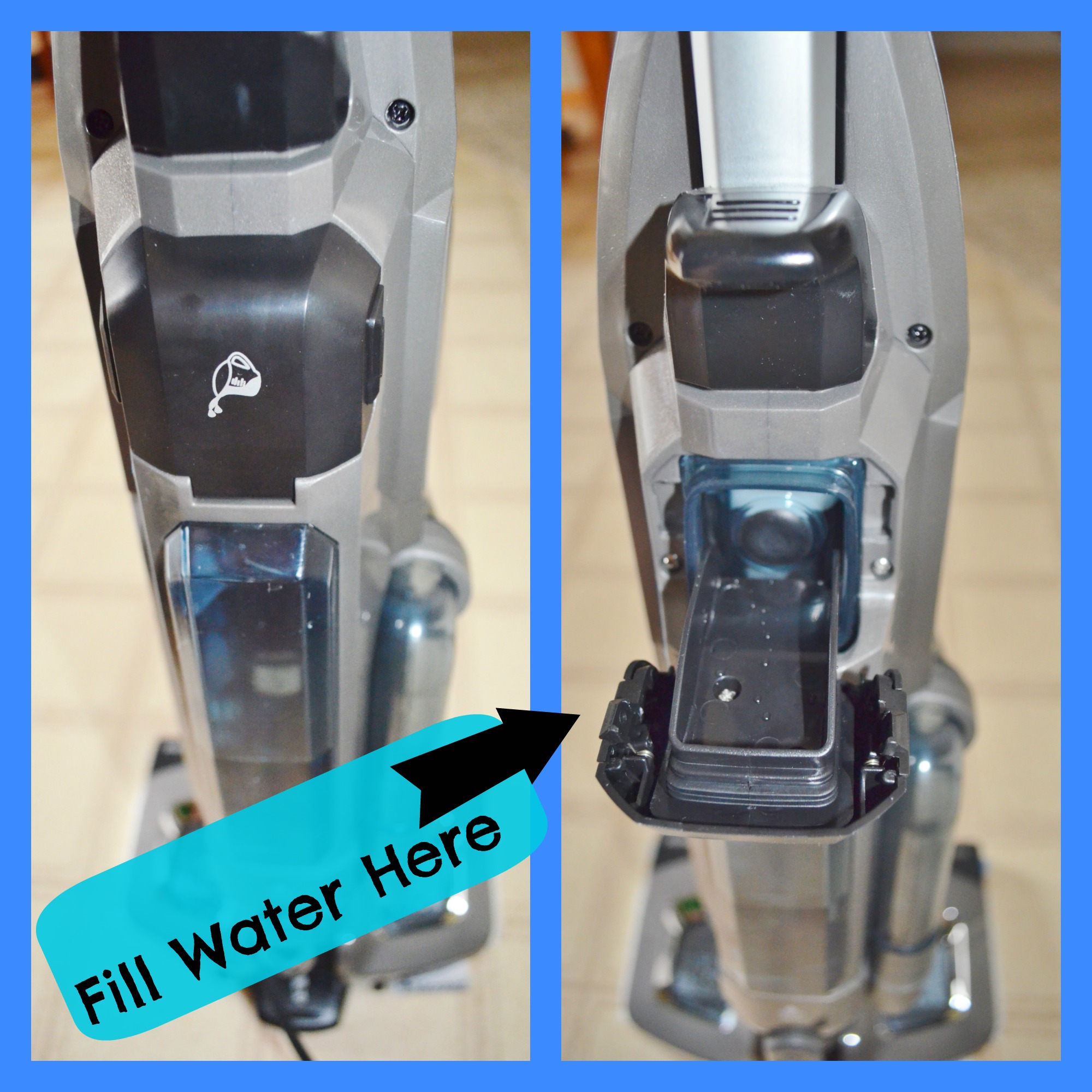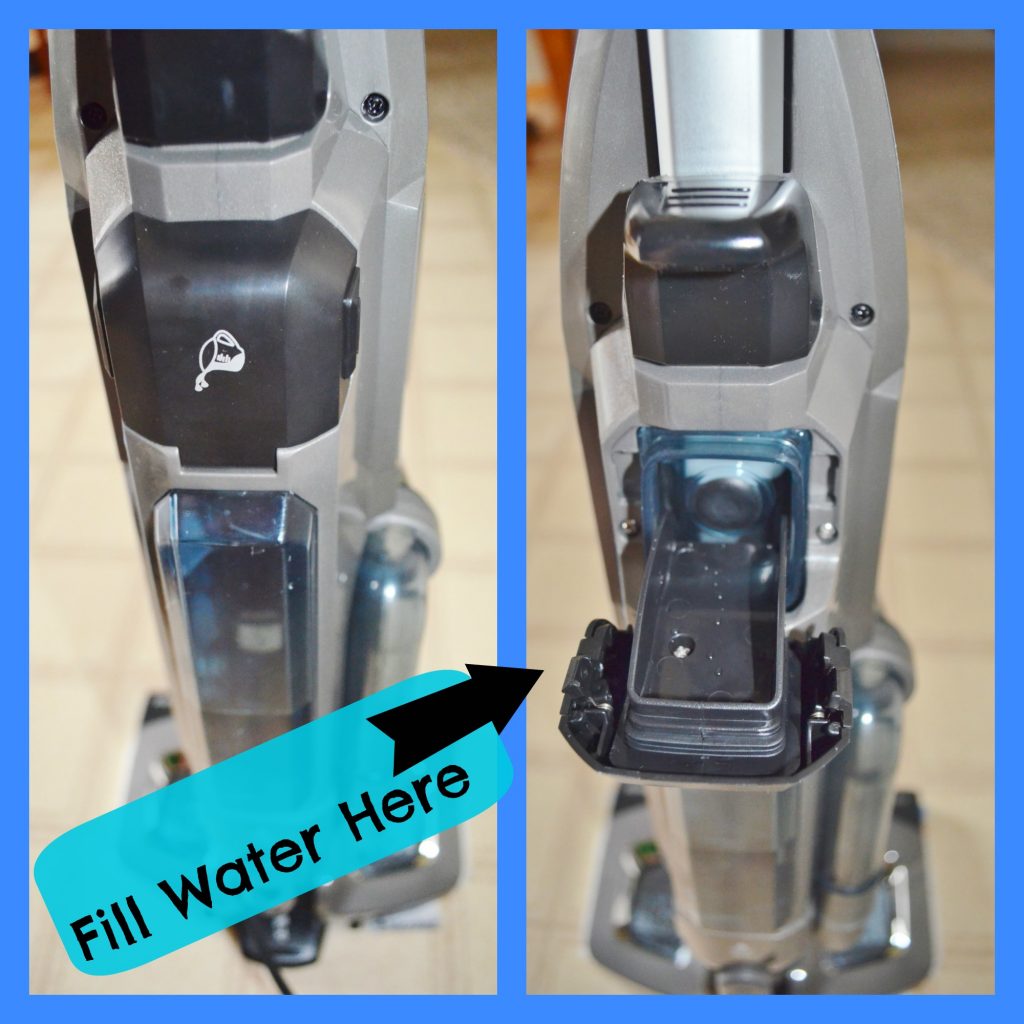 I was rather skeptical at first at how well this machine would actually work to be honest. It seemed to me that the steam mop would just end up caking dirt all over the floors and make my floors even worse but I knew it would be just heavenly if it actually worked like it was supposed to!
It was incredibly EASY to set up – it came in just 2 pieces in the box that you just attach and VOILA! You're ready to go! It also came with 4 reusable mop pads as well as a plastic cup to add water to the machine. It's a pretty innovative spot to add water right in the top back of the machine as you can see above. Out of all the steam mops and cleaners I've ever used this was definitely the easiest spot to add water into!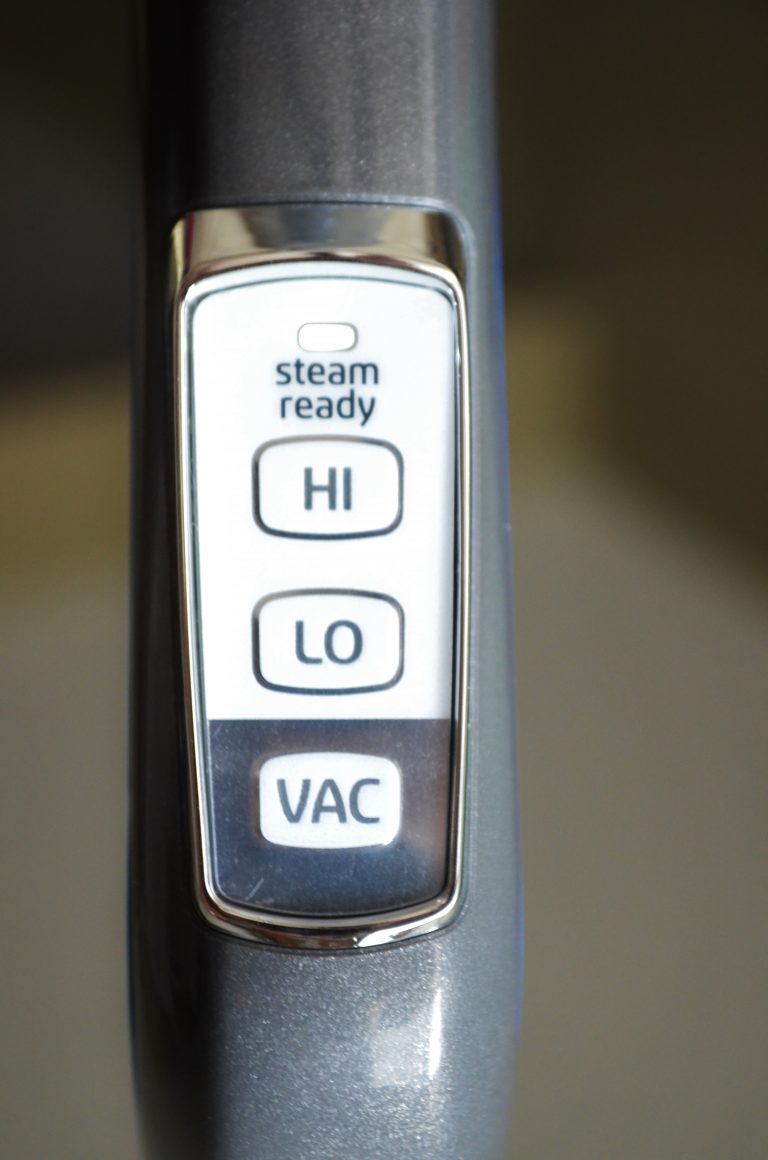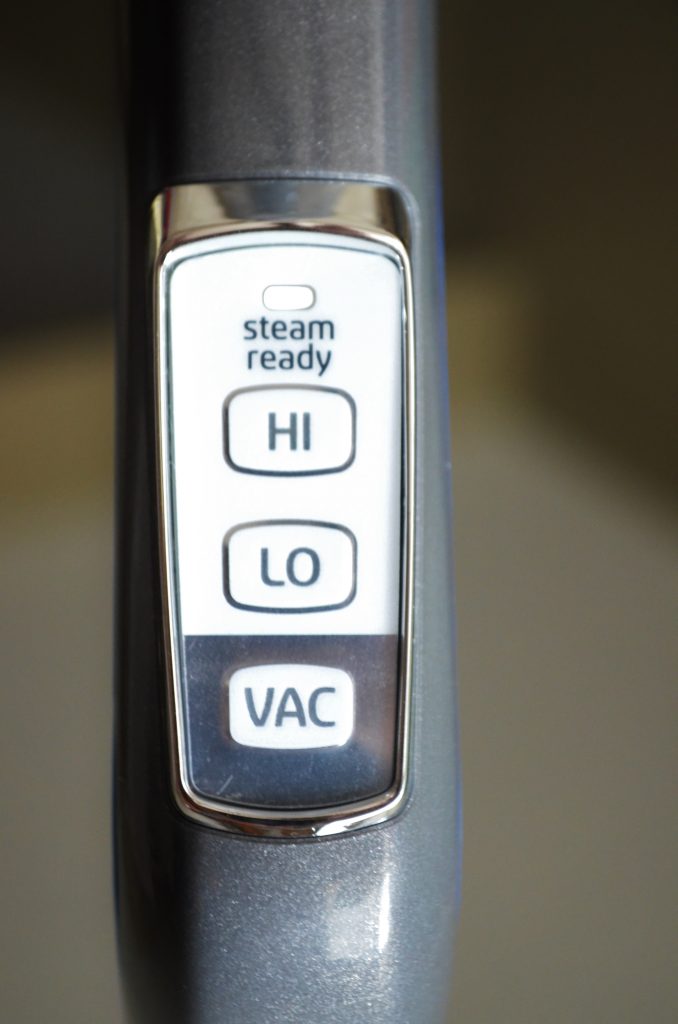 On the handle itself is where you control whether you want to steam, vacuum, or both! You can choose HI or LO for the steam, and also press the VAC button if you want it to vacuum at the same time. To make the steam come out you just squeeze the handle that you're holding on to.
When I first used the Symphony I decided to vacuum first and then mop, although even running the Symphony over the floors twice was heavenly because I didn't have to monkey with pulling out a bunch of equipment and switching water or anything around. This one BISSELL Symphony machine did the entire job in just one product without the need to switch any equipment around!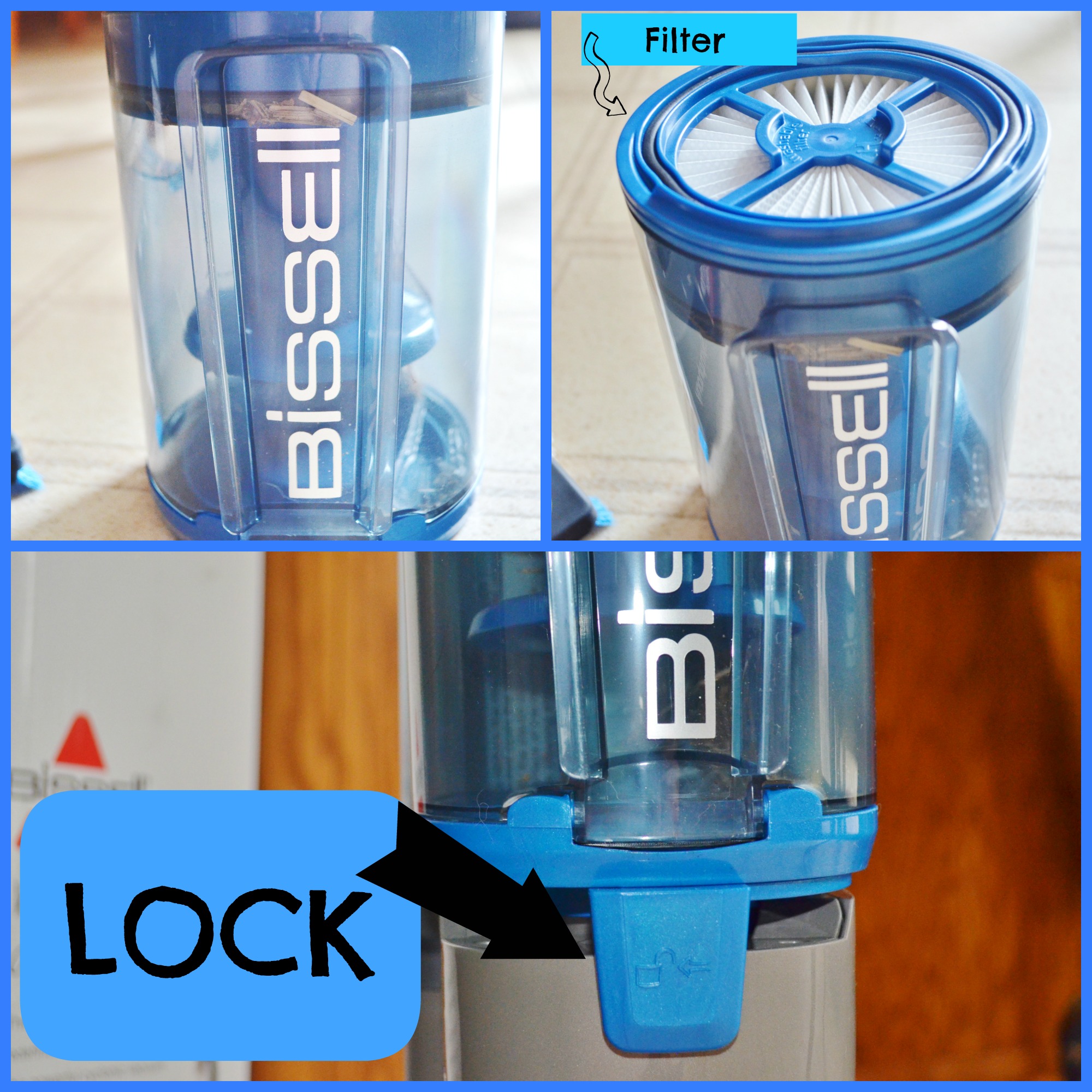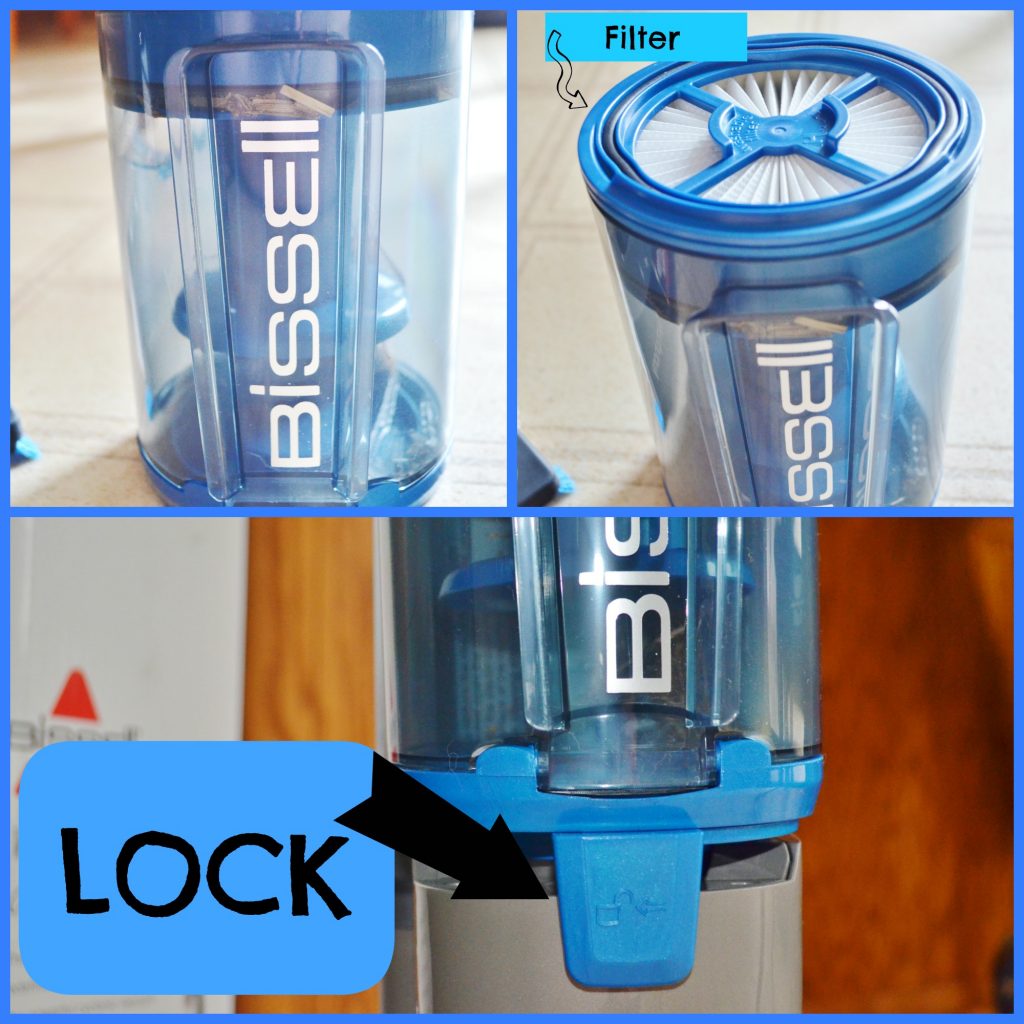 Here you can see the bagless vacuum canister which has a lock on the front to keep it in place. To empty the canister simply slide the lock over and pull the canister out – even my 4 year old was able to easily do it without help! I was surprised at how much the canister held considering it looked pretty tiny!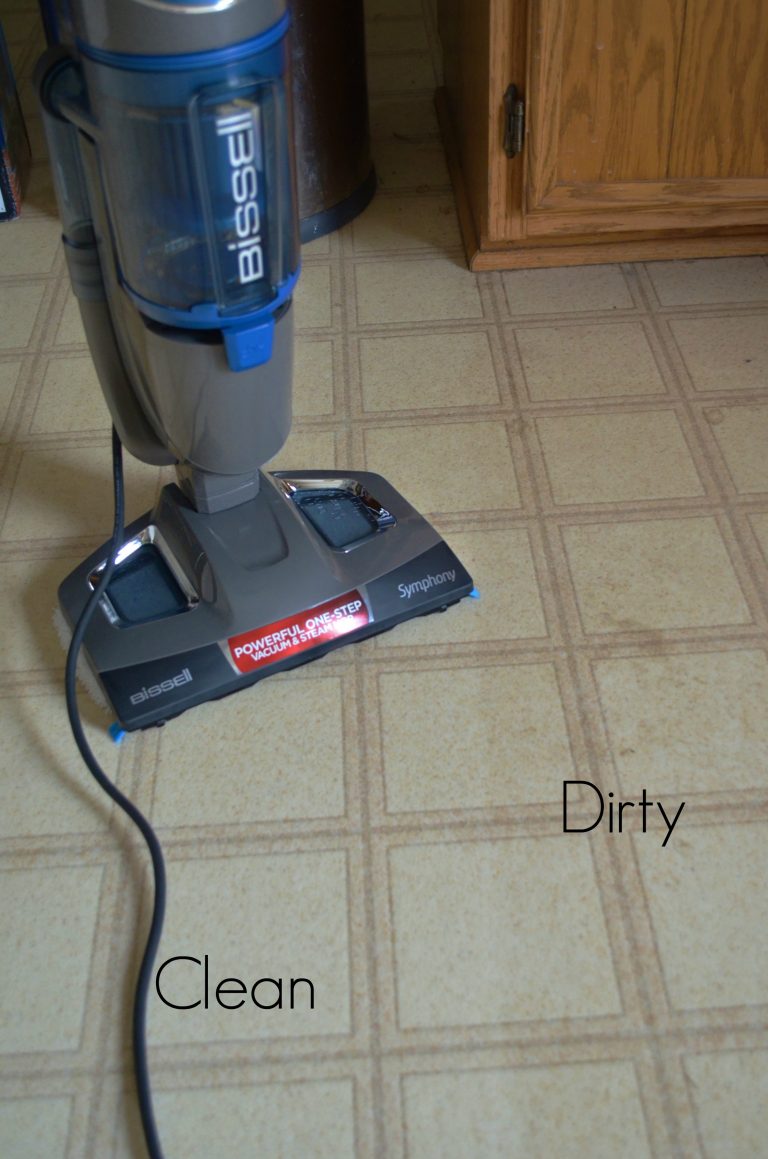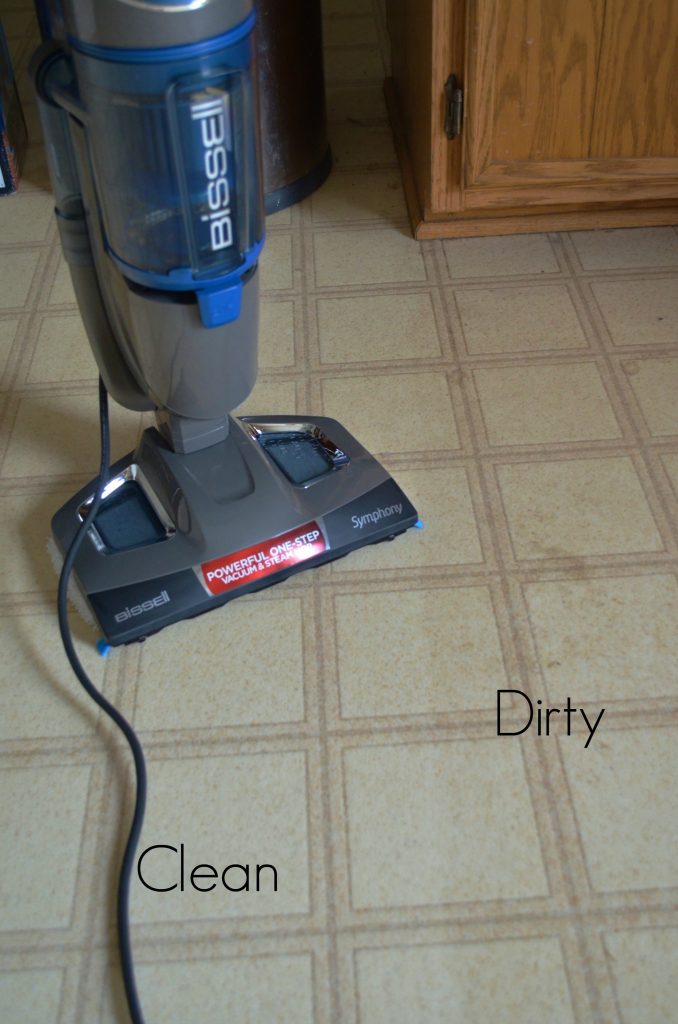 Ok – so this picture grosses me out a little! This was after just ONE week of not mopping my floors. ONE week! I told you our floors get hideously dirty! And we walk around barefoot on that floor! ICK! At least now that I used the BISSELL Symphony steam mop on my floors I know it's at least killed all of the germs off of my floors!
In fact you can kill up to 99.9% of germs by using the hot steam! Below I've included some of the press details so you can see ALL of the specs and info on this product but I wanted to let you guys know what I thought first.
SO did we think?!
Well first of all it was definitely one of the simplest things to put together that we've ever had! We just snapped it in place and we were ready to get started! My husband and I were both pretty blown away at how well the stick vacuum actually worked – I couldn't believe what it sucked up! I was trying to vacuum around the large plastic clips and pieces on the floor that we planned on picking up but I accidentally sucked some up and it just WHOOSHED up there like a dream! I was shocked! The vacuum by itself it really pretty awesome and the small looking canister holds a surprisingly large amount.
For the steam mop portion of the product by itself it definitely cleaned my floors. A few of the really extra junky spots on the floor required a few passes but no different than any other cleaning product. Although you can see the steam out the sides of the mop I was never concerned about my kids touching or being near the mop and getting burned. My toes never got burned when my feet were too close to the machine (which has happened with other products I've tried!). I would say it rubs across the floor similar in hardness to a mop – there's certainly no gliding action going on but it was by no means difficult to push at all.
Using the vacuum AND the steam mop together was definitely a first for me! I can't believe how far technology has come! I guess I just couldn't fathom a machine actually being able to steam mop AND vacuum at the same time but I was pretty impressed with the BISSELL Symphony. It really did a fabulous job and will certainly help me keep my floors cleaner since this one machine can do everything for me. One quick tip I learned was not to drag the mop back through the dirt – make sure you push the machine through the dirt pile for the vacuum to suck everything up!
OVERALL – LOVE LOVE LOVE this BISSELL Symphony! Just the fact that it's an all in one machine makes my life SO much easier. Because it makes vacuuming and cleaning the floors get done all at the same time it means I will clean them more often!
What I LOVED:
*REALLY simple to use. It's pretty dummy proof.
*The cleaning power is pretty superb.
*It's ONE machine doing two jobs at the SAME time – how much better can it get!?
*It came with FOUR extra mopping pads – a HUGE bonus!
*It SANITIZES my floor naturally – NO chemicals! Which also means less $$ spent!
*The Mop Pads were made with Microban.
What I didn't love:
*In my wildest dreams I'd love to see some type of gliding action going on so it was a touch easier to push but in all reality it really wasn't that bad!
*The electric cord could be a touch longer! It wasn't too bad but I can't reach the far corners of my small kitchen if I plug it in the front hallway.
 SOME PRESS INFORMATION:
What's in the Box
–       1 Symphony™ All in One Vacuum and Steam Mop
–       4 Microfiber mop pads (2 soft, 2 scrubby)
–       1 Water Filter
–       1 Water Cup
Product features
Save time by vacuuming debris and steaming hard floors at the same time
Put away the dirty mop and bucket and skip the harsh chemicals. Sanitize with steam, using just water to eliminate 99.9% of germs and bacteria
Skip the broom and dustpan and let the Powerful Cyclonic Action vacuum clean away fine and large debris
Easy to use with Easy Touch Digital Controls™, 5-way adjustable handle, and Quick-Release Mop Pad Tray™
3 ways to clean—vacuum or steam separately or use both at the same time
Dry Tank Technology™ keeps your tank dry while you steam
2-year limited warranty
*When use as directed, results may vary.
How do I use a steam mop to sanitize my floor?
By holding the steam mop in place for 15–20 seconds, you can sanitize your floors by killing germs such as E. coli and salmonella.
Is it okay to use steam on my wood floors?
Yes, BISSELL steam mops are designed to clean sealed hard flooring such as ceramic tile, vinyl, laminate, marble, stone, and hardwood floors. Steam is not recommended for use on unsealed wood floors. Before cleaning, test in an inconspicuous area and check the care instructions from your flooring manufacturer.
How long will it take my steam mop to heat up?
The steam mop is ready to clean in approximately 30 seconds. It is normal to hear a knocking sound as it heats up. When the indicator light on the front of the unit comes on, you're ready to clean. During the first use it might take a little longer to begin steaming since the water needs to flow through the filter to the heater. This delay will occur only during the initial use or when using a new filter.
How can it vacuum and steam at the same time?
It's all thanks to an innovative design that utilizes a powerful cyclonic action vacuum to pick up small to large, dry debris off the floor before it comes into contact with our specially designed steam foot. Steam then cuts through grease and grime to clean sticky, stuck-on messes. It wasn't easy, but that's why it's the only product on the market that can vacuum and steam at the same time.