Visiting the National Geographic Museum – Washington DC
This post may contain affiliate links, view our disclosure policy for details.
Recently we did a HUGE family road trip from Iowa to Niagara Falls, NYC, Boston, Philadelphia, and Washington DC and back again. Unfortunately we only had a day or two in each location to spend which meant that we had to hit the TOP MUST SEE highlights with our kids.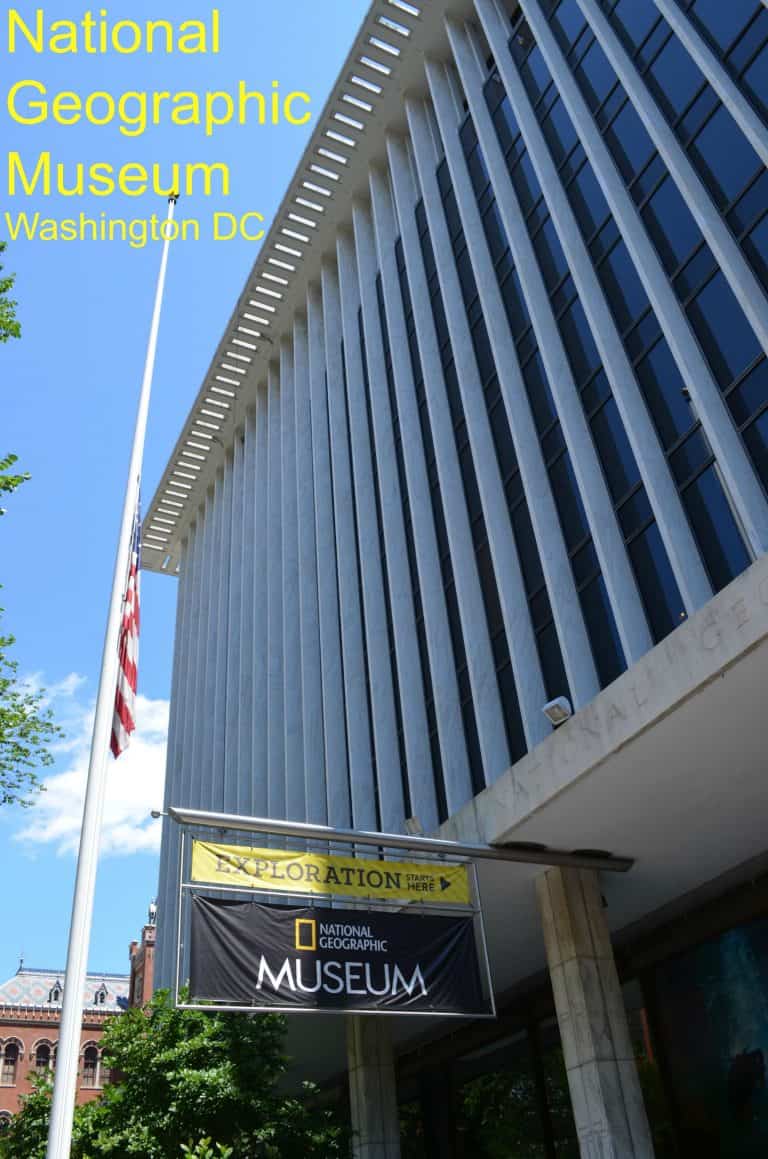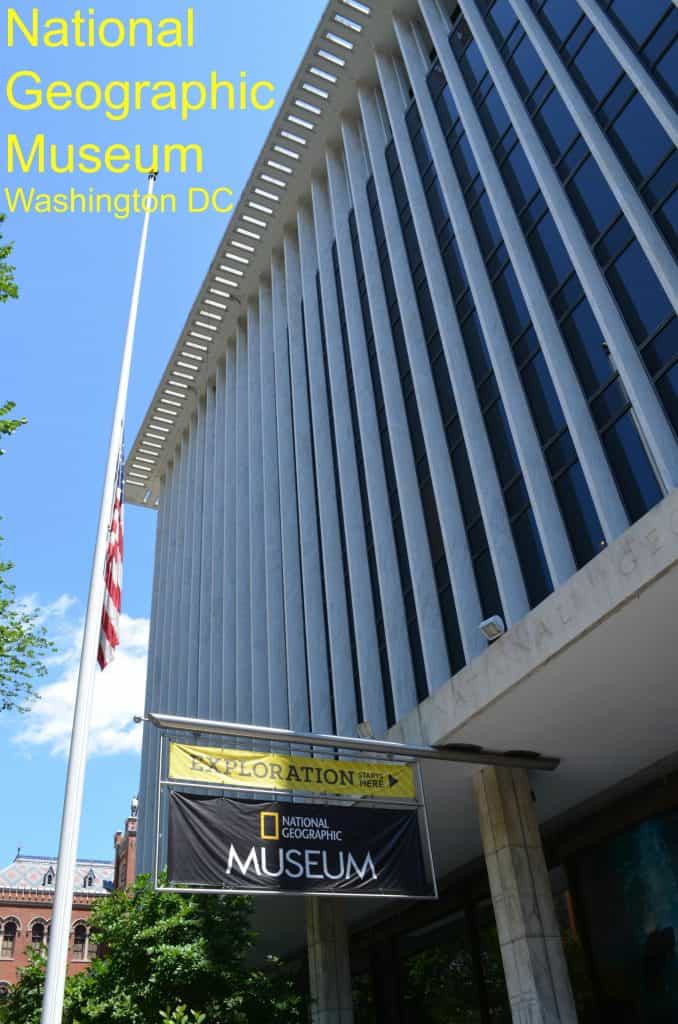 Our goal for this road trip was really an educational investment and the kids were STUFFED with knowledge! But not "boring" lessons that kids cringe at but FUN exciting adventures like our trip to the National Geographic Museum in Washington DC.
They generously allowed my family to visit since I am a National Geographic Kids Insider and my kids were OVER the MOON to see that they were currently hosting a Monsterfish Exhibit. It's what little boys dreams are made of and my kids spent the most time there! There was also a sweet Indiana Jones exhibit which was cool for the kids even though they haven't watched the movie so keep reading!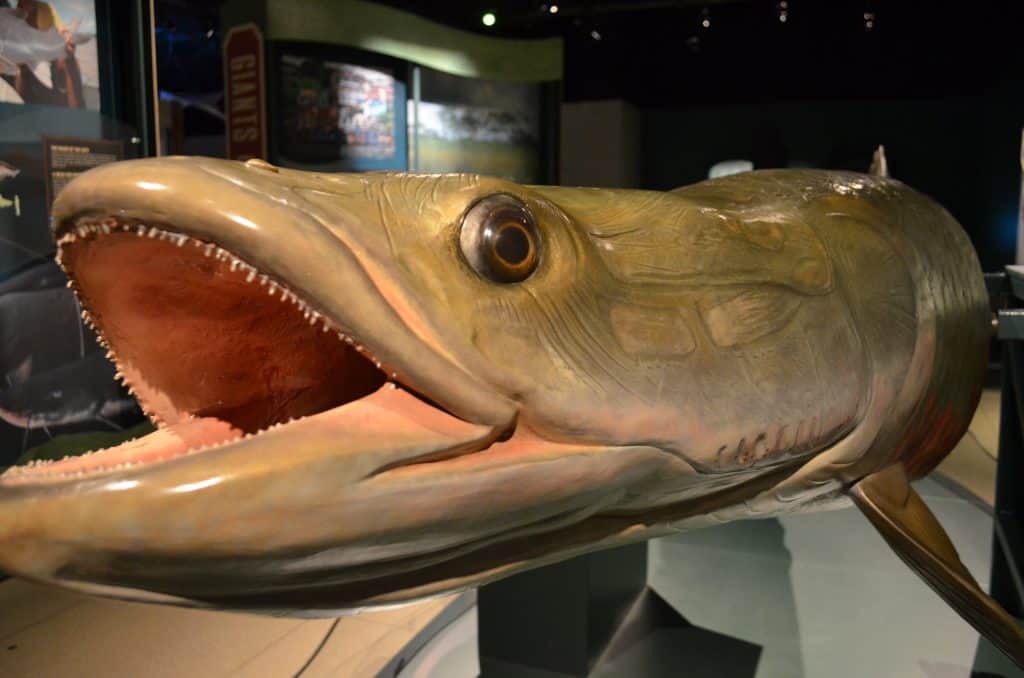 The entire exhibit is based on Nat Geo's Monster Fish TV series with aquatic ecologist Zeb Hogan. This is the type of TV my kids enjoy watching. Not only is it extremely educational but as we have the opportunity to visit zoos and other aquatic exhibits around the USA they recognize many of the animals displayed!
And of course they dream of finding the biggest craziest monster fish themselves! As we waited in the lobby to meet our reps to enter the museum there was a captivating video playing that showed how many of the fish from the exhibit were created which was cool for the kids because they got to watch the exhibits being created and then go inside and touch them!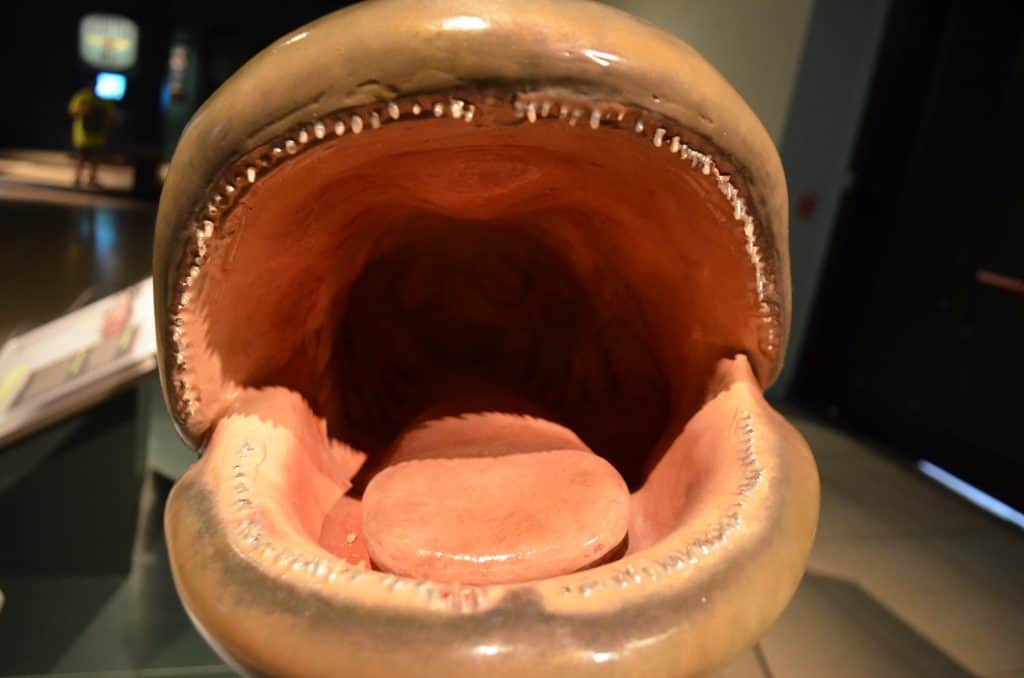 Although the exhibit definitely had a museum feel it was extremely interactive for kids. Most of the large fish on display had signs on them that said "Please Touch" and there were a TON of hands-on games, videos, exhibits, and structures to touch. This one was cool because the kids were able to touch the teeth and feel just how sharp a fish's teeth can be!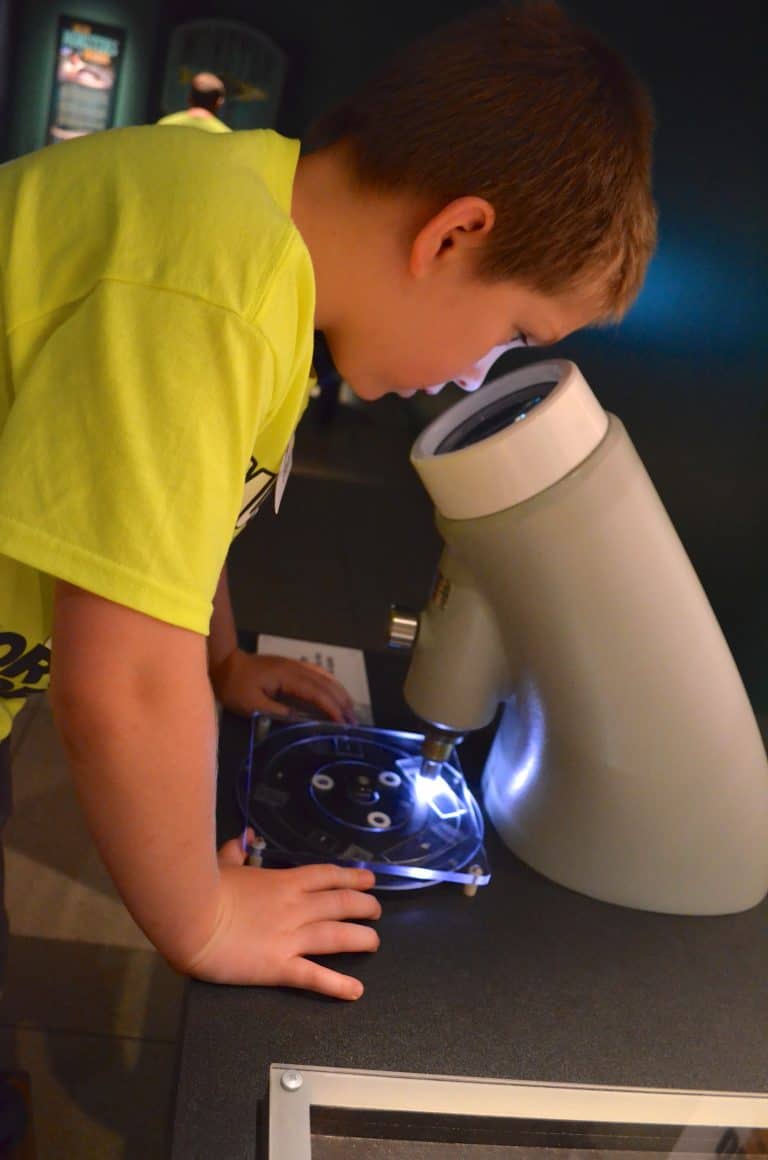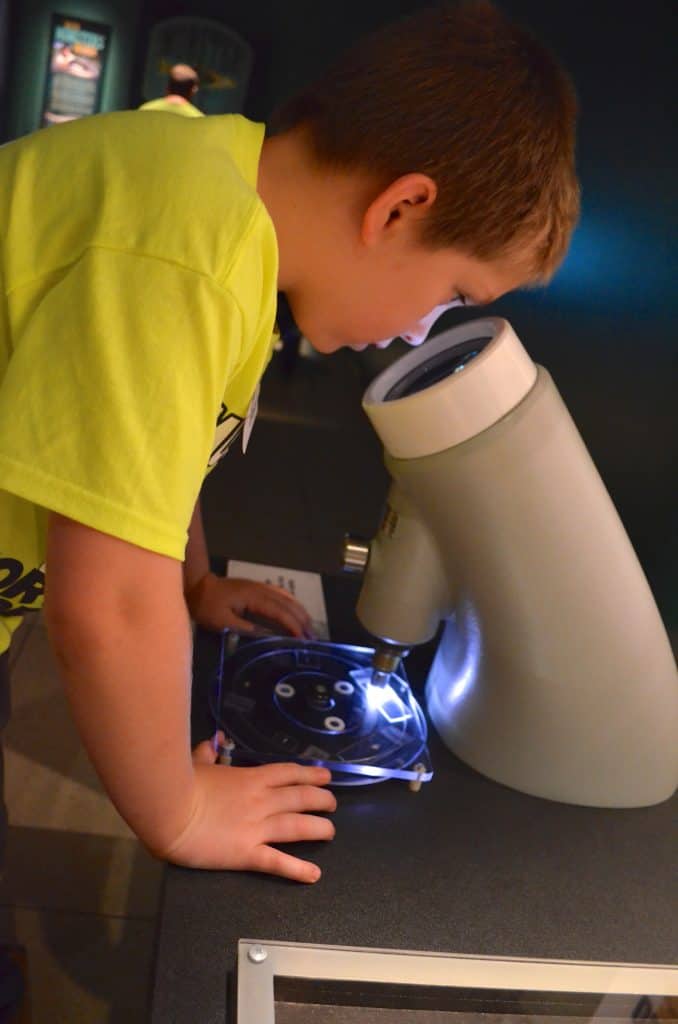 There was also an interactive microscope set up for the kids to view and explore various fish scales. Even I learned something new in this section! You can actually count the fish "rings" on the scales (similar to tree rings) to determine the age/growth of the fish!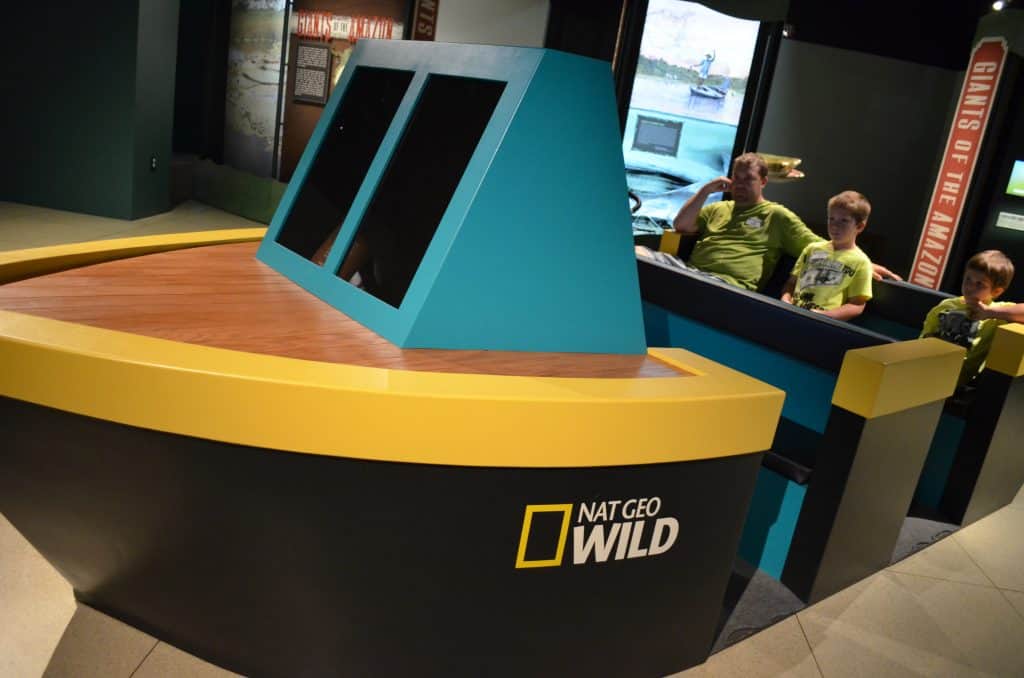 In the middle of the exhibit was this "boat" to sit in where you could choose various episodes of Monster Fish to view along with some hilarious bloopers! You could hear my whole family roaring with laughter when they showed a video of a shark biting onto a measuring tape while it was being measured!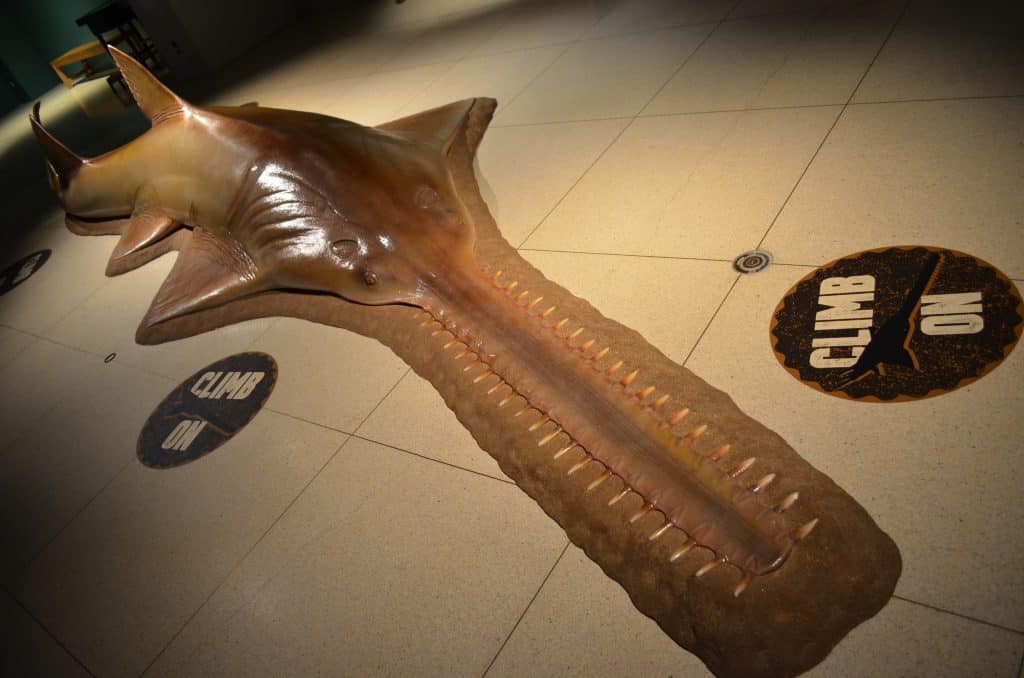 And a HUGE KUDOS to National Geographic for creating a climb on fish to play on!! Even my 8 month old had fun crawling around and climbing onto this sawfish. This was one of the main fish that we viewed in the video and watched how they created it so it was extra cool.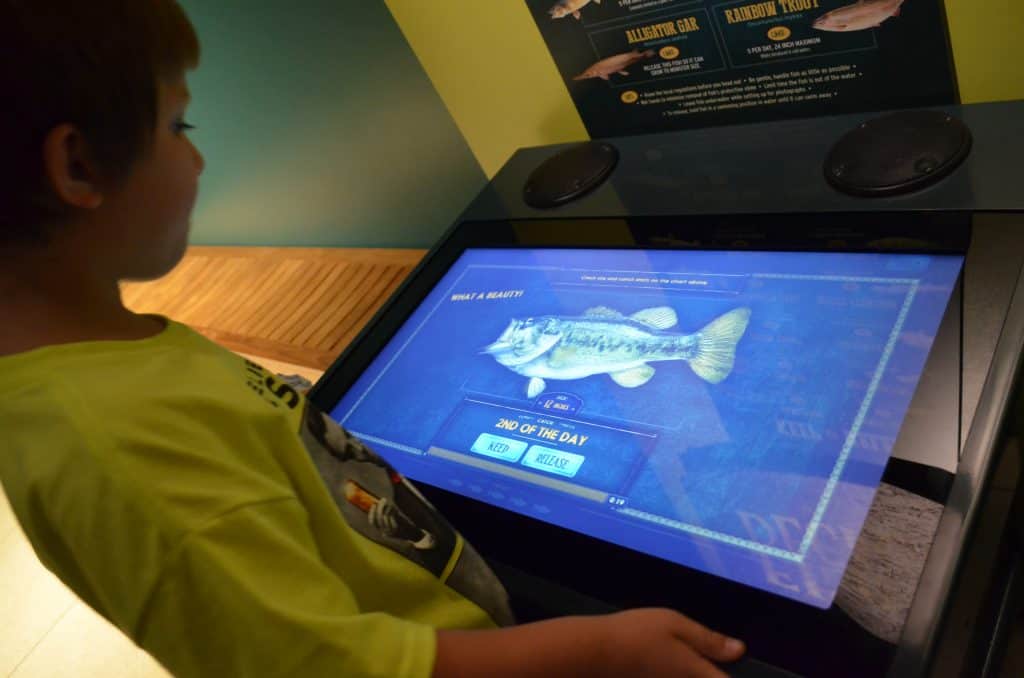 There were ALL sorts of hands on AND digital fishing games for the kids to play. There was even a giant scale for you to stand on and see how heavy you are compared to a real "monster fish"! The goal was to grab friends and others to outweigh the biggest monster fish! My kids probably spent an entire hour just at the one above where they had to digitally fish and then determine in a timed setting whether they were allowed "legally" to keep or release the fish based on the size/weight and daily catch requirements.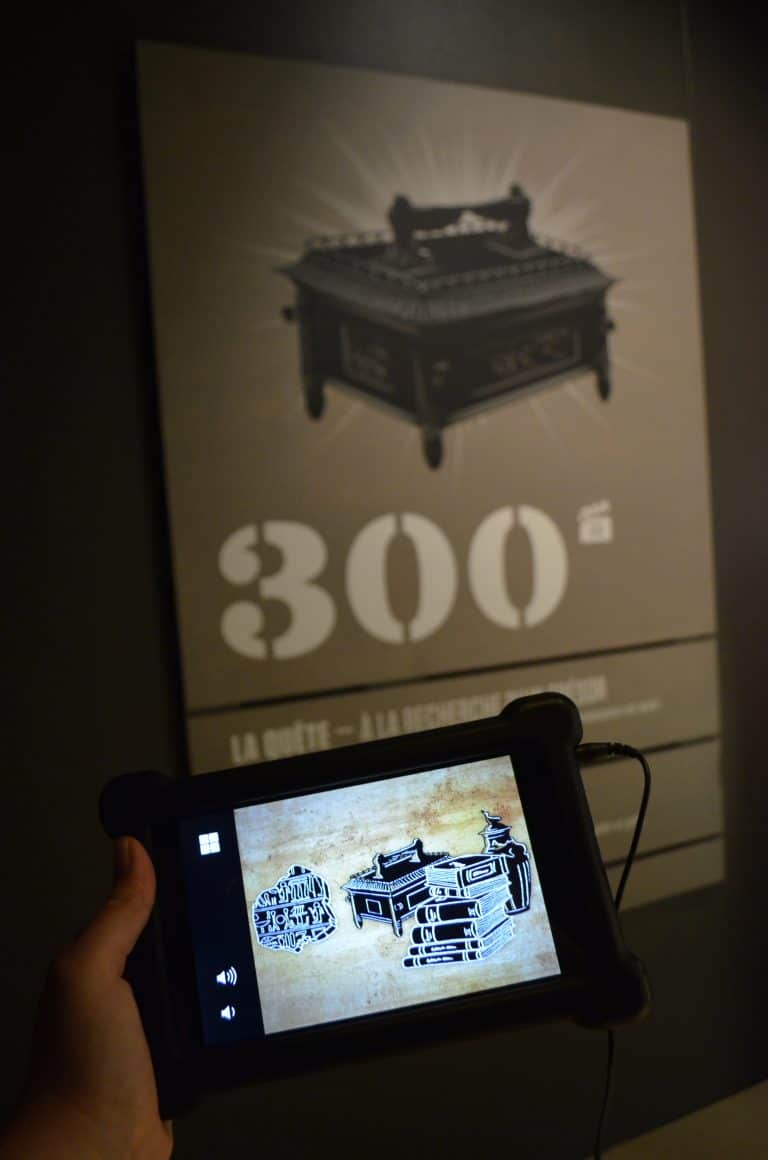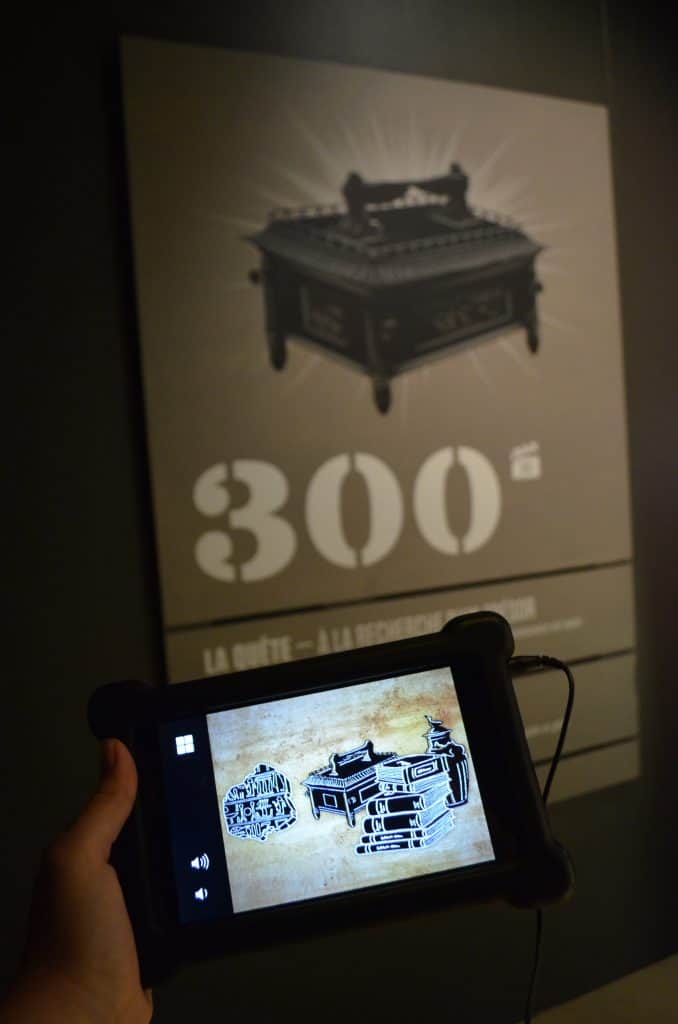 The other exhibit we went through was the Indiana Jones and the Adventure of Archaeology exhibit. Although my kids are too young to watch Indiana Jones (believe me they've been asking!) they still immensely enjoyed this exhibit. It is a surprisingly huge exhibit so younger children probably will not make it to the end but they will enjoy what they do.
The tablet with headphones and audio tour are included during the exhibit with your ticket admission. It was easy enough to maneuver that my 6 year old could do it himself. You simply walk to a display you want to hear about and type in the number.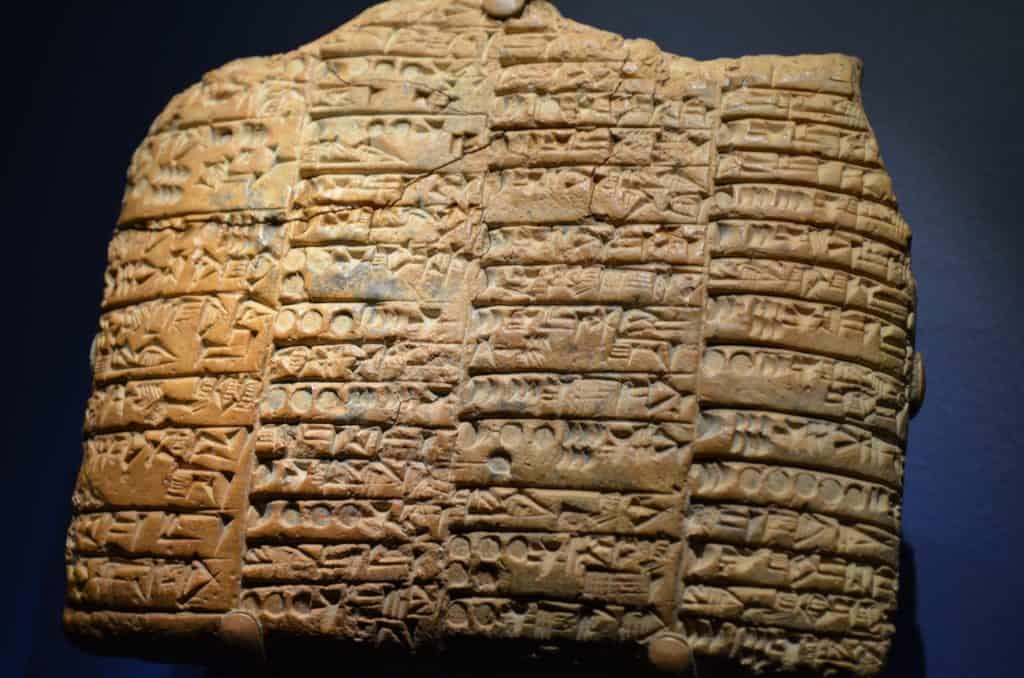 The neat thing about this exhibit is that it was PACKED (and I do mean packed!) FULL of BOTH movie props AND real historical objects like the tablet shown above and the papyrus show below.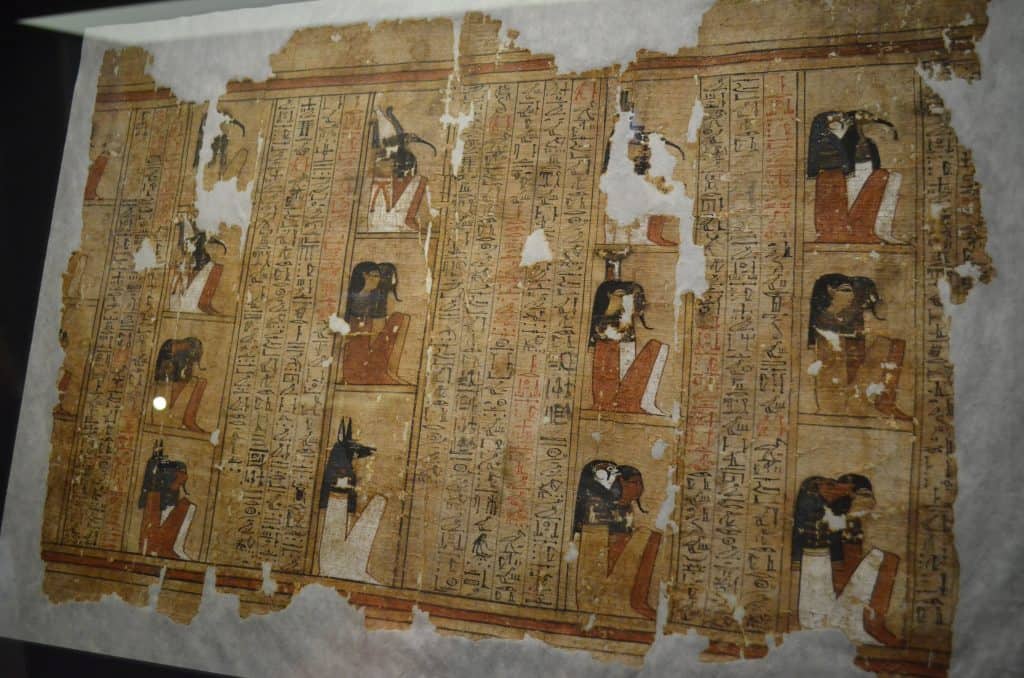 Everything historical shown was related to something in the movie and of course so were the movie props. If you have small children there were a couple scarier movie props so if your children frighten very easily you may want to hold off on this exhibit. My 6 & 8 year old boys were fascinated however.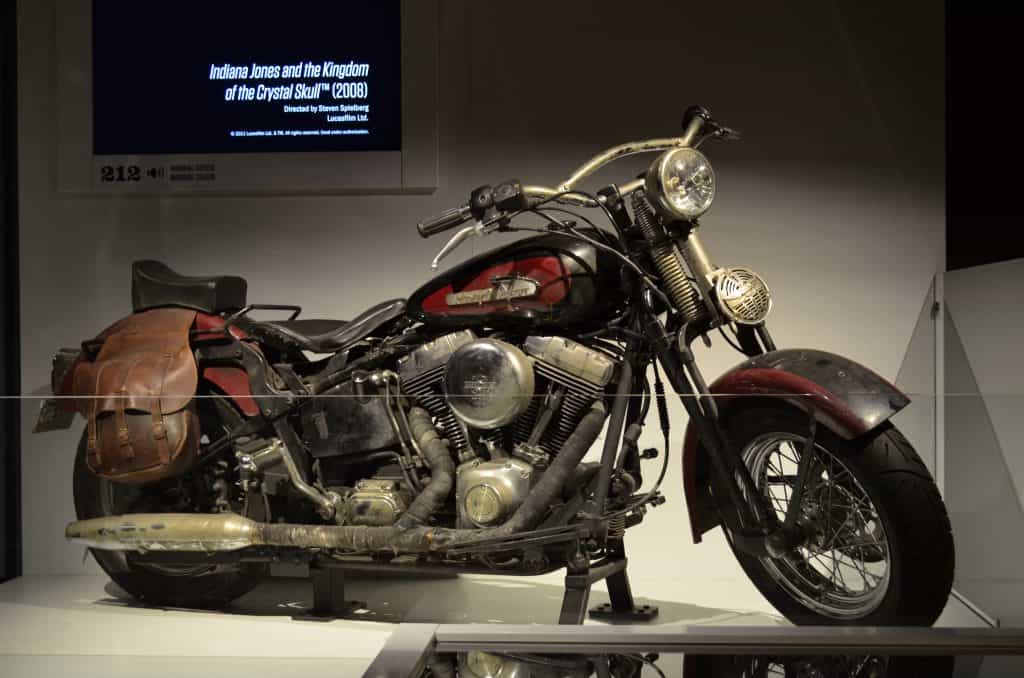 From costumes to props and movie posters this exhibit alone will take you quite a while to go through but is a treasure trove for movie enthusiasts!
If you live near or are headed to the Washington D.C. area I definitely recommend checking out what exhibits are at the National Geographic Museum and visiting them! They were surprisingly interactive for kids of all ages as well of course as highly educational. The quality of the displays were nothing short of fantastic and I'm really glad we made this one of our stops in the DC area!
Check out the World's LARGEST Children's Museum in Indianapolis!: