Upcycled Lazy Susan School Supply Center – GREAT Teacher Gift
This post may contain affiliate links, view our disclosure policy for details.
You guys know that I love hitting up thrift stores and yard sales for discarded treasures that I can recreate. Not only do you save a ton of money but you can better customize items when you make something homemade rather than buying it already made at the store.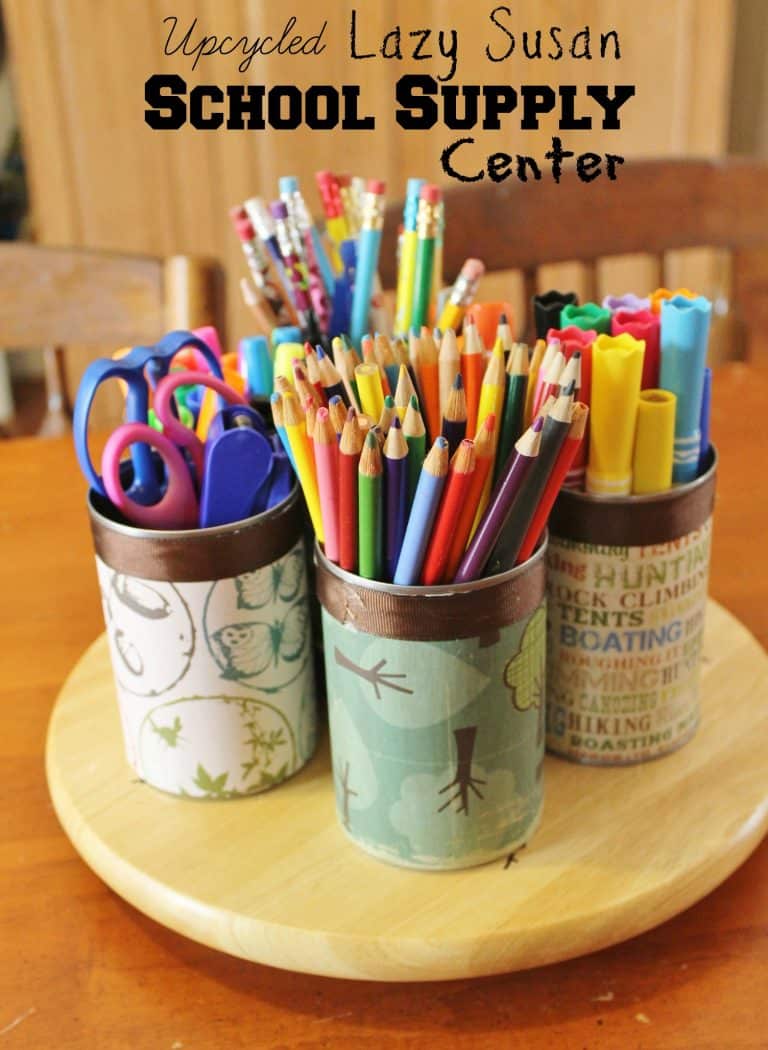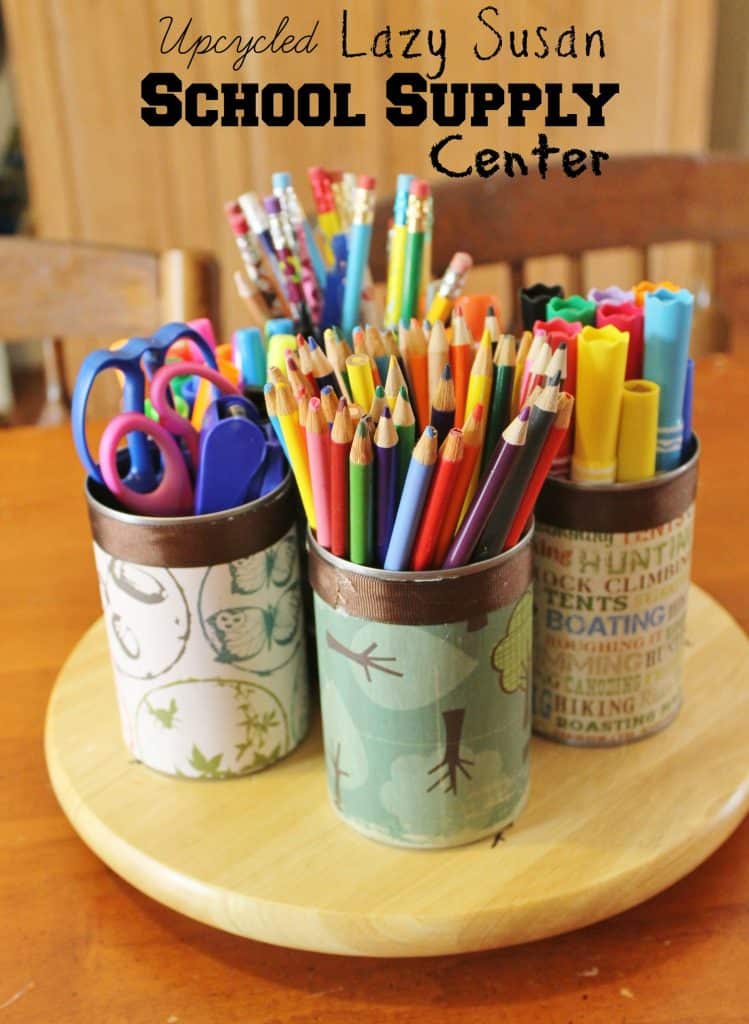 As soon as I saw this lazy Susan for just $2 I knew what I had to do with it – turn it into a school supply center! This is great for organization for homeschoolers, craft centers, teacher's desks and gifts, and anything else you can come up with!
We have tried baskets and tubs, and even the pretty glass mason jars on Pinterest (do NOT attempt the glass jars if you have 2 rambunctious boys using them….just sayin'!).
I started with the intent of gluing them all down to the turntable (which might be the best idea for classroom use) but then I thought to myself, what if you want to change the paper? Or what if you just want to move the containers into a different spot?
So I decided to go with small craft magnets and am pretty pleased with how it turned out! The magnets hold all the cans in place while it is being rotated or you can remove a single can to use somewhere else in the room and replace back on the lazy susan.
SUPPLIES NEEDED: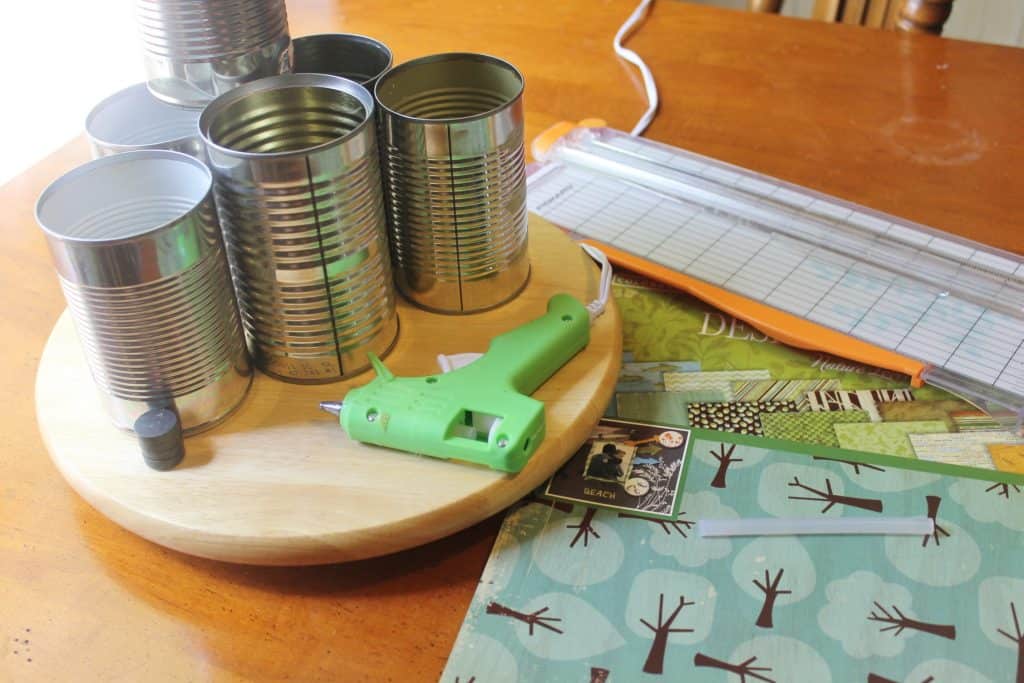 Lazy Susan (check thrift stores or buy on Amazon!)
6 clean empty soup cans (same size)
1 larger clean empty can
scrapbook paper
6 round magnets
glue gun / glue sticks
tape
Optional: ribbon
DIRECTIONS: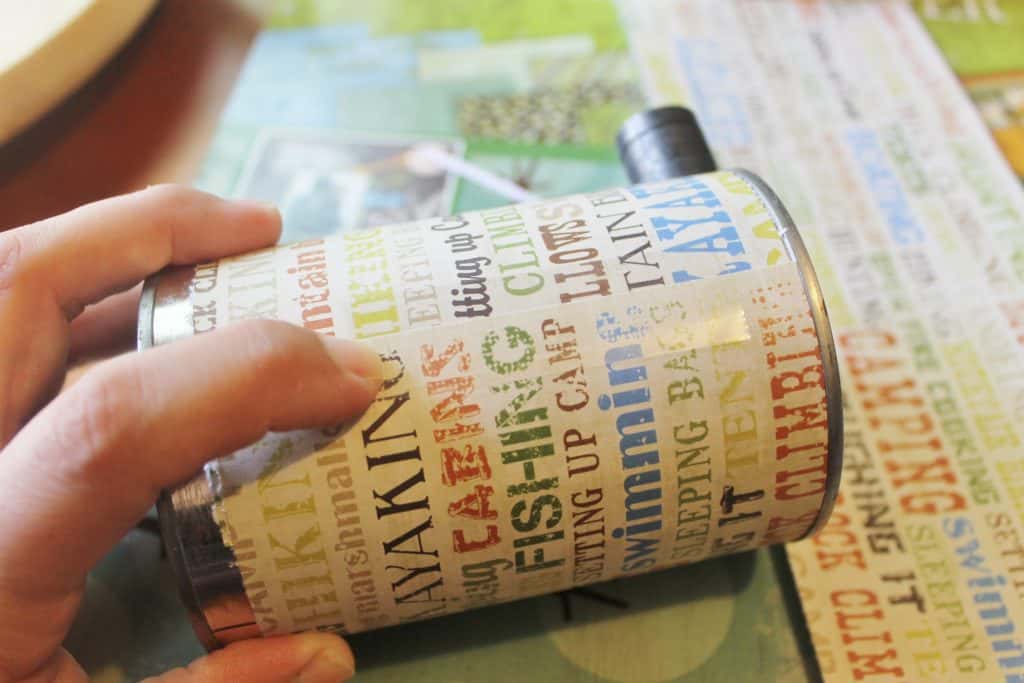 Cut and smooth the insides edges of your cans – I use a can opener that leaves a smoother edge. You just want to make sure that the edges aren't too sharp to cut little fingers. Measure and then cut your scrapbook paper of choice to fit your can.
My smaller vegetable cans used paper 4″ tall by 10″ long. You can hot glue paper onto the can to secure it but I chose to tape the same so that when it gets worn we can just cover it again. I also used a larger can in the middle for taller items like scissors, rulers, etc. but you can really use any size of cans that you want!
Hot glue your center can directly onto the lazy susan.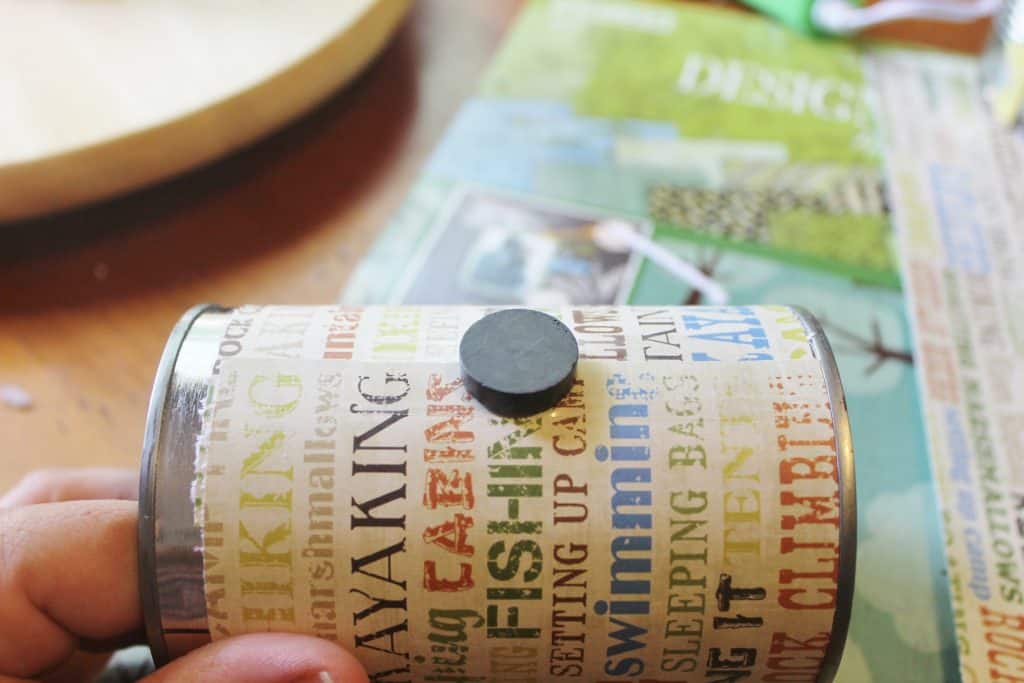 Hot glue a magnet to the back of your 6 outside cans right along the paper seam.
Wrap your ribbon around the top of each can to finish it off and secure it with hot glue.
Once everything is nice and dry go ahead and place your 6 decorated cans magnet side to the center can. You can now spin your lazy susan with all cans attached, or just grab one to go! You can fill this with supplies as a teacher gift, make it a little more "manly" for your guy's workbench, use for homeschool organization, college desk caddy, craft areas, or anything else you can think of!