FREE Writing Prompt Printable: "If I Had a Pet Skunk"
This post may contain affiliate links, view our disclosure policy for details.
Writing can be a challenge for kids in a lot of ways, but using creative free writing prompt printables are a fun way to not only spark your students' imagination but also to practice their fine motor skills!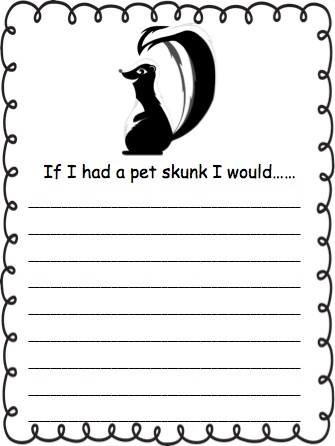 I always have SO much fun creating new writing prompt printable worksheets!! These are the kind of writing assignments I thrived on as a kid – it makes writing fun! I just made this "If I had a pet skunk I would…" printable for you guys – FREE of course! 🙂
Make sure you PIN this post so you can come back to it each year with your students! Feel free to share it with your teachers and homeschool friends! The more fun the better!
Project Ideas to Pair with this Writing Prompt:
Design a 3D Skunk in Tinkercad (it's free!)!
Build a skunk's habitat.
Create a diorama to match your story line.
Create a play to go with your story line and act it out!
Create a skunk puppet then read your story.
Below are a few more fun printables to spark creativity with your students as they do their daily writing prompts!