A New Generation of Backyard Fun with Water Wubble – an Honest Review
This post may contain affiliate links, view our disclosure policy for details.
The below product was provided to facilitate this review. All opinions are my own.

Most of us are familiar with the Wubble brand and for some crazy reason my kids spend hours watching people play with, and pop, their Wubbles. When I heard about the new Water Wubble I really wanted to check it out because I've never heard of anything like it. It's basically a refillable reusable water balloon! My boys love the sensory feeling of the squishy stretchy Wubble – what better than to combine that with water!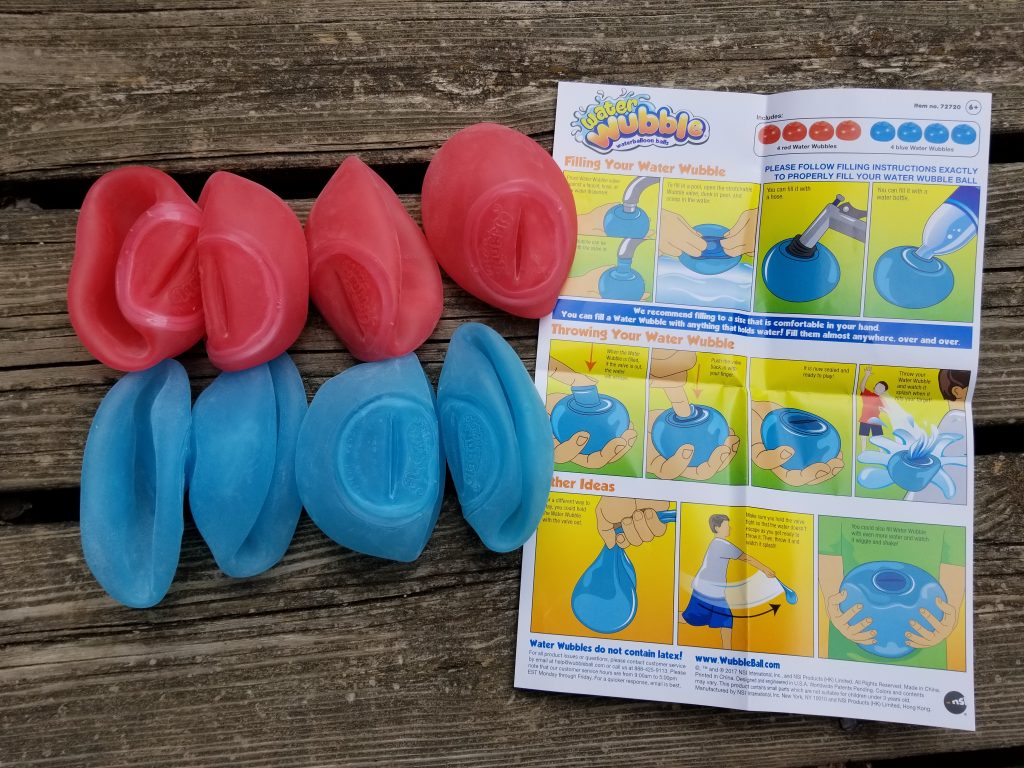 The Water Wubble package includes directions along with 8 small Wubble "balls" to fill with water – 4 red and 4 blue so that you can play in teams. It runs about $15 at Target or Toys R Us.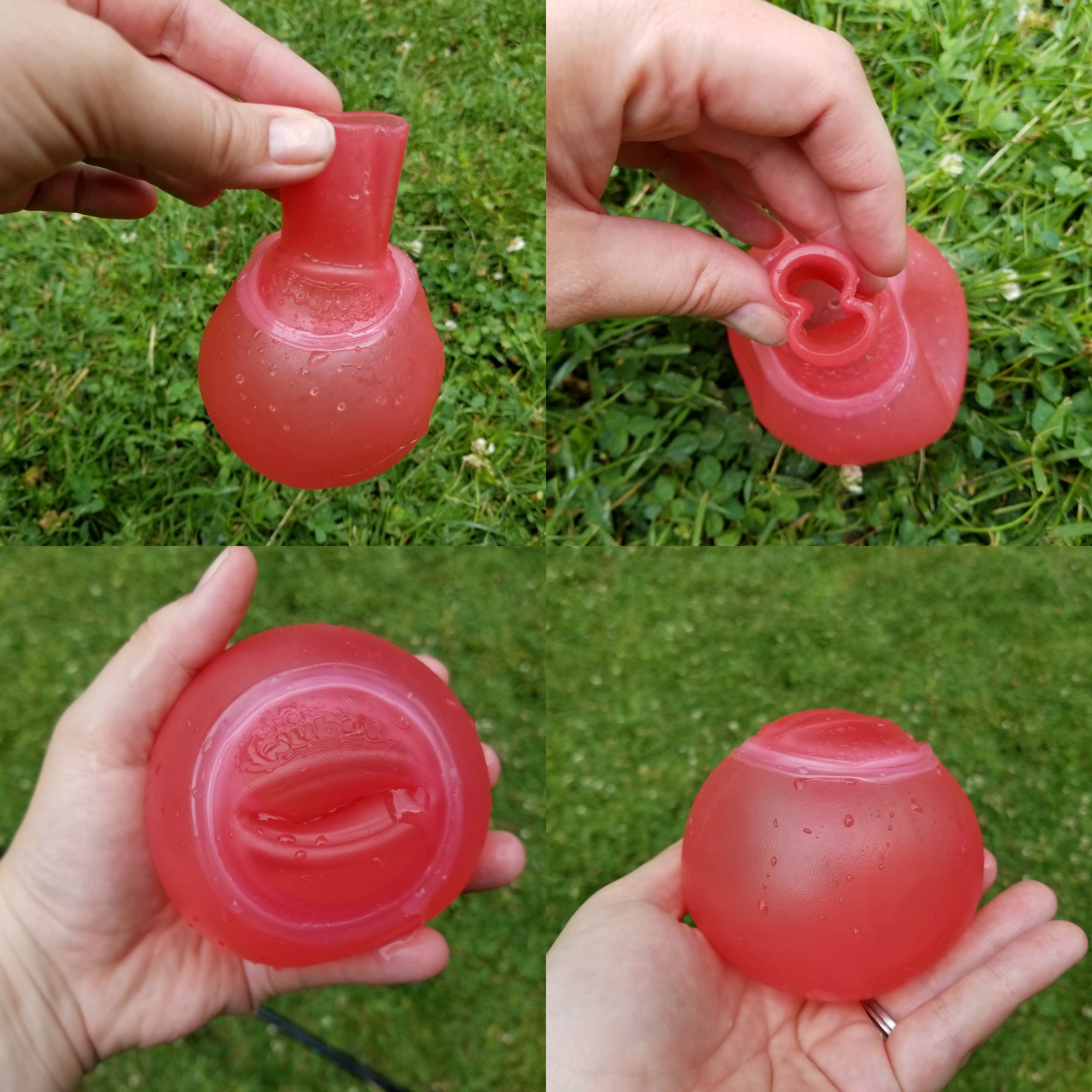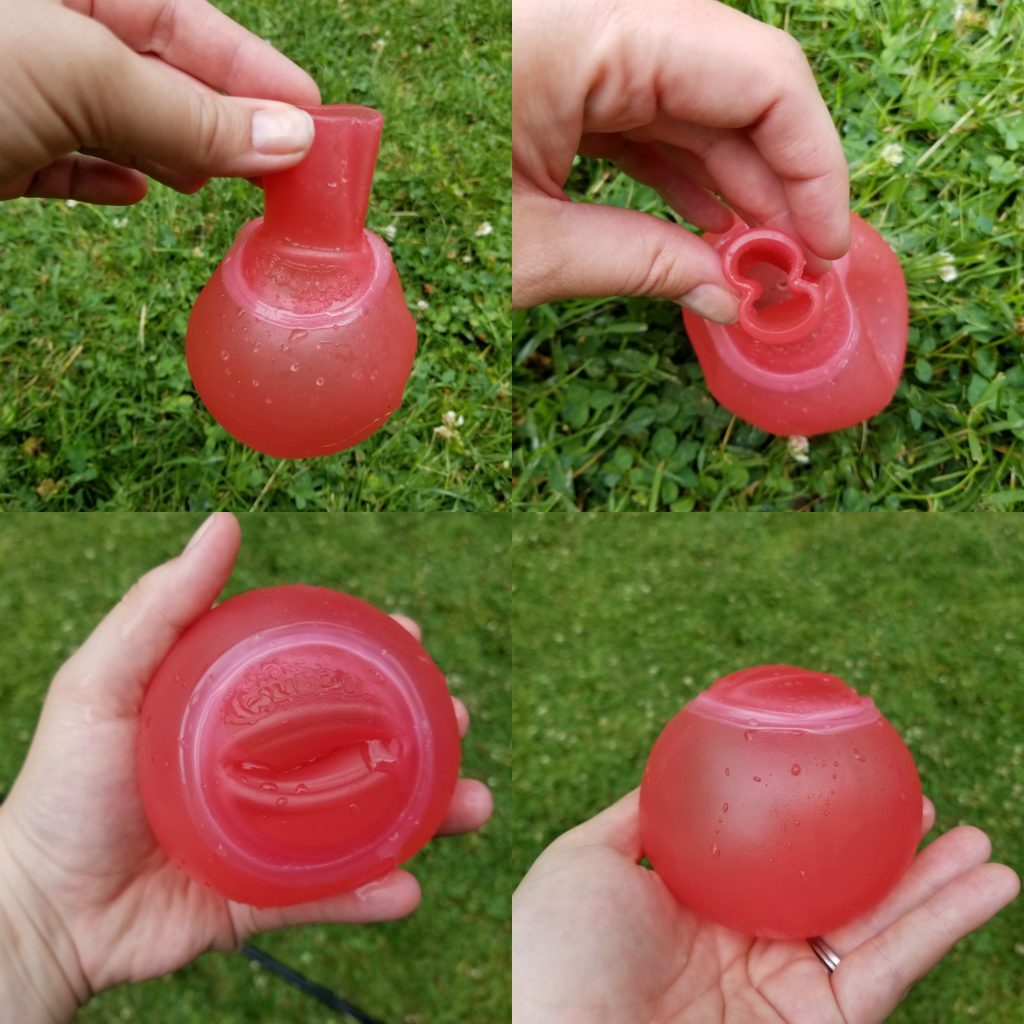 It's pretty simple – just fill up each Water Wubble with water and push the valve back in to seal! To throw the Water Wubbles I recommend pinching the ball around the valve area to keep the water in!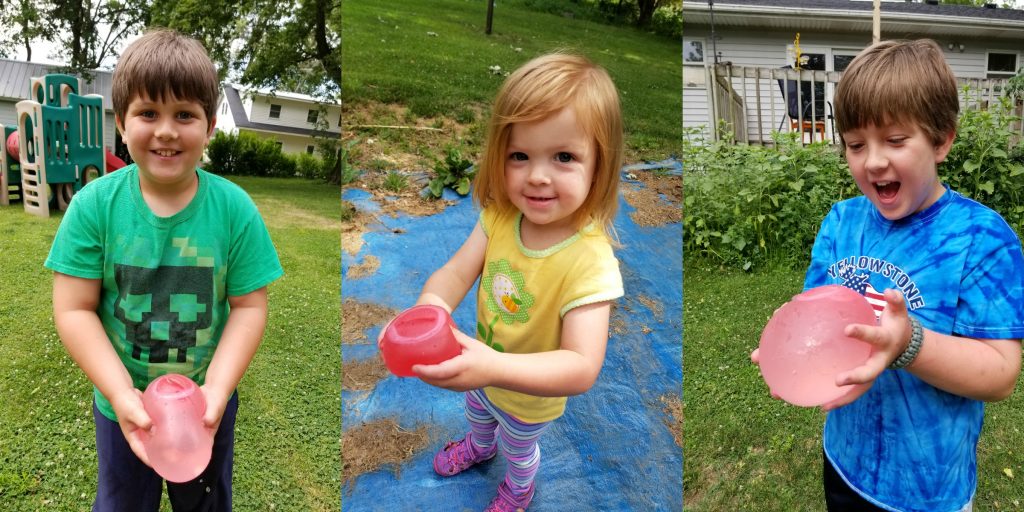 What I REALLY loved about Water Wubble is that ALL of my kids could not only fill up their Water Wubble completely by themselves and use them (which is quite a feat!) but this also allowed them to play by themselves. We're packing up our house this week getting ready for our big move and the last thing my husband and I needed to do was sit with my youngest and fill water balloons for her. Water Wubble was great for this!
The 2nd thing I REALLY loved about Water Wubble is that I don't have a zillion broken little pieces of latex balloons all over my yard! That means I don't have to worry about my daughter, or my animals, ingesting pieces! My kids have spent hours with these squishy toys and have only popped one. (I have boys = everything gets played with to the max!)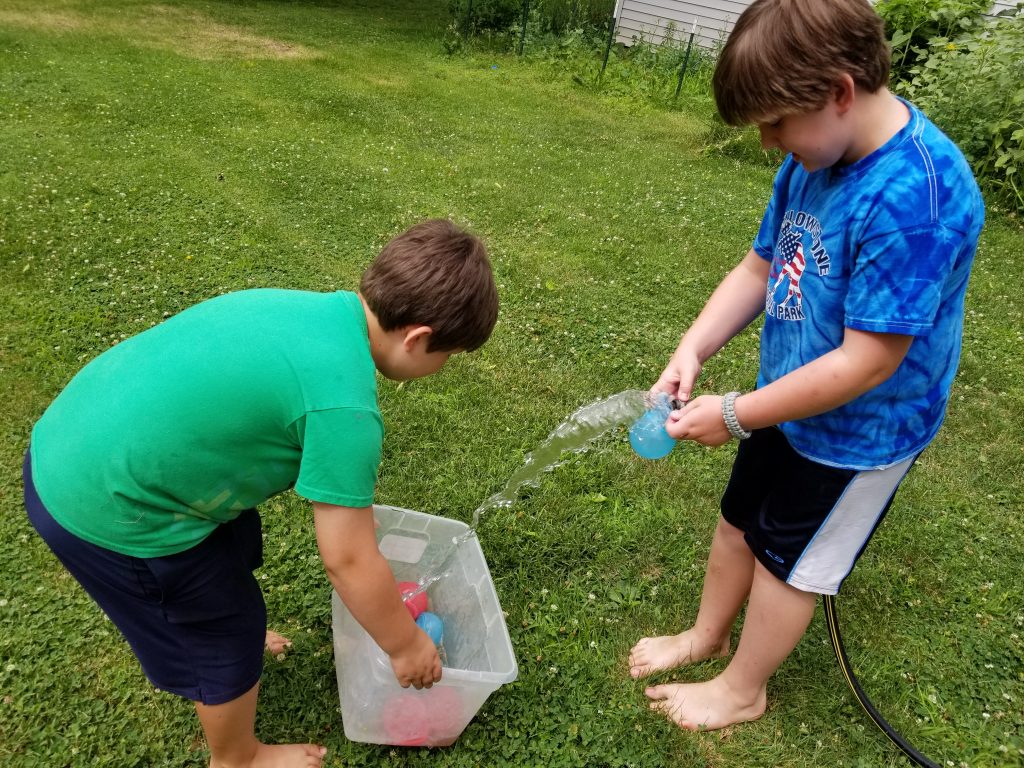 You can fill the Water Wubble with a faucet in the house, with the house, by pouring a water bottle over it, or just scooping water out of the pool! We tried it several ways but my boys preferred using the hose (of course!).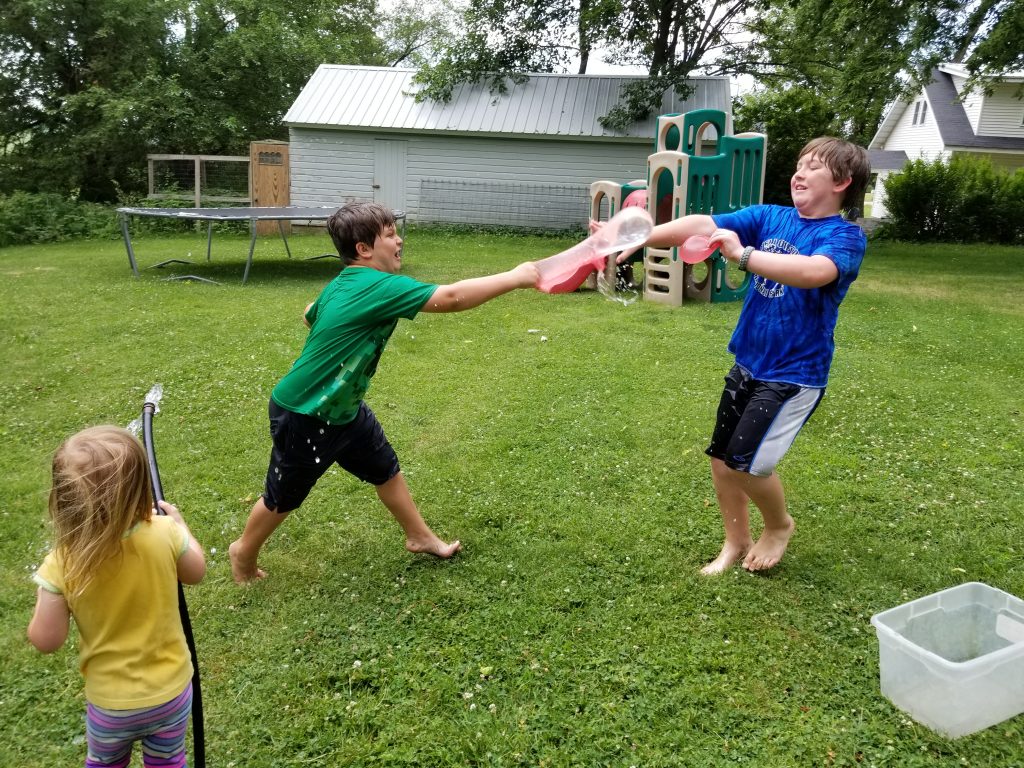 Can you tell these things are really stretchy and squishy?! One thing my boys learned pretty quickly was not to throw the Water Wubble too closely in range because it can hurt! To be honest my boys preferred leaving the valves open and shaking water on each instead!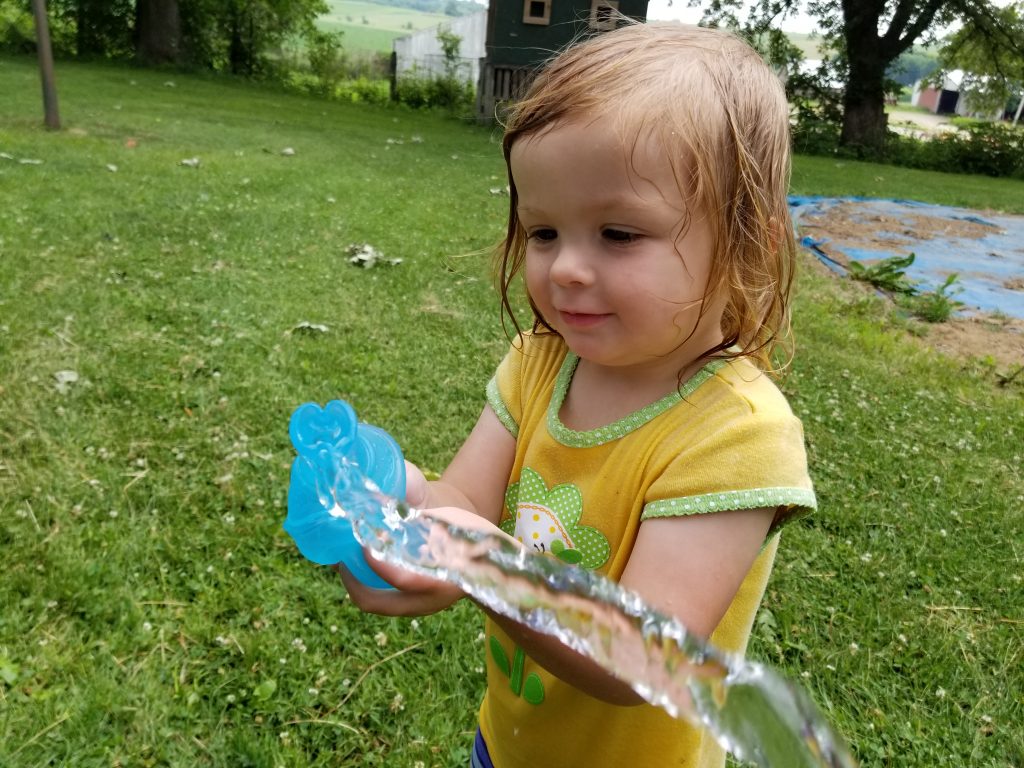 You can see here that my 2 year old liked doing this too! It's pretty cool though – it really shoots a stream of water out! My kids preferred not to seal the Water Wubble most of the time but hey, for about $15 it allowed me to pack up more of my house and the kids had a blast outdoors on a hot day! We're all happy about that!
Next week when we get back into our new house where we have a pool I really want to try out our Water Wubble there and see how it works playing with them in the pool! To be continued!