Step2 Atherton Planter Review – Customizable Garden Planter
This post may contain affiliate links, view our disclosure policy for details.
Gardening is one of my favorite hobbies – I've been an avid gardener for most of my adult life! I started out with large (40 feet by 70 feet!) vegetable gardens, but about six years ago I expanded my garden skills into herbal flowers for tea and plants, as well as the occasional succulent and house plant!
Due to our extreme weather swings here in southern Louisiana, and my frequent back pain, I've tried to get as much of my garden up off the ground as possible. After finally getting a starter raised garden set up outside, I turned my attention to our front entranceway which is all covered and shaded, but needed some plant life added to it!
Even though we have a fairly narrow entranceway, we had just enough room to add some garden planters on one side of the entrance. Step2 sent me a set of their black Atherton Planters and they are by far the sturdiest and easiest to move planters I've ever owned! You can purchase them as a single planter or as a two planter set.
We have had record breaking heat this summer – I'm talking over 100* almost every single day for 3 months! Many days with a heat index of 115-120*! So any new gardening efforts were a definite no-go for me this summer! However I did have some indoor plants that have outgrown their containers and their space so these Atherton Planters were perfect!
I absolutely LOVE my Step2 Atherton Planters for three main reasons (besides the fact that they are absolutely gorgeous):
They are LIGHT enough for me to easily move them myself! Even two stacked together are easy to move! In fact I easily moved the entire box shipped to me with no problems!
As with all of our Step2 products, these planters are incredibly sturdy. I'm talking thick and heavy duty – just like our Step2 kids playgrounds we've had over the years!
The Atherton planters are also highly customizable! (more on this below!)
Best yet – the Step2 Atherton Planter is both designed and manufactured in the USA!
Looking Inside the Step2 Atherton Planter: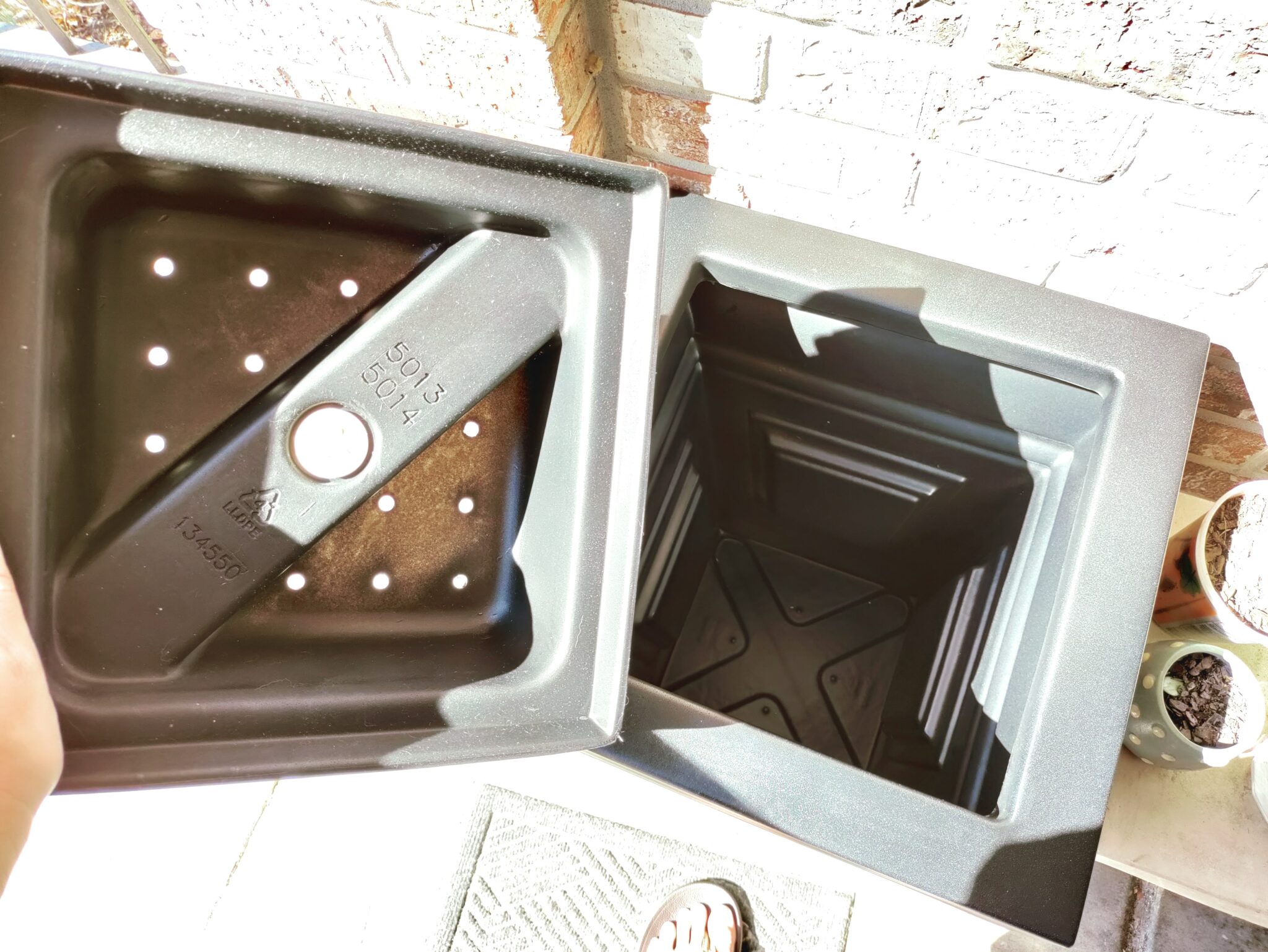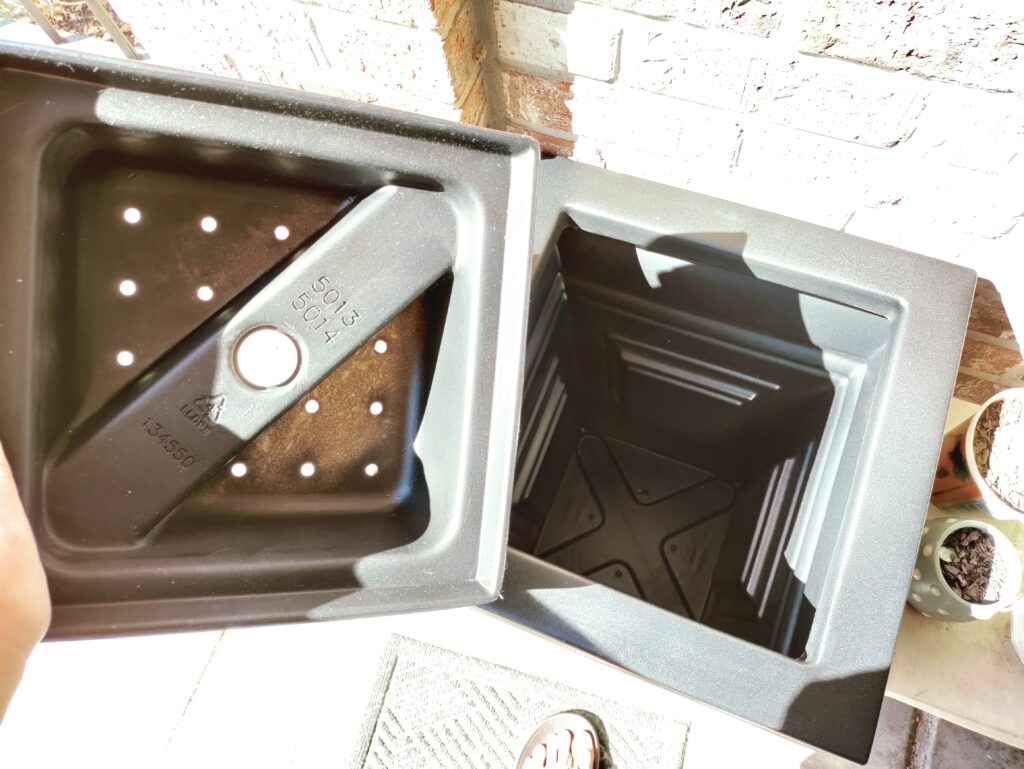 Above is an "inside" look peering into the Atherton Planter – it's DEEP! You can choose to remove the insert and plant something that requires a ton of deep space for roots, OR you can use the insert like I did so that I didn't need as much dirt.
PLUS the insert as you can see already has drainage holes built in! That means I can easily move my plants indoors in the winter when the weather gets too cold, and I don't have to worry about any messes in my house.
If you want to, you can drill in some drainage holes into the bottom of the planter as well.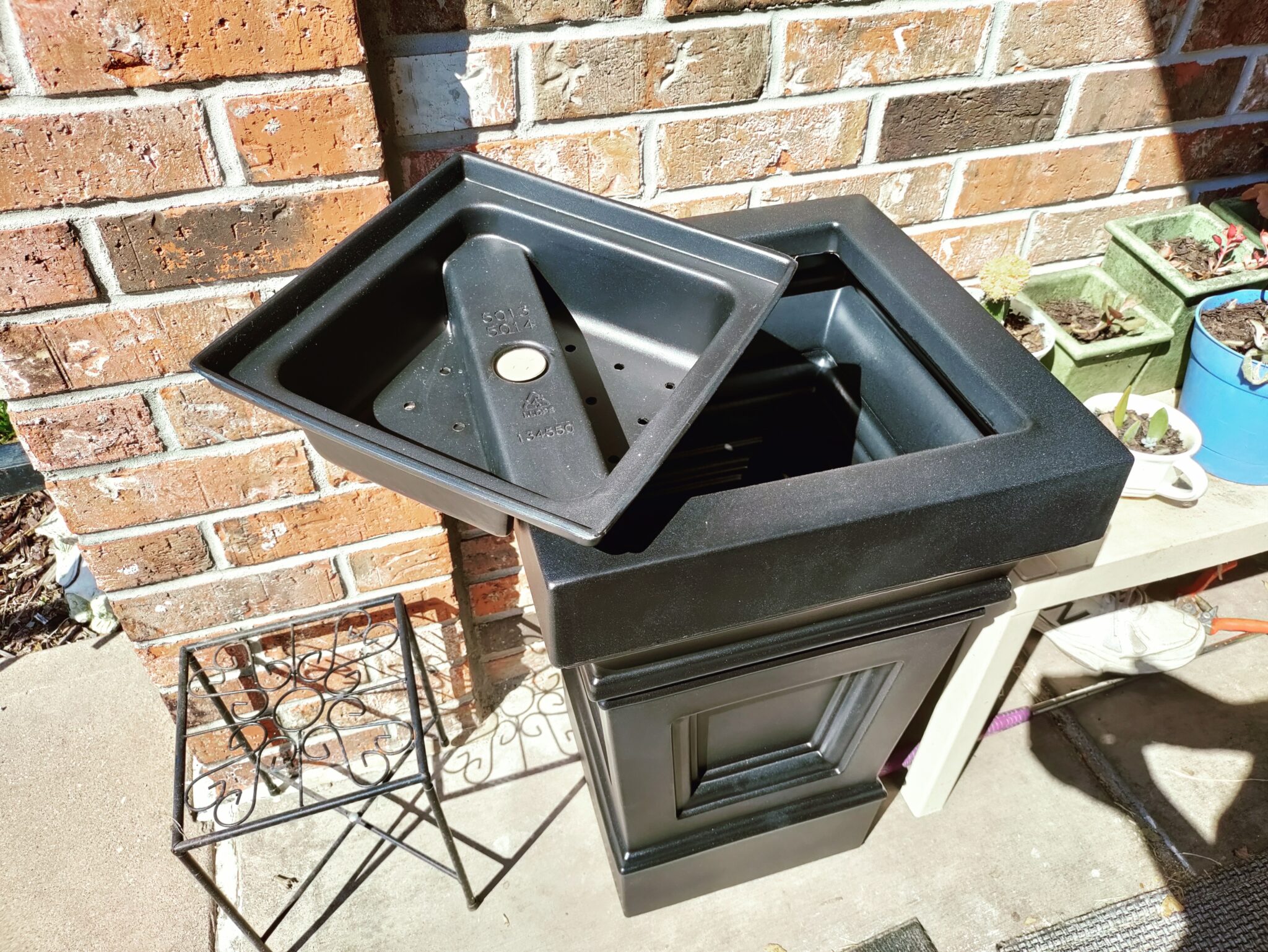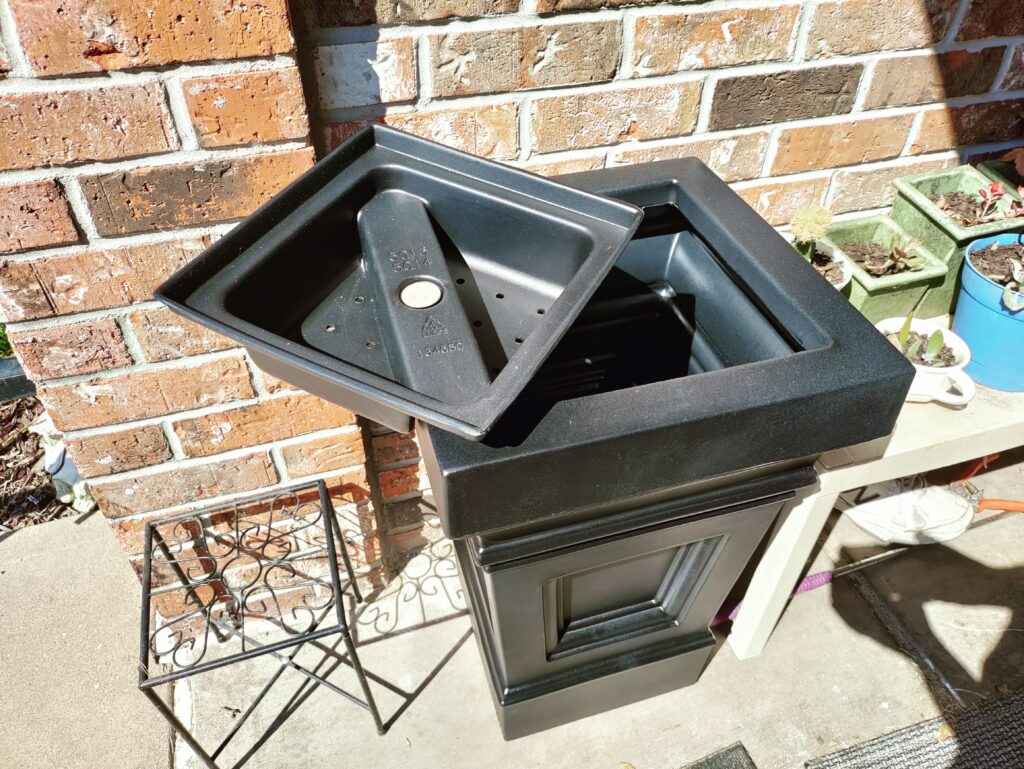 Easy Customizable Garden Planter Styles!
I didn't really realize how customizable these garden planters were until I received them! They can be used both indoors and outdoors too! You can:
Plant them as is right out of the box – inside or outside!
You can choose to leave the drainage tray half way up inside the planter to use less dirt, or remove the insert and have a deep dirt area for longer roots.
You can turn your drainage tray into a self watering system with a self-wicking material (not included).
You can drill holes in the main planter for drainage and leave it outside.
A Garden Planter with No Assembly Required!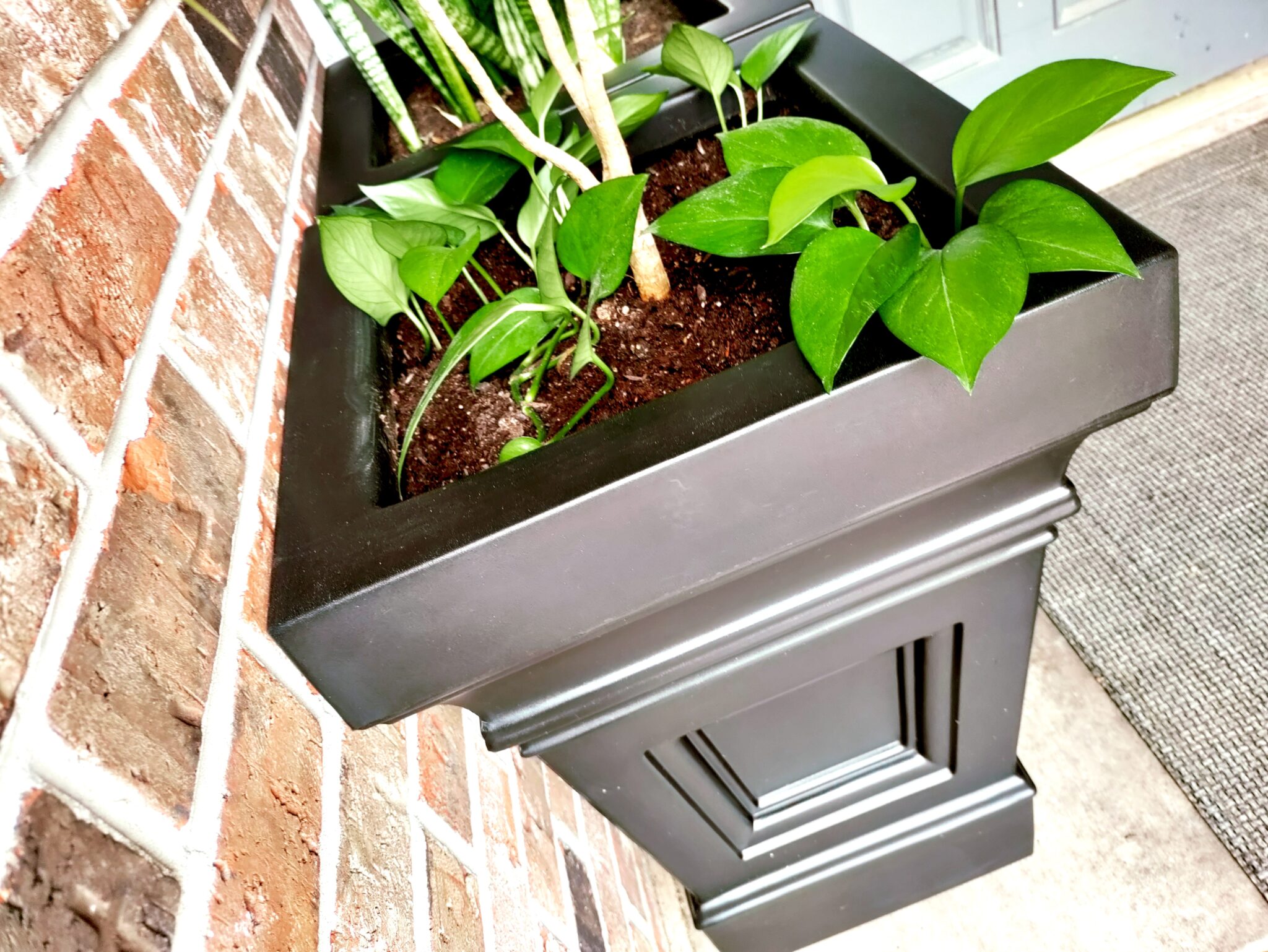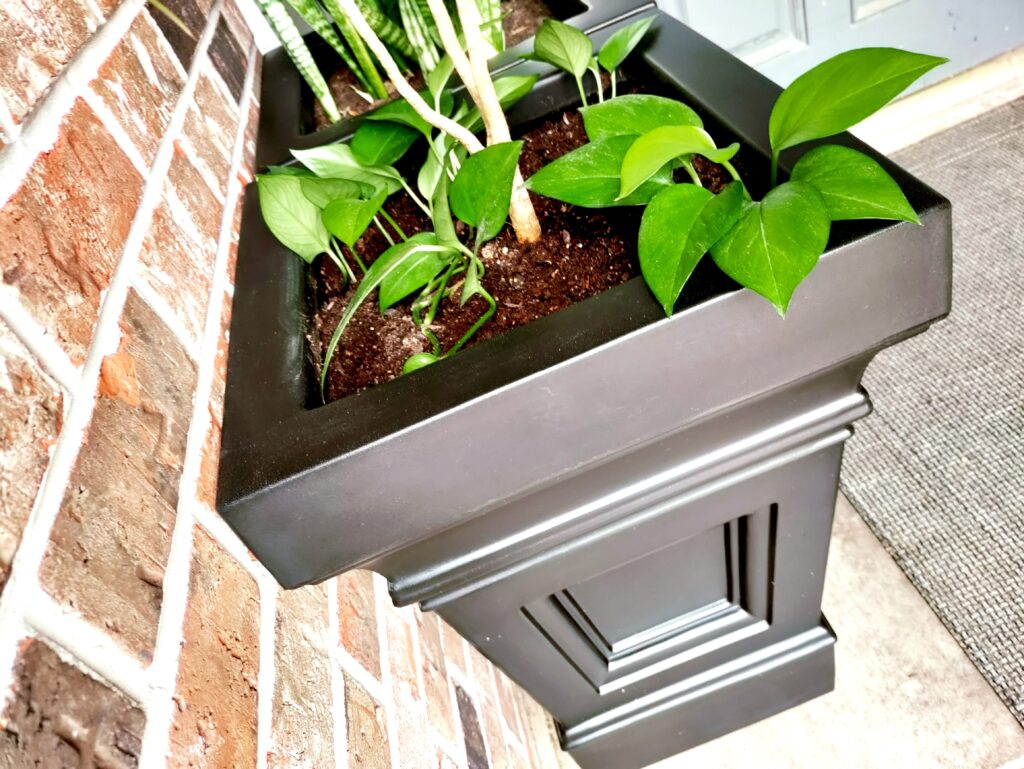 I can't tell you how many times I've bought specialty garden planters and shelves that require building with little parts! The Atherton is a "pull it out of the box and use" planter that's heavy duty but light weight to carry and requires no instructions to put together!
The planters are 24 inches high, and each 15.5 inches wide and deep. I love the classic molded and recessed details on the outside! It really adds a dimension of class to my front porch and brick house. The material is made from a high-quality resin so I shouldn't have any issues with chipping off.
Overall – I am absolutely 100% in love with this planter. It was a serious a back saver and time saver – not to mention solid quality! Even though we have wild temperature swings here in Louisiana, I don't foresee having any issues with this planter. I LOVE that I can bring it indoors in the winter without worrying about leaking.
I'm impressed with how perfectly it fits in my narrow front porch area! I've had a tough time finding the right size so that it doesn't block the walkway. I definitely recommend the Step2 Atherton Planter! It definitely is my favorite planter I've ever owned.