STEM Activity for Teens: Simple Safety Tips to Solder for Beginners
This post may contain affiliate links, view our disclosure policy for details.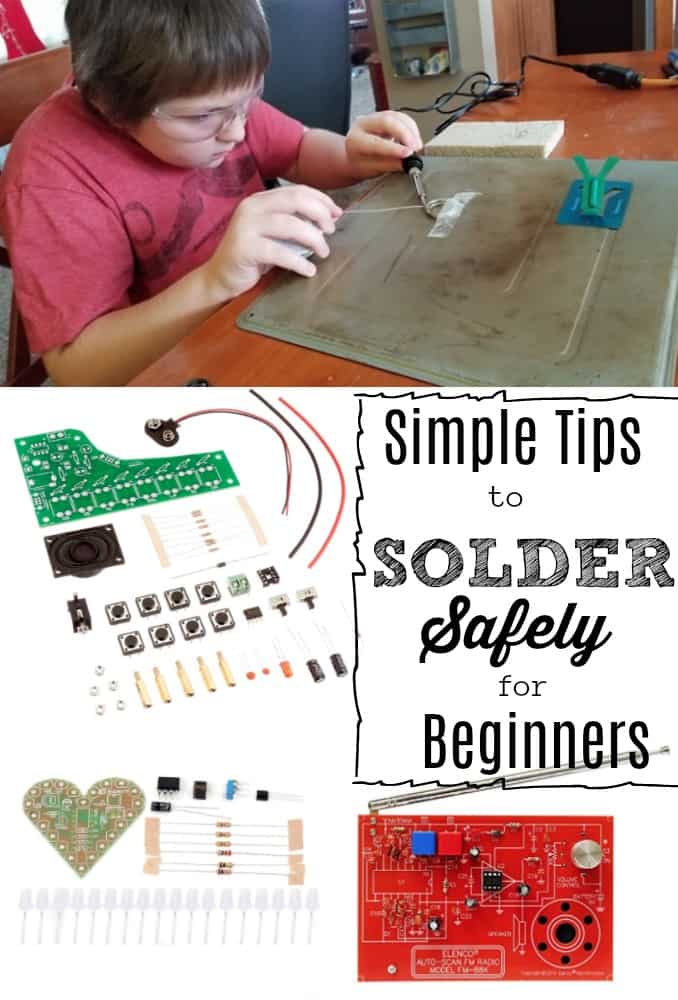 My son began learning how to solder several months ago in his robotics class at school and it has sparked a serious obsession for him in soldering and wood burning at home in his free time! He used his Christmas money from his granny to buy this soldering kit. It's something we had never really tried before so I thought I would write about it in case you hadn't either to spark your curiosity! If you've got a child who loves trying new things, is extremely good with responsibility and takes pride in their work – soldering is a fun activity to try!
  I don't recommend this for kids under the age of 10 or 11 and this is only for kids responsible enough to deal with dangerously hot items! I highly recommend close adult supervision until you feel your child has had sufficient practice and understanding of how to solder safely. Burns can (and will) happen so use at your own risk! I recommend keeping burn cream by the closest sink!
My son is NEVER allowed to solder or wood burn when his toddler sister is awake. We don't want anyone distracting him or someone accidentally tripping over the electric cord. When you solder you are literally working with melted metal. If you want a FUN circuit kit that does NOT require soldering check out this awesome clay kit!
To begin you'll need:
*Soldering Iron with stand
*Wet Sponge (any kitchen sponge or brass sponge will do)
*Non-flammable heat-resistant work surface (a slab of granite, silicon pad, or cookie sheet work)
*a project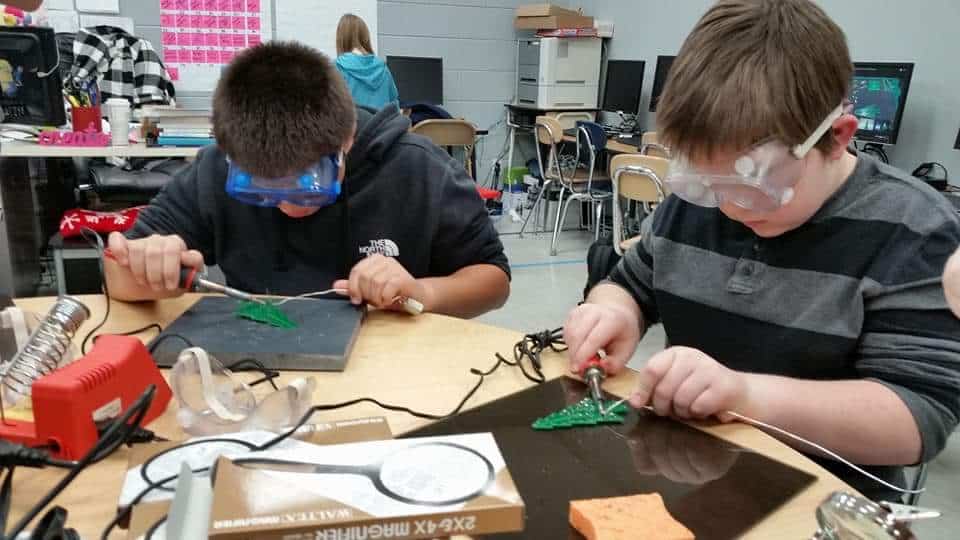 Safety Safety Safety!
You can never be too careful when working with solder. I highly recommend either learning to solder from someone who already knows how to or by doing a LOT of research, including watching plenty of YouTube tutorials!
ALWAYS:
*Wear goggles or safety glasses!
*Solder in a well-ventilated area.
*NEVER inhale solder smoke!
*Turn OFF soldering iron immediately upon finishing or leaving area. It will still be hot for a while!
*Always wash hands after soldering, especially if using lead solder.
*Tie or pin long hair back securely.
*Keep burn cream handy in emergency.
*Use long anti-static tweezers
to hold projects or tape them down. Do not hold them with your hands!
Focus Focus Focus!
Make sure that the person soldering is not distracted by siblings, pets, other projects, etc. Staying focused on the project at hand and safety rules will minimize injuries. After each project (or every couple of solders) swipe your soldering iron onto your wet sponge to clean it.
Practice Practice Practice!
It's OK to solder on your first project and it to look awful or not even work! It's part of the process! There are different sizes and types of solder (as well as sized tips!) which can greatly alter your project outcome. At the bottom of the post I've linked to some great (and cheap!) starter sets and projects. My son has been creating stands with his 3D printing pen
to go with his soldering projects.
Other Great Soldering Tools to Have Handy:
Helping Hand w/Magnifying Glass
Ceramic Soldering Board
Extra Solder: Lead-free, with Lead
(Mostly) $10 or LESS Soldering Kits for kids:
Other Great Soldering Posts & Ideas:
Tutorial To Design Your Own Ring
TONS more Soldering (Jewelry) ideas on Pinterest
This COOL Spider
Metal Hearts