Historical Road Trip with the USA Presidents TOOB by Safari Ltd.
This post may contain affiliate links, view our disclosure policy for details.
We took a 3000 mile road trip from Iowa hitting the TOP presidential and historical locations from the Statue of Liberty, the White House, Mount Vernon, Ford's Theatre, Boston Tea Party ship, Independence Hall and SO much more. The focus? Educational fun of course!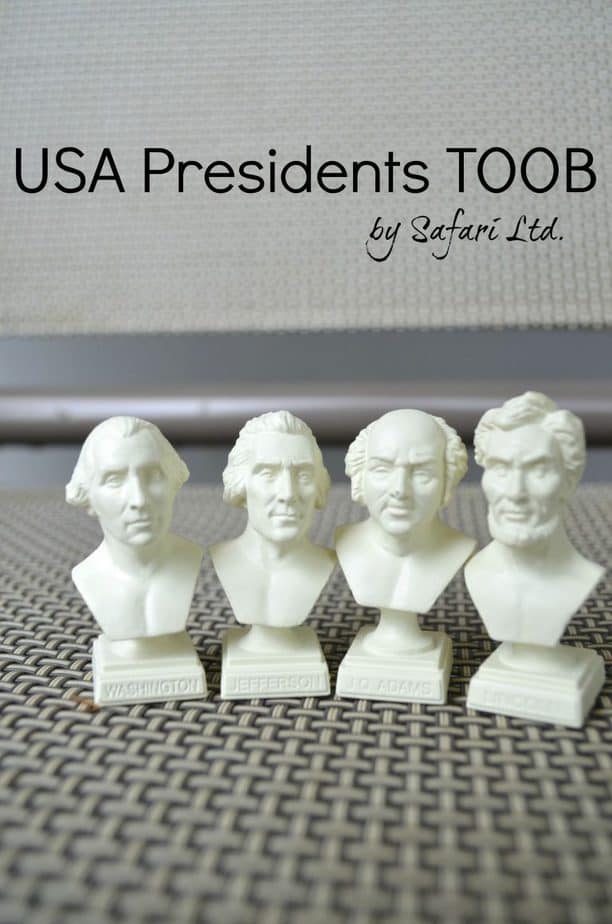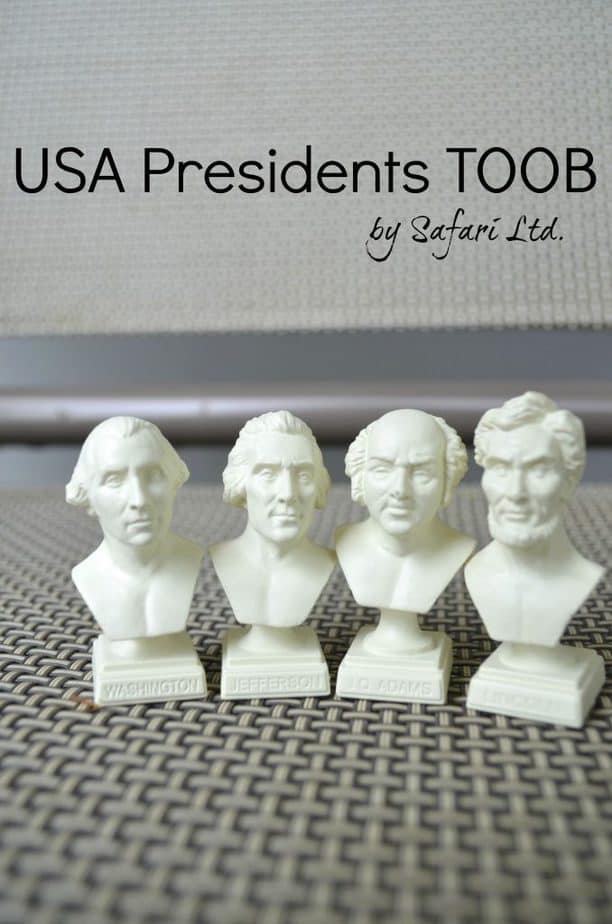 Safari Ltd.'s USA Super TOOB and USA Presidents TOOB were seriously iconic in our historical road trip! Not only did it spur SO many highly educational and historical activities for my children to learn about but it ROCKED our visits on our road trip.
You may remember in my post where we featured the New York City and On the Road TOOBs that I mentioned we hid clues in our hotel room each night for the kids to look for in the morning which gave them hints about our next day's travels. Yep – these two TOOBs also played a pretty vital part in dropping clues for my kids!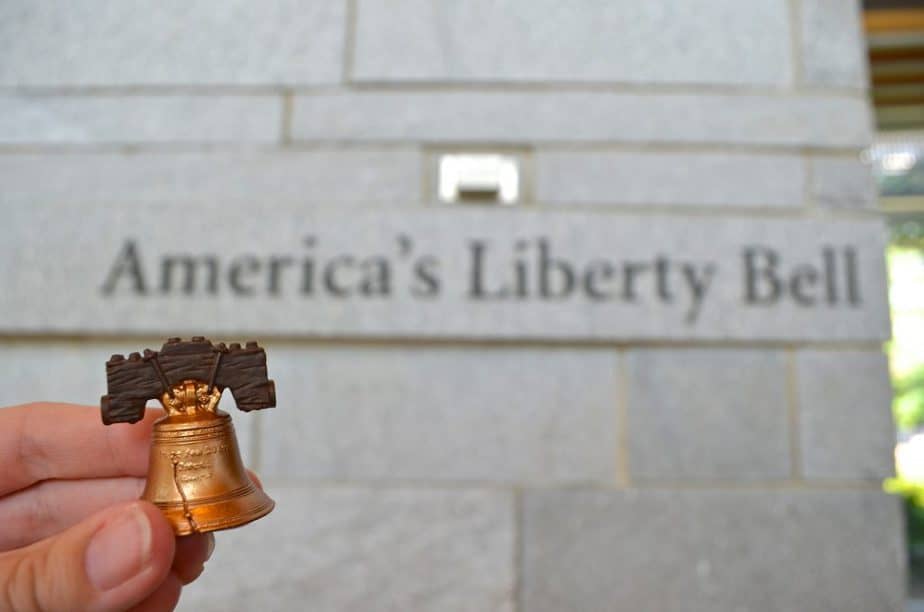 My kids were SO excited to see the Liberty Bell. After all this chunk of metal from history is pretty glorious in kid's textbooks across the country, and rightly so. Seeing about it in person, and really observing up close the crack is an unforgettable experience for anyone, but especially my two very impressionable young children.
The morning they woke up and found this Liberty Bell toy from the USA Super TOOB in their hotel room there was no more sleep allowed in our hotel room – they were WAY too excited to get going! The Liberty Bell area has changed a LOT since I visited it about 14 years ago. Not only is there a block long display building to walk through, a Junior Ranger's Program room, but you can also see the remains of the FIRST presidential house!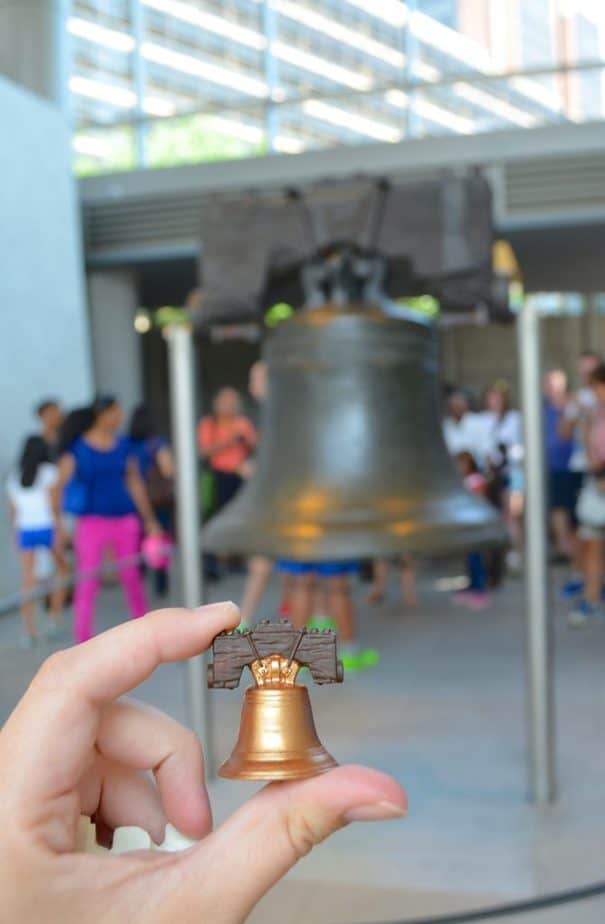 Pretty cool huh? It was pretty awesome taking our Liberty Bell into Independence Hall – probably the first time that's been there for fifty years! Well…..almost! If that's not cool enough just keep reading!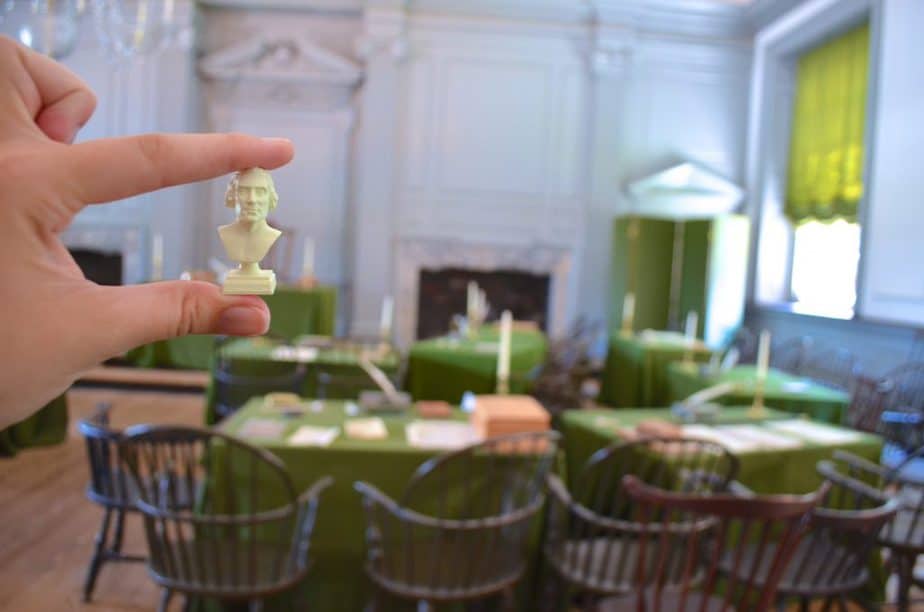 YEP – there's Thomas Jefferson, former USA President AND signer of the Declaration of Independence back in the signing room! Can YOU remember what happened the last time he was in this room? BIG THINGS HAPPENED! It was pretty cool! AND there's more!! Our USA Presidents TOOB made some serious history happen for my kids!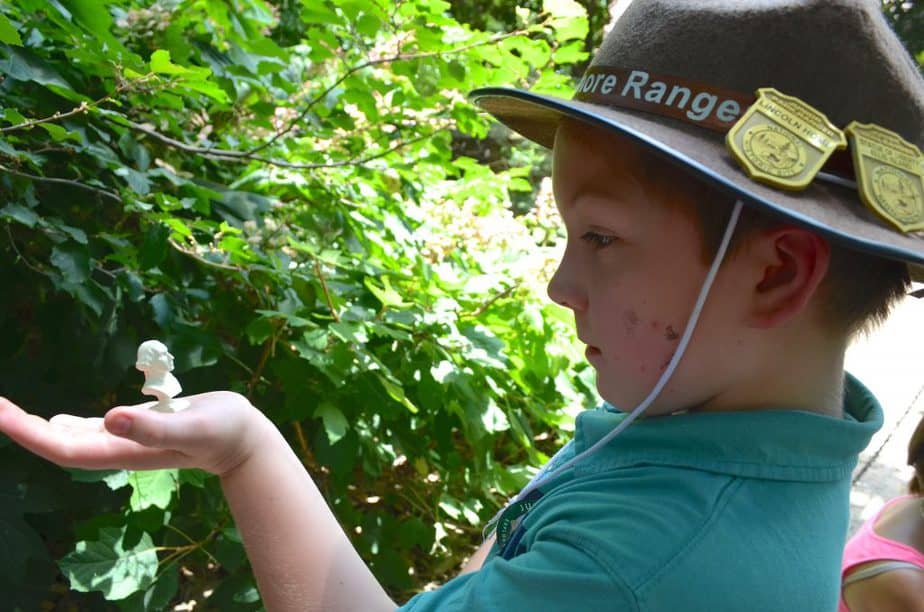 Even though it was 99* while we were traveling most of the time my kids were REALLY good sports about the heat and still enthusiastically participated in Junior Ranger Programs across the country. Above we were waiting in line for our tour at Mount Vernon and my son decided to have a staring contest with George Washington! (perhaps the heat was getting to him?!) It was pretty funny!
Unfortunately Mount Vernon was going through some pretty heavy construction but George Washington didn't mind being back in his stomping grounds! Just a tip – there's a pretty COOL "National Treasure" walking tour where you get to go in the basement of Mount Vernon that's really interesting.
Make sure you buy your tickets at least 2 weeks in advance though to verify you'll actually get tickets! They sell out quickly! A BIG shout out to Safari Ltd. who provided their fun TOOBS to use on our road trip! You can also find their products on Amazon here.
Overview Tour of the Benjamin Harrison Presidential Site: