Easy Slow Cooker Spaghetti Sauce Recipe – Tomato Canning Recipe
This post may contain affiliate links, view our disclosure policy for details.
When I first started making canning recipes using the fresh tomatoes from my garden, I posted our extremely popular homemade spaghetti sauce canning recipe here. But since then, several kids later, I found that I just don't have time to go through all the blanching process.
Plus my stove is a gas stove and I don't want to run the propane for 12 hours! SO now when my garden is overrun with delicious tomatoes I make this easy slow cooker spaghetti sauce recipe! It's CRAZY easy – literally anyone can do it!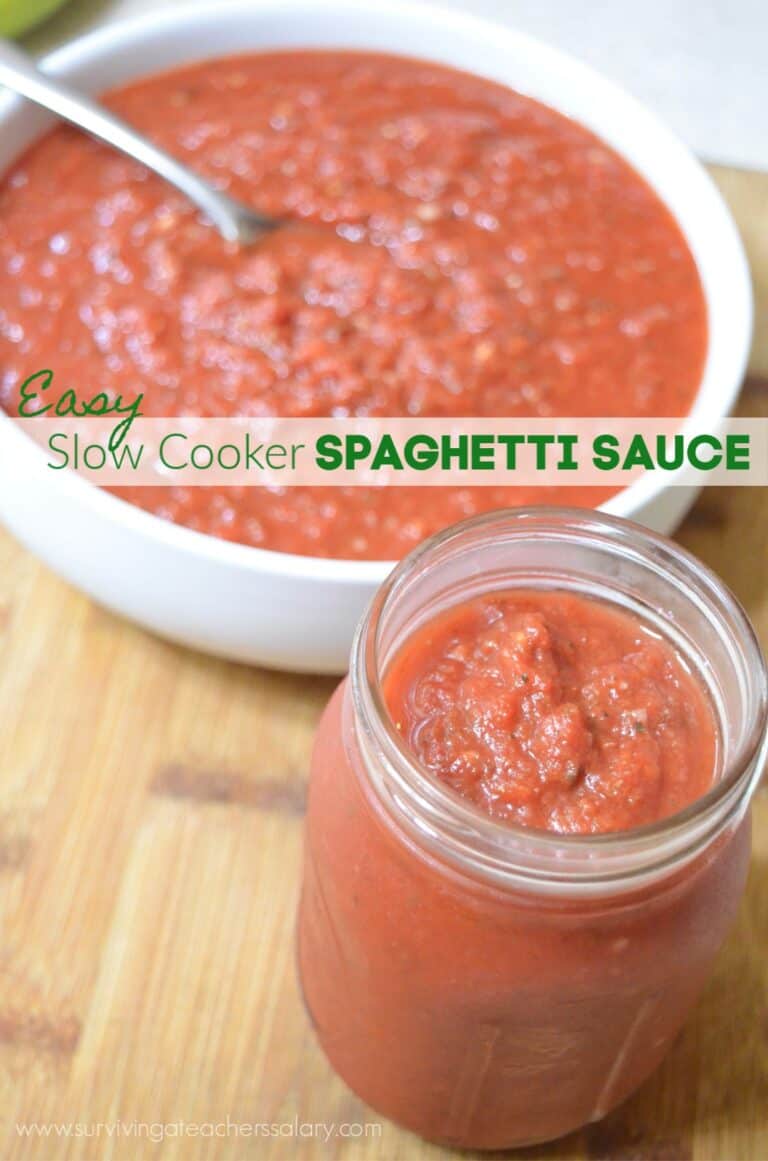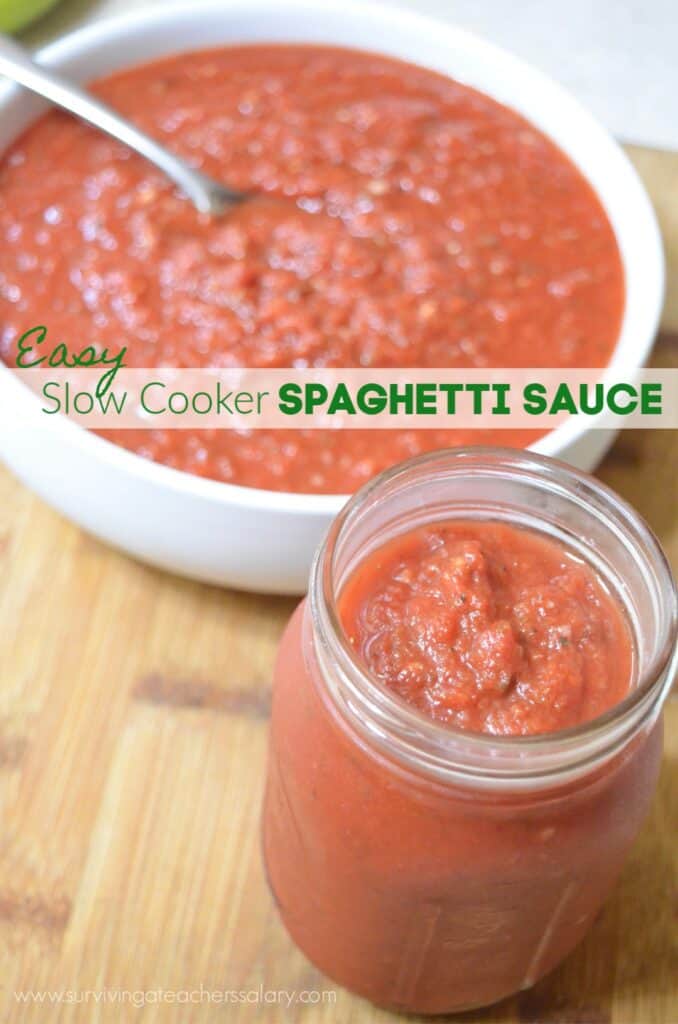 If you don't have a big garden check your local grocery stores in late August – some of them sell tomatoes by the bushel! If you grow your own tomatoes in your garden, I recommend adding ground eggshells, used coffee grinds, and grass clipping to help naturally fertilize the soil!
Popular Gardening Related Posts:
Gardening Books for Kids
DIY Seed Bombs
Make an Herb Garden with a Wood Pallet
Free Gardening Seed Labels
How to Spruce Up a School Garden
Ingredients for Slow Cooker Spaghetti Sauce Recipe:
Tomatoes (approximately 25)
1 Tbsp. Worcestershire sauce
1/4 cup oregano
1 tsp. granulated sugar
1 Tbsp. onion powder
1 Tbsp. garlic powder
1/4 cup fresh minced garlic
1/2 cup Italian Seasoning
1/8 cup parsley
(if not canning, add 1/2 cup Parmesan cheese)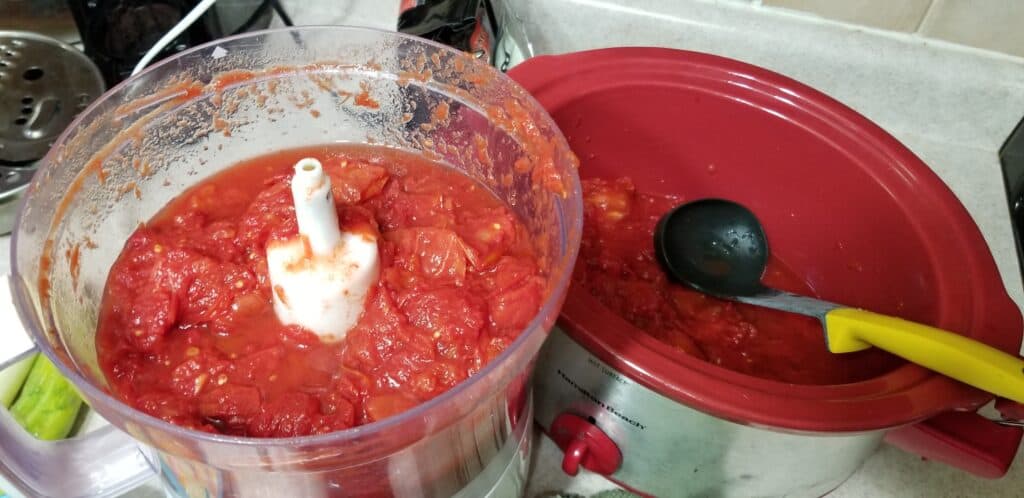 Directions for Slow Cooker Spaghetti Sauce Recipe:
Wash and cut tomatoes. Remove the core. There's no need for peeling skin off or even cutting the tomatoes in any specific way. I just slice them into wedges of any size and toss them right into the slow cooker.
Slow cook on low for about 8 hours. Feel free to stir throughout the day if you want to monitor it. I've never had a burning issue with my slow cooker on low.
Once the tomatoes look nice and mushy scoop out as much straight watery liquid as you can to toss, then pour the rest of your tomatoes into a food processor or blender. Skins and all!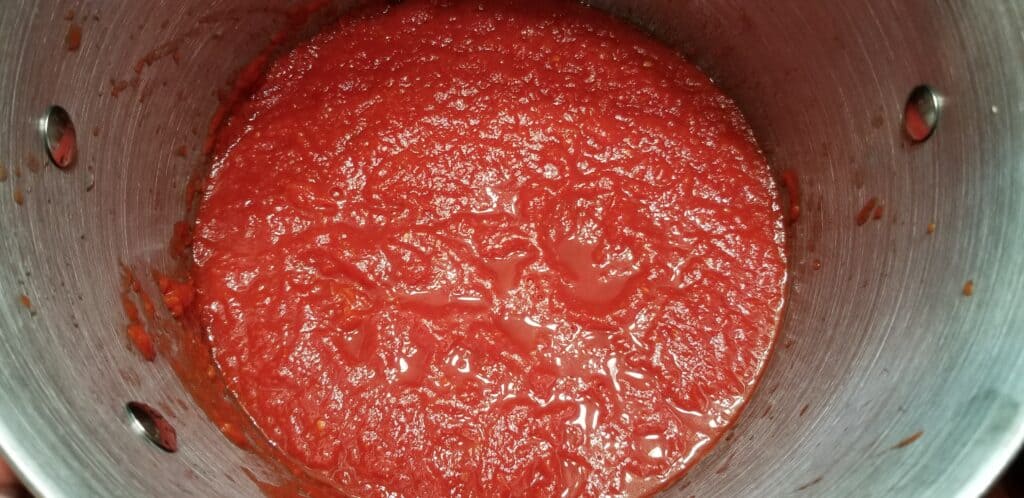 4. Blend well. I usually put it on high power for 20-30 seconds. Just check and see what yours looks like! All of your large chunks should be gone and it should look only slightly lumpy and mostly smooth.
5. Pour your freshly pureed tomatoes into a large stock pot and turn your oven on low heat.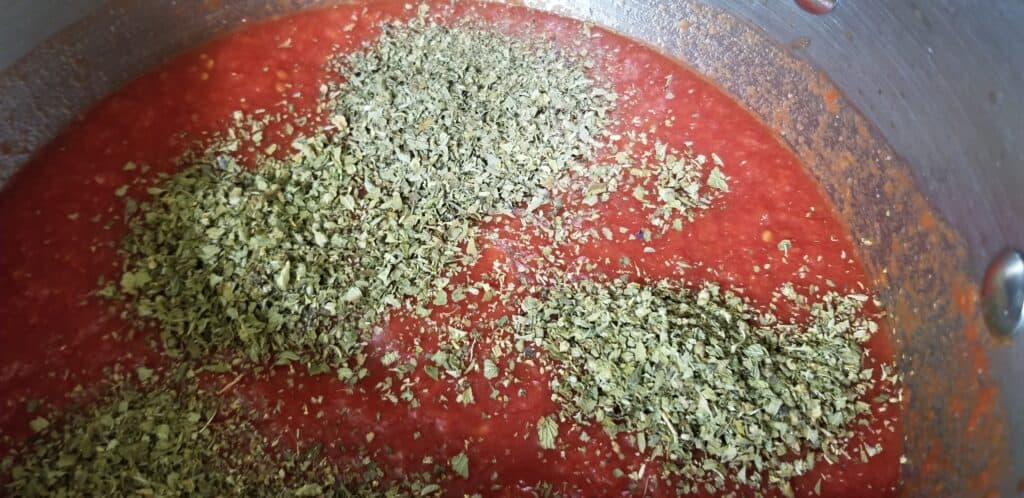 6. Now is the time to simmer your freshly pureed tomatoes with whatever seasonings and spices you want to use! The seasonings I list above are an estimate of what I use. I dump everything in, simmer for 10 minutes or so, then taste it to see if I like it!
Don't be shy! You can see above I've added PLENTY of seasonings! And that wasn't even all of it. If you're making it to eat fresh then add diced onions, green peppers, and anything else that you want in your homemade spaghetti sauce!
*If you plan on canning this spaghetti sauce recipe to store it for later, do not add the cheese until you are cooking it to eat! You don't want to can it with cheese in it.*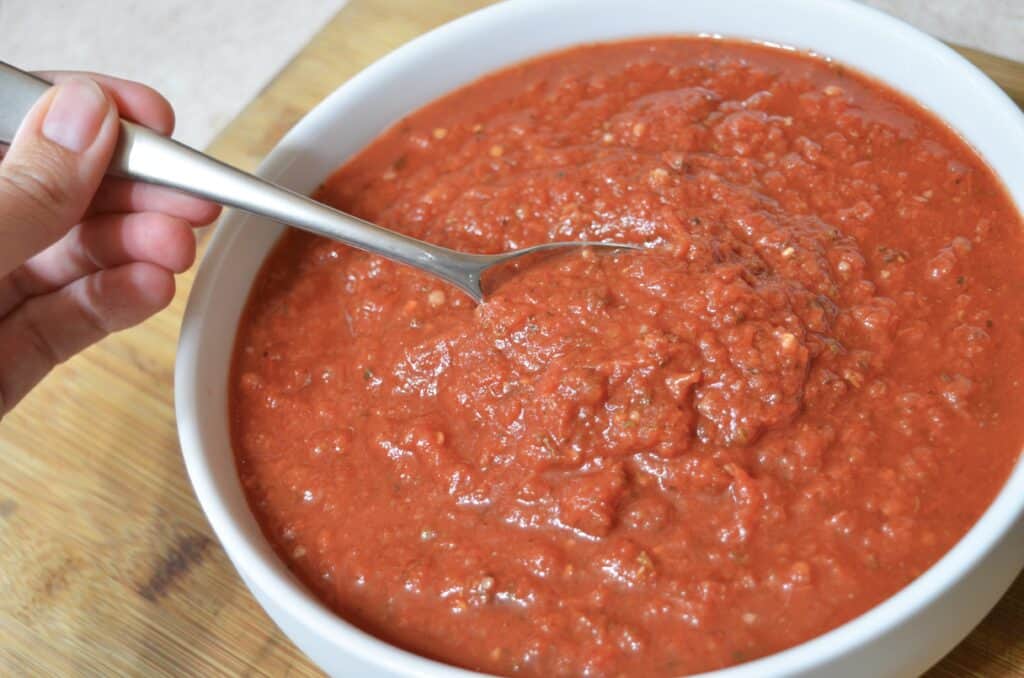 This recipe meets a lot of allergen requirements and diets! Gluten free, dairy free (no Parmesan cheese!), low carb, keto, etc.
If you appreciate this free content and would like to help contribute in a small way in helping me continue providing free educational resources for others, feel free to send a token of your appreciation via Paypal here. Any amount helps and is greatly appreciated. Shop through your favorite Etsy store or use our Amazon link to make your purchases!
Here are 7 fabulous tomato sauce recipes perfect for your extra tomatoes!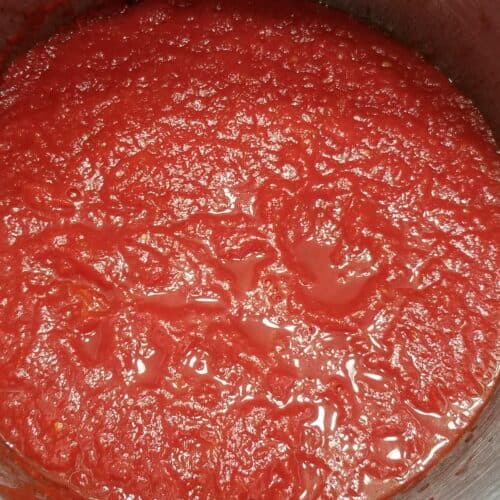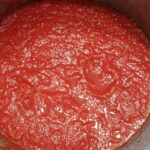 Homemade Slow Cooker Spaghetti Sauce Recipe
Use your fresh garden tomatoes to make this homemade slow cooker spaghetti sauce recipe!
Ingredients
25

large

tomatoes

1

Tbsp.

Worcestershire sauce

1/4

cup

oregano

1

tsp

granulated sugar

1

Tbsp.

onion powder

1

Tbsp.

garlic powder

1/4

cup

fresh minced garlic

1/2

cup

Italian Seasonings

1/8

cup

parsley

1/2

cup

Parmesan cheese

ONLY if not canning!
Instructions
Cut tomatoes and cook in slow cooker on low for 8 hours.

Remove excess water and blend in food processor.

Simmer on low on stove top and add in all seasonings.

Can or store in fridge for later!