Shark Week Nautical Beach Drink Recipe
This post may contain affiliate links, view our disclosure policy for details.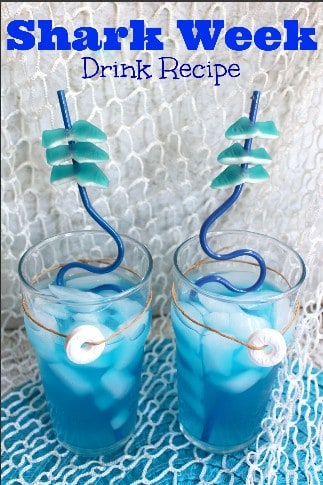 Whether you're celebrating Discovery's Shark Week or throwing a beach themed birthday party these nautical shark drinks are super fun for kids and adults alike! Below I've included our recipe and step by step directions to make both the drink and "shark cup". You can buy shark gummies at a local candy store, Amazon or eBay in various amounts. At the bottom of this post I've also linked up some other great shark themed recipe ideas for kids!
Homemade Blue Lemonade Recipe
INGREDIENTS:  (makes 1/2 gallon)
2/3 cup granulated sugar
1/2 water
1/2 cup frozen blueberries, thawed
3 cups cold water
1/2 cup freshly squeezed lemon juice from 2 lemons
Blue food coloring, optional
Ice
DIRECTIONS:
1. Squeeze the juice out of 2 lemons to get 1/2 cup juice.
2.  Purée the blueberries and pour the contents into a strainer.
3.  In a medium saucepan, over medium heat, add the sugar and 1/2 cup water until the sugar dissolves. Remove from heat.
4.  Add 3 cups cold water and the lemon juice to the sugar mixture. Stir to blend well.
5.  Add blue food coloring, a drop at a time, to achieve your desired color. Stir.
6.  Place ice in glasses and fill with the blue lemonade.
Because our lemonade was specifically made for shark week we also used a few fun extras! In addition to the drink itself we used twine, white peppermint lifesavers, crazy straws, and gummy sharks.
1. Cut pieces of twine and string one Lifesaver on each piece. Tie the twine around the middle of each glass, placing the lifesaver in the middle to resemble a nautical life preserver ring.
2.  Insert gummy sharks on a crazy straw and insert into drink.  Enjoy!
Check out our Shark Week SHARK Ice Cubes!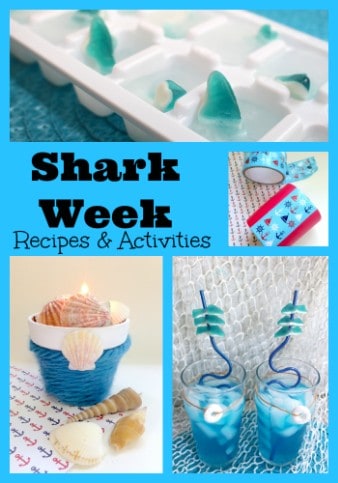 Other Great Shark & Beach Ideas:
Shark Ice Cubes
Shark Jello Cups
Healthy Ocean Fish Snack
Shark Tooth Sensory Bin
FREE Printable Shark Facts
Footprint Sharks
Don't Wake the Sharks Game
Shark Toilet Paper Roll Craft