Shapes Don't Bug Me Geometry Activity Set Review by Learning Resources
This post may contain affiliate links, view our disclosure policy for details.
Disclosure: I received the below product to review. All opinions are my own.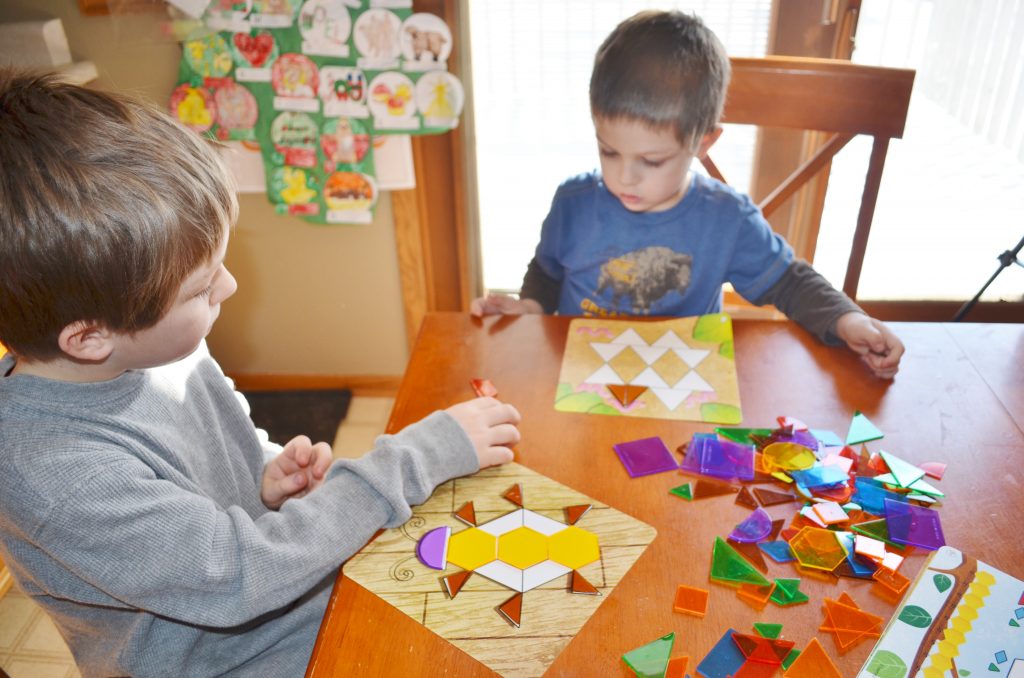 We are excited to team up with Learning Resources this year and feature some of their new products in 2014 and recently we have just fallen in love with their Shapes Don't Bug Me Geometry Activity Set!!
Oh my goodness it's SO much easier (and more fun!) for my kids than traditional tangram type activities. They've always struggled with manipulating the shapes to fit in just the right way. This set from Learning Resources comes with twenty large double sided activity cards (40 activities total) and has 136 pieces to use (14 different shapes and 7 different colors).
The cards come in varying levels of ability ranging from pre-designed shapes to simple fractions and larger and even my preschooler could accomplish many of them! Here is an example of some of the types of designs you'll see in this set:

Of course the kids favorite ones are the cards that create a picture like the bugs or flowers. This would have been the perfect tool to use when my son was in OT working on his copy/design skills. Kids have to find the exact shape that fits the pattern but it's still simple enough that they can complete it and feel a sense of accomplishment.
Not to mention that it's great for fine motor skills. I definitely think this is one of the best geometric shape activity sets I've come across! It's very brightly colored and my kids immediately were drawn to the set.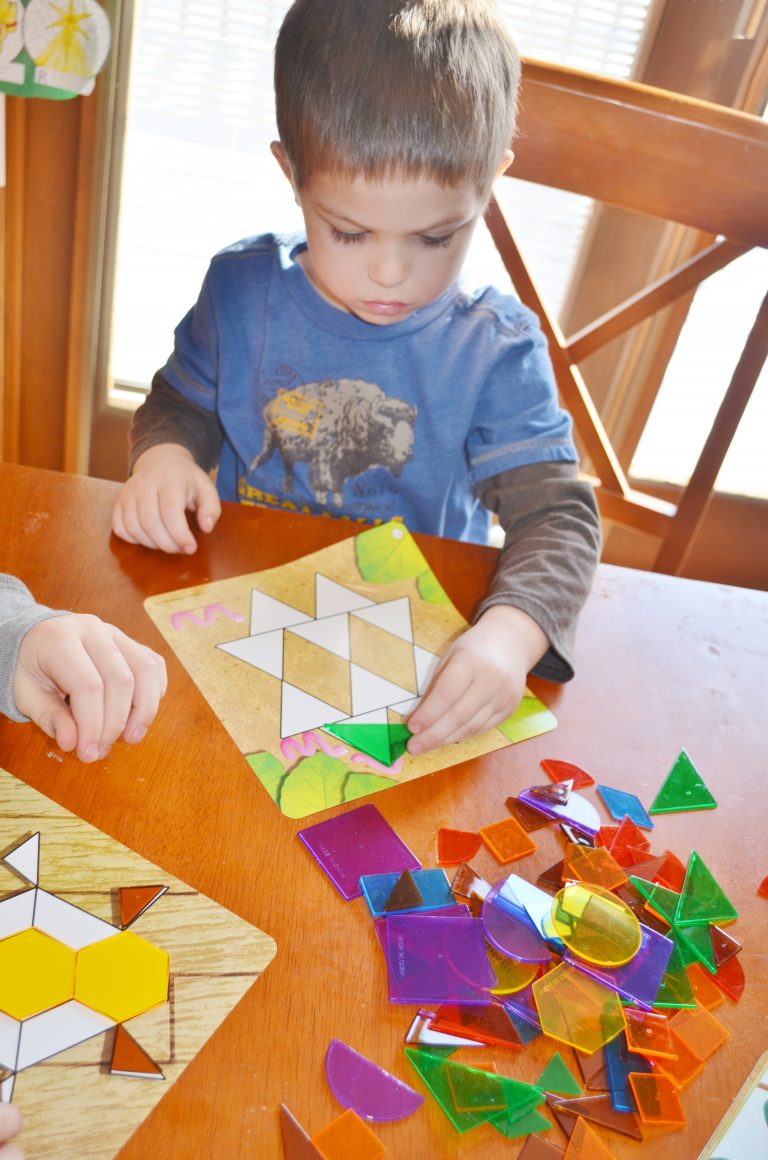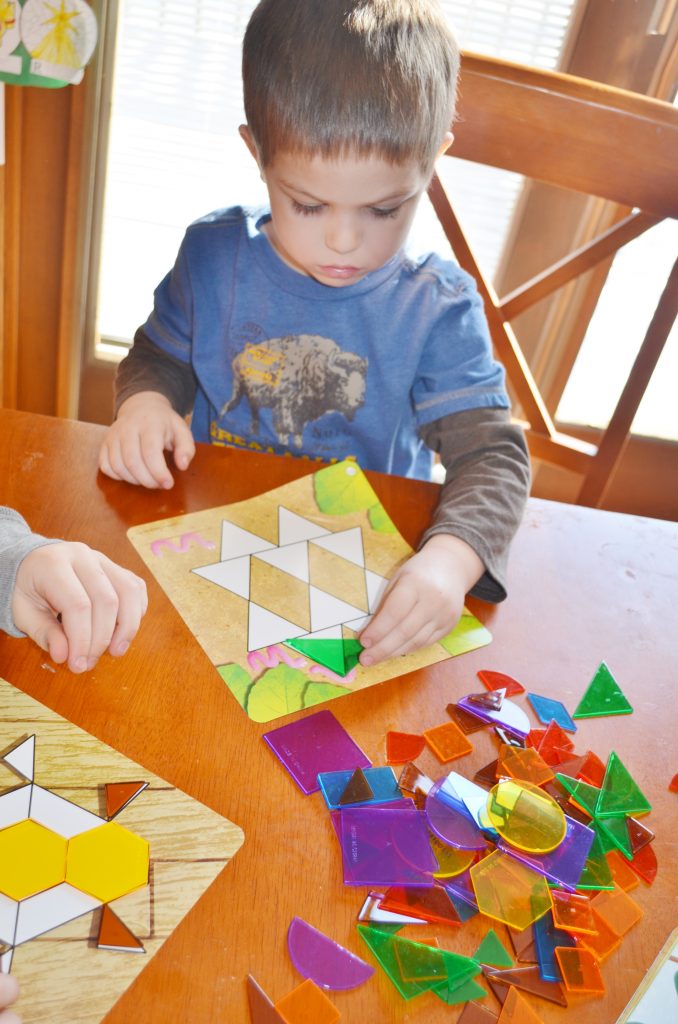 It was great having my 2nd grader and my preschooler work side by side together! My oldest son helped my younger son out with the shapes since he was getting a little stuck with the several different types of triangles.
You can also see that the shapes are translucent so you could certainly use them on an overhead as well. (I love versatile products!) You could easily create your own transparency and turn this into a classroom activity.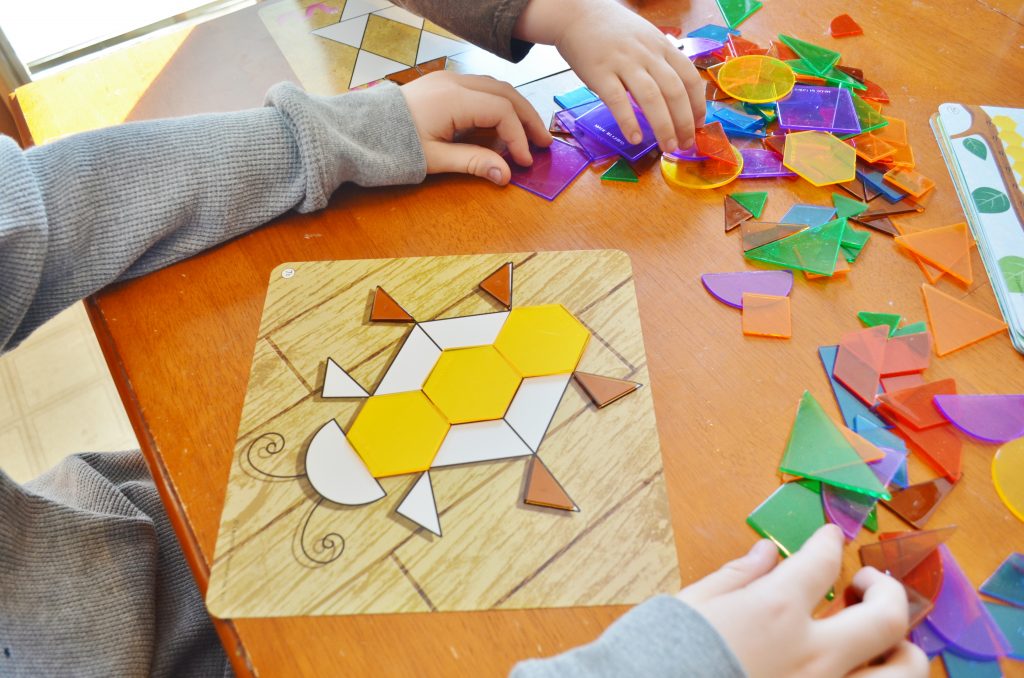 There are plenty of shapes included in this Shapes Don't Bug Me Geometry set for more than one kiddo at a time to use. There are really no negatives to this review! We absolutely LOVE this set!
There are plenty of shapes, plenty of cards and activities, and a fabulous variety of types of card designs included. This can be used as a classroom activity, center activity, fun at home, therapy, and pretty much in any other scenario that you would want to use these.