Sensory Chemistry Kit by Roylco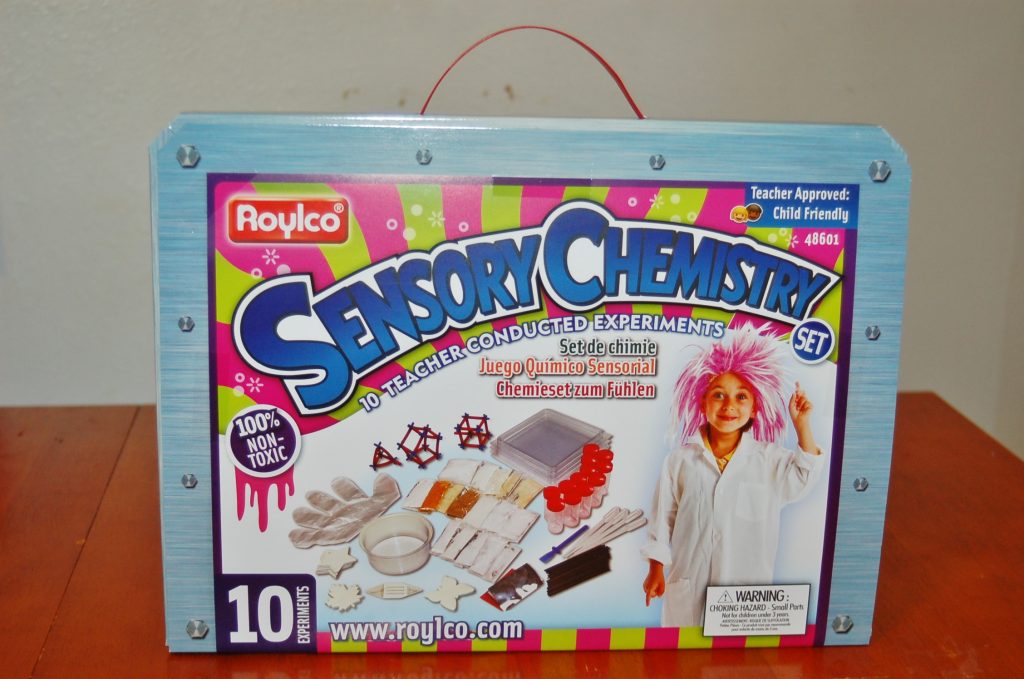 WHOO! I am so excited to tell you guys about this fun Sensory Chemistry set before I head off to BlogHer this week! This fun brightly colored set by Roylco includes 10 teacher conducted experiments – perfect for groups in a classroom or doing multiple times with your kids at home! I love the picture on the box – my son immediately spotted it on my shelf and loved the crazy pink hair!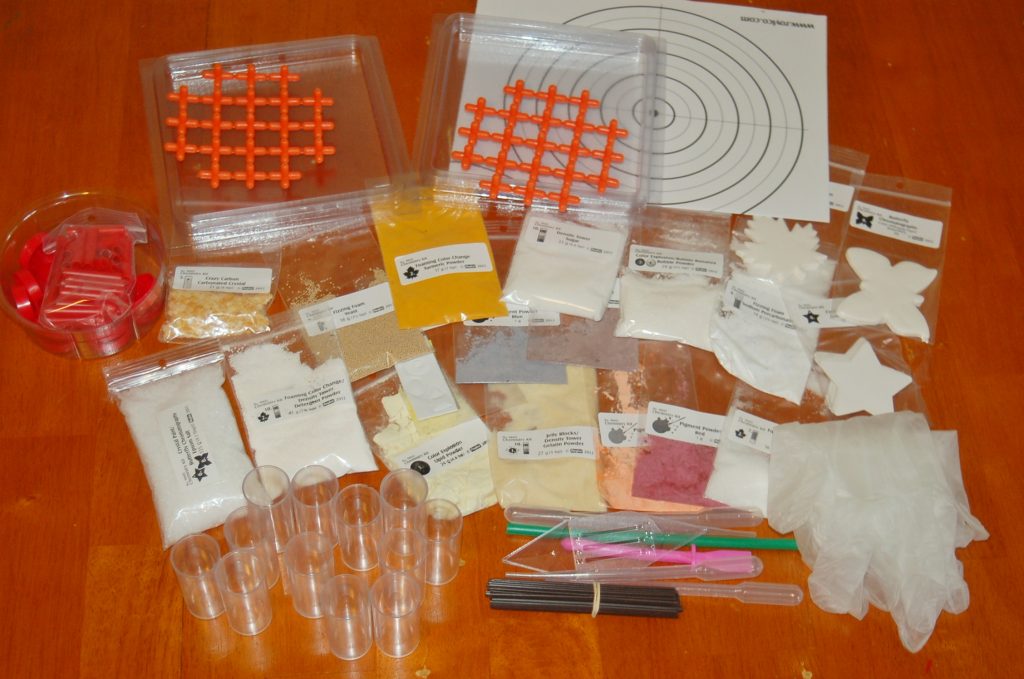 The box has an incredible amount of stuff in it!! I won't even begin to list everything in it – but aside from water it's everything you'll need for all of the chemistry experiments! It also comes with an instruction guide in several different languages! Although this is a great set for a classroom we decided to do several experiments with our kids as school hasn't started yet!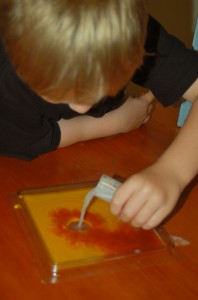 We chose two very simple experiments that took just a few minutes to do. I loved that they were not complicated experiments and could quickly be done in a larger group setting. There are a few that take long and need a little prep work done but there are several experiments that are quite easy to pull together last minute. Above we did an experiment on changing colors with chemicals. We used tumeric powder mixed with water, then poured a solution with citric acid in it! The kids were amazed to watch the colors change back and forth and learn a little bit more about chemical reactions.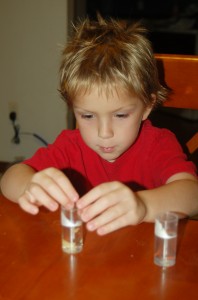 Another experiment that we did was a fun and simple carbonation one which we used the carbon crystals for. The kids got to drop the carbon crystals into our vials of warm water and watch the fizzies appear! We were able to spin this into a great lesson about carbon dioxide, sodas, and even a lesson on oxygen/carbon in the air!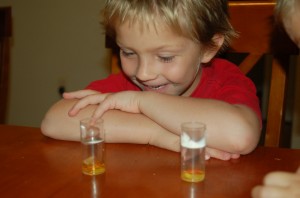 After we dropped the carbon crystals into the water the Sensory Chemistry kit had different types of shapes made from different materials which we dropped into the vials. The carbon gas bubbles made the shapes "dance" around and float up to the top of the vial which as you can see my son thought was really neat! Below you can see the 10 different experiments set up – look at all the bright colors! Science has always been my favorite subject in school and I just absolutely love any set that entices kids to learn more and experiment on their own!!
If you're trying to get your kids intrigued by the mysteries of science and to provide simple hands-on learning lessons in chemistry that your kids or students can get involved with make sure you check out this Sensory Chemistry set from Roylco!
GIVEAWAY

Roylco has generously offered for one of my readers to win their OWN Sensory Chemistry set!! Just fill out the Rafflecopter form below!
Disclosure: I was not compensated for this review. I received a chemistry set to use in order to form my own opinions. All opinions are my own. Giveaway is open to US only and will end at 12:01 am est on August 13, 2012. Winner will be chosen randomly and have 48 hours to claim prize.