Delicious Candy Alternatives to Decorate Your Gingerbread House
This post may contain affiliate links, view our disclosure policy for details.
This post was sponsored by Stretch Island as part of an Influencer Activation for Influence Central and all opinions expressed in my post are my own.
Every year one of our favorite holiday traditions is decorating gingerbread houses together! But even the kids get sick of the piles of sugar on their gingerbread houses! We don't even eat them – even if they do look pretty and colorful! Especially after all of the holiday sweets & yummies! So this year we decided to go with a little less sugar and try some new candy alternatives on our gingerbread house! As much as we have fun decorating our gingerbread houses we actually want to snack on them too!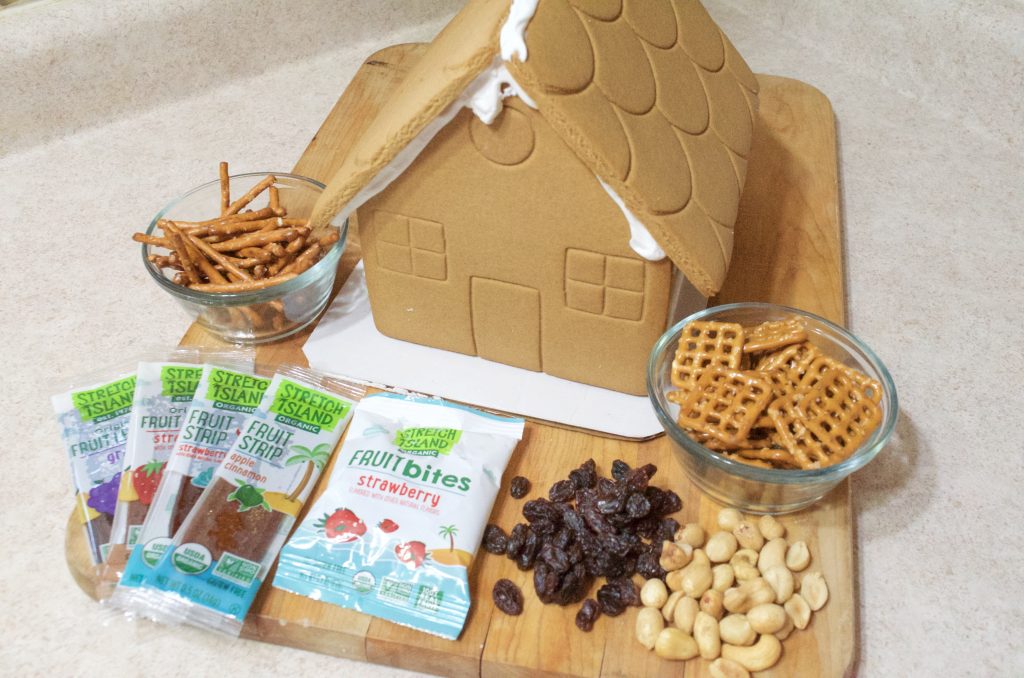 Candy Alternatives to Decorate Gingerbread Houses:
We used:
Stretch Island Fruit Leather (0g added sugar!*) 
Stretch Island Organic Fruit Strips (0g added sugar!*) 
Stretch Island Fruit Bites
raisins
peanuts & cashews
pretzels (square & sticks)
All of the sugar found in Stretch Island fruit snacks comes naturally from 100% fruit ingredients – that means fruit puree concentrates and fruit juice concentrates! Extra YUM!  They are always Non-GMO Project Verified, vegan AND gluten free which makes them the perfect snack for kids! (PST – the Fruit Strips and Fruit Bites are USDA Organic!)
Other Candy Alternative Ideas:
dried fruit
fresh fruit
coconut flakes
cereal
popcorn
fresh herbs
seeds (sunflower, pumpkin, etc.)
crackers
sugar free candies
Have another great candy alternative? Leave us a comment below with your idea!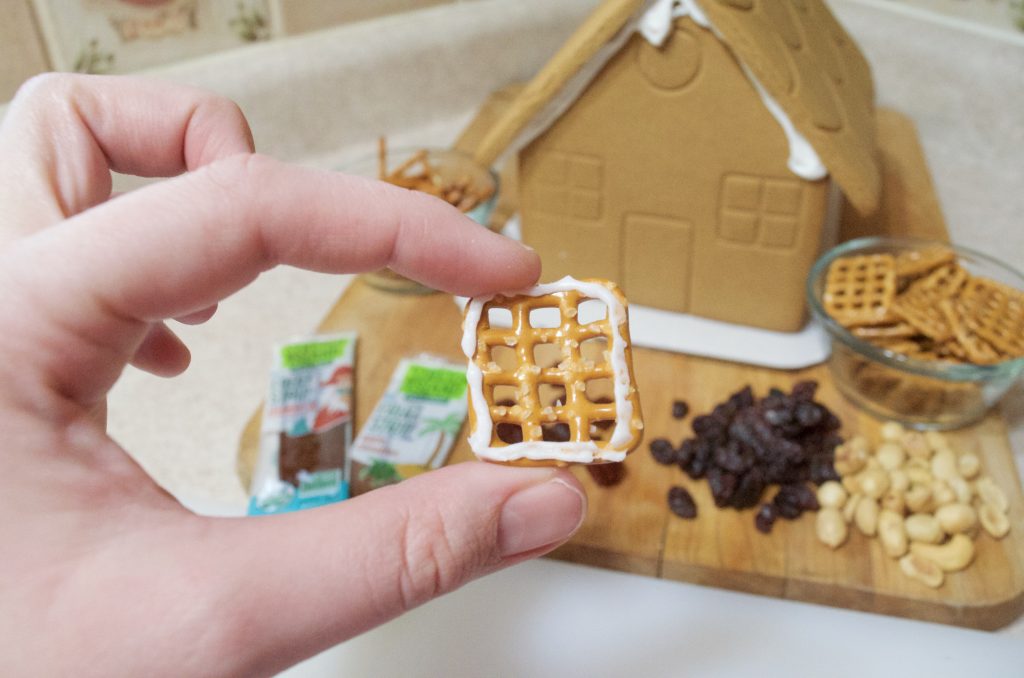 We started by adding square pretzels for the windows. Just line some icing on the frame of one square pretzel and place it on the house!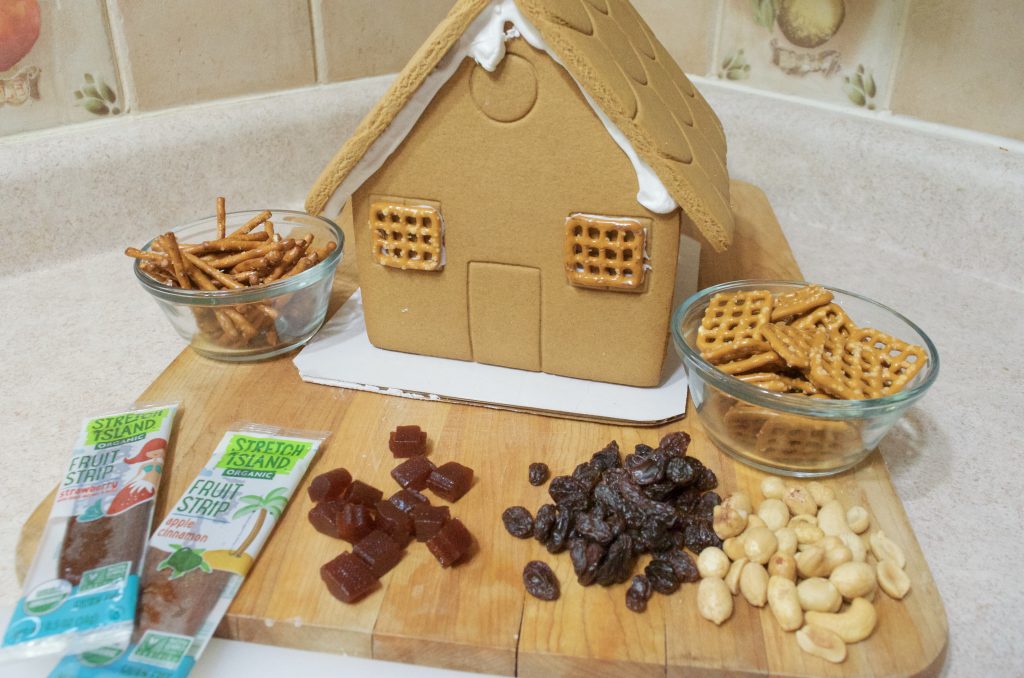 I recommend always laying out your supplies for quick access to everything! This has been key to our keeping our family tradition smooth sailing every year with little hands! And the cool thing is that Stretch Island's Fruit Strips have been made the SAME way for more than 40 years! Simple ingredients and minimal processing – just the way we like it! It seems they like keeping their traditions too!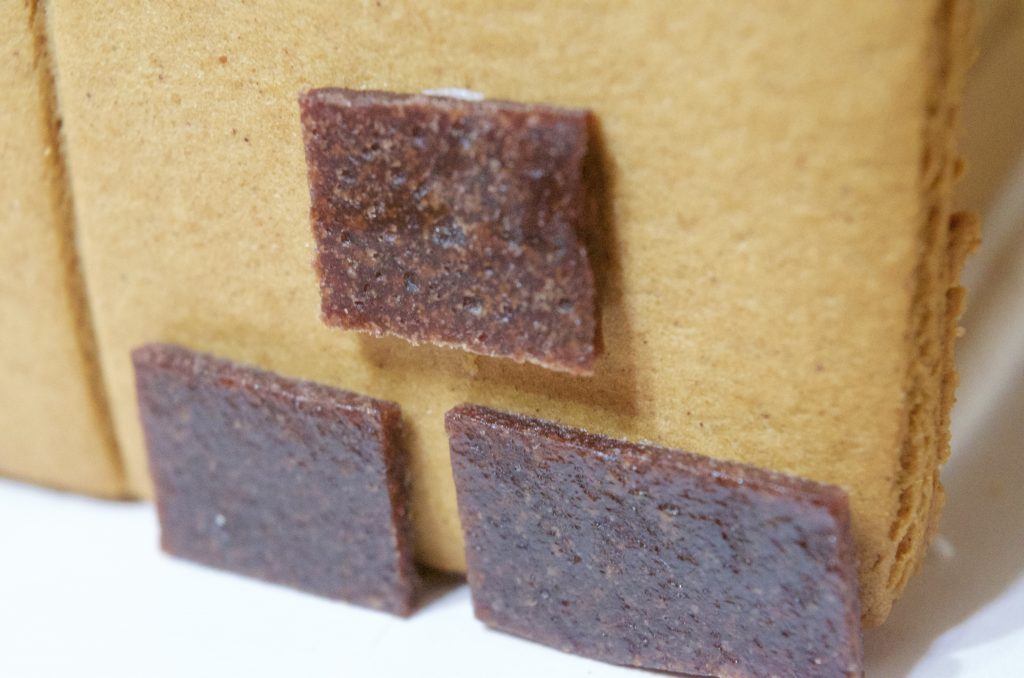 Our Stretch Island fruit leather strips were PERFECT for creating "bricks" on the outside of the gingerbread house. If you really wanted to go all out you could use them for roof shingles too!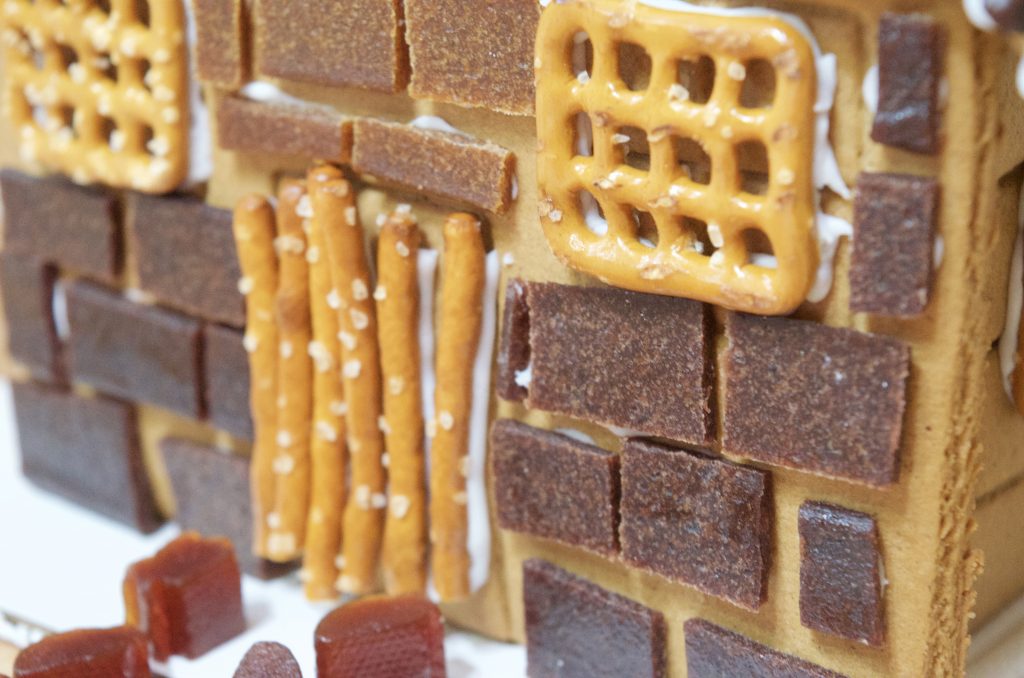 Just cut your Stretch Island fruit leathers into small rectangle shapes and dab some icing onto the back then press onto the gingerbread house. We also used pretzel sticks to cover the door.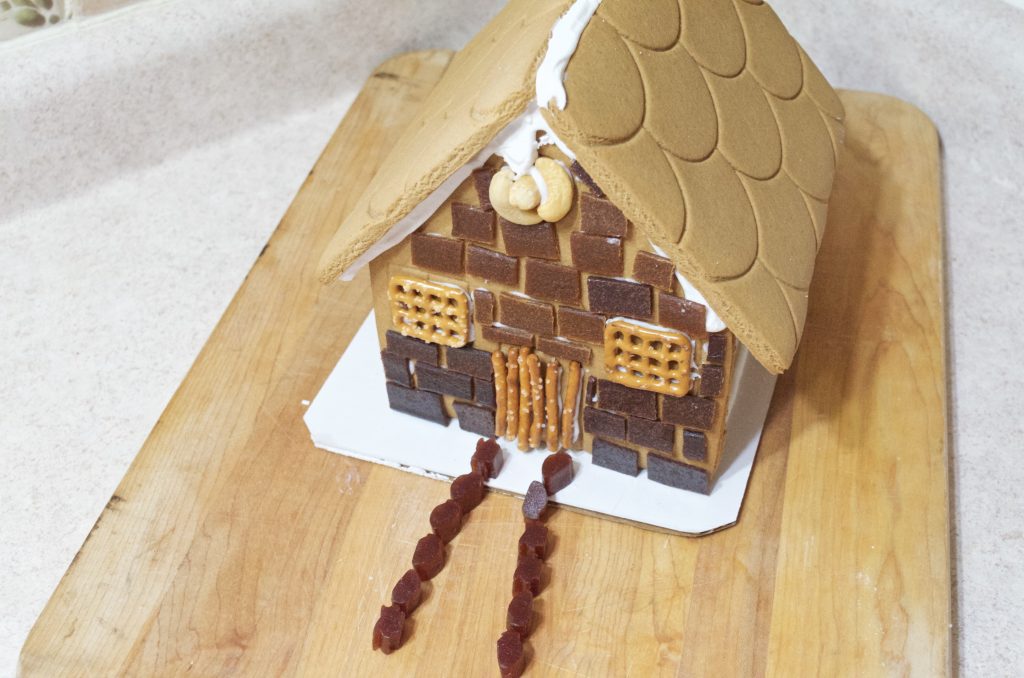 The Stretch Island Fruit Bites (which are extremely delicious by the way) turned into our house walkway. My kids went CRAZY over the Fruit Bites! Their eyes lit right up and my son said "MOM – this is WAY better than those annoying crunchy candies that come with gingerbread house kits!".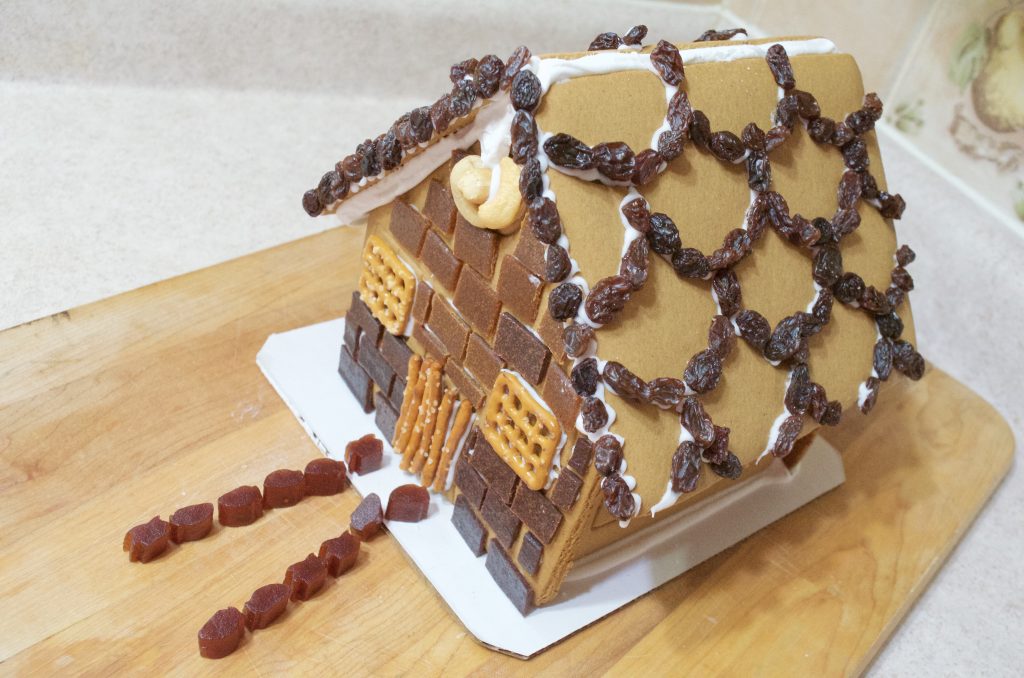 We decided to line the roof with raisins!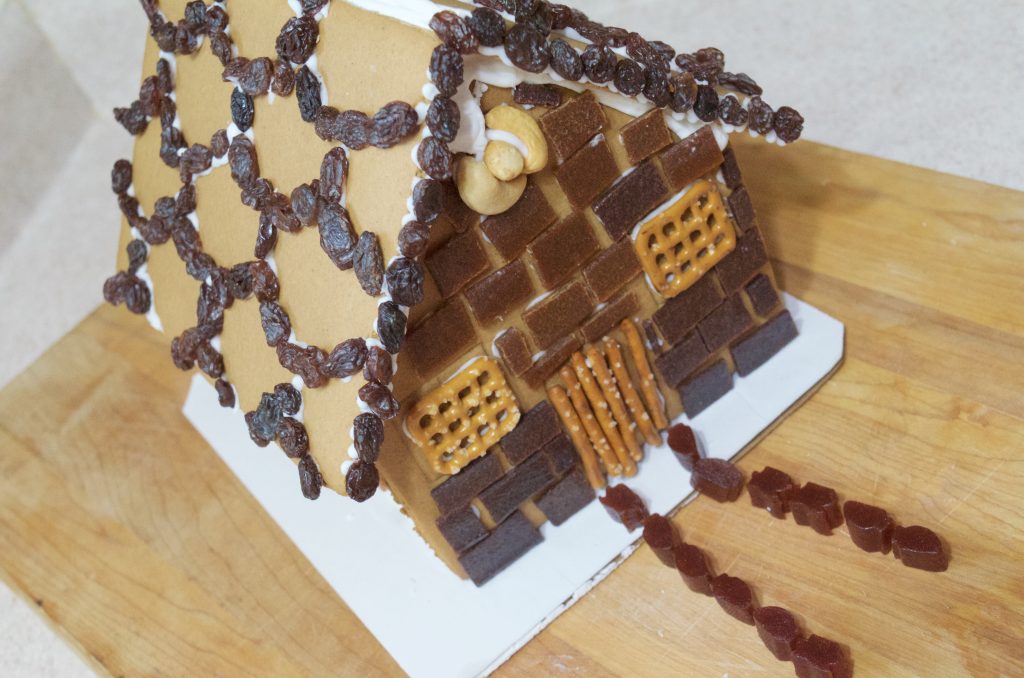 Want to see more great Stretch Island products? You can look for where to buy them here. Follow them on Facebook, Twitter, and Instagram!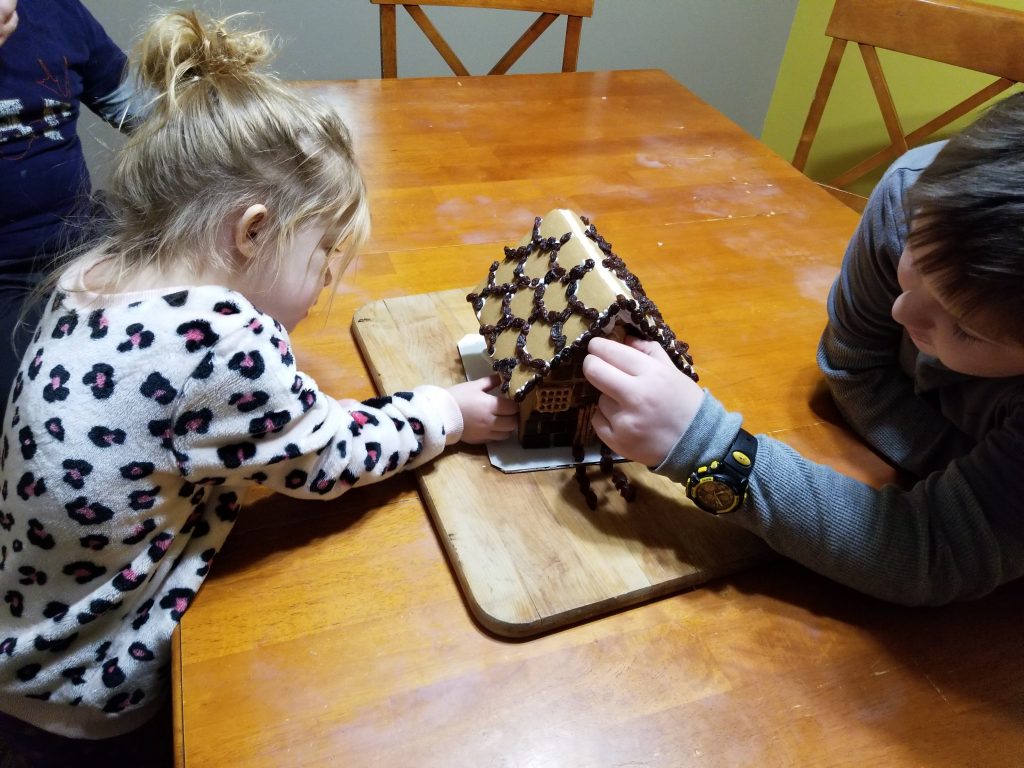 Having a night to build gingerbread houses is such a great non-screen way to spend time as a family! Between that and heading out to see Christmas lights (with your Stretch Island Fruit Bites or Fruit Leather snacks of course!) – you'll be making memories to last a lifetime! And sweet ones at that!
*Please see nutrition panel for calorie and total sugar content.