Project Pals: The Interactive Classroom Collaboration Program You Need
This post may contain affiliate links, view our disclosure policy for details.
I have partnered together with Project Pals for this post. All opinions are my own.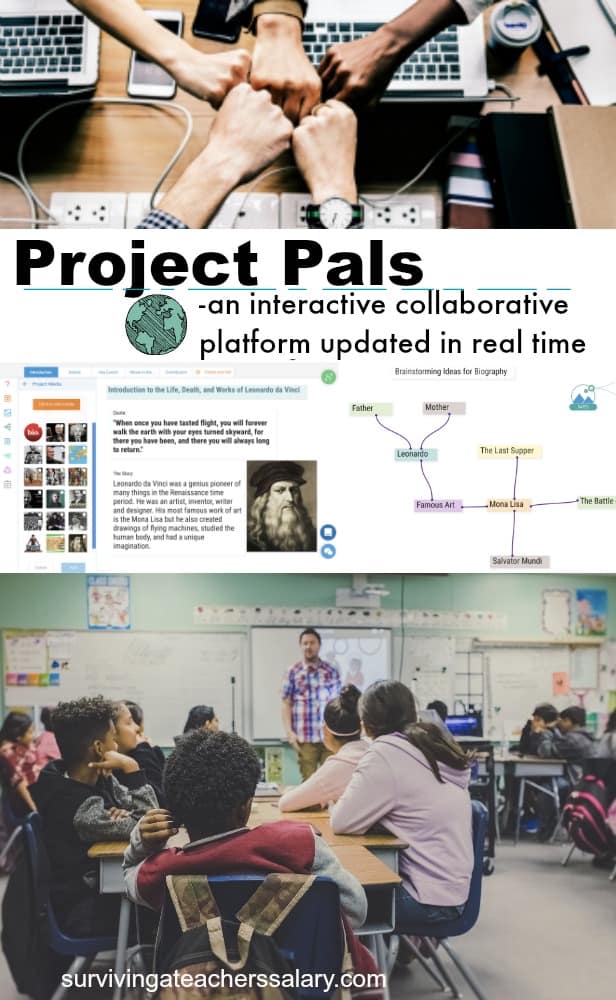 Working as a team is such an important tool not only in the creative thinking process but also as a life skill! Team building projects in school can be a tough job for kids sometimes and grading team projects can be even tougher for teachers! How do you know which student worked on the project? Did each student pull their weight and do equal amounts of research or was one student bravely left with piecing the team project together?
Thanks to Project Pals not only can teachers monitor how much time each student spends on their project but it is ALSO allows LIVE collaborative updates as teams work together, much like Google Docs. That means students can work on their projects at home OR in the classroom via the project based learning platform. Since everything they do is updated in real time students can still contribute to projects and stay updated no matter where they are. Plus teachers can add comments to students projects in real time as well.
---
What is Project Pals?
Project Pals is an all-in-one interactive learning platform for teams to problem solve and collaborate in real time. You can start from scratch or use a template based on category and grade level. Common Core-aligned projects are included and you can attach media files and Google docs. The platform offers a simple drag and drop solution for students to create. Student progress can be monitored in real time by teachers with analytics and charts to monitor which student(s) are doing the bulk of the work. Projects can also be published to create a district wide learning hub depending on your membership option! It was started by a former teacher who recognized a need to support students and is still a family business!
Watch this simple video overview of the Project Pals platform:
Features in Project Pals:
Free Templates & Media
Assign Common Core values to each project.
Blank or custom rubric!
Add media files via upload, URL link, or via the catalog!
Nothing gets deleted for quick reference!
Include math charts, graphs, and other analytics!
Google Docs Import
Real Time Updates
Google Classroom Integration
Co-author/manage Projects with Other Teachers
Allows Teachers to add Comments on Student Work
Project & Class Analytics
Rubric Builder & Evaluator
---
Best Age/Grade for Project Pals – Who Can Use Project Pals?:
Although the program is geared specifically for students that range from 4th grade through college, this platform offers a unique innovation for co-worker collaboration as well. It can be used for extracurricular teams like robotics and science fair projects or even for co-workers collaborating together! PLUS you can use and share Project Pals with other classrooms all across the globe – in real time! Anything you add into Project Pals is saved and can be used in future projects. In fact, students can even initiate a project themselves!
---
Basic Steps on How to Use Project Pals in Your Classroom:
1.Choose your project! What I LOVE about Project Pals is that although it is a very customizable detailed program which usually comes with a hefty learning curve, Project Pals has made every effort possible to be user friendly and get you started feet on the ground! They include templates for projects (such as biographies, research projects, etc.) and rubric templates based on different grade levels that you can adjust to meet the needs of your team. Assign each team a project of your choosing and let them edit the rest! I HIGHLY recommend "CLONING" a project for your first one to have an easier time at learning the platform. You can just search their Catalog of pre-made templates, click "CLONE", then enter the Workspace area and customize it to your specific topic!
Starter Projects = Meant for a 1 day project!
Lesson Plan = subject specific and no modification needed
Model Projects = NOT able to be cloned!
 2. Work together as a team to research and put together your presentation! The teacher can assign specific tasks to each student in the group which can then be "dragged and dropped" into a task area depending on completion. Teachers can see which student has spent time on various sections of the project and how much time they have spent on it compared to their peers.
3. Grade each project with available or custom rubrics. Analyze data from each team.
---
My Biography Research Collaboration Example in Project Pals:
I jumped on a phone call with Uri over at Project Pals and he gave me a great demonstration on how to use various features of the program and answered all of my questions! (Contact him here to set up a demo of the Team or School options) He showed me an example in the Catalog of a team working on a model project of why honeybees are disappearing (just use the search bar and type in "bee"). I wanted to try a different template format so I decided to put together a project researching the life of Leonardo da Vinci.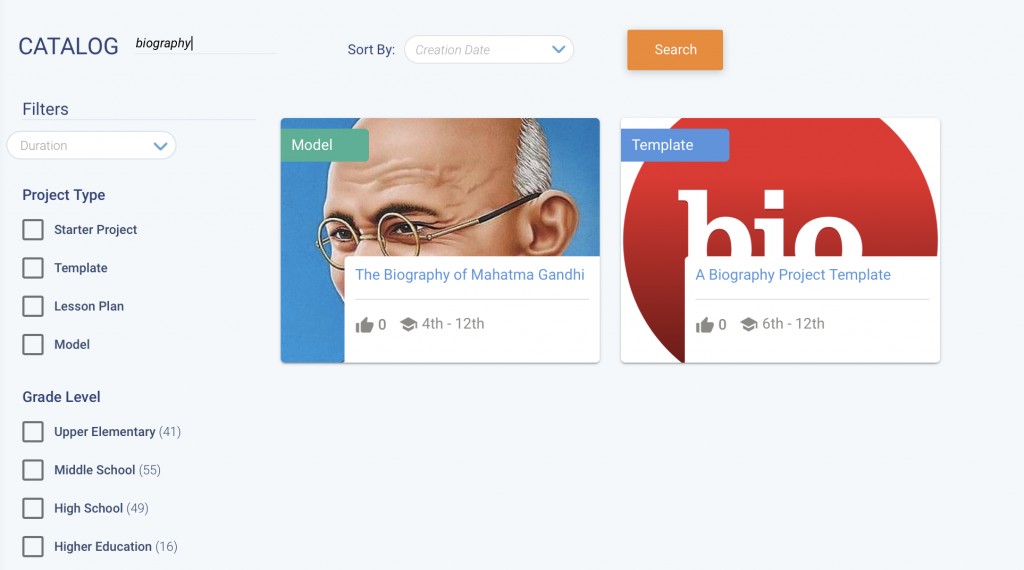 You'll see on the left side above you can narrow your search down by the project type, grade level, subject area, or even Common Standard set. Over each icon image you'll notice a color block labeled "Model" or "Template" above for easy reference. Model projects are there as an example of what can be done are not able to be cloned so I chose "Template".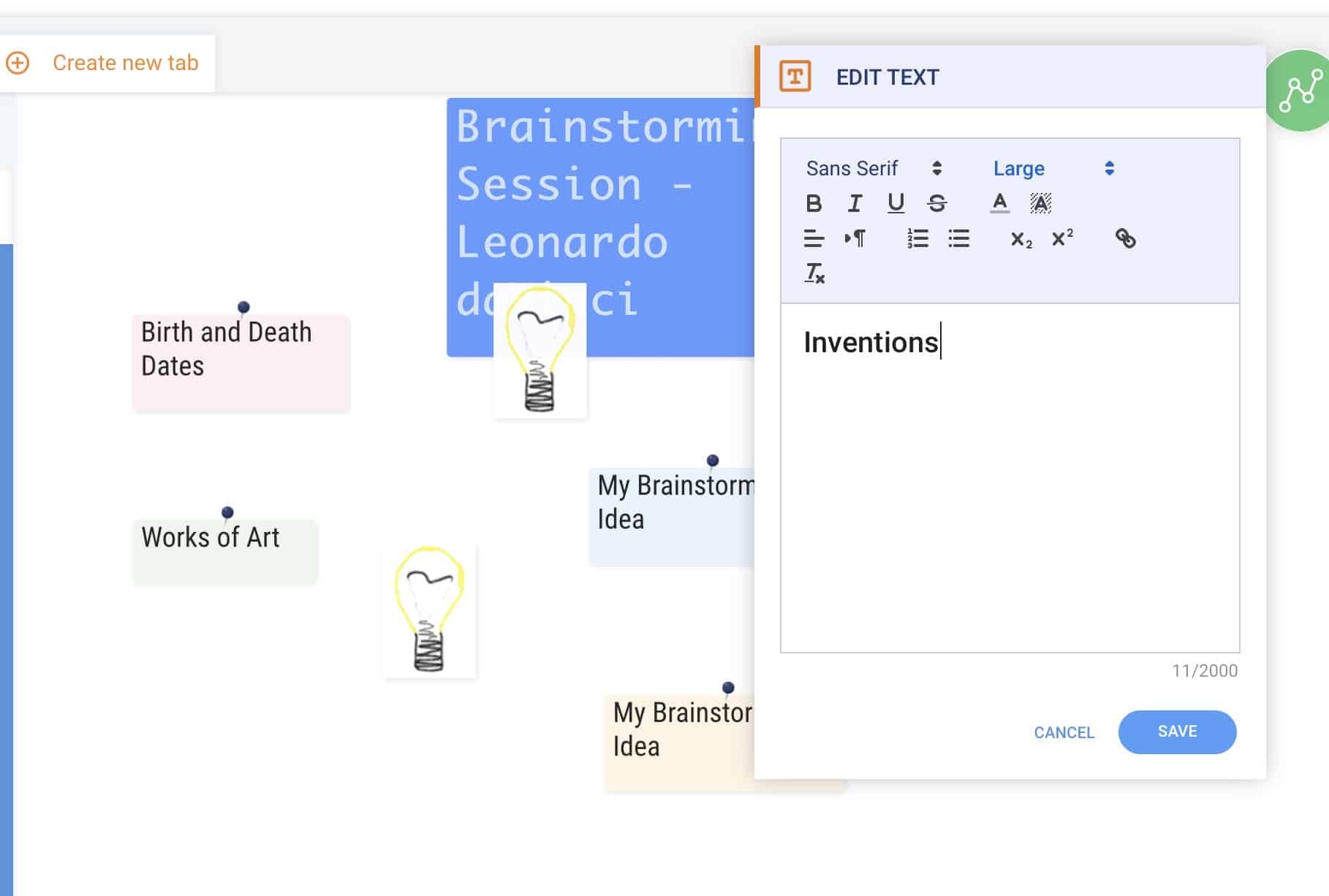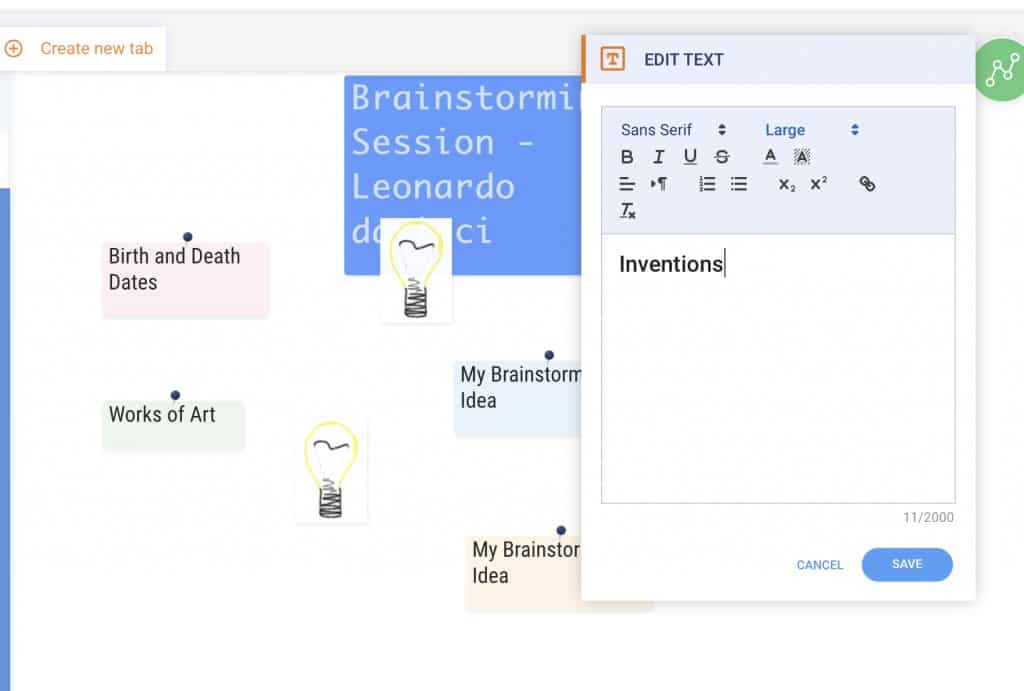 Once you've cloned the template it's completely customizable in the workspace! What I really love about these simple templates is that you can literally just click to edit each text box (or image) and drag them around to make them fit your specific project. Instead of assigning a blank page to students to figure out what to do this gives them a fantastic starting point and helps them understand as they learn the platform. Then students can just stick strictly with the given template or they can drag, drop, insert, and edit anything desired.
Think of it as a completely customizable (more user friendly!) Power Point that is shown in TABS (like Excel). You can add as many tabs as you need for your project at the top of your project workspace.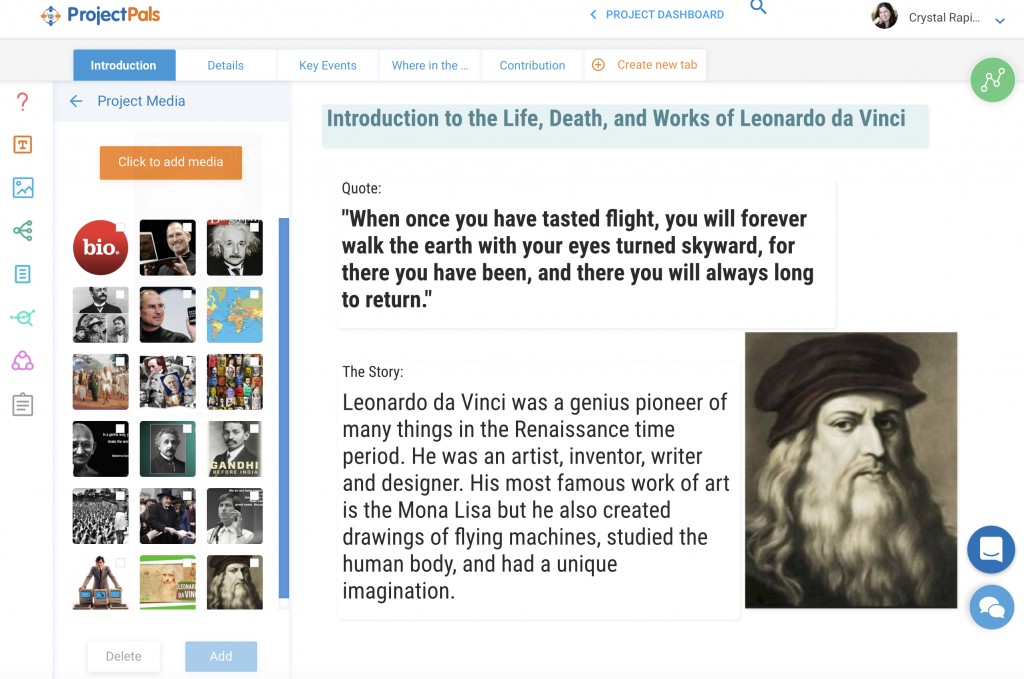 For your projects you can add PDF files, YouTube Videos via URL links, upload images, or even use images offered in the platform. What I love is that once 1 student in the team uploads anything that all students permanently have access to that media. Nothing is deleted but instead all saved in your media library for quick and easy reference. This INCLUDES text boxes! Text boxes are also saved in the platform so that as you move from brainstorming to timelines and other portions of your project students can click to add a previous text box instead of needing to re-type all of the ideas out over and over again.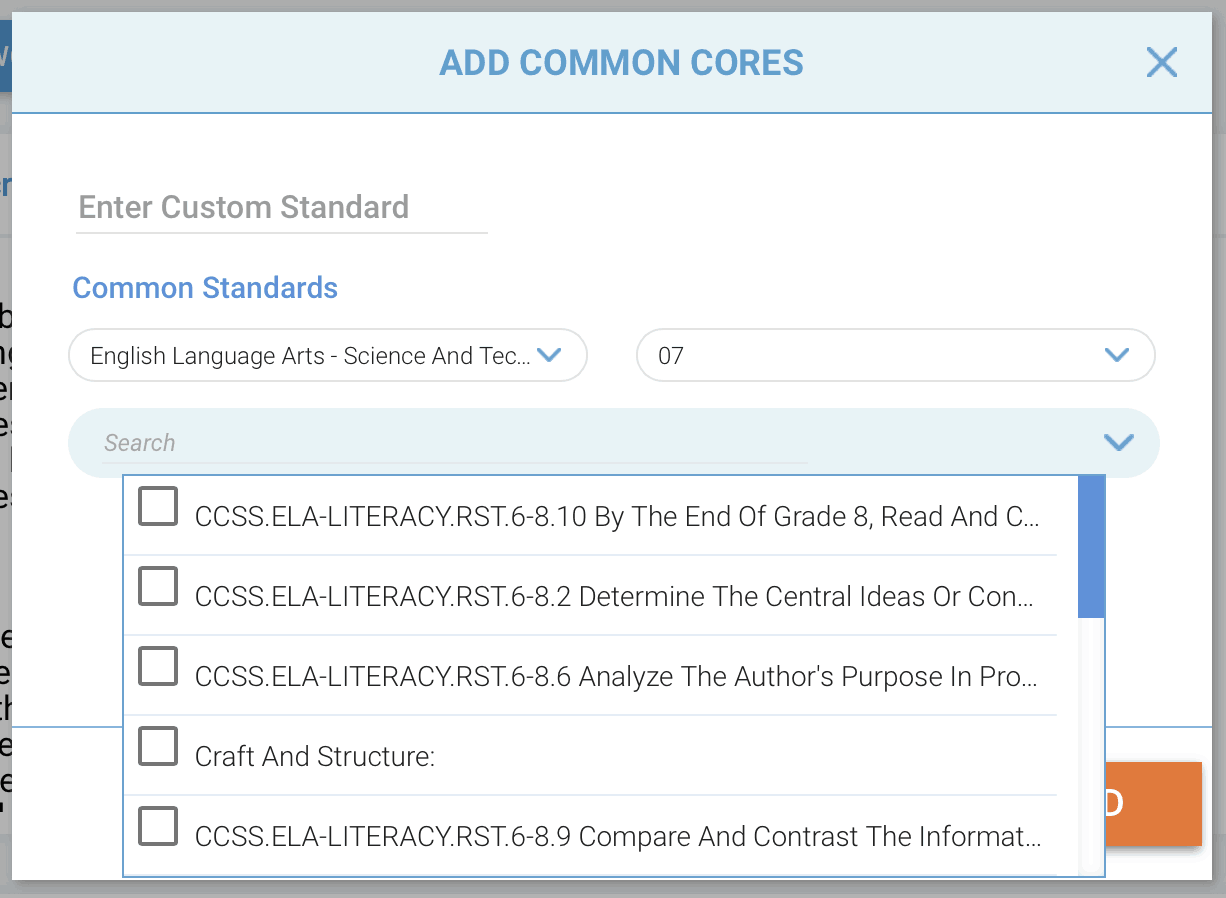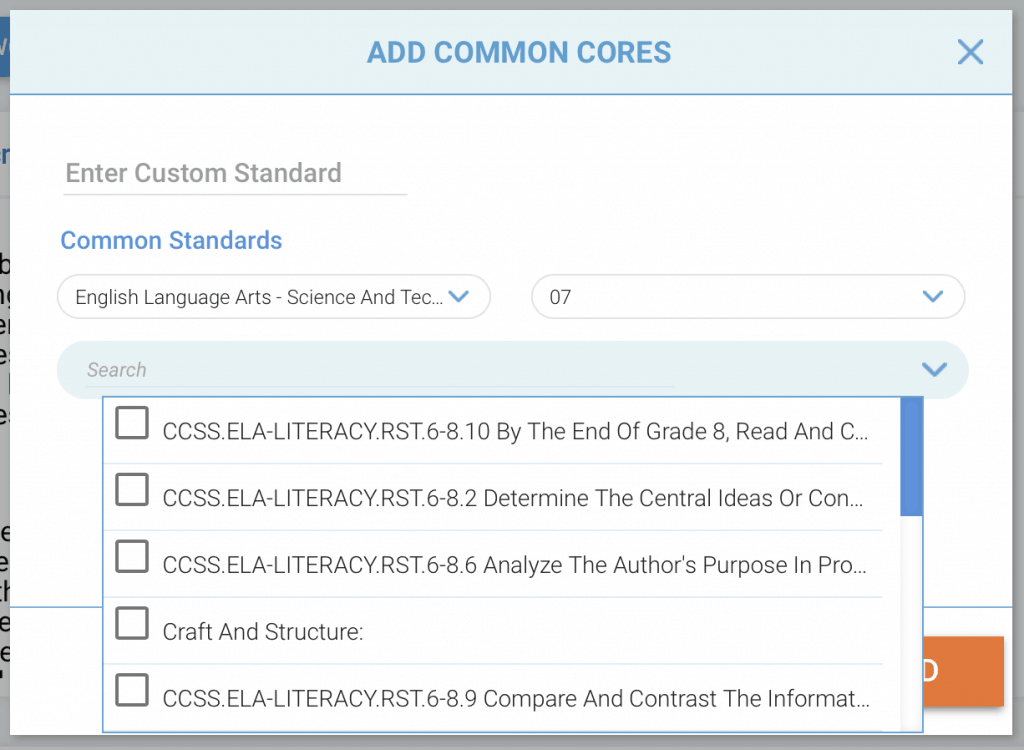 Particularly helpful is the ability to assign Common Standards to each project and rubric. Just choose which one(s) you want to include from the drop down box!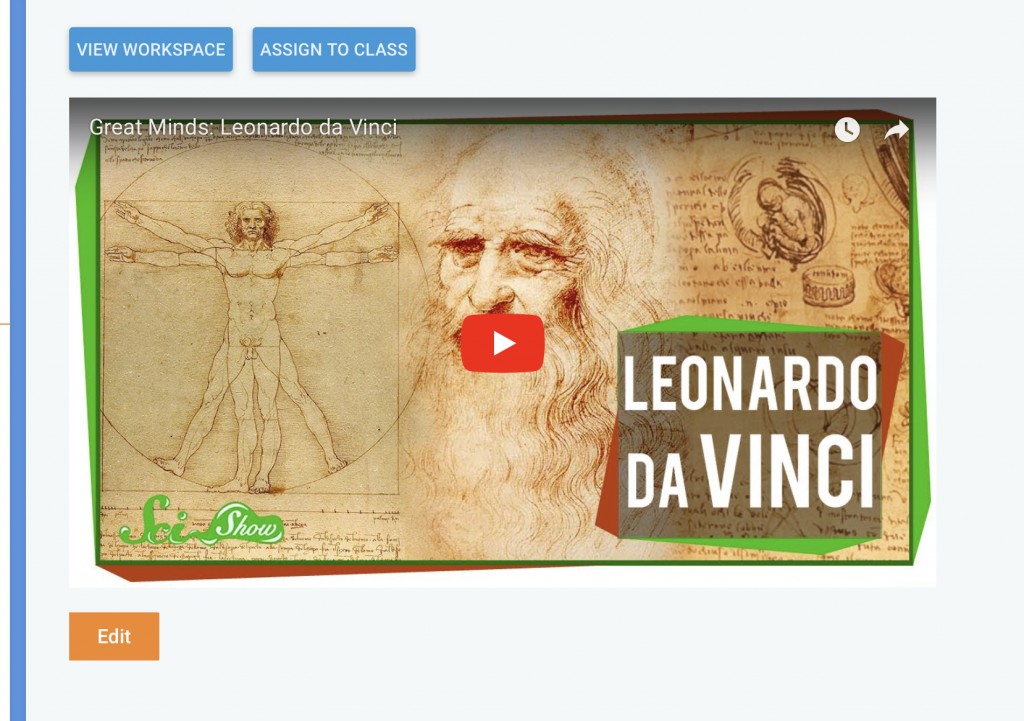 Project Pals is fantastic for integrating technology as a visual element to research projects. Above you can see how a YouTube video looks. I simply copy and pasted the video URL and it automatically pulls the video into the report! You can choose to upload a file OR use a weblink!
---
Membership Options:
FREE ("Class") Version:
YES! Project Pals has a free option that allows you to use their software with your class at no cost! It's a fantastic way to not only get your students busy researching and working together as a team in a live collaboration effort but it allows you to see the progress your students are making while trying out their program. The free version of Project Pals allows up to 20 projects and 50 students. Try it now for free!
Paid Options:
"Team": This version is $500 per teacher per year. This allows you unlimited projects and students in Project Pals.
"School": This version connects a school with a more detailed view of analytics for a district and currently runs $10 per student per year. This option also offers unlimited projects and teachers in Project Pals.