FREE Printable Chicken Life Cycle Interactive Spinner Top Toy
This post may contain affiliate links, view our disclosure policy for details.
Our life cycle printables are a very popular series and so I wanted to take the learning one step further by creating this free printable chicken life cycle interactive spinner toy! It's a FUN sensory toy that turns learning into art and play time!
Below you'll learn more about the chicken's life cycle and how to use create your own chicken life cycle spinner toy!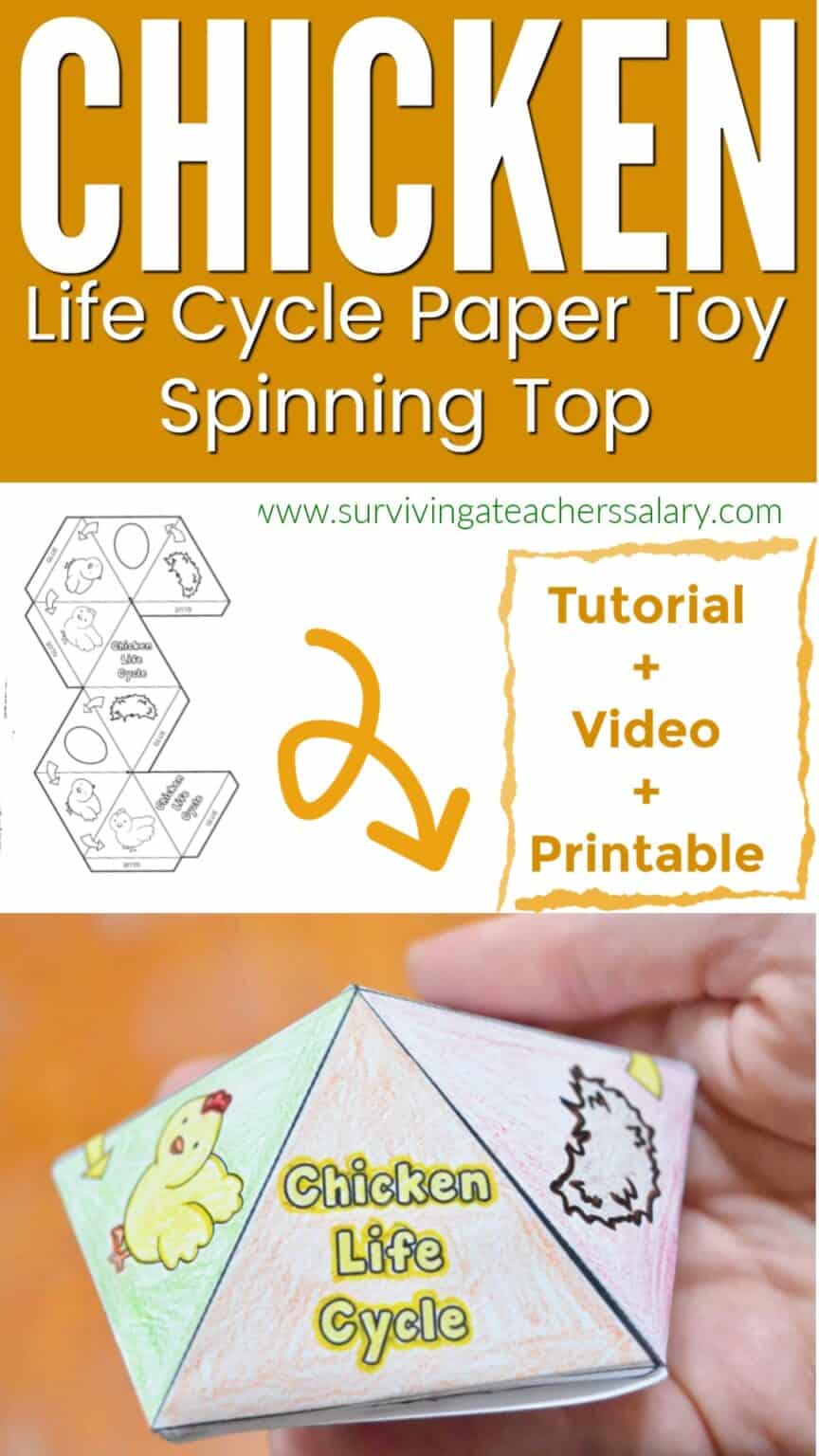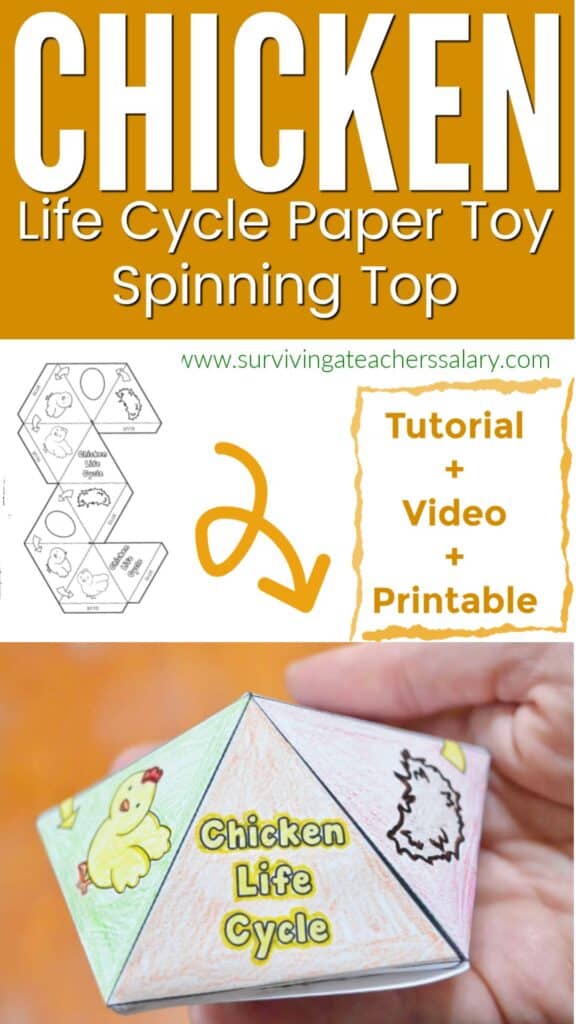 I absolutely love teaching kids about life cycles but doing crafts specific to each life cycle stage can be difficult for kids. That's why I love these spinner tops so much! If your kids can color they can enjoy this! (with a little adult help to put it together!)
You can let your kids cut out the spinner top template or you can do it for them. If you're working with a group of kids I recommend writing their name on the blank back of the spinner top, then stacking a bunch up together and cutting multiple ones out all at once.
Thinking about actually hatching baby chicks so you can watch their progress? Raising baby chicks is SO MUCH FUN! If you're interested in hatching chicks in your classroom, call a local farmer or look in a FB group to see if anyone is interested in the chicks once you are done with them!
Please do think ahead and decide what you will be doing with the chicks once they hatch. About a month after they have hatched chicks start flying out of their boxes so you'll need to be prepared with a chicken coop!
Things for Hatching Baby Chicks at School in Your Classroom:
Fertilized Eggs (check with a local farmer or buy them on Etsy!)

Incubator

Thermometer with Humidity (if your incubator doesn't have one)
I love this great chicken life cycle play set which is perfect for Montessori studies! You can build one a little cheaper with these chicken life cycle toys
and a small tray or board.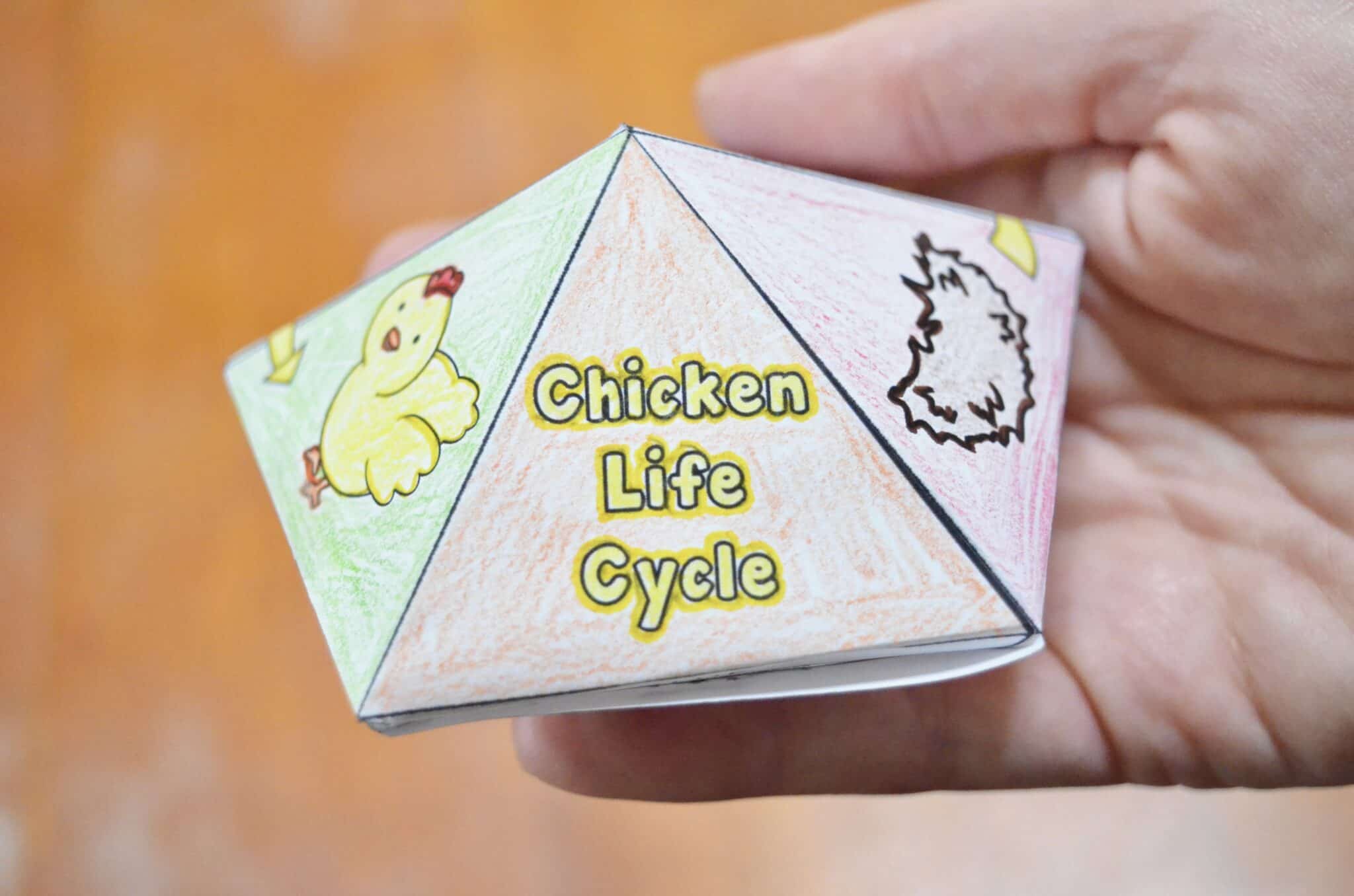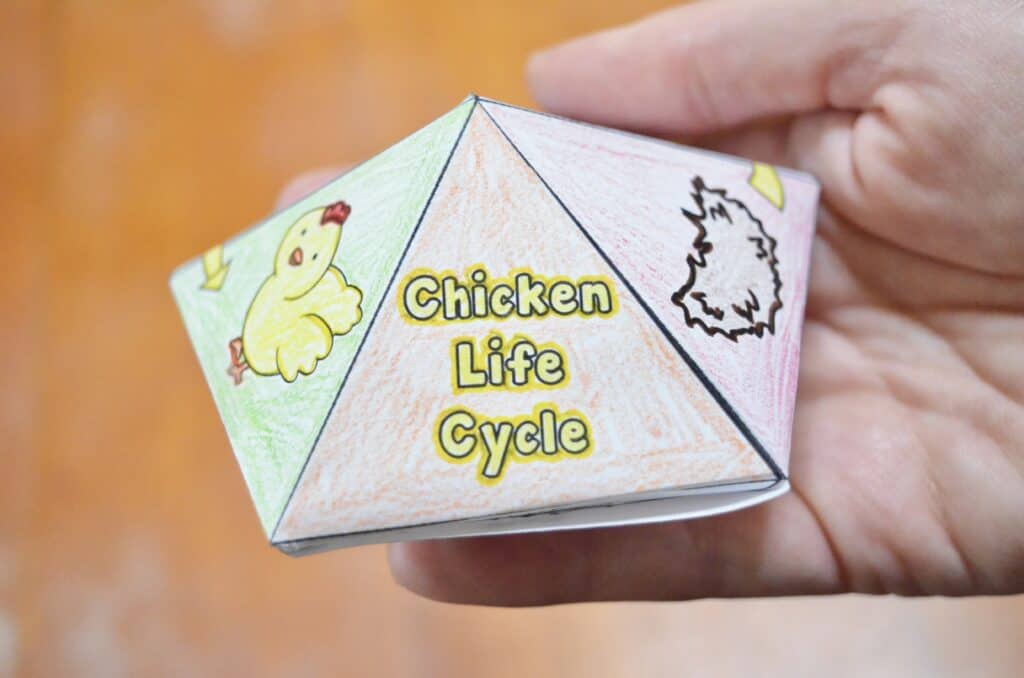 What are the 3 stages of a chicken's life cycle?
Egg

Baby Chick

Adult Chicken
(Since this spinner top has four sides we portray a nest as the first step which an egg is laid in! You can find a similar but magnetic chicken life cycle here.)
In the egg cycle, which lasts for 21 days, there is so much to learn about! It's a lot of fun for kids to wake up every day and learn something new each day about the chicks development.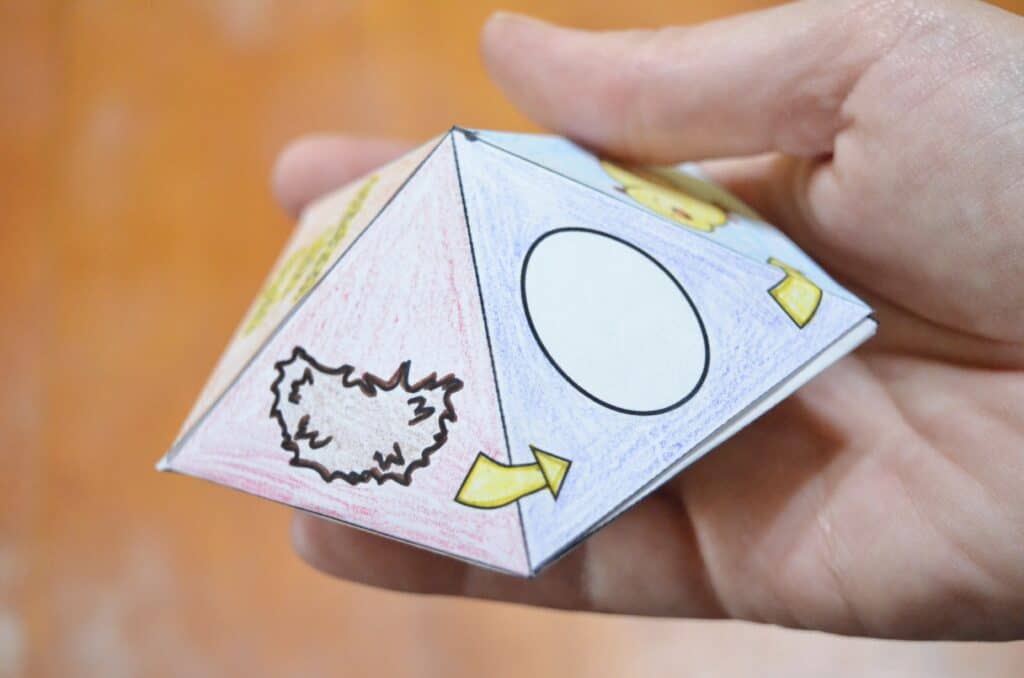 How long does it take for a chicken egg to hatch naturally?
It takes 21 days for a chicken egg to hatch!
If you're looking for a fantastic (and tactile!) baby chick development visual for use in a classroom or homeschool I highly recommend using this set by Learning Resources.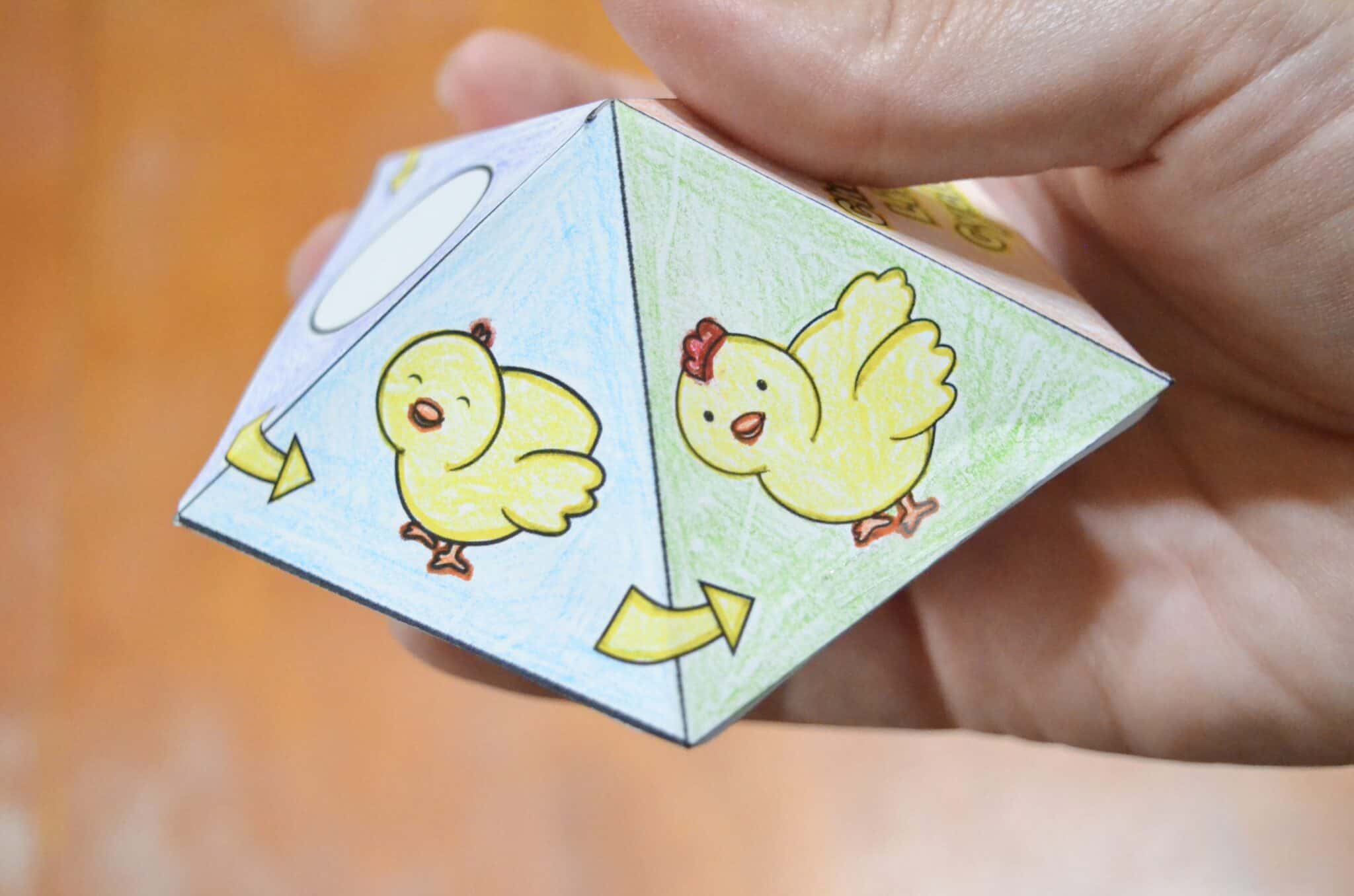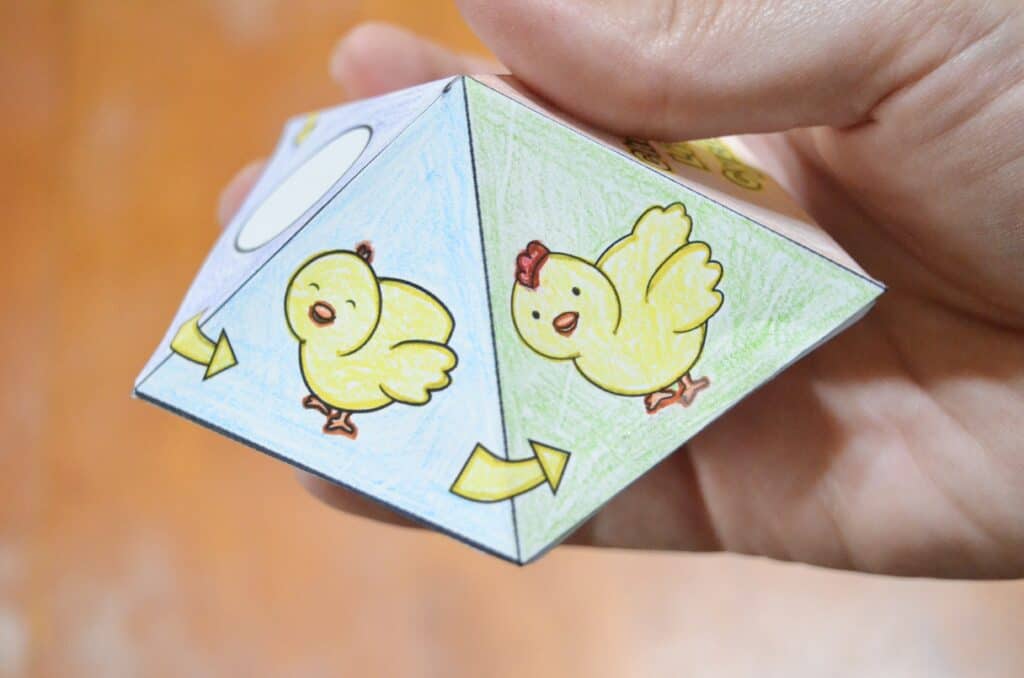 How long does it take for a chick to become a chicken?
Generally chickens reach maturity between between 16 and 24 weeks depending on the breed.
What does it mean to candle an egg?
Candling is when you use a bright light source behind a chicken egg to show light through and see the details through the shell. This allows you to see if there is a chicken growing inside. You can use a candler light to make it easier for kids to see the chick's development.
Just print out the spinner top pdf below, color, cut and glue or tape together! Don't forget that you will want to wrap this life cycle spinner toy around a small straw or coffee stirrer so that you can spin it!
TIP: I do not recommend laminating these spinner tops due to the stiffness of a laminating machine. If you want to make them stiffer I suggest cutting out small triangle pieces of cardboard and gluing them on the backside of each triangle.