Pinbox 3000: Build Your Own Pinball Machine Game Review
This post may contain affiliate links, view our disclosure policy for details.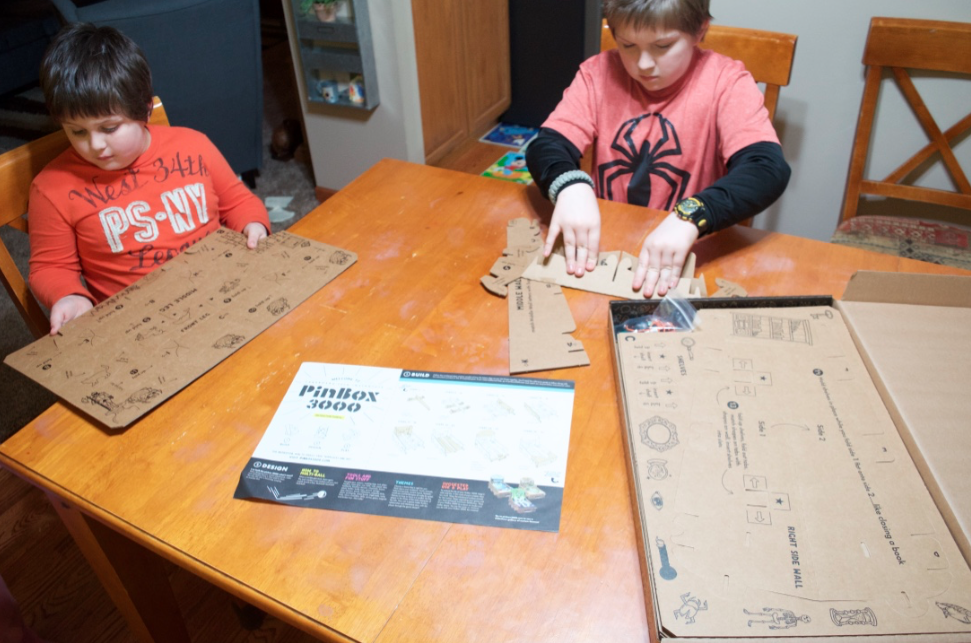 Out of everything we've reviewed, probably ever, Pinbox 3000 absolutely tops our list. I spotted their booth when I attended ChiTAG this year (Chicago Toy & Game Fair) and I totally geeked out when I saw how COOL this product was! NOT ONLY do you buy a cool pinball machine that is totally customizable because you design it yourself but you actually BUILD it too! And it is NOT complicated to build! And YES – it is made from cardboard and it REALLY works! (and well too!) AND…..well, just keep reading. This product will knock your socks off!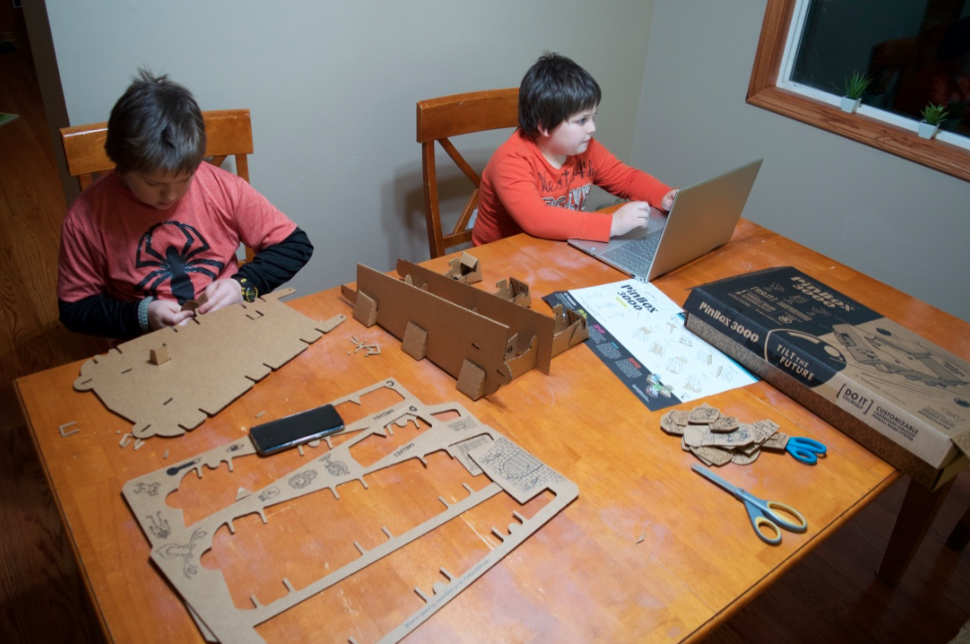 My 10 year old son on the left built two of these Pinbox 3000 sets ALL by himself! Directions are included in the box but I HIGHLY recommend you just watch the tutorial on their website. It leaves absolutely no questions and you can see everything built along with you. The tutorial is about an hour long and after the first pinball machine was built my son didn't even need to watch the tutorial again. The kit includes EVERYTHING – ALL of the cardboard sheets that are perforated to punch out and even graphics that you can cut out and color. Plus it includes the marbles, rivets, paper clip and rubber bands that you'll need.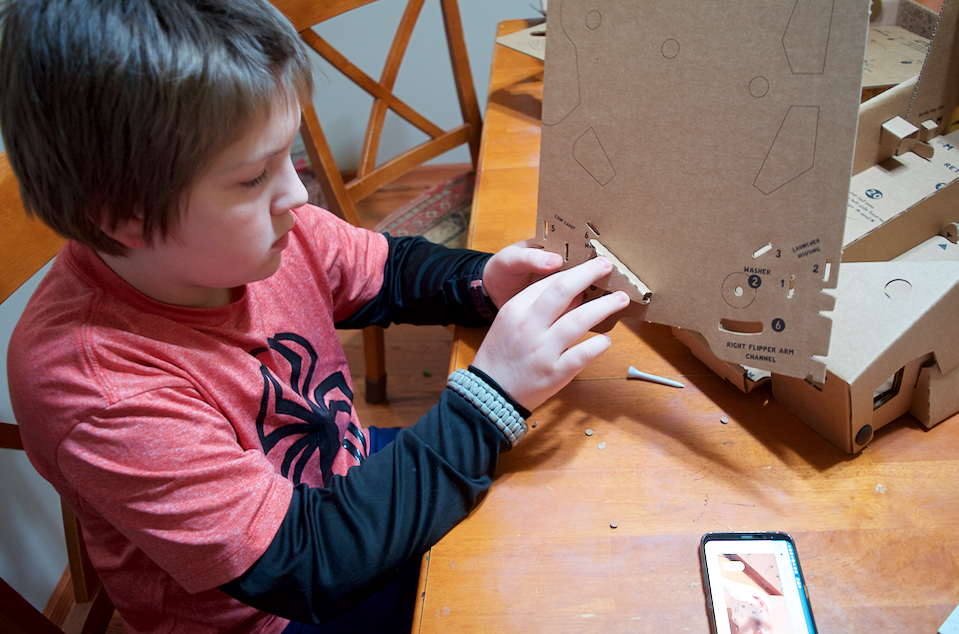 I couldn't believe how eager my son was to get his hands on this set since building sets for him are a take it or leave it kind of thing. Because we just recently received it and my kids are in school this week they haven't had the chance to decorate it yet but that's what their holiday break is for!!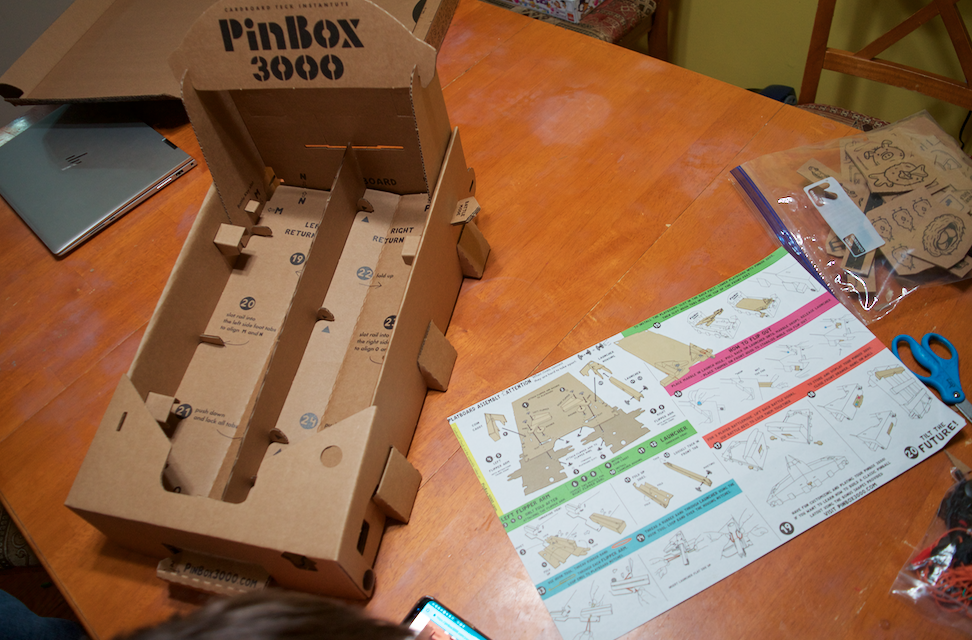 The entire pinball machine is made of 39 die-cuts that you just pop out of the cardboard sheets. You can see here that he is almost done building the first pinball machine. We've actually never owned a pinball machine (have you?) so we were all pretty excited!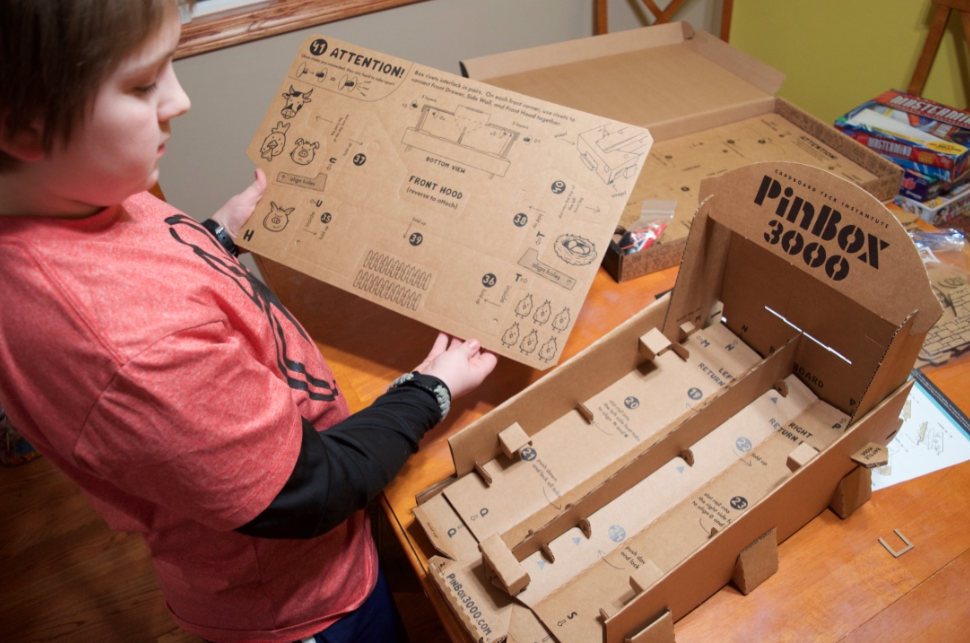 There are actually two different play boards included that fit down onto the top of the pinball machine which is nice because you can change up the obstacles and features on your pinball game.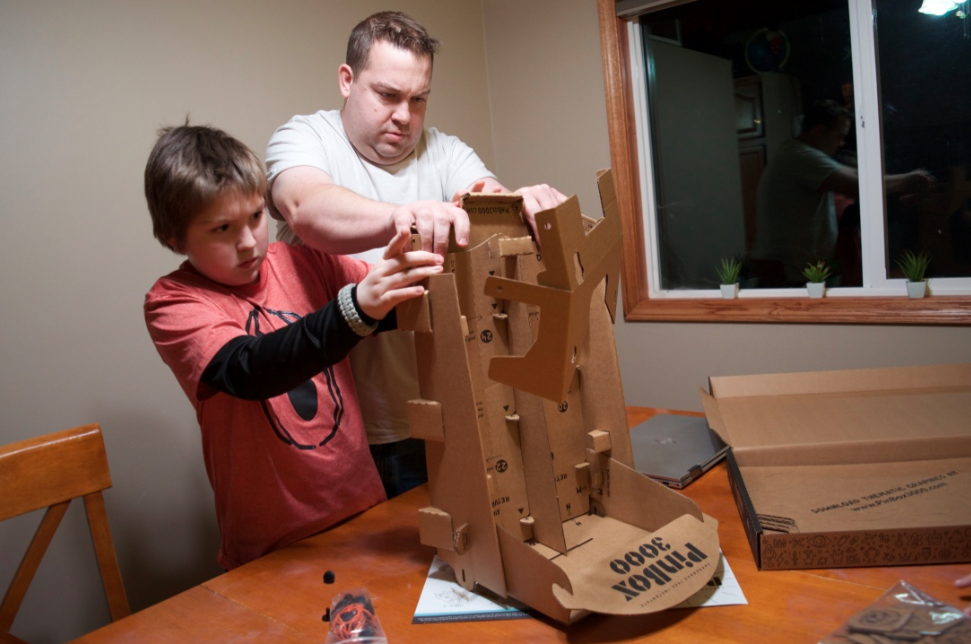 If you have a child building the pinball machine you may want an adult to double check that the rivets are snapped in as much as possible as they can be a little difficult. Also my son needed an extra hand for coordination when attaching the tray the first time. By the time he built the 2nd pinball machine he was a pro!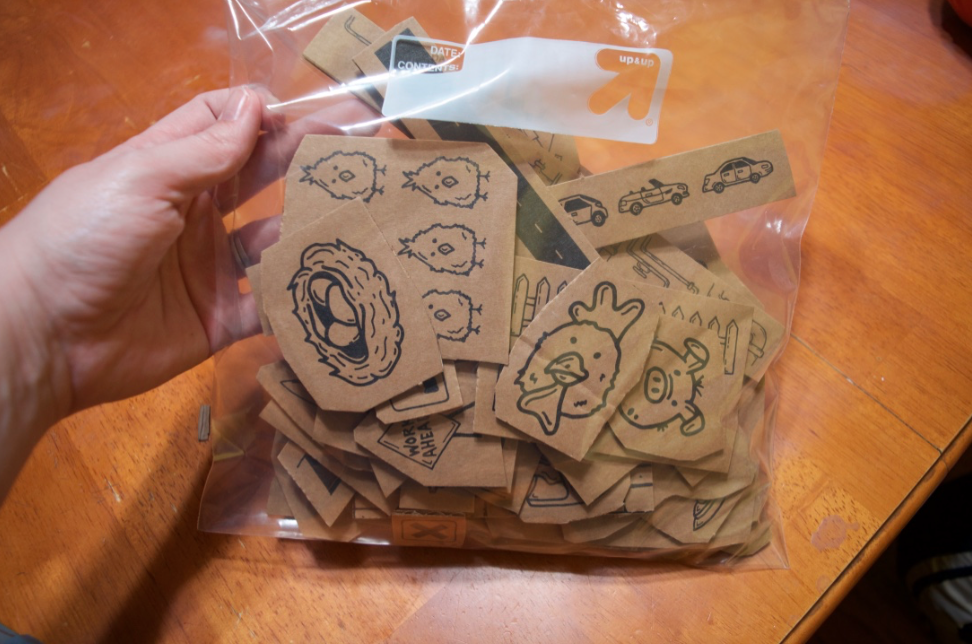 We made this Pinbox 3000 a family affair. While my 10 year old built the frame I cut out the graphics included and placed them in a bag. My 8 year old researched on Pinbox3000.com for design ideas for them to create over the next few weeks! Last I heard they are planning on designing a Stranger Things themed pinball machine so I'm interested to see how it turns out! Once everything is decorated I'll update some pictures here for you guys!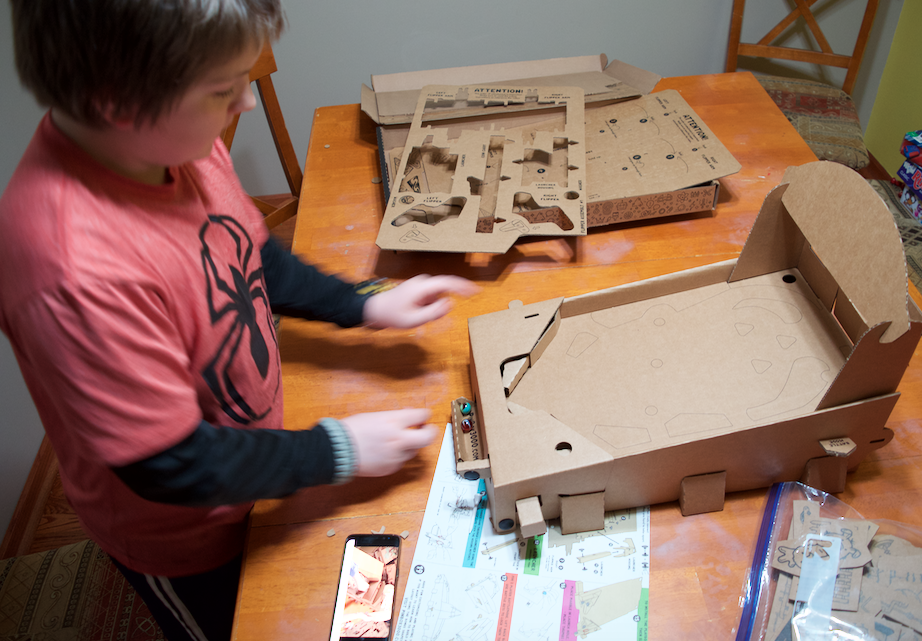 You guys – I might not have believed it except that I actually played these pinball machines at ChiTAG but this pinball machine works REALLY well! It is like using a regular pinball machine – except that YOU build and design it! You're buying (or gifting!) not only an awesome game but also an experience. You may be thinking – it's just cardboard! Maybe, but it's really thick cardboard and I don't see it getting damaged anytime soon. It's VERY tough stuff!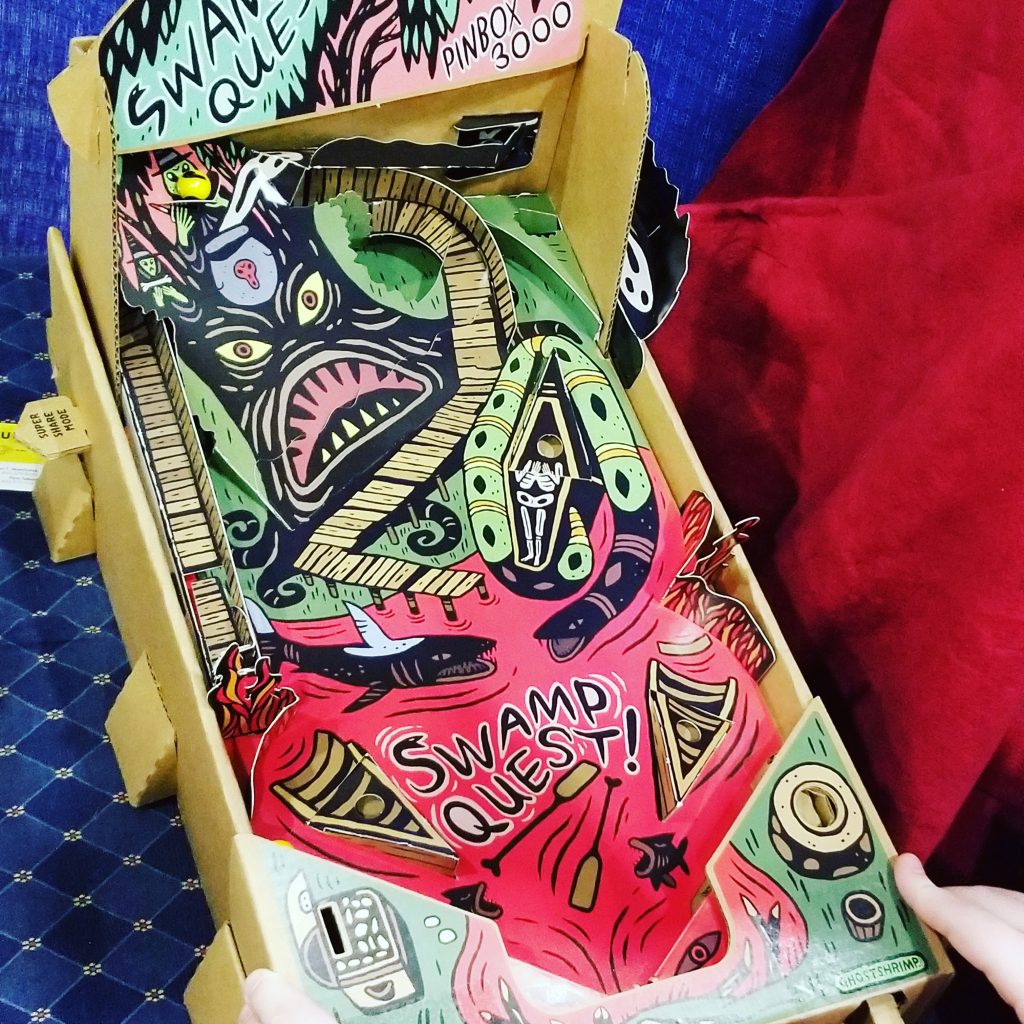 Depending on which kit you buy, or if you decide to buy these extra packs, Pinbox 3000 has some really slick graphic options to really deck out your pinball machine. This Swamp Quest one was one of my favorites but they have a wide variety of themes to choose from! My kids, however, prefer to design their own arcade. They DO have FREE graphics (and a lot of them!) that you can print out on their website here though for some sweet options! I'm hoping they'll publish their 3D printing files soon so we can create some extra features for our machines!
AND if this set isn't cool enough then look at my Instagram pic below! You can actually ATTACH 2 pinball machines together in the back and play with someone else!!! WHAT?!!? No more sibling fighting over turns – they can play at the same time!!! AND together!  (Excuse the mess! We were way too excited to clean up and stage photos!) 
Pinbox 3000 even has educational multi-sets AND party packs. UM – seriously?! How amazing would this birthday party be – come and build your own pinball machines!!! And if you're into the whole retro thing – yes – it even has a coin slot! Head over and shop Pinbox 3000 right now! It's also available on Amazon here!