Phineas and Ferb: Mission Marvel on Disney DVD
This post may contain affiliate links, view our disclosure policy for details.
I received this DVD to review. No compensation was received.
Last Friday night was our weekly movie night where we invite all of the teachers and neighborhood friends over to watch movies with our family using our projector outdoors. But as the weather is starting to turn cold and rainy here we moved our projector indoors – and WHOO we had a fun night!
We watched the NEW Disney Phineas and Ferb: Mission Marvel DVD – our entire family could hardly contain our excitement – we are NUTS about Phineas & Ferb. It is the one thing that every person in our family is crazy for and we all know every word of the theme song. I'm sure some of the teachers that had never seen Phineas & Ferb thought we were CRAZY!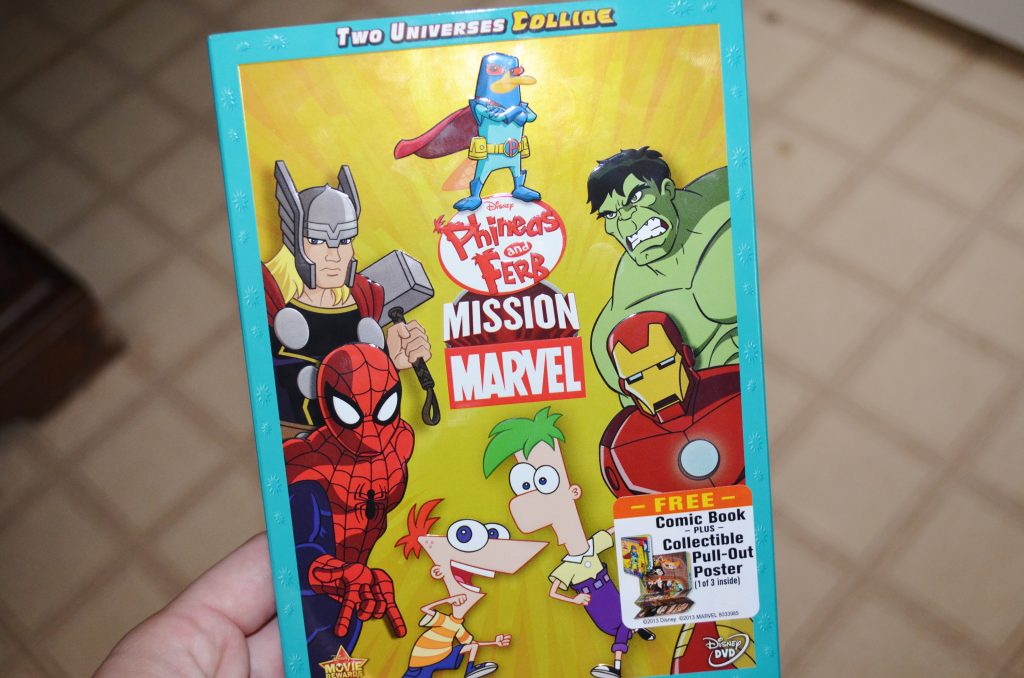 This movie has a great story line – Dr. Doofenshmirtz's latest "-inator" accidentally takes away the powers of the Marvel super heroes! Naturally chaos and confusion ensues! So Phineas and Ferb, and their friends in Danville help to save the day and restore the powers of Spider-Man, Iron Man, Thor, and the Hulk….even after they accidentally switch up all of their powers instead (which was pretty funny!)! Even their sister Candace pitches in! The DVD included a comic book and pull-out poster which my kids were thrilled about!!
I wasn't sure what to expect honestly. I thought the summary sounded awesome, but I am one of those "very protective mothers" about violence – yes even super heroes, so my kids normally do not watch much in the way of super heroes. Especially with my oldest son who has Asperger's and tends to get rather over-exaggerative with "normal" cartoon fighting. I was happy, however, with the new Phineas and Ferb: Mission Marvel – it was a great movie and as usual I love the more elite humor that this cartoon provides!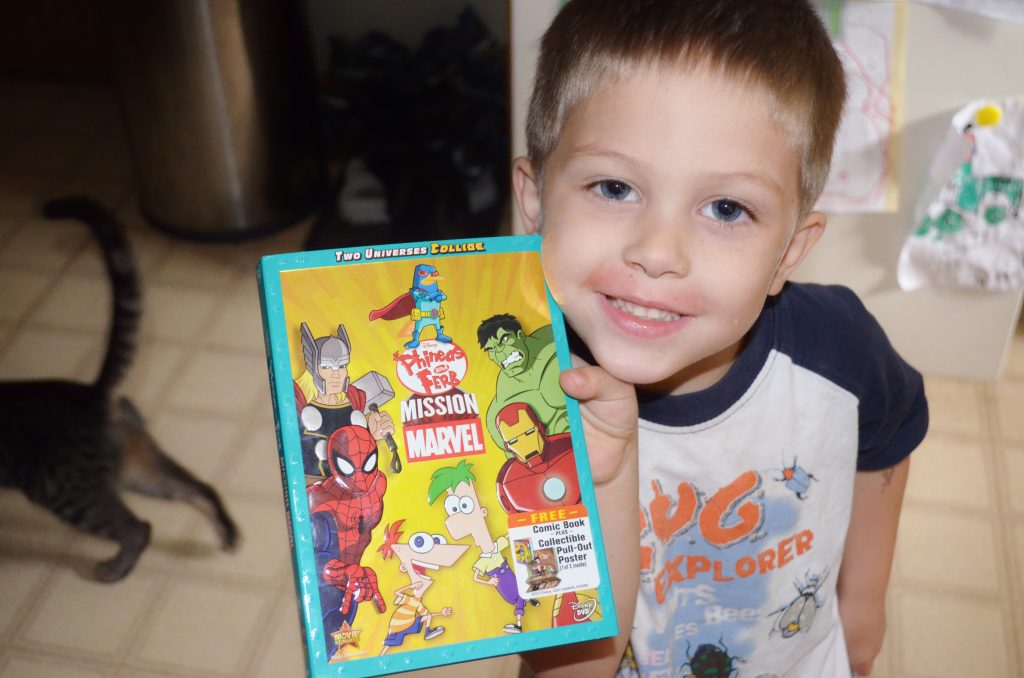 My kids LOVED the movie portion of it – it seemed like a great length – not too short and not too long for kids. My personal favorite though is the EXTRA episodes included!!!! This DVD has 7 extra episodes which are just awesome! I was SO excited to see some episodes that we hadn't watched before! Seriously – my husband and I and both of our boys are geeks about Phineas & Ferb! I can tell you that we've had this less than a week now and it has been viewed multiple times! The episodes included are:
Phineas and Ferb: Mission Marvel (the movie part)
Fly on the Wall
Sidetracked
Primal Perry
Backyard Hodge Podge
Where's Pinky
Knot My Problem/Mind Share

These are the three collectible posters that are found in the DVD's (one poster per DVD selected randomly) along with a collectible comic book. Here is the synopsis from the press release:
  After Dr. Doofenshmirtz's latest "-inator" scheme accidentally removes the powers of some very well-known Marvel Super Heroes (Spider-Man, Iron Man, Thor, and Hulk), the heroes enter the world of Danville and team up with Phineas and Ferb to relocate their powers, defeat the Marvel Super Villains (Red Skull, MODOK, Whiplash and Venom) – who have also shown up to steal Doofenshmirtz's power-draining technology – and save Danville from ultimate destruction!