Our Family Trip to White Water #ExploreBranson @SDCAttractions
This post may contain affiliate links, view our disclosure policy for details.
Disclosure:  I received media passes to visit this attraction. No compensation was received. All opinions are my own.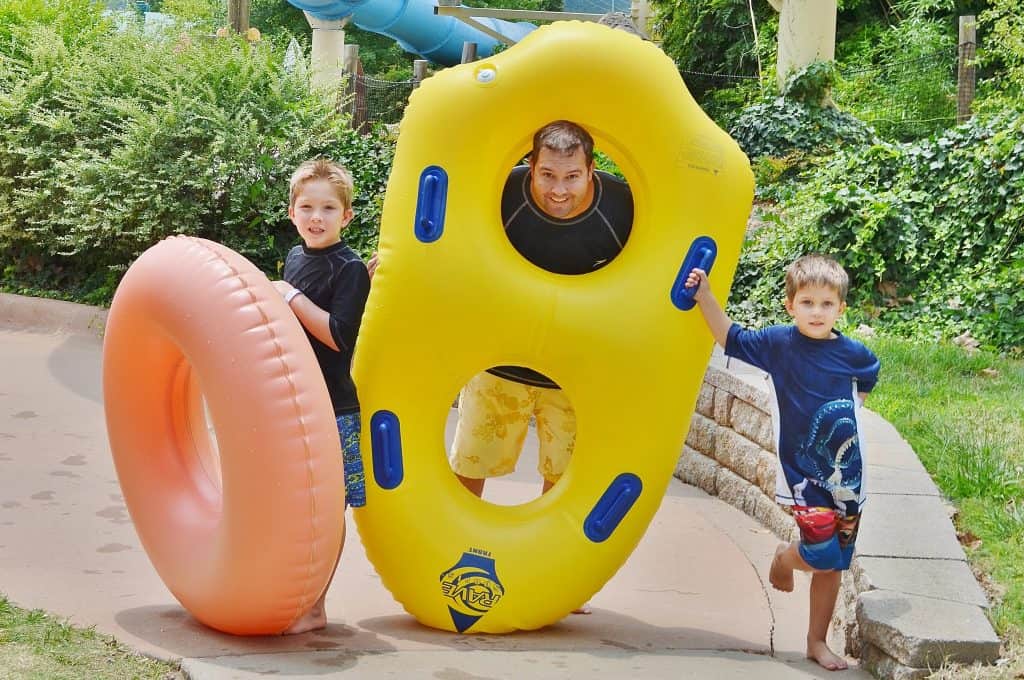 When I received my itinerary for our family trip to Branson I was super excited to see White Water on the list – even if being 6 months pregnant it meant that I couldn't enjoy all of the water slides that the rest of my family could! It actually just meant that I got some pretty awesome photos of my family having fun which was just as important to me! As with any event or location that we visit I always do my research online and see how suitable it is for my kid's – especially when there are height restrictions since my 5 year old is limited on what he can enjoy. I was very happy to see that he could enjoy almost all of the rides, and he didn't want to do the few he was restricted from anyways because they were too big. You can see that my boys and my husband had a phenomenal time just by the smiles on their faces!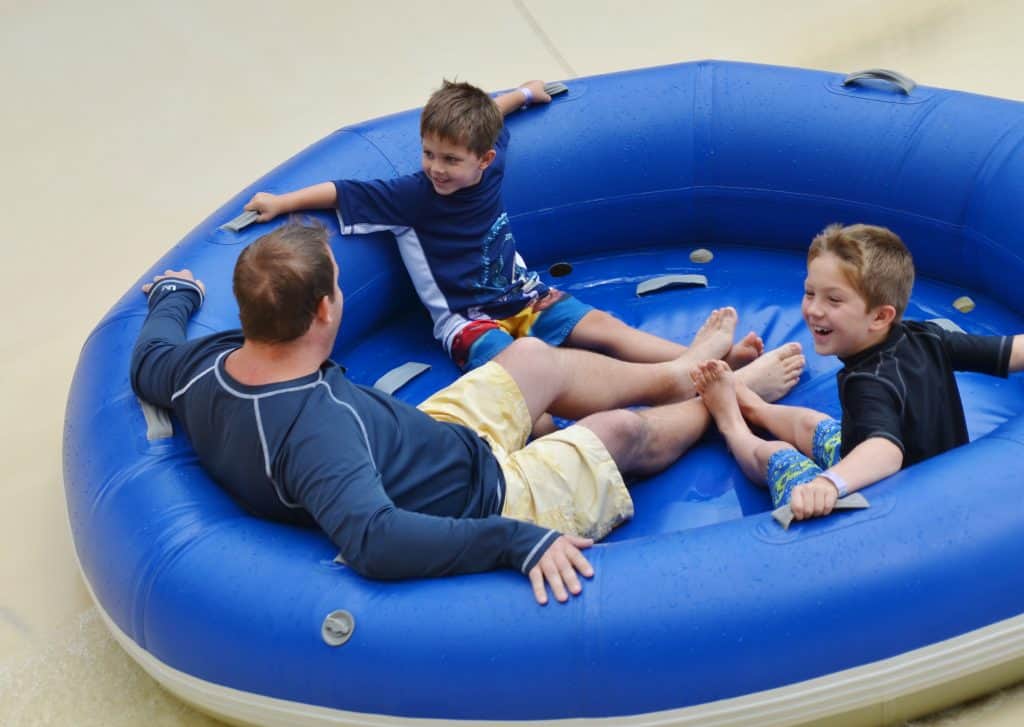 This family raft slide is called "Ohana Falls" and was one of the favorite slides for my entire family since they could all sit together in one giant raft! They went on this slide as many times as their little legs could get them up all the stairs! The great thing is that they did NOT have to carry that raft up because it was available for them right at the top of the slide!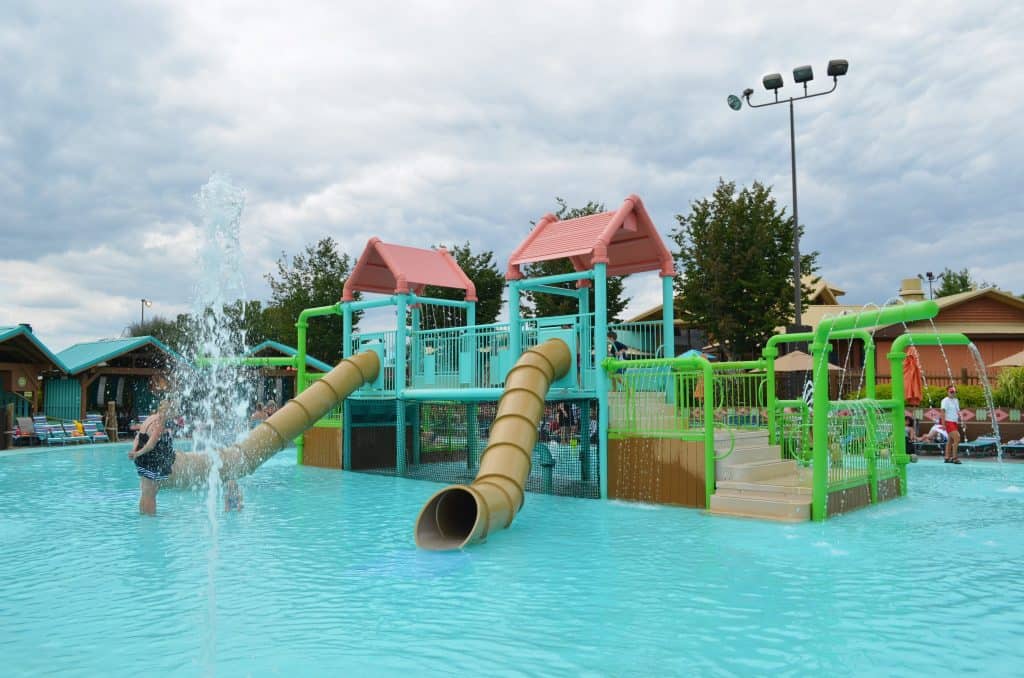 While my oldest son was enjoying the larger slides my younger son and I went over to Coconut Cove to enjoy the smaller water slides and splash park area! It was perfect really for any age but especially for those with younger children!

On the left you can see him in Coconut Cove and on the right my 5 year old dared to do Kalani Towers which you can also see below! It's a slide where you lay on your belly on a mat and race down to the bottom! My boys also LOVED this one!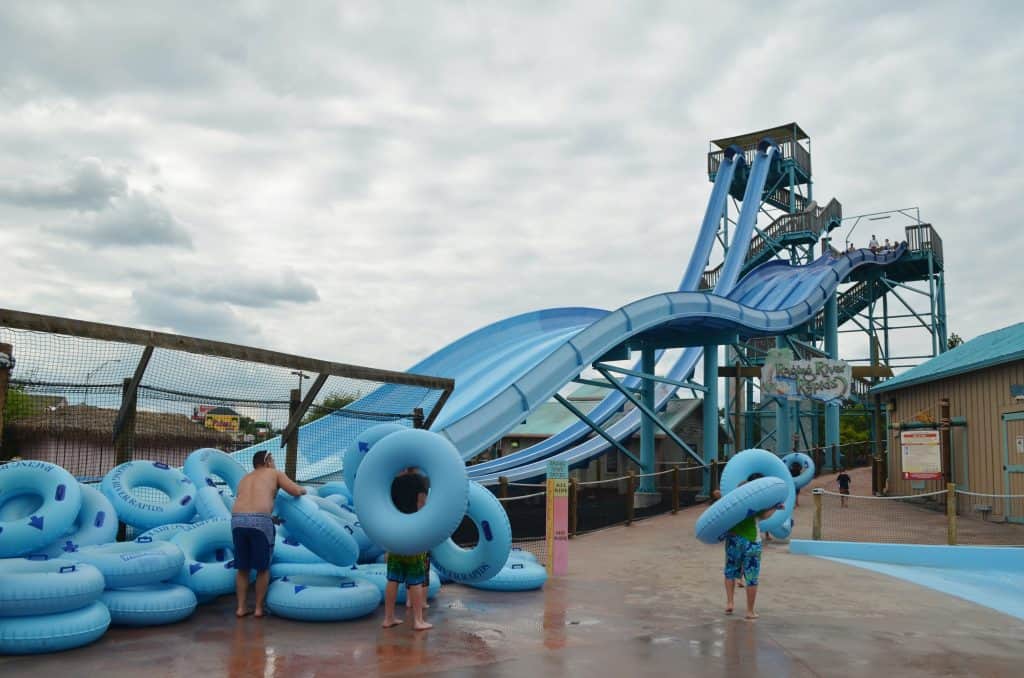 The mat racing slide is the lower blue slide on the right which is next to the taller version that my 7 year old dared to do and loved! It looked scary to me so I was glad to have my "excuse" of pregnancy so my kids couldn't see that I would have chickened out on it!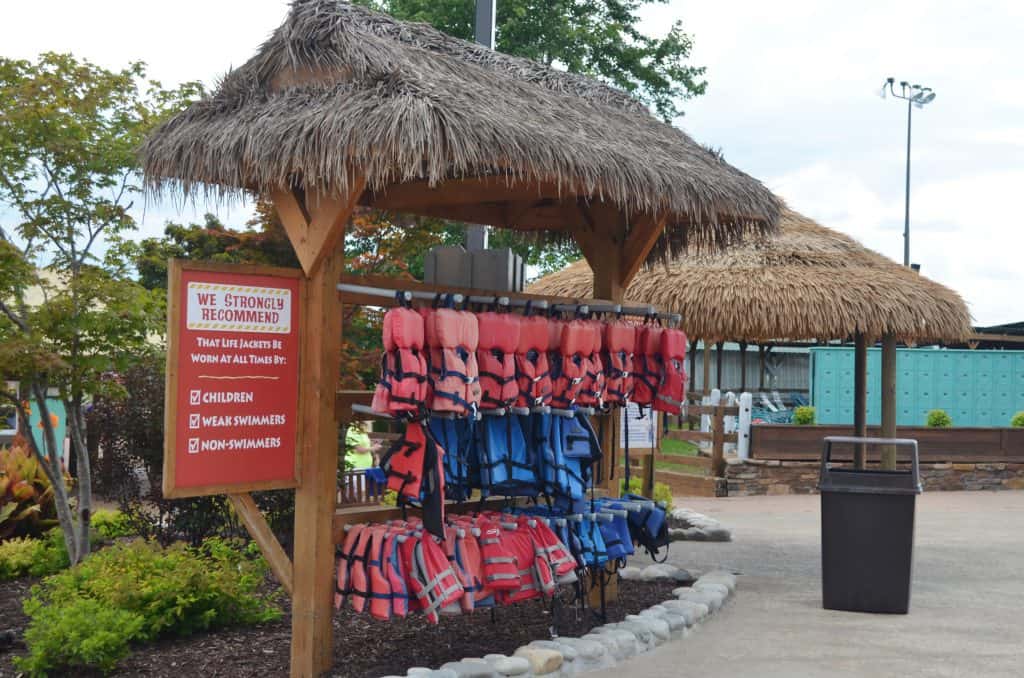 So there are TWO things I especially loved about White Water having younger children in my family. ONE was these stations of life jackets stationed at several locations in the park. There were life jackets for both children and adult, available to grab for free to use while in the park along with recommendation signs on who should wear them. Although we did not use them because my boys are both pretty strong swimmers and we were with them the entire time I REALLY appreciated that there were SO many life jackets available and easily accessible and certainly saw plenty of people using them.
The other thing I really appreciated was that (also in several locations of the park) was a measuring station which was not just labeled with the height but was also colored coded in yellow, green, and red depending on the height. It made it very easy for my son so see what "colored" ride he could go on in an instant.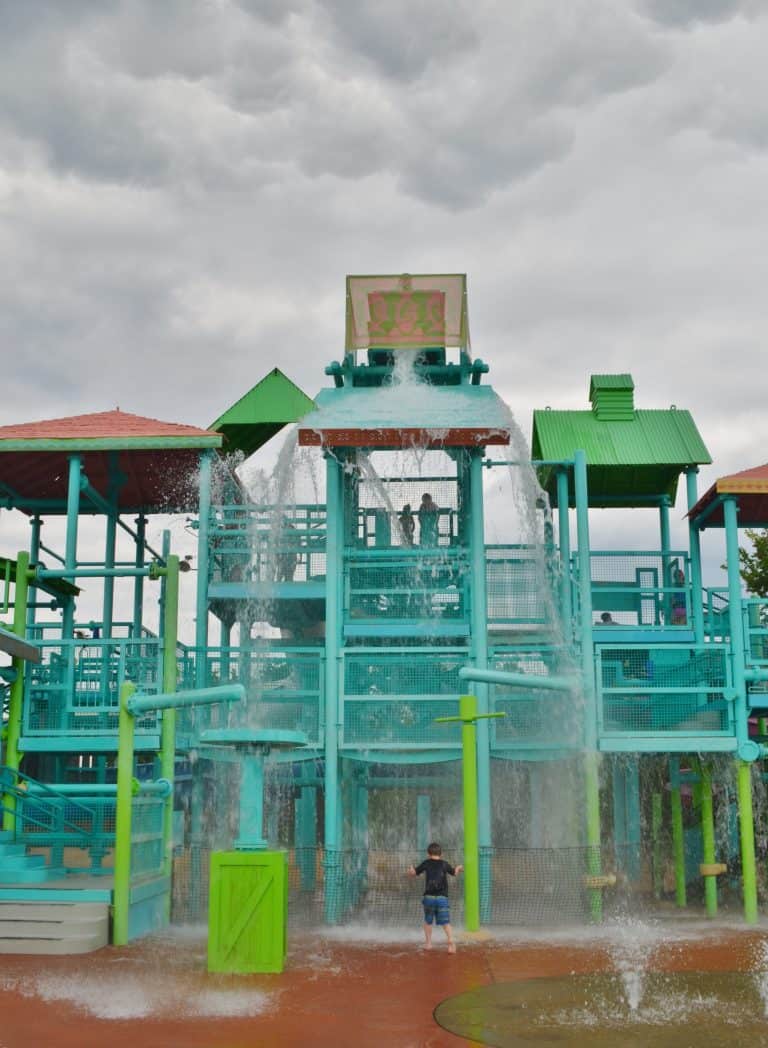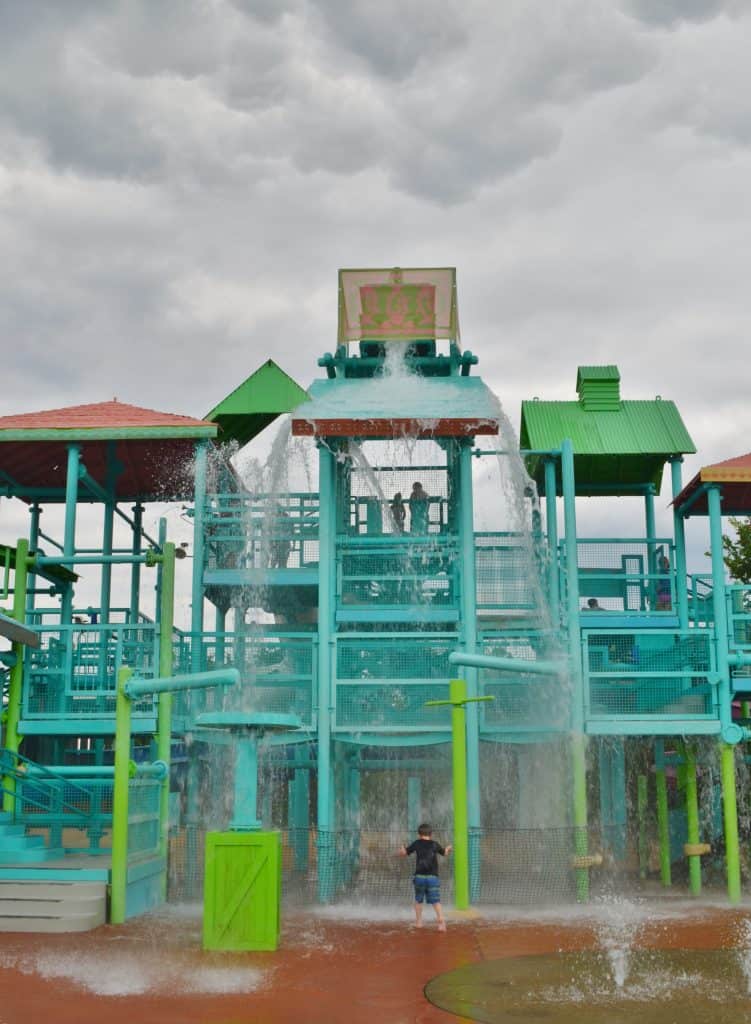 Splashaway Cay was a much bigger kid's version of Coconut Cove and a TON of fun even for my 5 year old! The slides were bigger (but not too big) and right in the middle at the top was a gigantic bucket of water that dumped out just hoardes of water every so often – which was my kids favorite part! Every time they saw the water dumping they raced right over and waited for the flood to come! They spent WELL over an hour in this area and we only left to grab some lunch.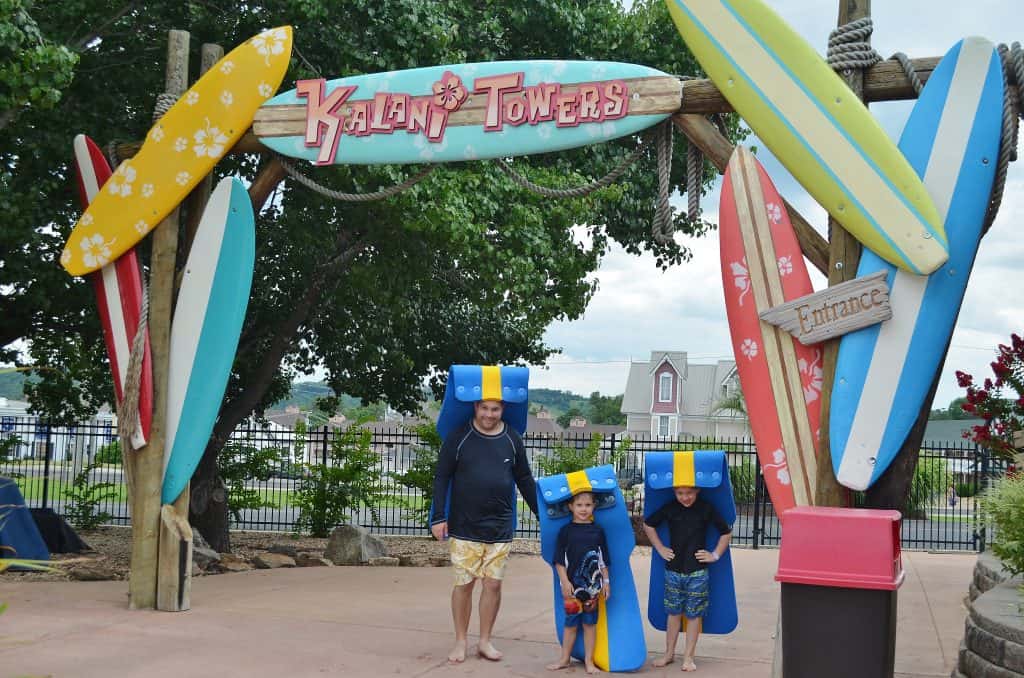 Overall we had an absolutely FANTASTIC day and would totally love to go back to White Water next time we have the opportunity to visit Branson. There was plenty to do with my boys, ages 5 & 7, and even if they were younger we would have still had a blast! We spent a lot of time in the Aloha Lazy River and the Wave Pool as well. And my 7 year old even attempted the daring Kapau Plummet which you actually stand on a platform that drops out from under you as you plummet down into the steep water slide. My poor husband ended up taking the plunge and he was quite terrified. It was certainly the most daring slide at White Water and even scared many of the adults that made it up to the slide! The admission price is about $40/adults, $34/kids, and $29/seniors which is a fantastic price. Plus if you switch it up to 3 days it's STILL under $100 for an adult ticket which is a steal for 3 days at a water park! Combine it with tickets to the Showboat Branson Belle and/or the Silver Dollar City theme park and you'll certainly find yourself a steal.