Our Family Trip to Mall of America in Minneapolis Minnesota
This post may contain affiliate links, view our disclosure policy for details.
Disclosure: Attraction tickets for Mall of America were provided as part of our #EpicRVBloggerTour. All opinions are my own.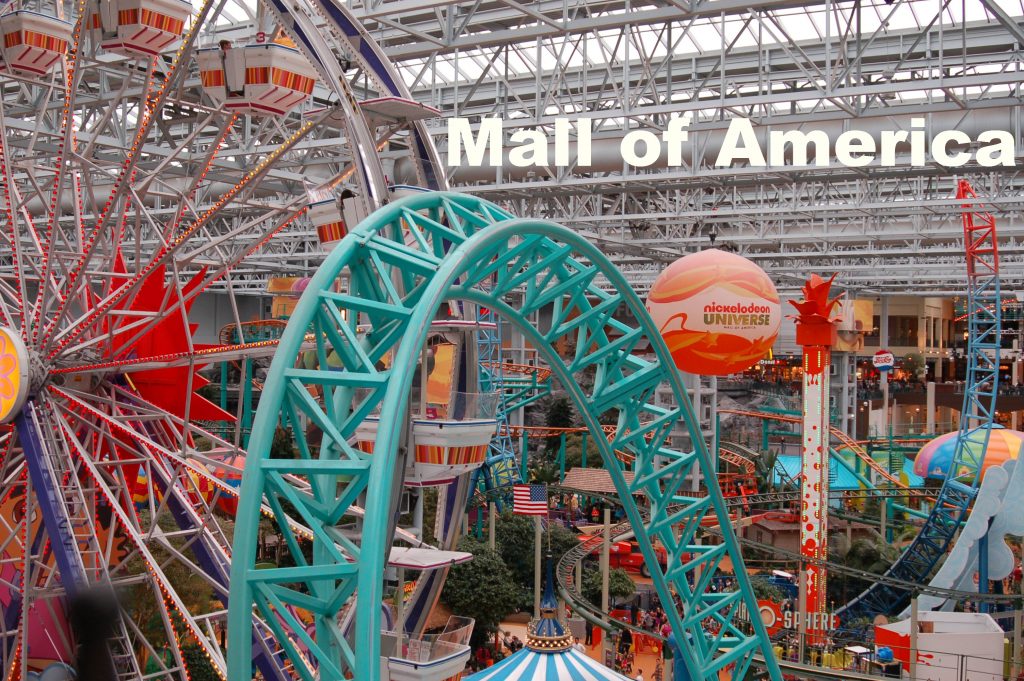 Would you believe that I am just NOW getting to sit down and sift through the pictures and information from the RV trip you guys were following with me on Facebook? I am finally ready to start sharing some of our adventures with you on our blog, and the first big attraction that we had the opportunity to go to was the Mall of America in Bloomington, Minnesota! Did you know that there is NO SALES TAX on clothes or shoes there!? AND there are about 42 MILLION visitors to the mall year-round! Isn't that crazy?! One really neat thing I learned is that they actually have a pretty awesome green and recycling initiative and not only recycle 50 TONS of glass each year but your leftover FOOD is recycled and turns into 1 MILLION hog meals each year!
As a Christmas present to my in-laws we had actually taken them up to MOA (Mall of America) just a few weeks before the RV trip but I can guarantee you that ONE DAY is just NOT enough time to go visit the MOA! In fact we've been 2 days now and still haven't done everything! I was OOBER excited to be going back to the Mall of America because on our first trip we just couldn't afford to do everything and I knew that we would be getting tickets to all of the attractions so we could experience all of what MOA had to offer! My kids were absolutely PSYCHED when I surprised them with our MOA location for the day because they could hardly wait to hop back on those roller coasters at Nickelodeon Universe!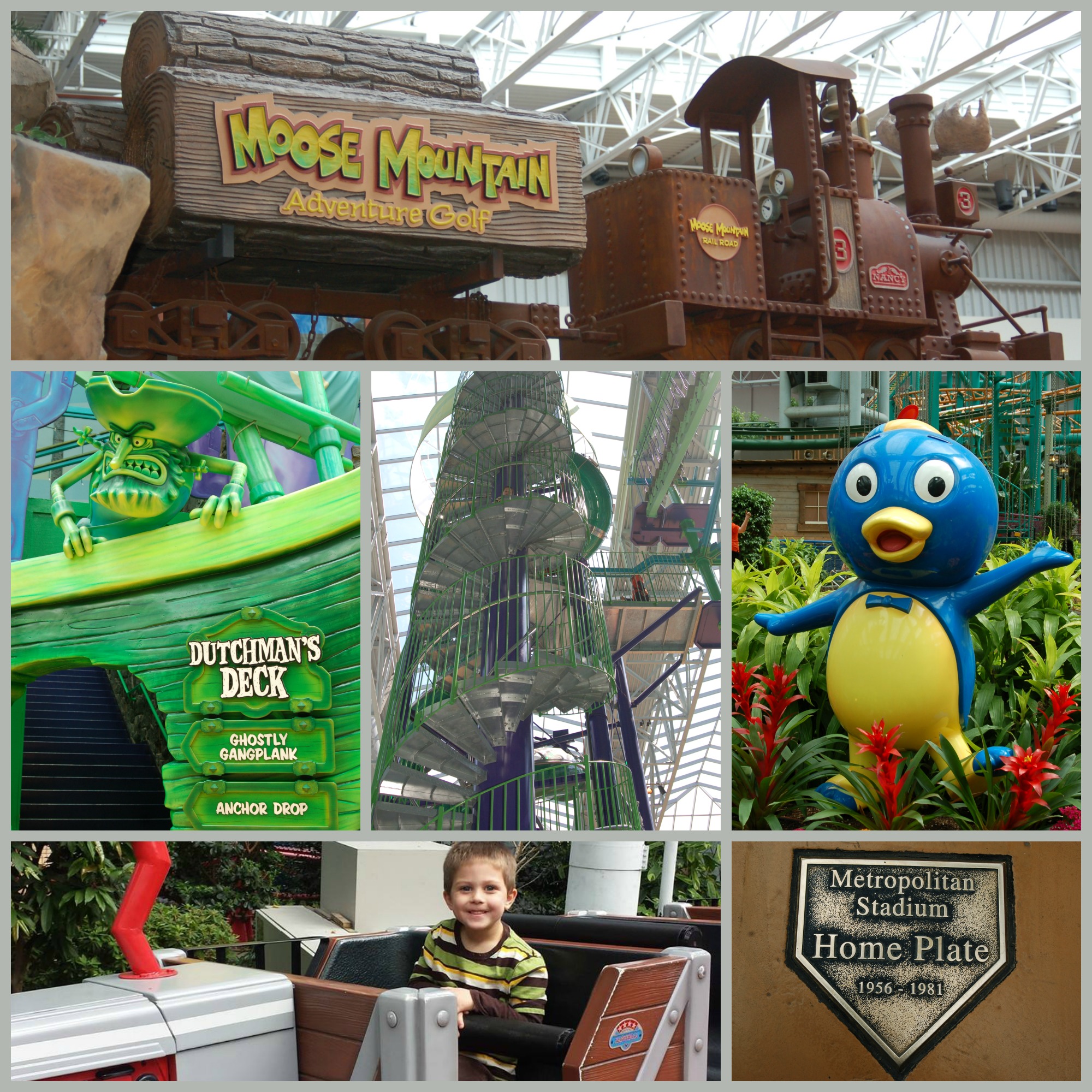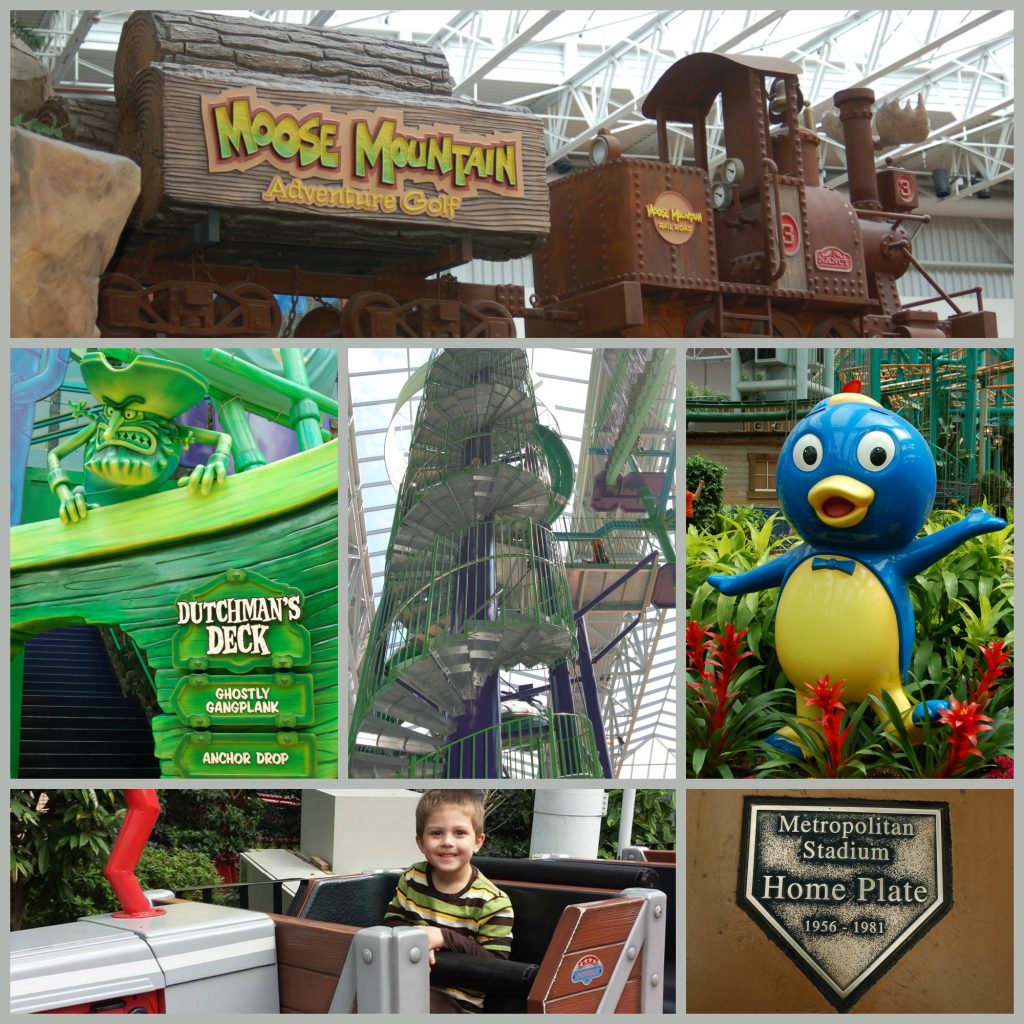 SO I'll start with Nickelodeon Universe at the Mall of America because it is hands-down my kids #1 thing to do when we're near MOA. It is the USA's largest indoor theme park and is open even in those cold winter months since it's indoors! And to be honest for the price it's a fantastic choice! You can purchase single "points" to use for each individual ride or if you're there for an entire day like we were, your best option is to purchase the Unlimited Wristband (runs about $31.99 for adults and less for kiddos). (Not bad for an all day theme park!) Also if you have younger children a parent can go on the rides with them for free if they are required to be chaperoned by an adult. This is great for parents who don't really want to ride the coasters unless their kids need an adult! Or those preggo moms who can't ride most of the rides anyhow but want to go on one or two of the kiddie rides with their little ones.
I'm going to warn you, I've gone to MOA twice now and I've come back pretty exhausted both times! I feel like you have to pace yourself a bit! There are gentle rides for your youngest kids like riding "hot air balloons" and easy train rides, and you'll find more adventurous rides that are so far out crazy even I won't go on them! And of course it's all Nickelodeon themed so you'll find your favorite characters whether it's the Backyardigans, Diego, Dora, Fairly Odd Parents, SpongeBob, Teenage Mutant Ninja Turtles, etc. It's absolutely incredible the amount of rides that they have perfectly packed into one indoor mall! In fact there are almost 30 rides! You can view the height/ticket requirement for each ride here as well as a description of each ride.
But if you're not into rides maybe you're into heights? Say 56′ high? For a separate price you can try your skills out on the Dutchmen's Dead Ghostly GangPlank and Anchor Drop. The Anchor Drop is simply a (HIGH!) slide system where you can climb an absurd amount of stairs, almost to the top of the mall, and choose from one of two different heights of slides to swish down. This was one of my 4 year old's favorite things to do – he must have gone up there almost 10 times. I don't know how his legs didn't give out! Here's a quick snapshot of the stair case from below and my son with the "sack" he used to go down the slide: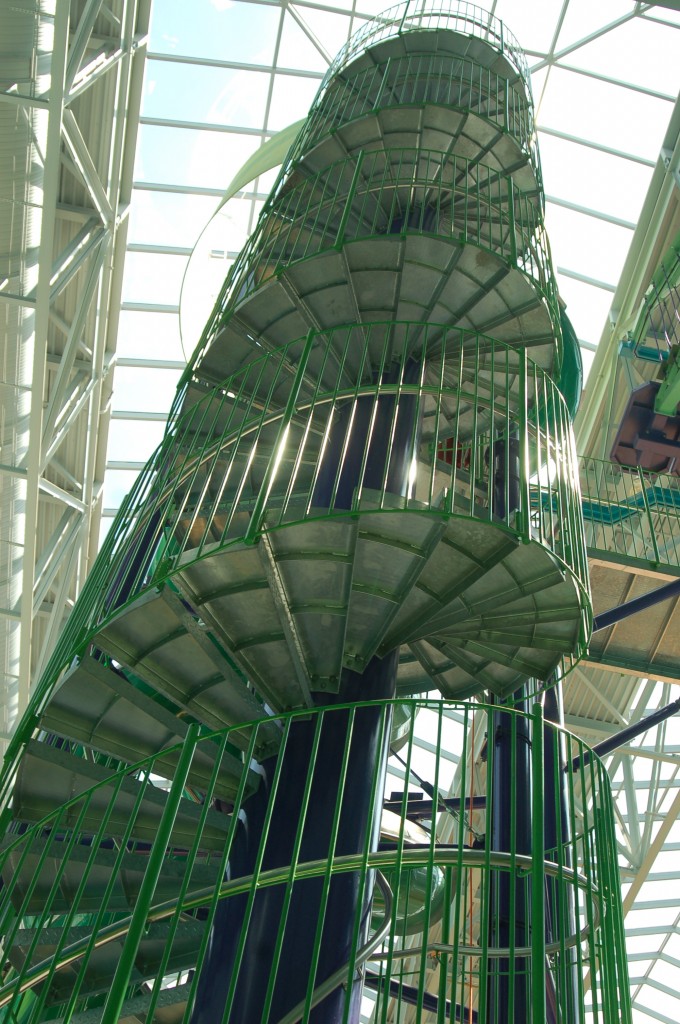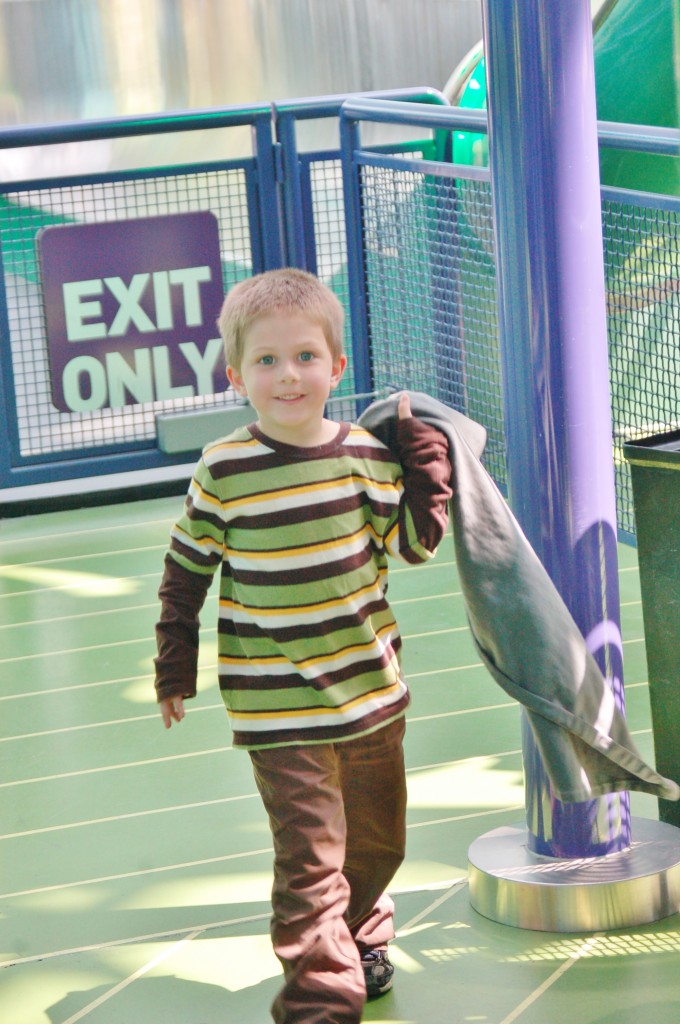 The height requirement just for the Anchor Drop slide is 40″ and cost just $2.99 by itself. ($2 if added onto a wristband) The great thing is that once you are inside the slide area you can go up and down as many times as you want until you leave the area (or until your legs give out!!). The Dead Ghostly GangPlank is a whole different obstacle course ($5.99 or $5 when added onto a wristband) and you have to be either 48″ tall to go by yourself or 42″ with an adult. Since I'm pregnant, and totally terrified of heights, I definitely did not try either of these! HOWEVER my in-laws made the trip with me and they were daring enough to take my 7 and 4 year old through the death-defying rope and plank obstacle course (secured in by a safety line of course).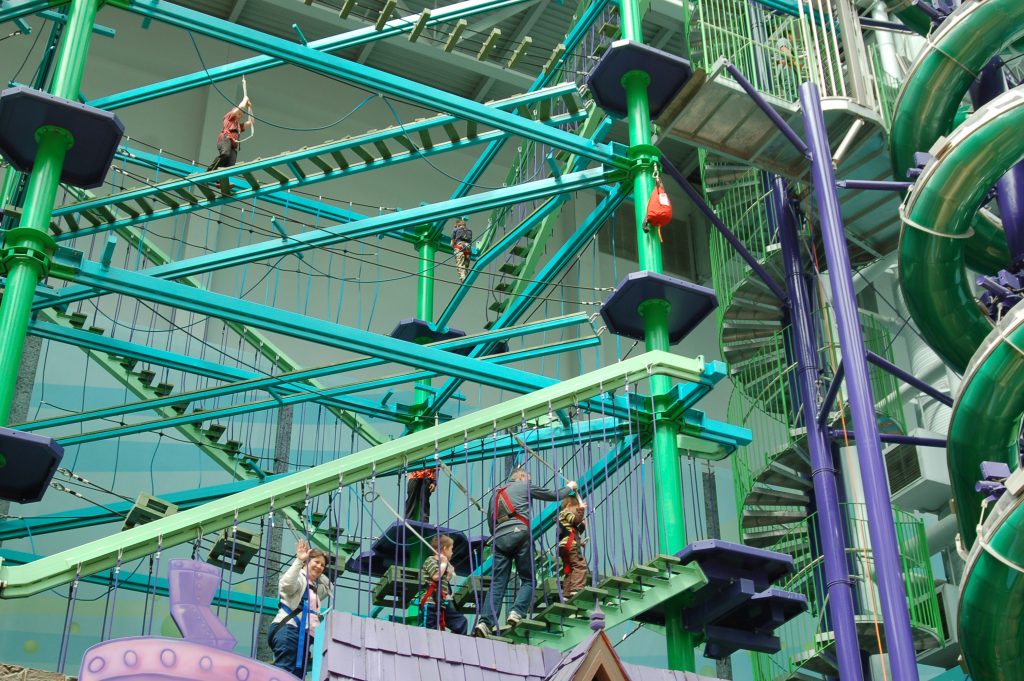 It is a LOT higher than it looks and both my boys and grandpa chickened out by the time they got up those first set of steps! I was pretty proud of grandma though – she actually made it across the first set of planks before she chickened out! Kudos to all of them because I wouldn't have even made it to the steps! Hah! It sure was a lot of fun though watching the kids that were brave enough to scale to the very top of the course!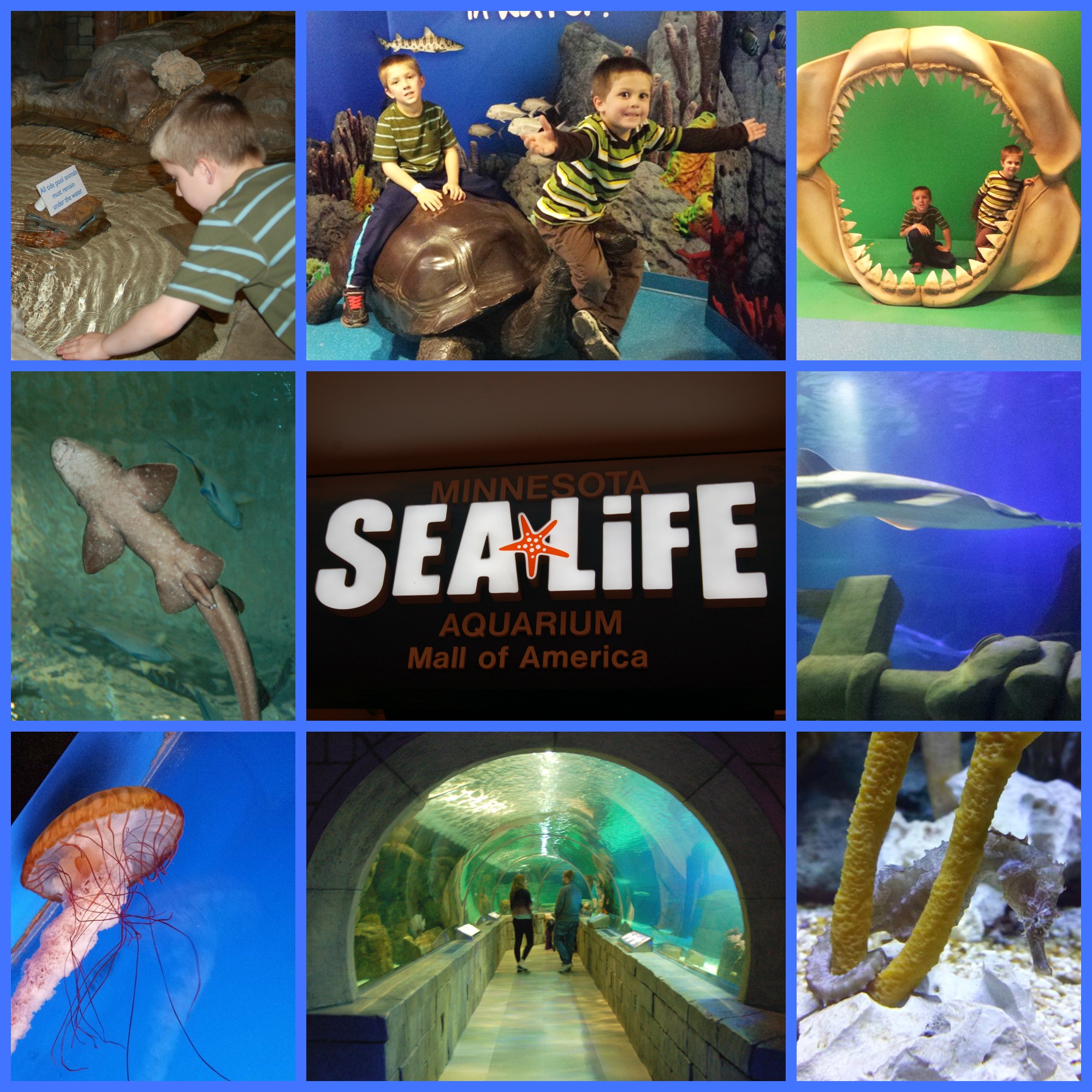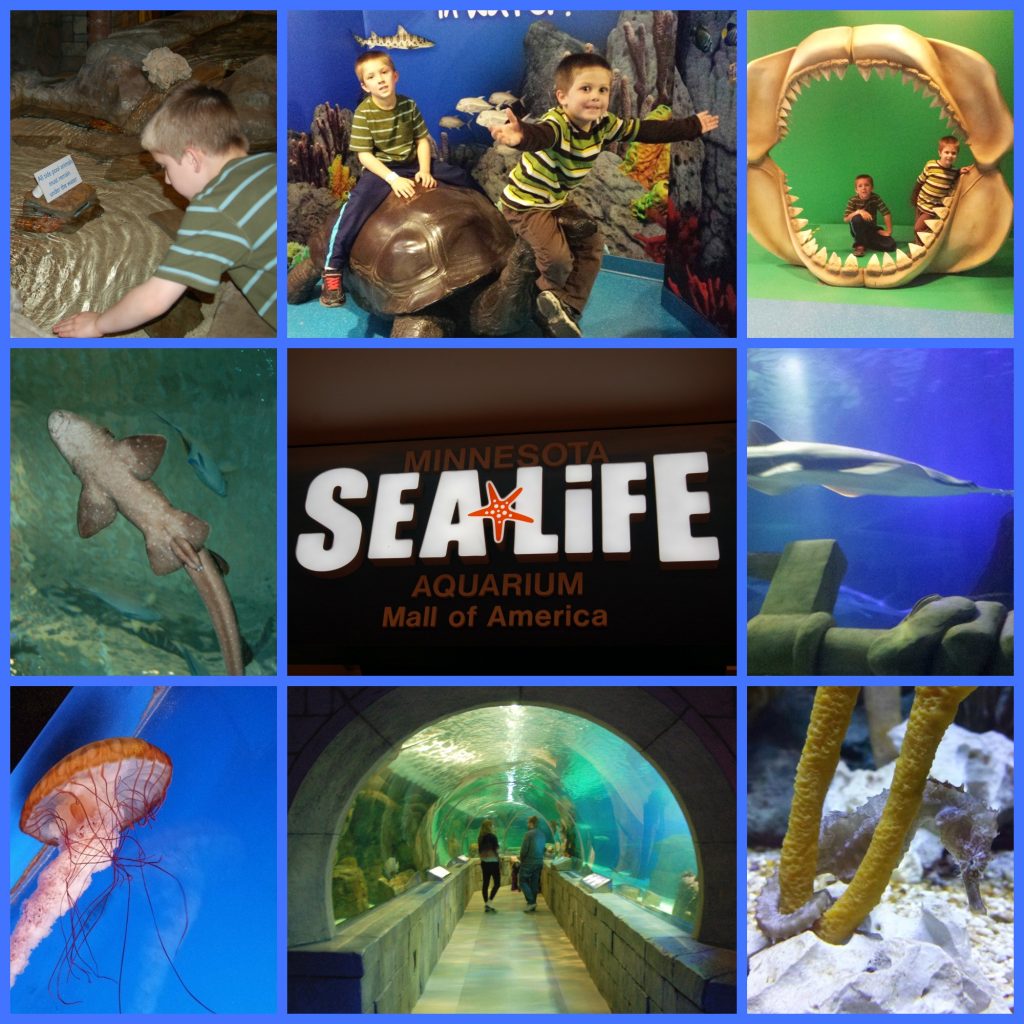 Another really sweet attraction at the Mall of America, and one of my personal favorites, was the SEA LIFE Aquarium! Ticket prices (for adults) run $16.99-$22.99 depending on whether you buy your tickets online and are there on a weekend/weekday. If you're lucky enough to live nearby you can get an annual pass for not much more!  I wasn't sure what to expect from an aquarium inside a mall but it's an absolutely phenomenal little aquarium with top notch exhibits. I was very very impressed with the quality of the exhibits and displays which are found on several different floors. At the main entrance on the lower floor there is also a pretty awesome touch tank area where the kids were able to touch starfish, horseshoe crabs, sea anemone, sea urchins, and more.
Once you actually enter the aquarium you no longer feel like you're at a mall and you have an eerie sense of being under the ocean….perhaps because much of the aquarium is literally built so that you're walking in tunnels underneath the sharks, sawfish, and other aquatic life which is always my favorite type of set up for viewing fish! We saw stingrays, jellywish, seahorses, clownfish, and all sorts of other animal life as well as walked through a swampy area which housed tortoises and crocodiles. At the end of the aquarium the kids were able to take their photo standing "inside" of a shark's jaw which really brought the size of some of these animals to life for the kids. If you have time and can afford the price it's a great aquarium to visit if you're in the area.
 Another area of fun at MOA if you've got the energy for it is the Moose Mountain Mini Golf course! We didn't have time to squeeze it in this trip because we were so busy in Nickelodeon Universe and the SEA LIFE Aquarium but here is a photo from our last trip through the mini golf course. It's definitely a fun golf course winding through rocky crevices in a mountain!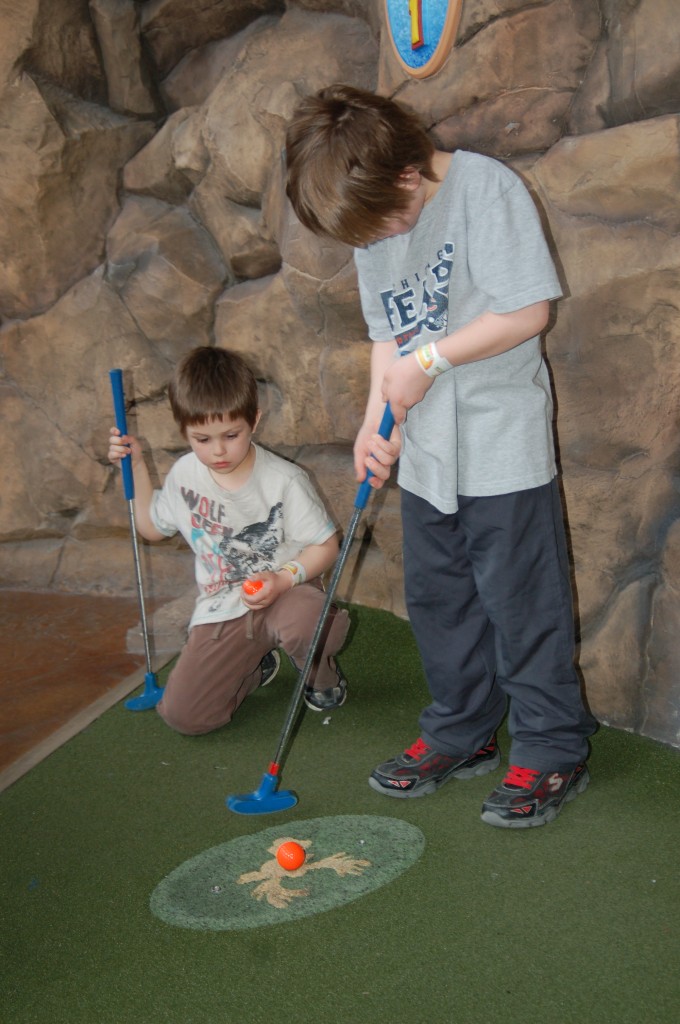 I could seriously go on and on about each of my kid's favorite rides and so much more detail about each attraction we visited at the Mall of America, not to mention the enormous amount of shopping available (I treated my boys to their first Build a Bear Workshop visit!) but I'll just share some TIPS for visiting MOA below and add some photos underneath that for a better glimpse into our fun packed day!
TIPS for Visiting the Mall of America:
1. KNOW what you want to do BEFORE you go! Do your research and look for ticket prices/requirements before you show up! To get the full experience you really need at least 2 days to visit!! Learn where things are on the map, although if you forget there are directories everywhere and very helpful employees all over the place.
2. PACE yourself! This may sound silly at a mall but it can be very exhausting! Set a time for lunch, and don't forget what time it is! We started by spending 3 hours on the roller coasters, moved to lunch, then to the aquarium, and finished up the day doing the coasters again with a little bit of shopping and dinner.
3. Wear GOOD walking shoes. Trust me – you will be doing a TON of walking – even if you're only going to one attraction! It's a ginormous place to visit and no matter where you park or what you're going to see you will really be thankful you have comfortable walking shoes on.
4. Buy a coupon book! If you're going to be at MOA for a while they sell coupon books for about $10ish which can save you a TON of money. We used them to get buy 1 get 1 FREE meals for lunch/dinner, I saved $5 at Build a Bear, and tons and tons of other discounts that will easily make up the cost of the book. To be honest if you're going to be there for just one day you can probably still make up the $10 you spent to buy the book. It has a LOT to offer.