Chillafish BMXie Balance Bike for Kids Review
This post may contain affiliate links, view our disclosure policy for details.
A few years ago (5+ actually!) Chillafish contacted me with the opportunity to check out their BMXie Balance Bike geared for ages 2-5 years old. I had actually never had any experience with my kids and a balance bike so I was pretty intrigued to learn more about it and see what the buzz was all about. At the time my daughter (my 3rd kid) was 2 years old so we decided to try out the world of balance bikes together.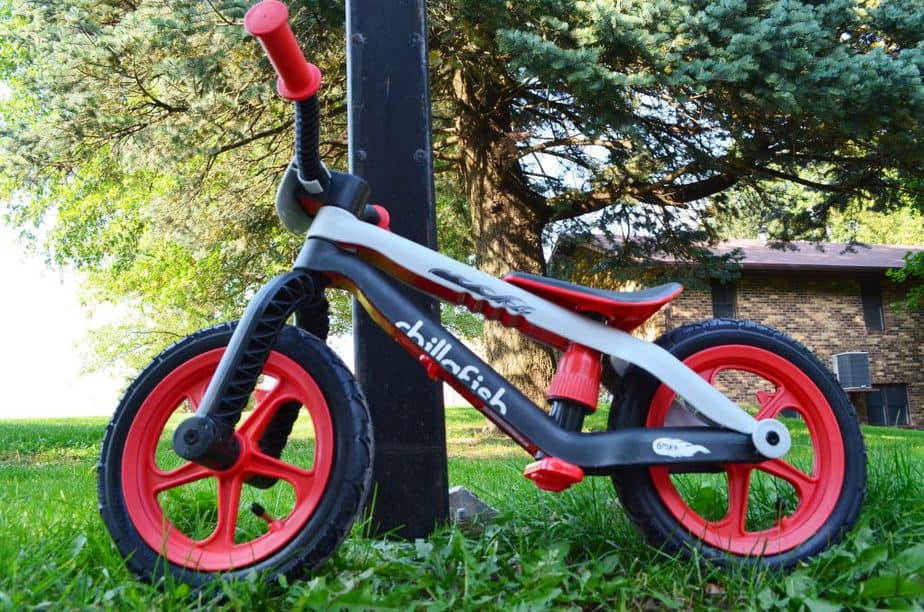 If you're not familiar with what a balance bike actually is it's a very small bike for your younger tikes with NO pedals to help them not only feel like a "big kid" with their own bike but also to help with the coordination and balance of using a bike without pedals or training wheels. The BMXie balance bike in particular is a real BMX styled bike frame that is super light weight for your young tikes, has a removable foot rest, and an adjustable seat (adjusts from 32cm-39cm with no tools needed!).
My boys both learned how to ride a bike on their own at a very young age, but my daughter was very skittish and really liked the control her balance bike gave her. Plus she didn't need a lot of coordination to use it.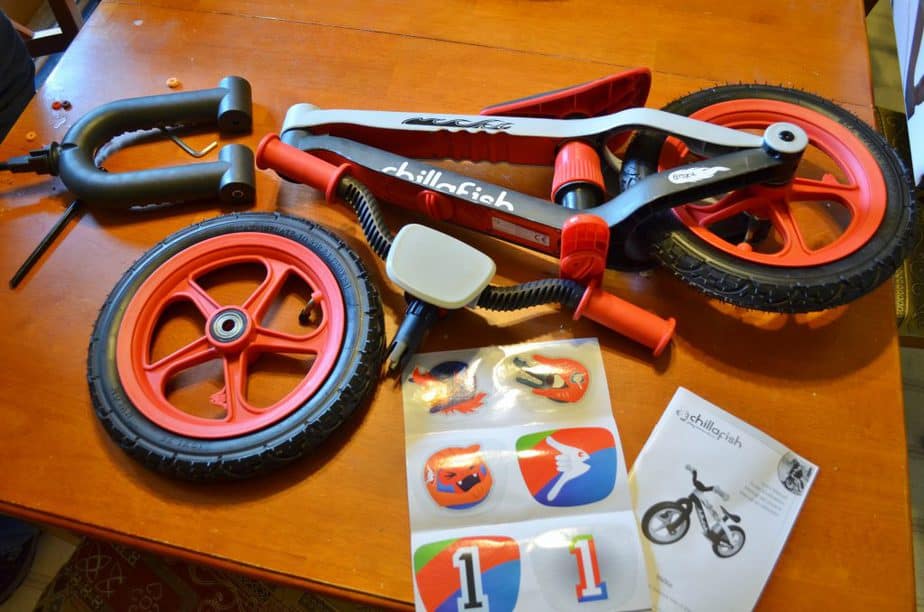 When I received the BMXie balance bike in the mail I was pretty surprised at the small box that it came in! It literally took my husband just a minute or two to put together and comes with some cool stickers so kids can design their own style! You'll also notice that the BMXie bikes come in a variety of colors as well (bold blue, green, yellow or red).
The tires are inflatable just like a real big kid bike and the bike is made of a fiberglass-reinforced material. It's not quite plastic or rubber feeling but it certainly feels very sturdy and strong. I also noticed when I carried the bike that the weight seems to be pretty evenly distributed to that there isn't one part of the bike that is considerably heavier than the other. It reminded me of a very sturdy kids slide or clubhouse – just a hardy clunky solid feel.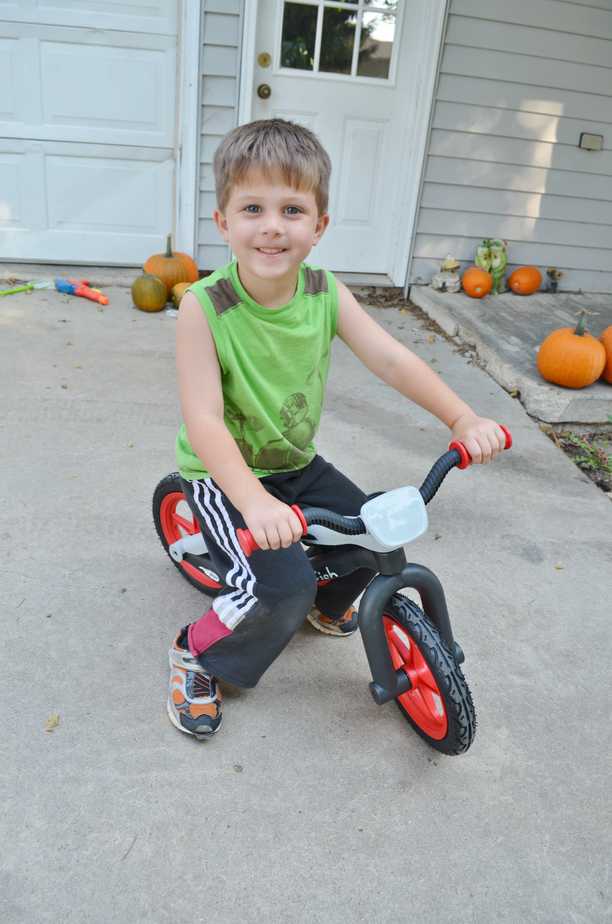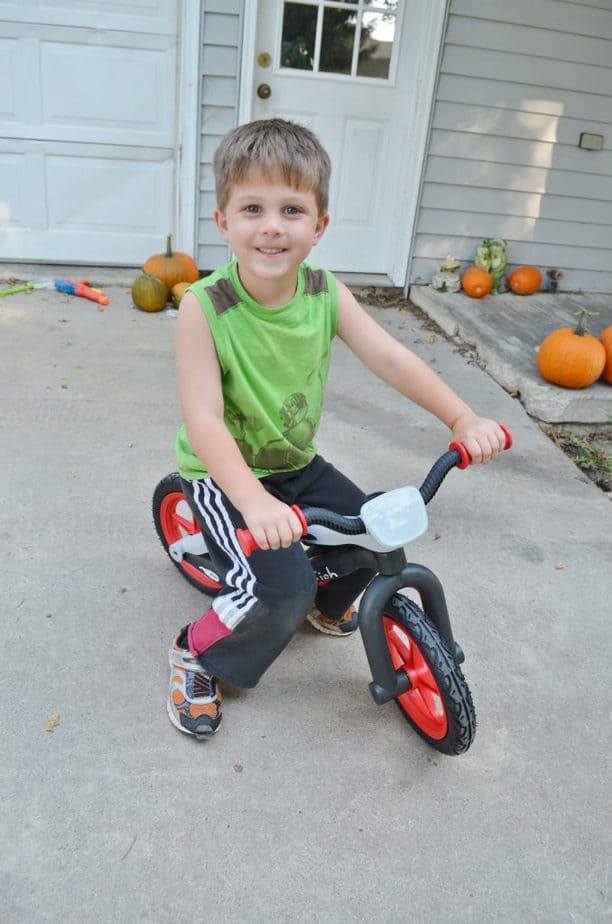 Also on the front of the bike is a detachable "number plate" where kids can decorate it with stickers or simply remove the plate altogether. This is my 5 year old on the bike for your size reference – he's a pretty average sized 5 year old so you can see that although he is at the top of the age range for this he still fits on the bike well. It would definitely fit as young as a 2 year old as well though so the bike is really the perfect size for that age range.
There aren't many 2 year olds that I know of that are coordinated enough to ride a bike with pedals so this is perfect for encouraging their coordination and feel of a bike. It gives younger kids and toddlers the power to learn how to balance a bike on their own timing without the worry of pedaling so that when they are ready for pedals they've already got down the coordination of balancing on a bike.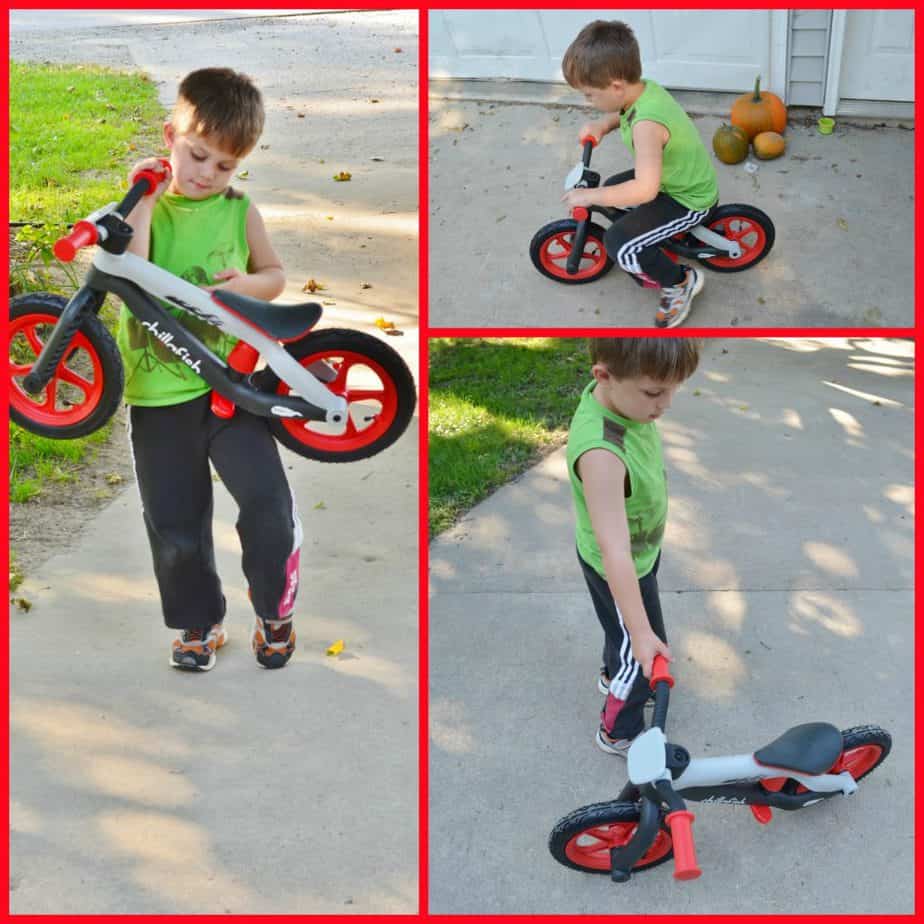 Kids can literally just walk around straddling the bike, or sit on the bike and try to balance it as they push their feet along the ground. They can keep their feet on the ground for more stability or try to balance while resting their feet on the footrest. It's a really great way for kids of all different developmental stages to try out a balance bike based on their ability, courage, and development. The balance bike itself is also small enough that preschoolers can walk next to it without completely toppling over it.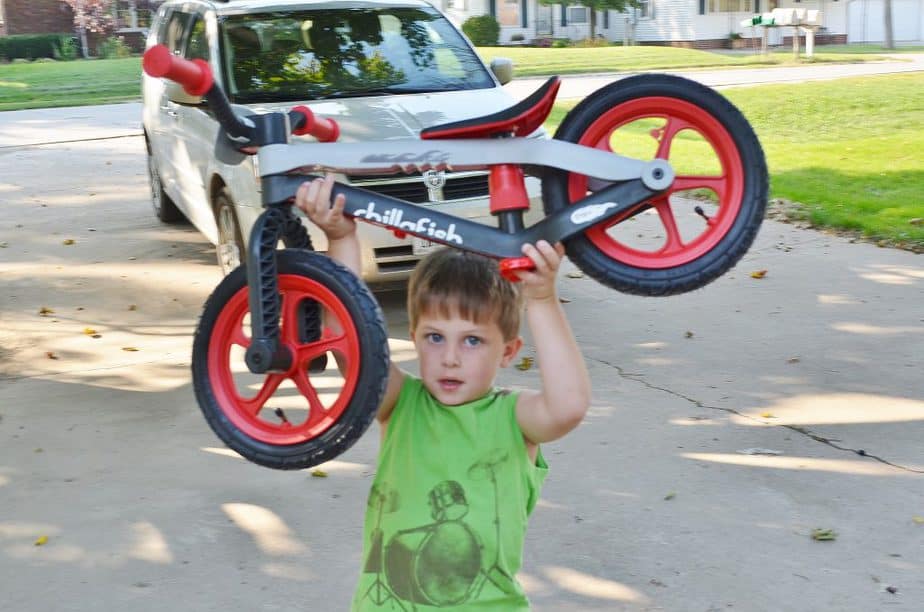 My 5 year old was pretty impressed that he could pick the bike up over his head! I don't even think he can do that with a trike! It's not too heavy for me to tote around and won't pull your little ones down due to heavy weight or knock them over. Plus as you can see it's pretty low to the ground so it's not an awkward size for tots. We have since had several Chillafish balance bikes and after using them for a few years I definitely wouldn't go anywhere else for a quality balance bike. These are adjustable and grow with your kids and won't break!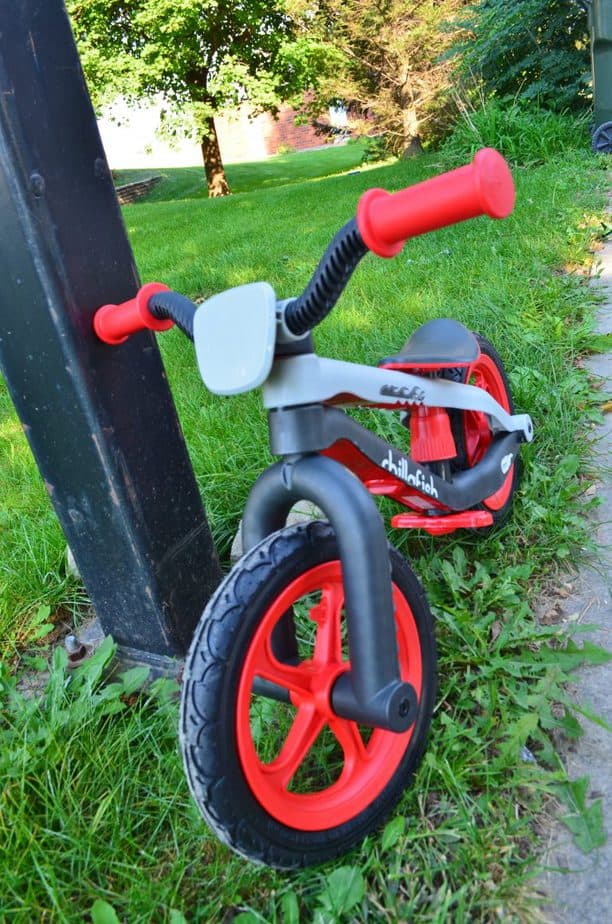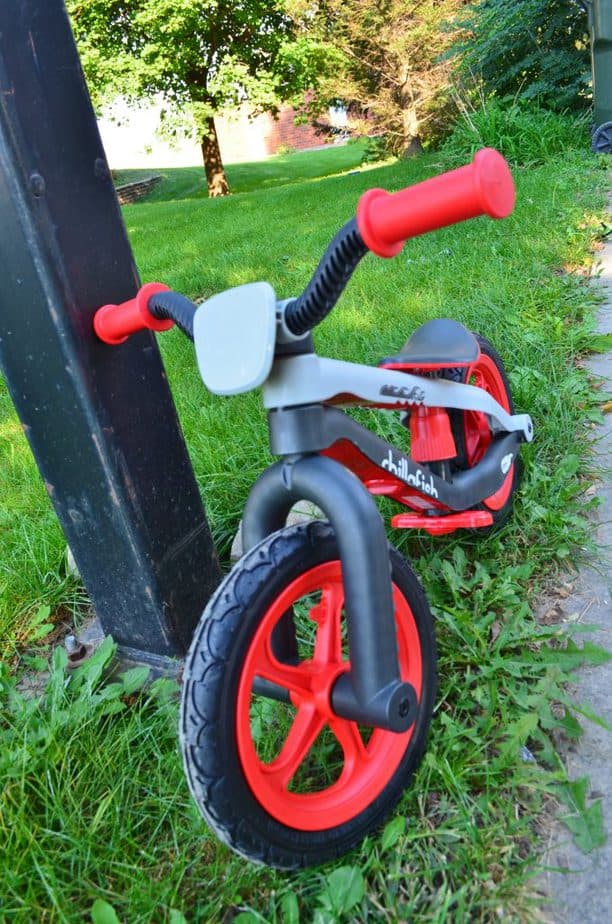 It's certainly made of high quality material and will last for a long time.  You can purchase the Chillafish BMXie Balance Bike as a gift too and have it shipped directly to the recipient! If you'd like to see pictures of younger kids and other tots using this bike you can follow on Instagram at #TALKBMXIE. Have any of your kids ever used a balance bike before? I'd love to hear about your experience!