Meccano Meccanoid G15 Robot Review – STEM Gift Guide
This post may contain affiliate links, view our disclosure policy for details.
 I received the below product to feature in our STEM Holiday Gift Guide. All opinions are my own.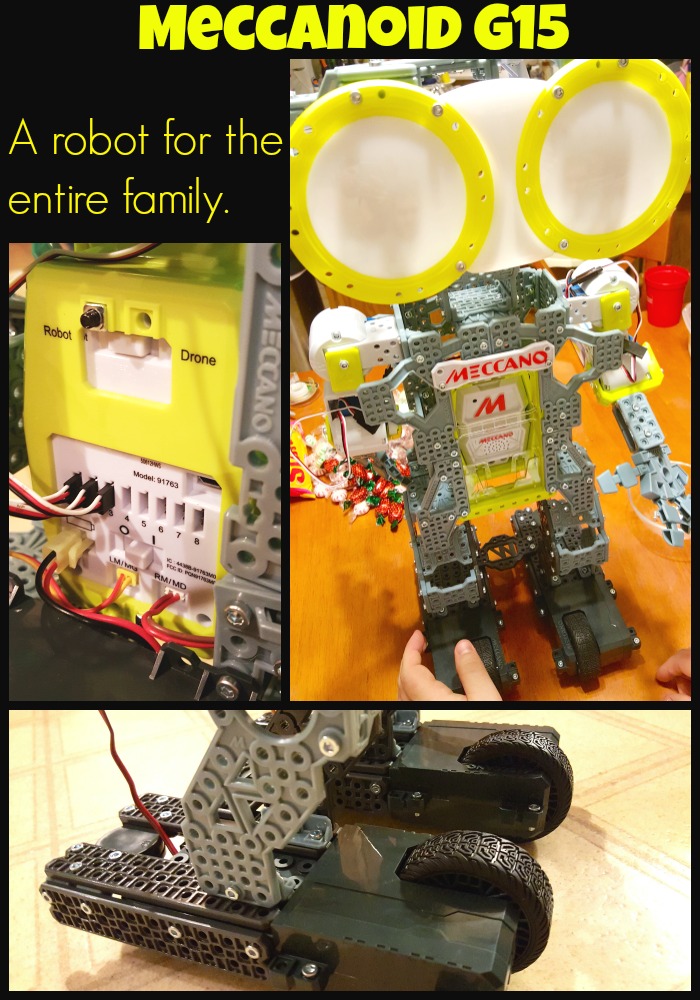 Let me just start with a spoiler alert – THIS ROBOT IS AWESOME! OK – now that we got that out of the way, we've been using the Meccano Meccanoid G15 both at home with our kids as well as at school in our robotics program (5th-8th grade)! Although it's by far the most advanced robot we've had in our household it was simple to build and operate when following the instructions. Even my 6 year old can operate "Walle" by himself. (We named our Meccanoid G15 Walle).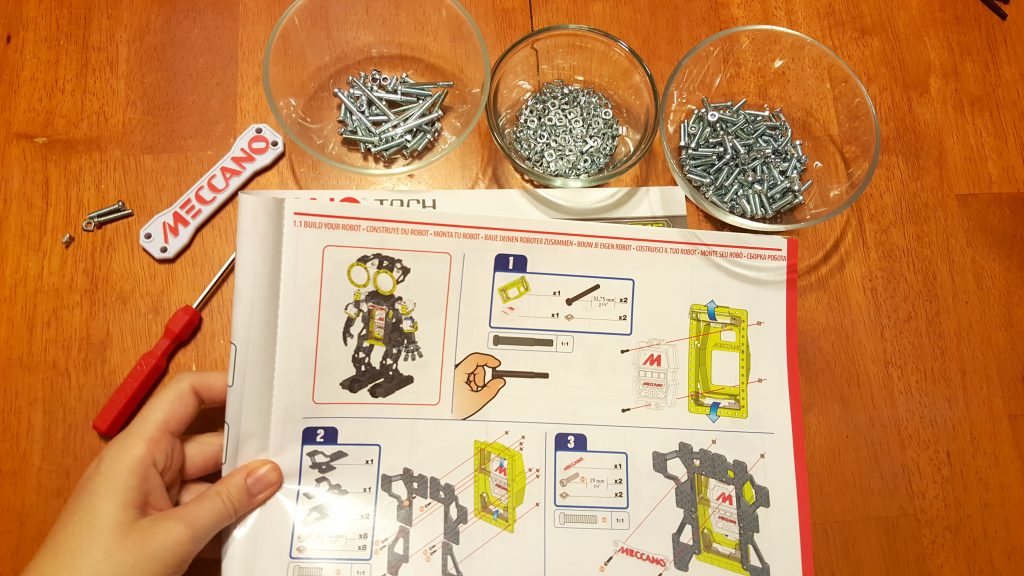 When we first opened the box we saw all of the parts nicely laid out in separate compartments so it comes in a great box to store everything if you take him apart. I dumped each bag of screws into separate bowls to help keep them separated while we worked on him. It helps organize the pieces when you have kids helping too!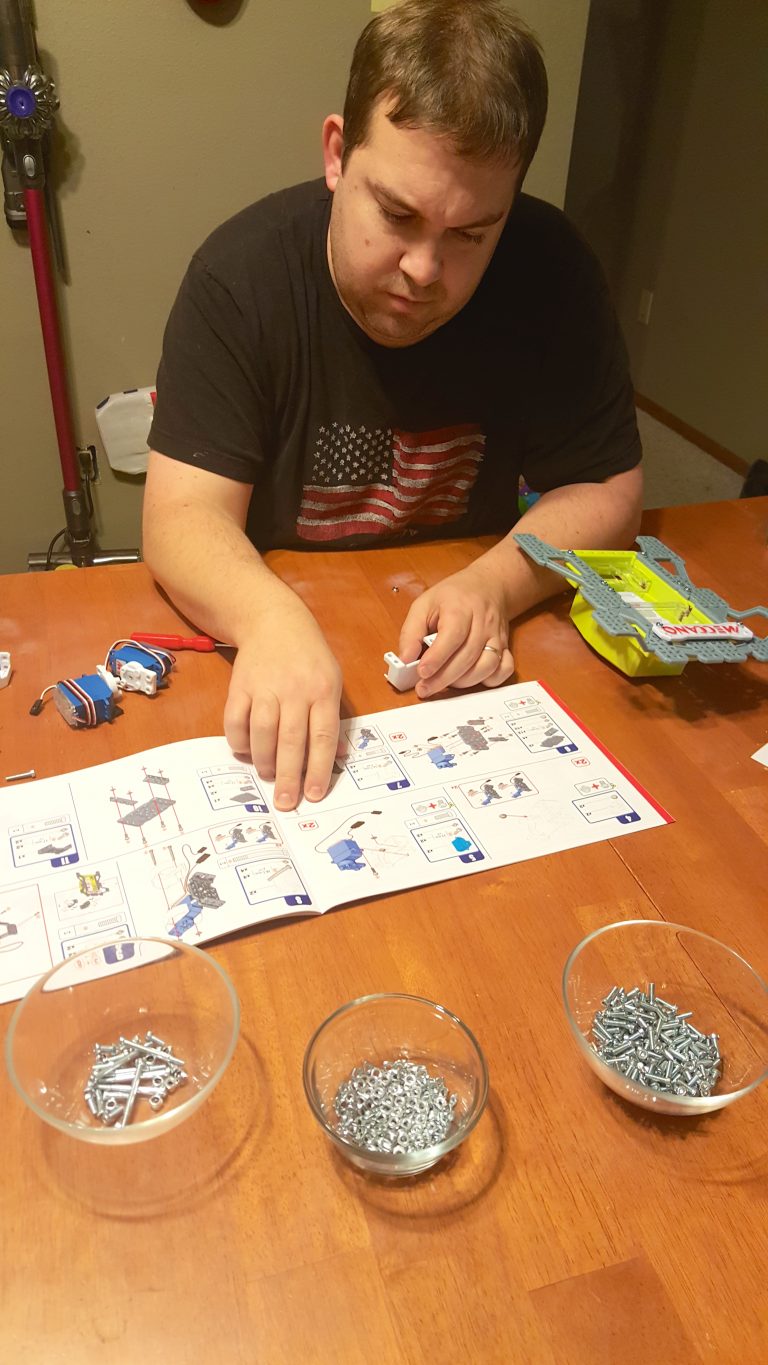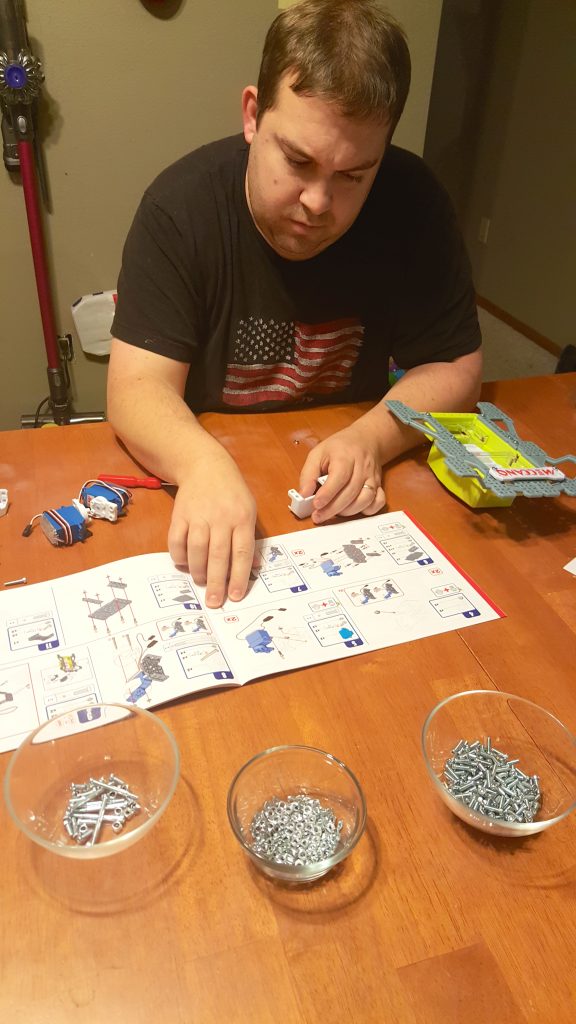 My husband and 8 year old son built our Meccanoid G15 over several nights after school. It's really a genius set up and not only works on voice command but ALSO can be controlled by your phone app available for both Android and in the iTunes store. There is a spot for your phone to sit in the robot's middle area and use your camera to mirror your movements. NOTE – you do NOT need the app in order to make your robot work! It just has a lot of extra features! It's still worth it without the app if you don't have a digital device.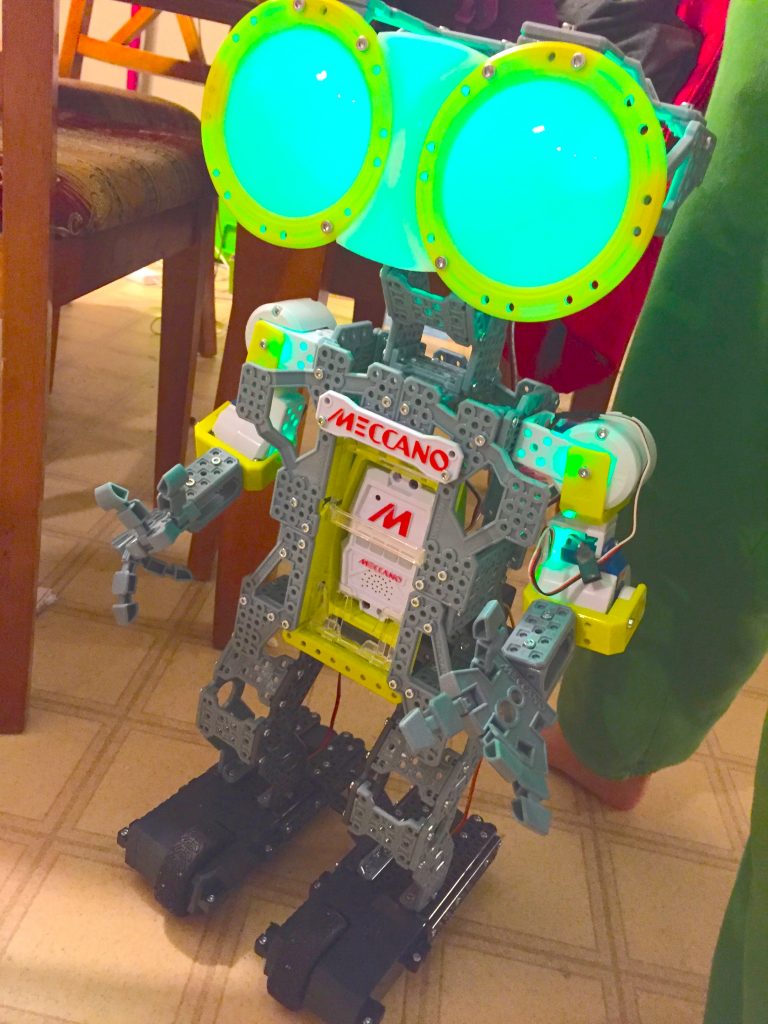 Walle changes his eye color depending what mode he's in which is a great visual for my boys when operating him. You can see the "treads" on his feet which help him to easily maneuver around. In the photo above you see the white "box" in the middle – that is where you would set your phone so that Walle can learn to follow your movements and actions.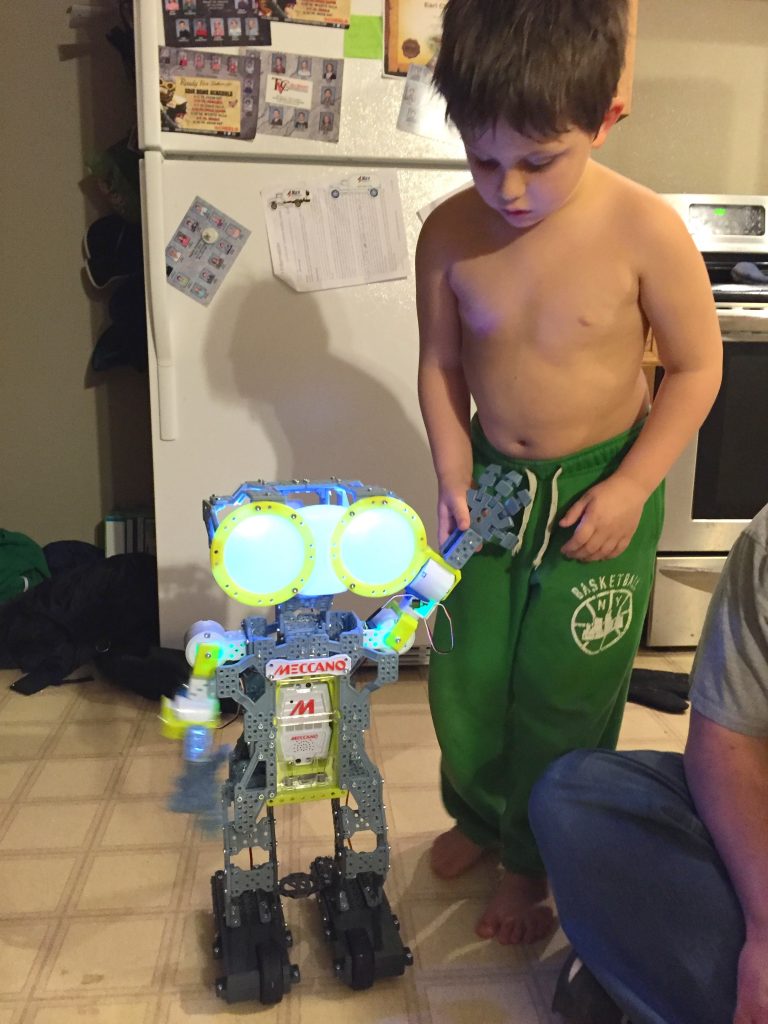 My son LOVES taking Walle "on a walk" where you can actually hold his hand and maneuver him around the room as he "follows" you. He also high fives, tells jokes (which are pretty hilarious), dances (everything from foxtrot to ballet to breakdance), moves forwards and backwards as well as turns around, records and replays your voice, kung fu, and SO much more! The robotics club has been using him in the last month to code all sorts of new features!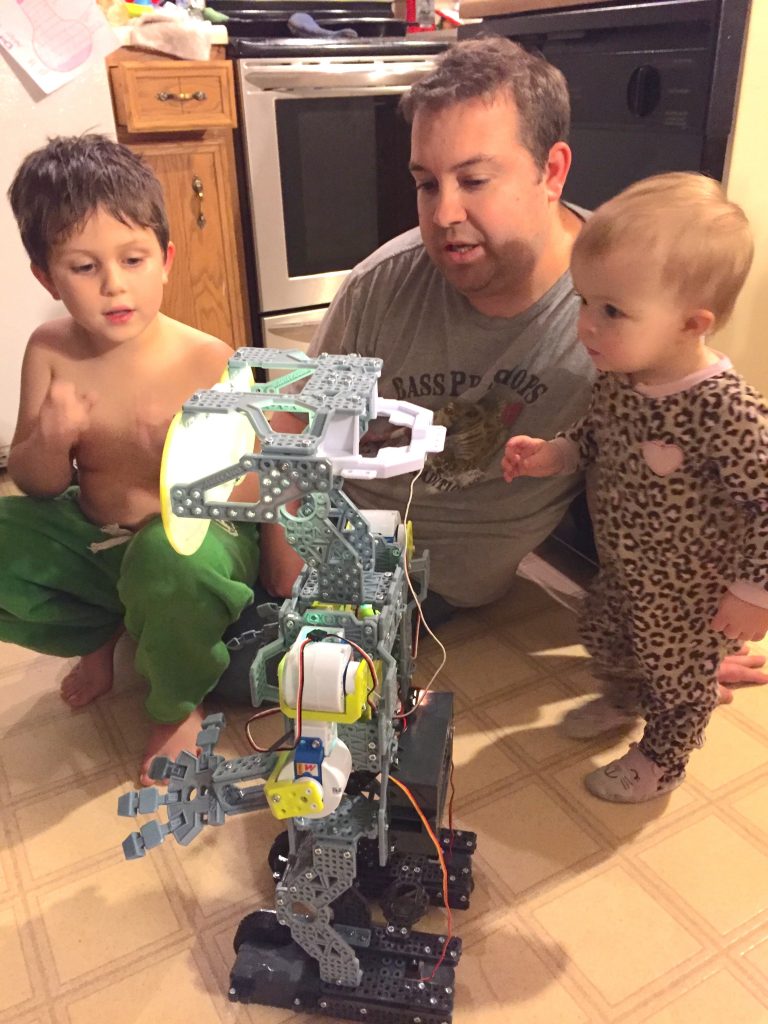 Even the baby is absolutely fascinated by our Meccanoid G15! Notice it's almost as tall as she is! After we had a blast playing with Walle we also downloaded the app for more fun! You can use it to control Walle and have him follow you. You can watch a video of Meccanoid G15 and it's movements here! He contains 64 megabits of flash memory allowing him to learn movements and record sounds that you can play back and has over 1000 pre-programmed phrases!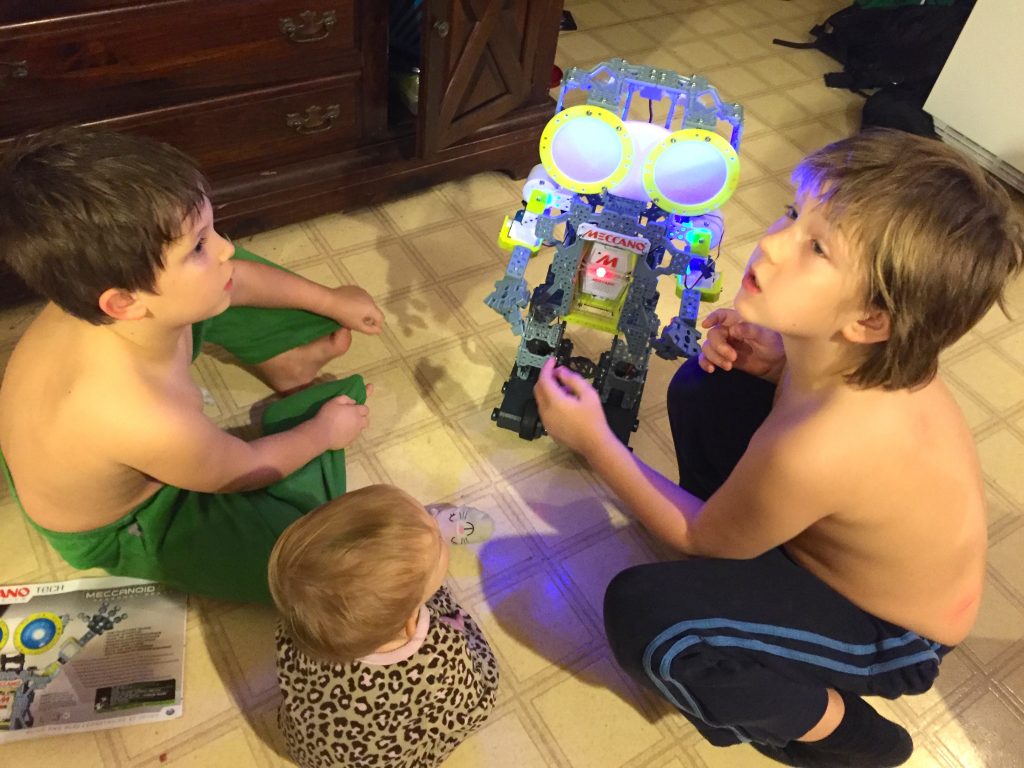 Meccanoid G15 is geared for ages 10+ but with patience (I know, hard to come by in kids!) my 8 year old would have been able to build it himself and both boys (ages 6 & 8) can completely make Walle functional and interactive. Our 5th-8th graders at school have been building him from scratch and coding him as a team which has been a great experience for them. There are many more features that we haven't had the time to explore since the review needed to be published on short notice but from what we've used to far this is absolutely worth the purchase and an incredibly educational experience you can bring into your home! And of course you can take him apart and build him again! Try turning him into another animal or structure. (Here are plans to build a dinosaur instead!)
Meccanoid G15 is available from most major retailers and Amazon!