Maximize Your Savings at Barnes & Noble
This post may contain affiliate links, view our disclosure policy for details.
Disclosure: This post is sponsored by the Barnes & Noble MasterCard, powered by Barclaycard. All opinions are my own.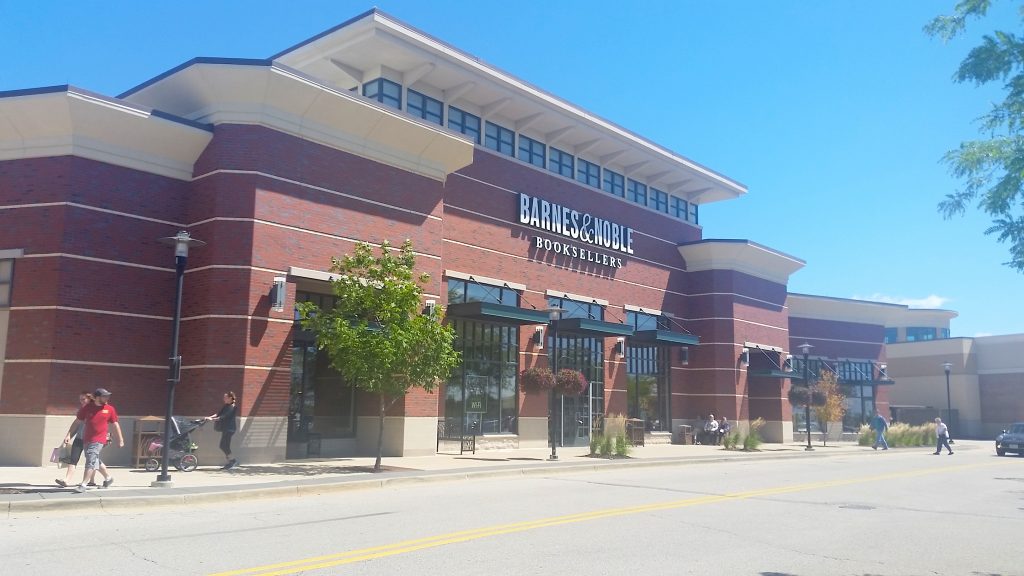 It's not often that I'm not dreaming of traveling and exploring the world but during the months of August and September I have to shift focus on helping my kids stay on task with everything that goes on with the beginning of the school year. So my life becomes busy with my continued blog work, keeping school schedules and homework straight, and planning our next trip someday. Which made me come up with a GREAT idea for all of us. To encourage the kids to keep working hard in the beginning of the school and to help my husband and I plan our next trip we decided to make a trip to Barnes & Noble! The kids were each allowed to choose a book to buy – any book they wanted – while we set off to find the USA travel section. Everyone in the family got to choose something!
If you use your Barnes & Noble Mastercard you'll get 5% back when buying school supplies and textbooks in store or online at BN.com. (This also applies at campus Barnes & Noble bookstores.) Especially when it comes to textbooks and supplies that really adds up! I remember spending thousands of dollars on textbooks in college! You'll get a $25 Barnes & Noble gift card after your first purchase with the card and an additional $25 Barnes & Noble gift card every time you reach 2500 points! (1 dollar spent = 1 point earned at all other locations including gas and groceries!) PLUS there's NO annual fees. For more information and to apply visit the Barnes & Noble Mastercard site!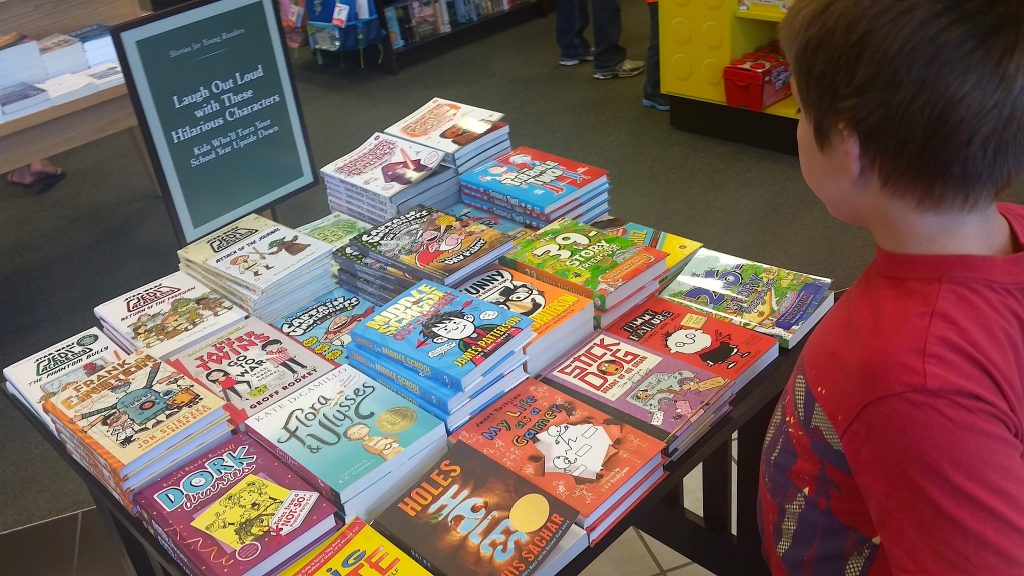 When we first walked in I absolutely LOVED that the first table we came to was a table stacked with the newest children's and young adult books. It immediately caught my son's eye. He's my voracious reader and we are always looking for something new for him to read and enjoy so I was really impressed with this.
Our family LOVES road trips and I spend a LOT of time pre-planning far in advance to make it all happen. We work hard to save in all the right places and take advantage of travel reward deals to maximize our ability to take road trips. Our next REALLY big trip planned is to travel the entire Route 66 trip and swing up through California to Washington on the Pacific Coast Highway and cut through Yellowstone and Mount Rushmore on our way home again. Yes, that's practically half the country! I've been doing a lot of research online trying to pull my ideas together but Route 66, the Grand Canyon and Yellowstone are so vast to plan for we felt we needed a good guidebook to help direct us so it was all in one place.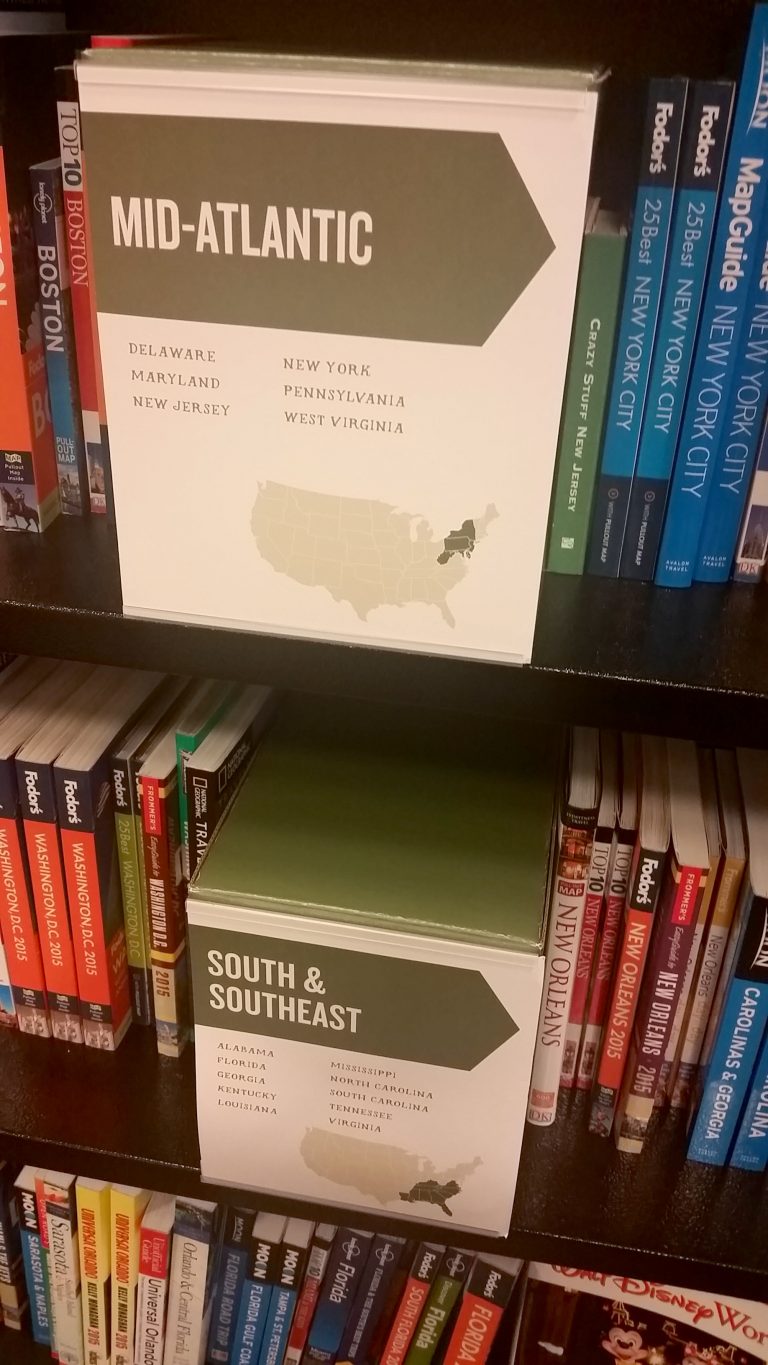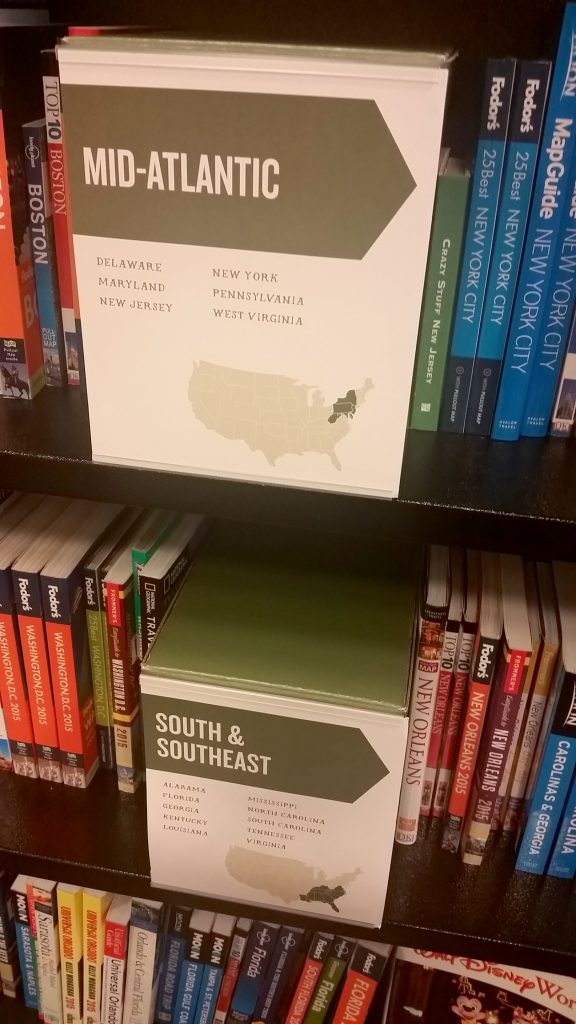 The travel section was just heavenly. Well, the entire store is really but I'm sure I don't have to tell you that! I'd love nothing other than to have an unlimited shopping spree at a bookstore! The travel aisle was filled with maps and atlases and all sorts of helpful road trip tools. The USA travel section was very easy to spot by region which was extremely helpful. They had each region shown on a map and listed by state which made it immediately easy to spot our destination.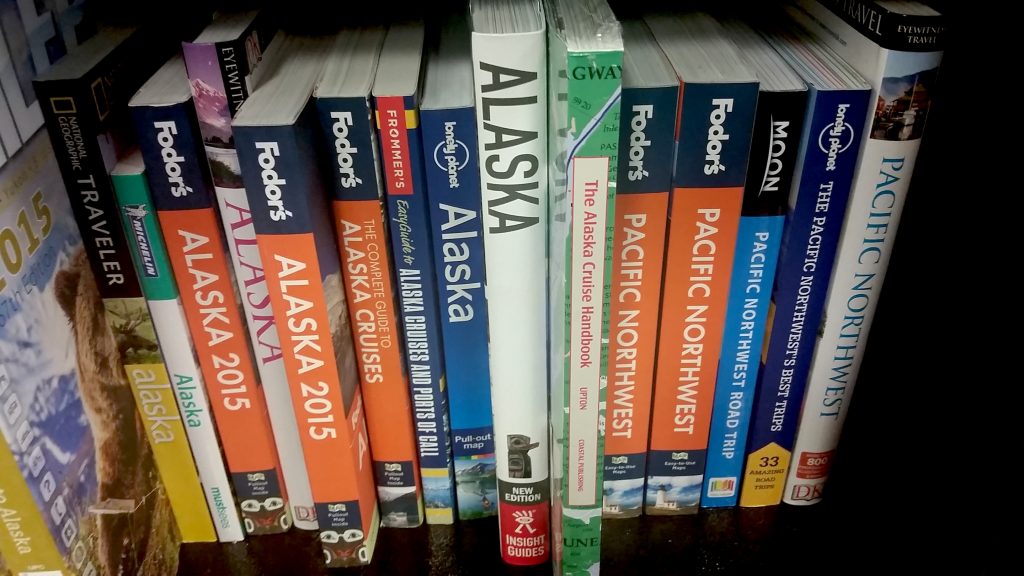 Not surprisingly I found everything I wanted, and of course books that I didn't know I wanted! Although I do order a lot of books online I really enjoy being able to flip through the books, especially guidebooks, to see if it will fit my needs.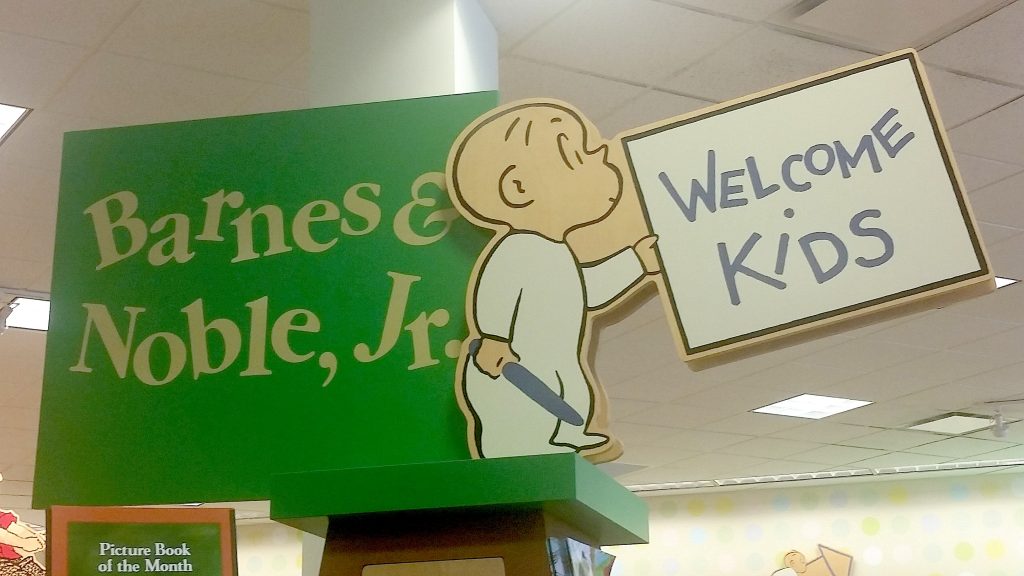 Then we headed over to the children's area which you couldn't miss. It was adorable and very inviting for all ages.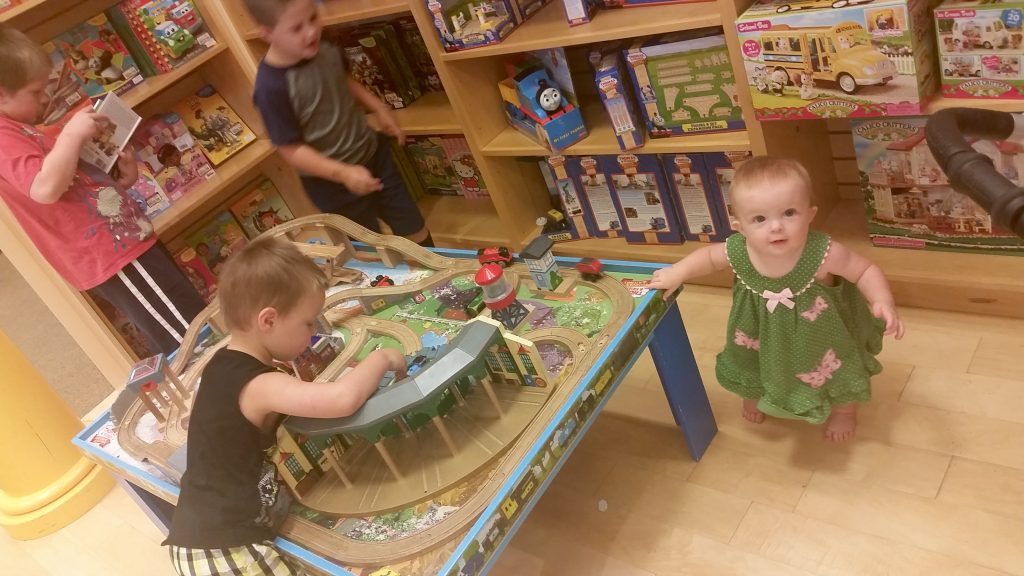 As a mom with several kids I REALLY appreciated the corner with the train table they had set up! While some of us were searching for books the younger ones were able to stay occupied playing with toys! There were also chairs there so my husband and I could sit and discuss which books we were going to buy while the kids played.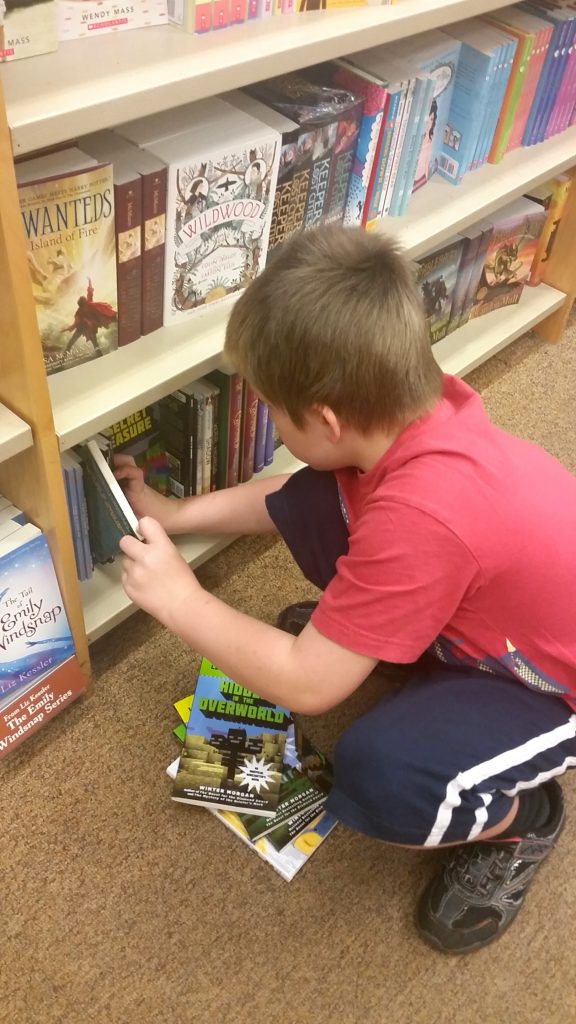 My 8 year old had the same problem that I have when I walk into a bookstore – I want it all! There were so many choices for kids to read by level, theme and character. He quickly found an entire stack of things he wanted to buy!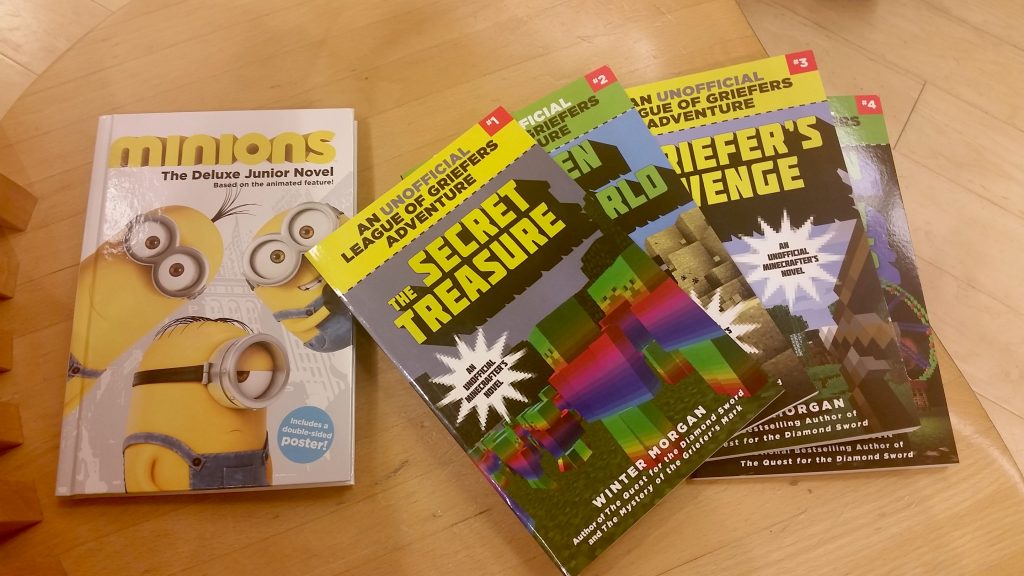 Right now he is really into Minecraft (no surprise there!) so of course he found an unofficial Minecraft series to start reading! And as always the Minions called out to him – and these were just the books he narrowed down from his original stack!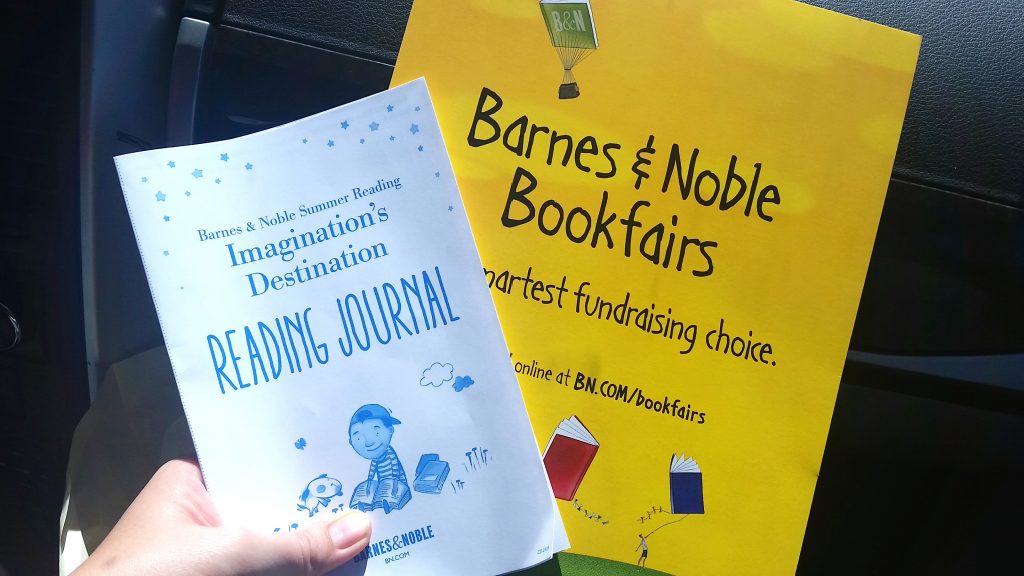 While I was waiting for my son to make his book choices I noticed there was a lot of extremely helpful literature and events posted in the children's area. Free reading journal programs, school fundraising book fairs….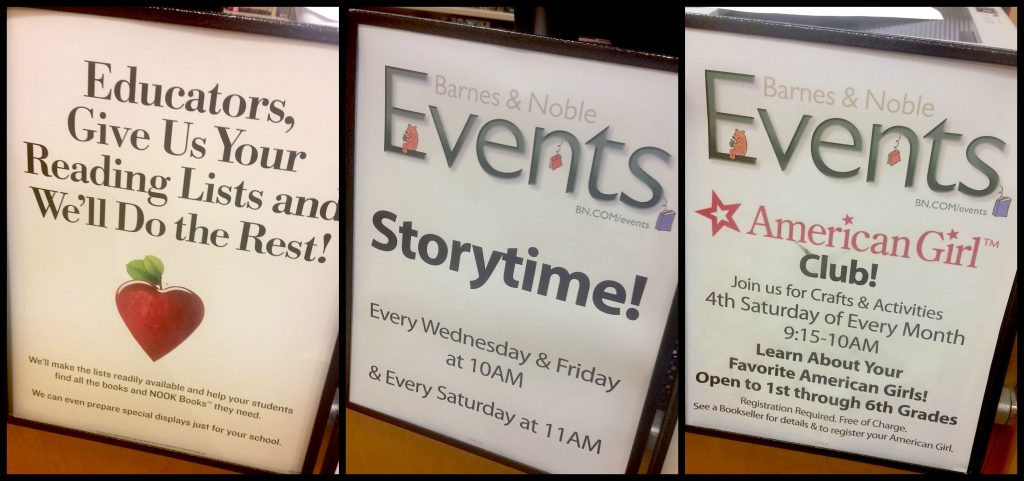 …..educators discounts, weekly story time, and even American Girl Club activities! They certainly do a stand up job of encouraging kids to be interested in reading! My husband signed his school up for one of their programs while we were waiting for the kids and got things straightened out with his educators card.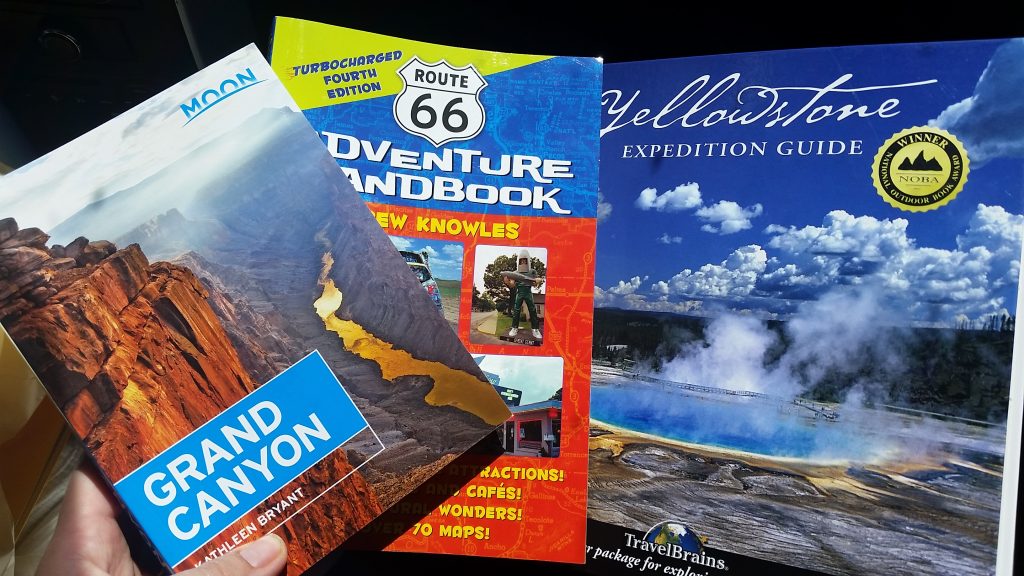 I spent a little more than I was hoping – are you surprised?! It's nearly impossible to narrow down my stack of books when there are SO many incredible ones! I found three amazing books for our road trip that I settled on. Each were top notch at laying out all of our options in each location which in this scenario is much easier than trying to do it all online. The Yellowstone Expedition Guide above was the steepest in price but I couldn't pass it up – it was invaluable to our plans. And when we added our educator's discount (20% on books) onto our order it saved us a bundle so it definitely made up for it! And of course – don't forget to check out the clearance aisles! We found some awesome National Geographic National Park guides for just $8!