LeapFrog Touch Magic "Rock 'n Learn" FUN Party!
This post may contain affiliate links, view our disclosure policy for details.
We had a ROCKIN' time at our LeapFrog Touch Magic "Rock 'n Learn" party last week!! If you haven't heard or seen LeapFrog's new touch technology it is SO cool! Imagine a touchscreen – but on preschool toys like guitars and alphabet learning products – it was SO captivating for my kids!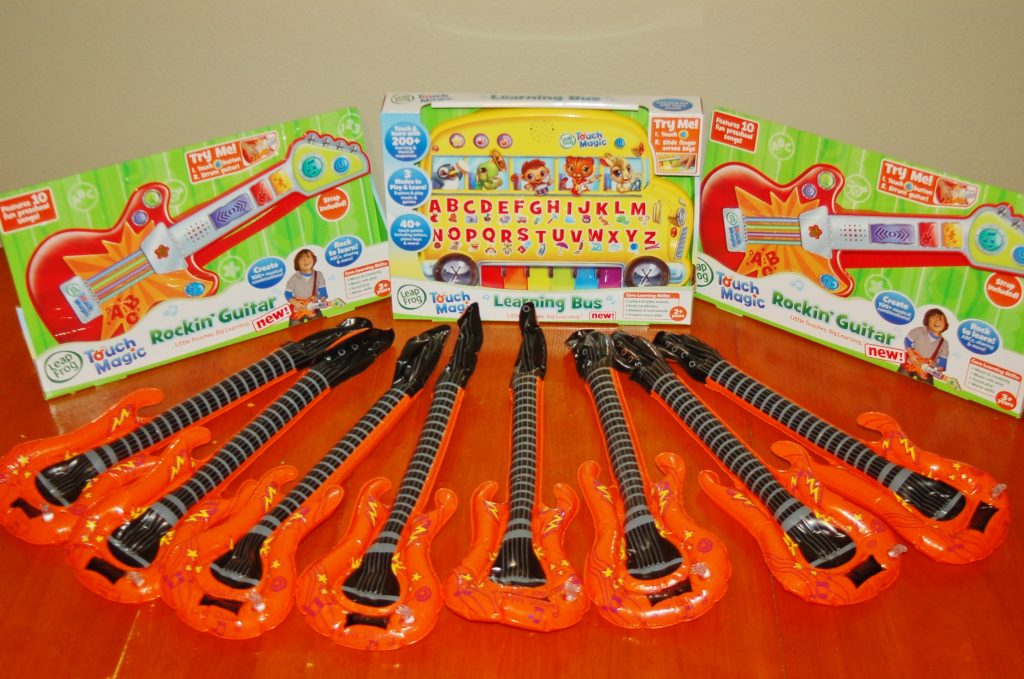 I set up our "fun" rockin' table with LeapFrog's Touch Magic Rockin' Guitar and Touch Magic Learning Bus
, as well as a handful of inflatable guitars for the other kids to pretend with while they were sharing the electronic LeapFrog toys! It definitely was a good choice and helped keep down the uproar! 🙂 I took a few videos that I am still working on as we were out of town this past weekend – I wish you could see how much fun the kids had! My youngest son who is 3 years old has been walking around the house every day jamming on his Touch Magic guitar. It has definitely held his interest much longer than a typical electronic toy!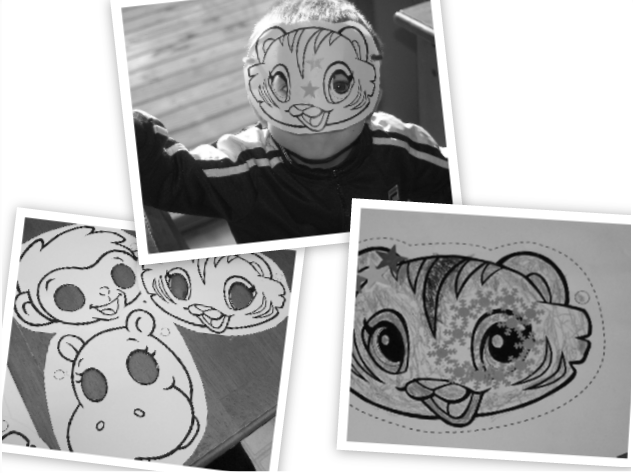 Music time took up most of our party but we had a few other things planned like these fun masks! I had pre-cut the eyes and holes out so that the kids could decorate it how they wanted! Then we ran around and pretended to be animals! Our party was FULL of imaginative play! However it was also full of preschoolers and very difficult to put masks on and take lots of photos! 🙂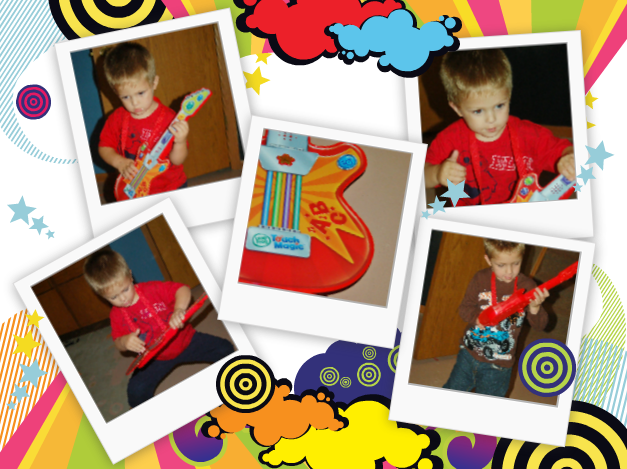 I wish these photos could capture the kids actually jumping up and down rocking out to their music!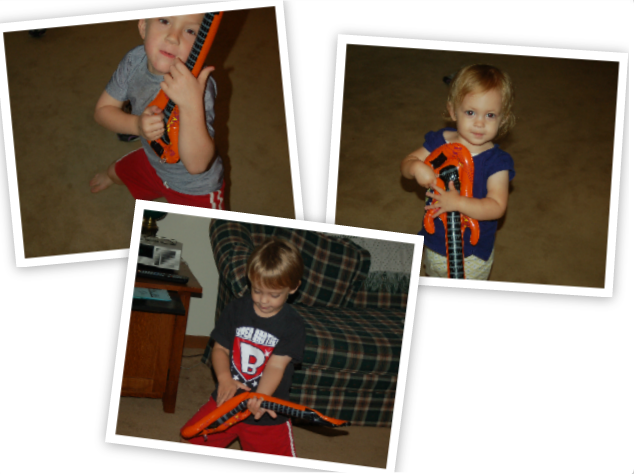 Here are a few shots of the others using the inflatable guitars while the LeapFrog Touch Magic Guitars took center stage!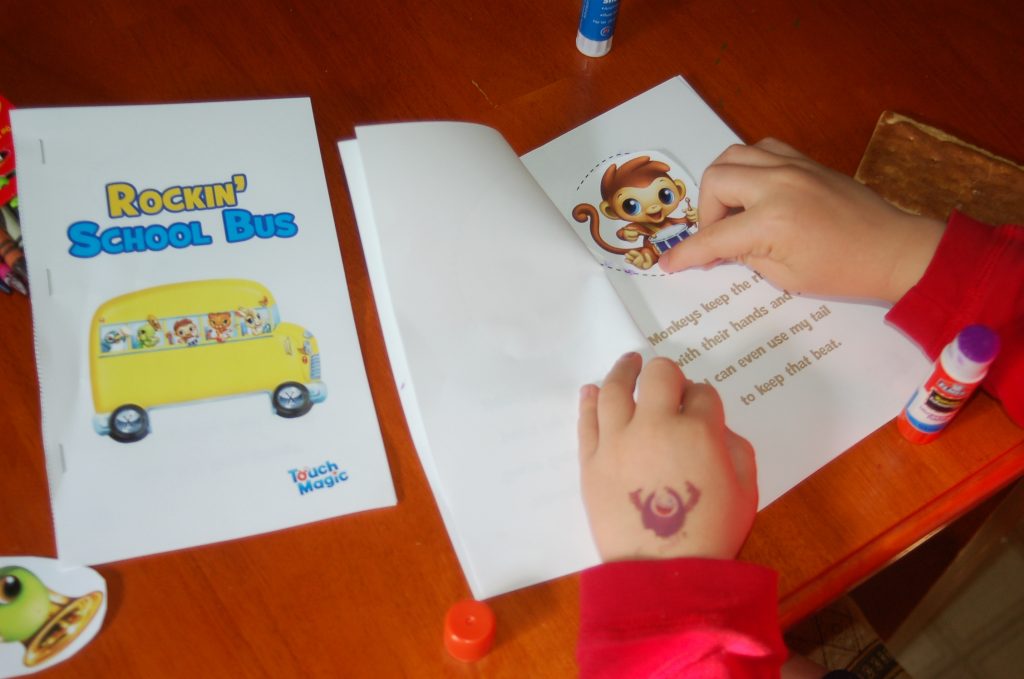 Once the kids got a bit wound up and needed a break from their jamming we also read the Rockin' School Bus book that was sent with our party kit and the kids had the chance to make their very own books to take home!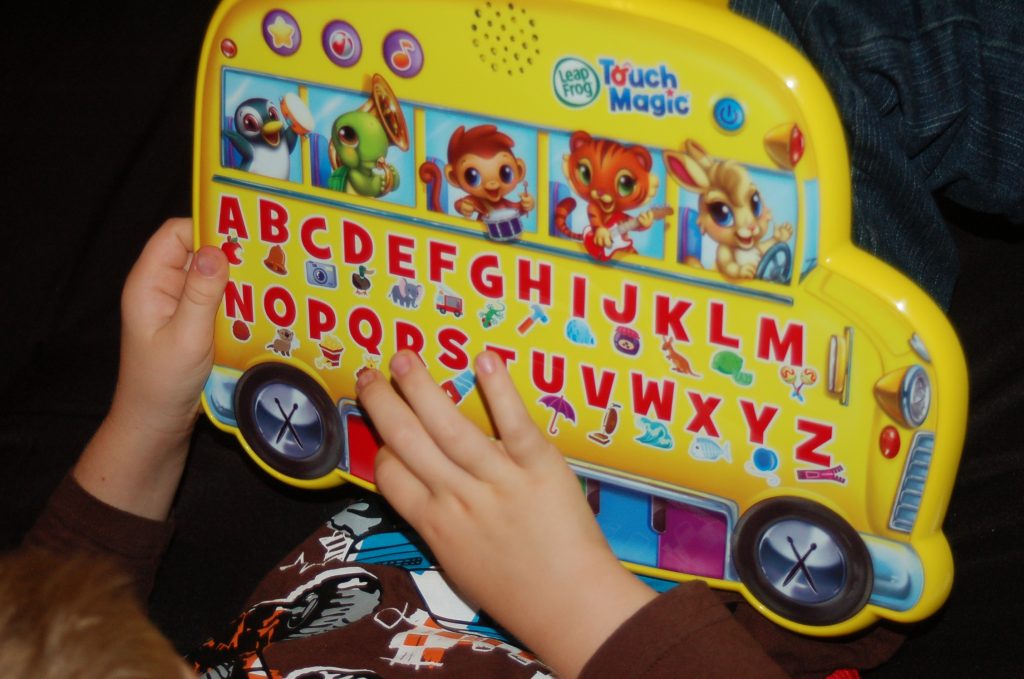 Then the parents sat down with a few kids at a time and passed around this LeapFrog Touch Magic Learning Bus. You  may have seen similar alphabet toys but this one uses the touch technology! The alphabet letters are not raised but are similar to a touchpad – it is SO cool!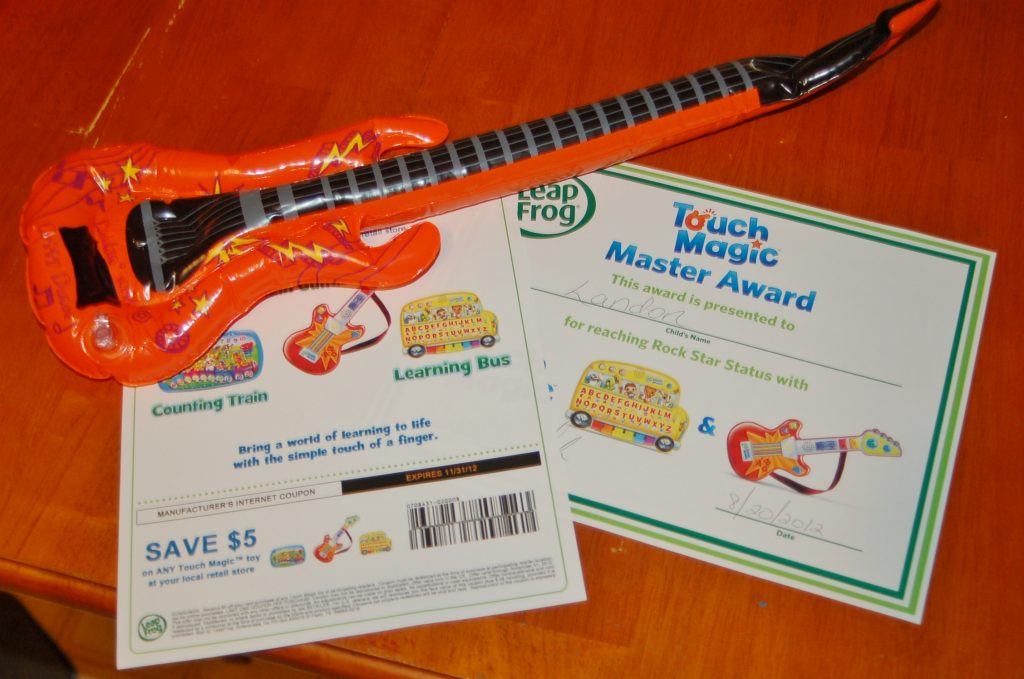 And of course every kiddo got to take home their inflatable guitar, and 2 of the kids got to take home either one of the Touch Magic Guitars or the Learning Bus! We gave them out as prizes for the best "rockin' performance"! Everyone also took home their books that they made, their masks, a "Master Award" certificate, and coupons for the moms!
So what did I think? And more importantly – what did the KIDS think? As a mom I LOVED the bright colors and the educational value behind the toys. I am a die-hard LeapFrog fan and always will be. Most of you know how passionate I am about education and interactive and fun hands-on learning and this definitely fits the bill. Just seeing the toys before I tried them I didn't realize that they were "touch" technology. It was so different and I was very curious to see how my kids would react to it. After all there weren't the regular buttons that every kid loves pushing. I was very curious to see what my kids would do with these new LeapFrog toys which were brightly colored, but quite flat!! A part of me was worried that they would just lose interest because there was nothing to "push". Boy was I wrong! BOTH my 5 year old & 3 year old were completely into the guitars as were the other kids. I couldn't believe how long they played with them – the guitars were busy being played throughout the entire party! The Learning Bus definitely tended to be used by the younger children who didn't already know how to read or know all of their letters so that definitely seems more suitable for preschool age. But I bet you that most elementary kids would be found rocking on those guitars! It felt so weird to strum a guitar just by touch it! Very cool though. Both products were extremely light weight but seem very durable! They have survived in our house so far! I really was impressed with them – they most certainly live up to the LeapFrog standard!
Disclosure: I was not compensated for this review. I received an in-home party kit from LeapFrog and Mom Select in order to form my own opinions. All opinions are my own.