KidCarpet Quality Classroom Rug Review
This post may contain affiliate links, view our disclosure policy for details.
I was not compensated for this review. I received a rug. All opinions are 100% my own.
 If you are a teacher or daycare worked – especially of younger kids, you may have a Classroom Rug on your "wishlist" but just can't afford the $500+ that these rugs tend to run. Trust me – I had my eye out on a good sale on classroom rugs for 3 years and didn't find anything that we could afford – certainly not on our salary! But recently I learned about a new place – KidCarpet.com.
I was contacted by KidCarpet and offered the opportunity to not only review one of their rugs but also to give away one to my readers! Their Factory Direct classroom rugs (7'6″'x12') are just $279.99 + FREE shipping! AND some of the rugs come in 3-4 days – talk about SUPER quick! You know that's a fantastic deal if you've looked at classroom rugs before!
KidCarpet.com Rugs are MADE IN THE USA!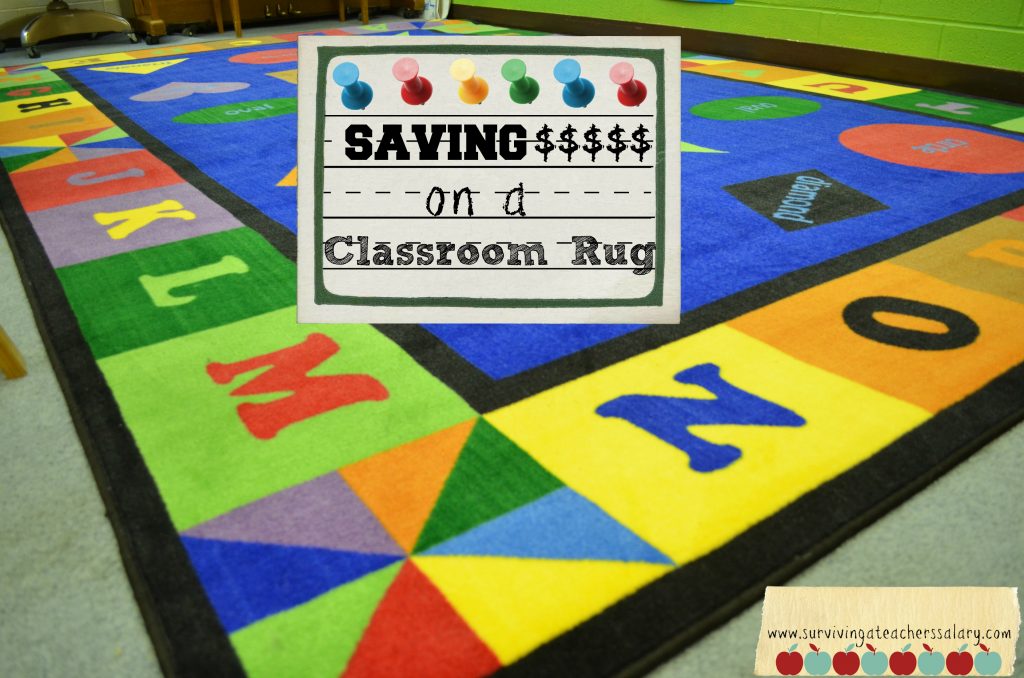 We have a brand new kindergarten teacher at our school this year and so I let her choose which rug I would review and told her that she could keep it for her classroom. OH my goodness she was SO excited! There are TONS and TONS of rugs to choose from! From just one color, multicolored, numbers, letters, shapes, geography, bible rugs, multicultural, art, road maps, animals – there are TONS to choose from.
The ones above are just a FEW of the ones that KidCarpet.com has to offer! They even have bilingual rugs! You can search their rugs by ones that ship in 3-4 days, Montessori, Religious, Square or Oval, and many other options. Our kindergarten teacher chose the Colorful Shapes Rug with Bright Colors and I felt like I had JUST ordered it when it showed up on my doorstep!
My husband let me know the rug had come and I couldn't believe it was so quick! It was rolled up tightly and delivered inside a tight plastic packaging which was good because it gets VERY dusty where we live on those delivery trucks! We immediately grabbed the rug and walked over to the school with it to give it to the teacher.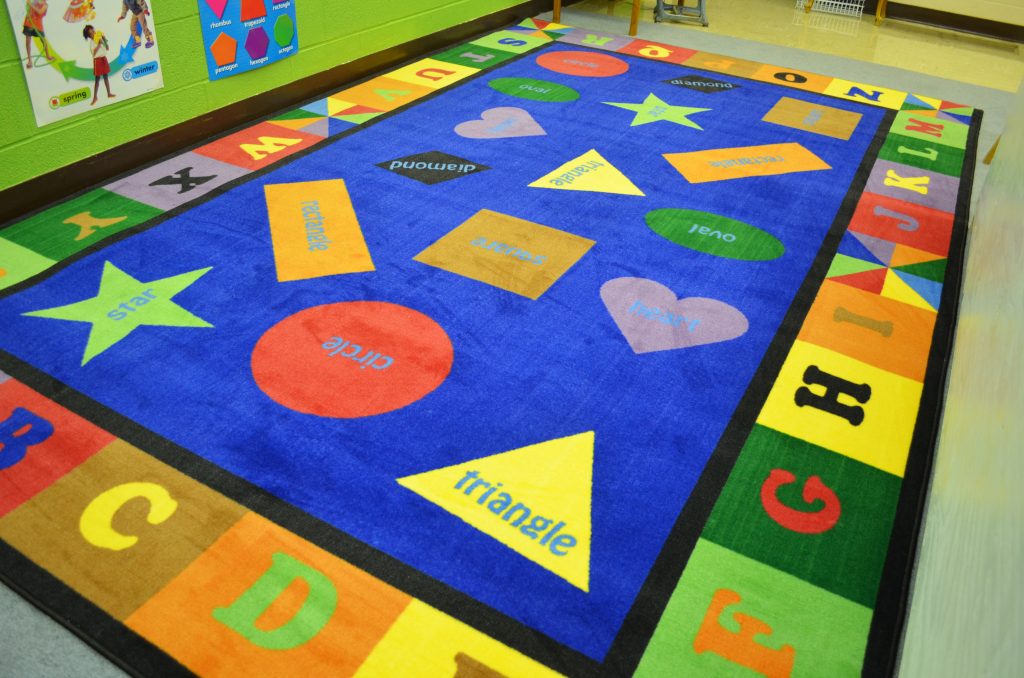 Isn't it gorgeous?! Beautifully bright for young kids! The teacher literally squealed – she was just SO excited to get it. This rug REALLY stands out in the classroom and just looks absolutely fantastic. There were some fuzzies on the carpet after we rolled it out but a quick vacuum cleaned it right up.
It's 8'x12′ and although I knew it would be pretty big I was still amazed at home much area it covered in the classroom! We had to rearrange the area (twice!) to find the best fit because we didn't want any other furniture sitting on it. The quality of the rug seems really nice and for the price you can't beat it! I'll update my post at the end of the school year after the kids have used it for a year to let you know how the rug held up!
The company is the only store in the country that actually ones their own carpet mill which is how they keep their prices so competitive. It's also fire rated for commercial use.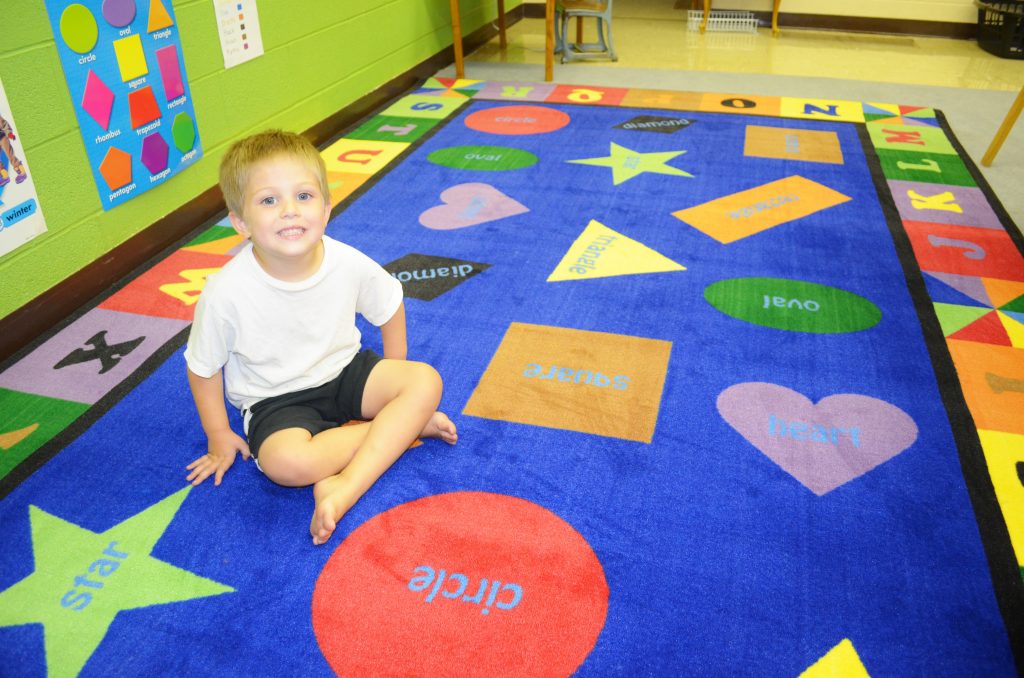 Our students don't start school until next week so I had to bribe my boys to sit in for a photo! 🙂 My son will be in preschool next year but I am already looking forward to him being able to use this rug when he goes to kindergarten! As you know we have a very small country school and all of the teachers and volunteers have already been coming by and check out the much-talked-about rug!
I really like that even though it's a VERY brightly colored rug the rug overall is dark and will show less "wear" and dirt than a light colored rug. The carpet itself is plush enough to feel soft but tight enough not to collect gunky chunks of who knows what in it. (Yep – I know how kids are!) It is mold, bacteria, and stain resistant. And it's Scotchguarded!
Overall – VERY pleased with this rug. It is definitely worth the price and would make a fantastic addition to a classroom, daycare, playroom, or even Sunday School room. The shipping was lightning fast which is great if you've waited last minute looking for a rug! I LOVE that the website is very easy to look through and categorized in so many different ways so that you can easily find what you want.