Educational Insights Hot Dots Review
This post may contain affiliate links, view our disclosure policy for details.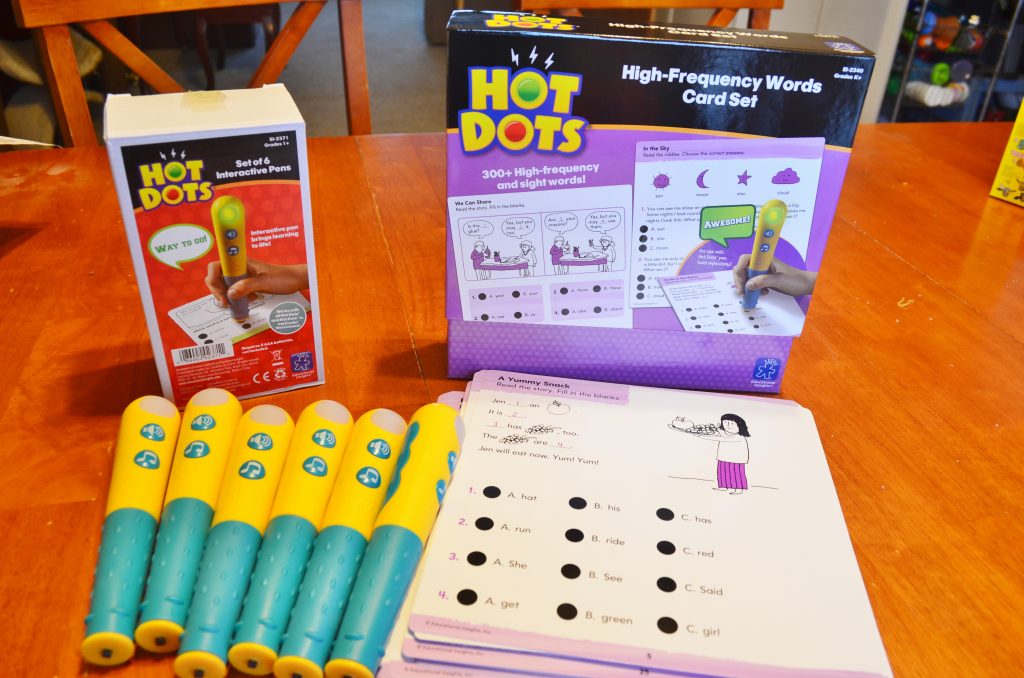 If you don't have the Hot Dots electronic learning system in your classroom I highly recommend considering it! My husband has used it with his students for several years now and just about every other teacher in our small school uses them as well! In fact I have an entire section set up in our Resource Room just for Hot Dots cards and pens! Check out some of the new Hot Dots card sets that have just come out!
High-Frequency Words (K+)
Laugh it Up! Spelling (grades 1-3, 4-6)
Elapsed Time Math Cards (grades 2+)
Place Value Math Cards (grades 1+) 
We were sent the Hot Dots High Frequency Words card set as well as the Hot Dots set of 6 Pens.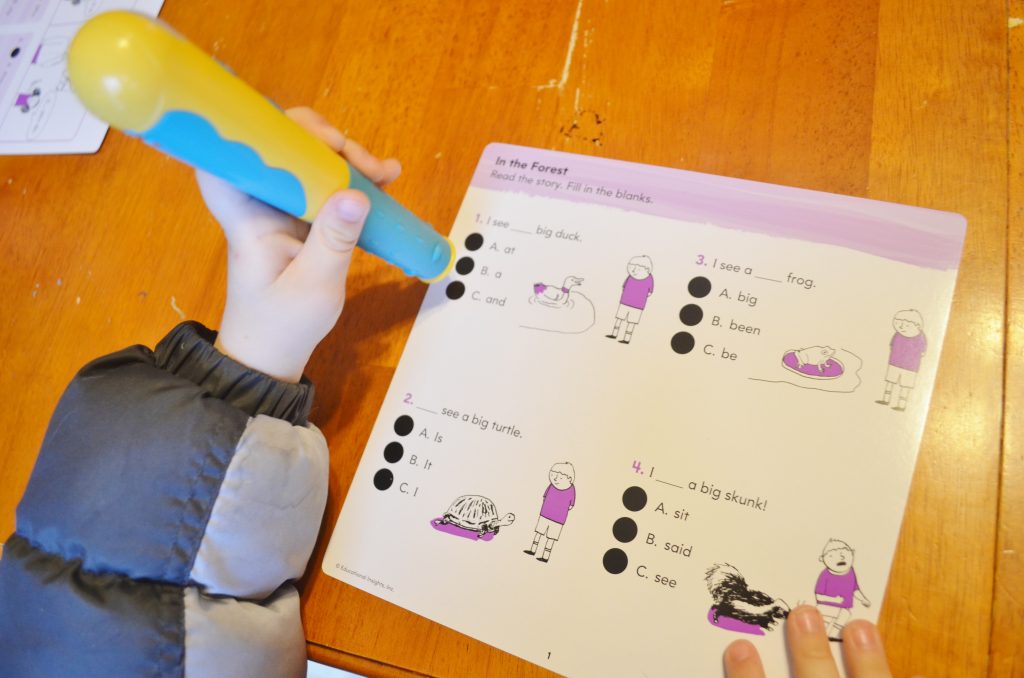 I know most of you are familiar or even use Hot Dots already but I wanted to show you quickly how they work for those who haven't used them. Basically it is an electronic pen that the student uses to choose the correct answer on the corresponding Hot Dots cards. (subject areas cover everything from time, math, presidents, science, and much more!) These High Frequency Cards we received are much larger than the other Hot Dots cards we typically use but was definitely easy to grasp and handle for the younger kids. As you can read in the photo above the student had to place their pen on the correct dot to complete the sentence.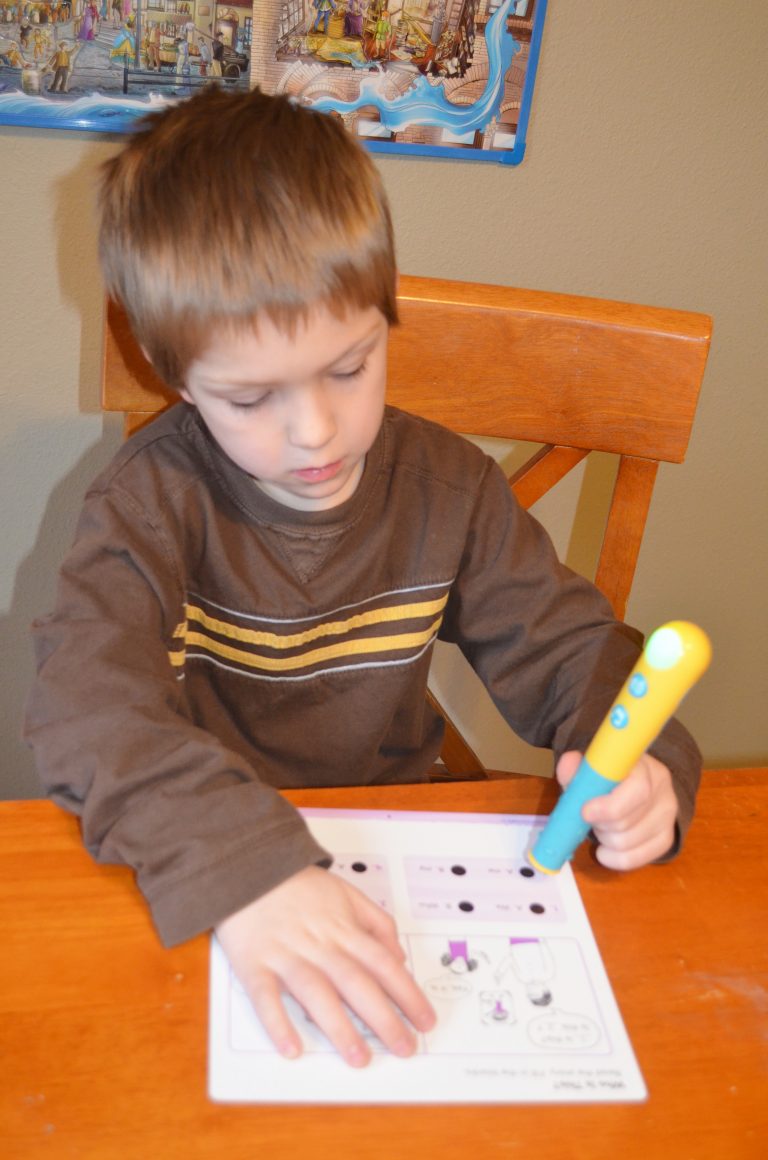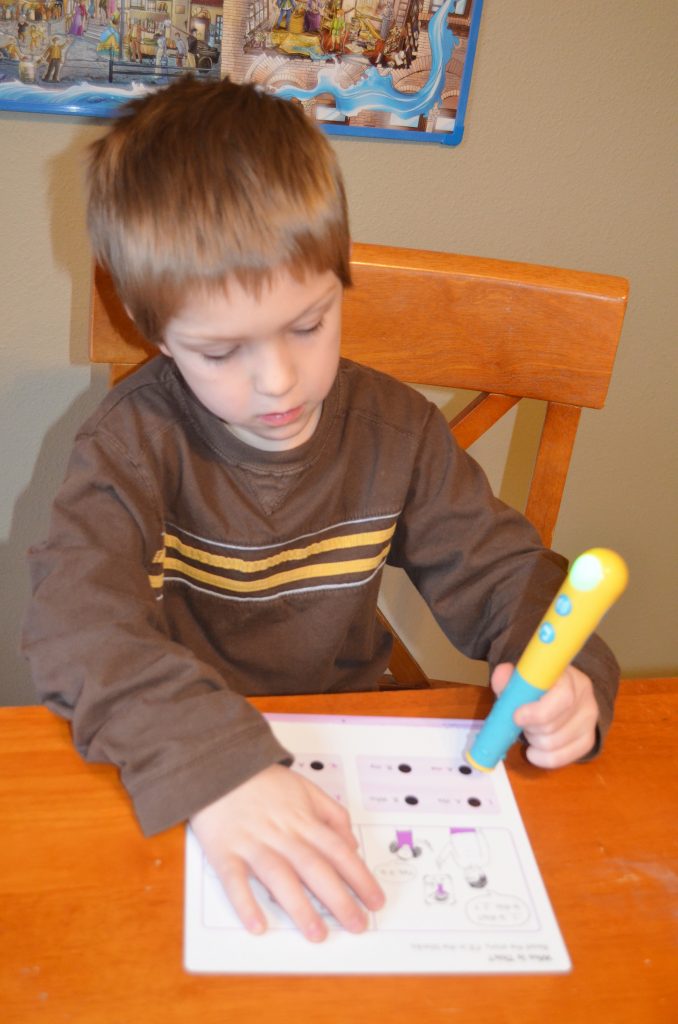 The pens have a fat body making them easy to grasp for kids with delays in fine motor skills or muscle control. Once the answer is chosen by pressing the pen onto the dot the pen will show a red or green light at the top (red for a wrong answer and green for a correct answer) as well as make a noise like applaud or buzz for incorrect/correct answers.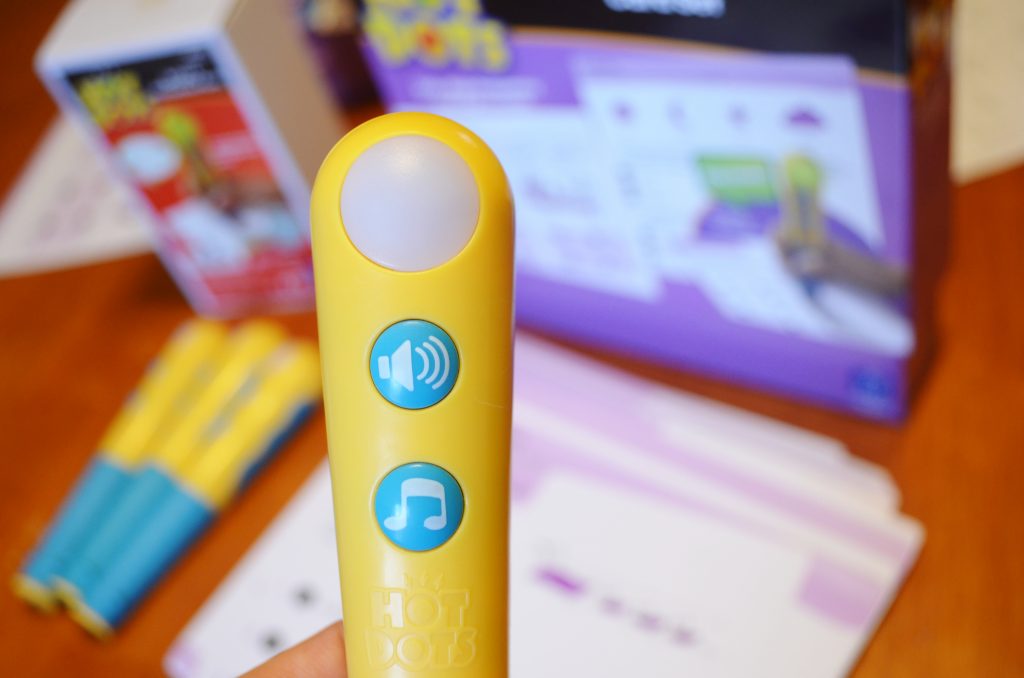 I appreciate the visual confirmation as well as the audible confirmation (and volume adjustment for classroom use!) which makes it a good choice for both hearing students and non-hearing. When my husband first started using Hot Dots in his classroom for under $20 he purchase one electronic pen and one set of Hot Dots cards, just to see what he thought of the product. When he saw how quickly his students, especially his low level students, responded to the Hot Dots set he immediately began saving up to purchase more! He spent about $200 to purchase a larger set and now his school has an enormous amount of Hot Dots products that are used on a regular basis! They have lasted in great condition several years and still counting. We have always had fantastic customer service with any defective products we have received and if you've been around here at all you know our love for Educational Insights is no secret!
Educational Insights has offered to give one of my readers (US OR Canada!) their own set of Hot Dots pens and choice of Hot Dots card set! To enter just fill out the Rafflecopter form below!
Disclosure: I received the above products to use in order to form my own opinions. All opinions are my own. Giveaway is open to US AND Canada and will close at 12:01 am EST on March 9, 2013. Winner will have 48 hours to claim prize before a new winner is chosen.