Interactive Financial Digital Lab to Empower Youth
This post may contain affiliate links, view our disclosure policy for details.
Disclosure: This post brought to you in collaboration with WeAreTeachers and PwCCharitable Foundation. All opinions are my own.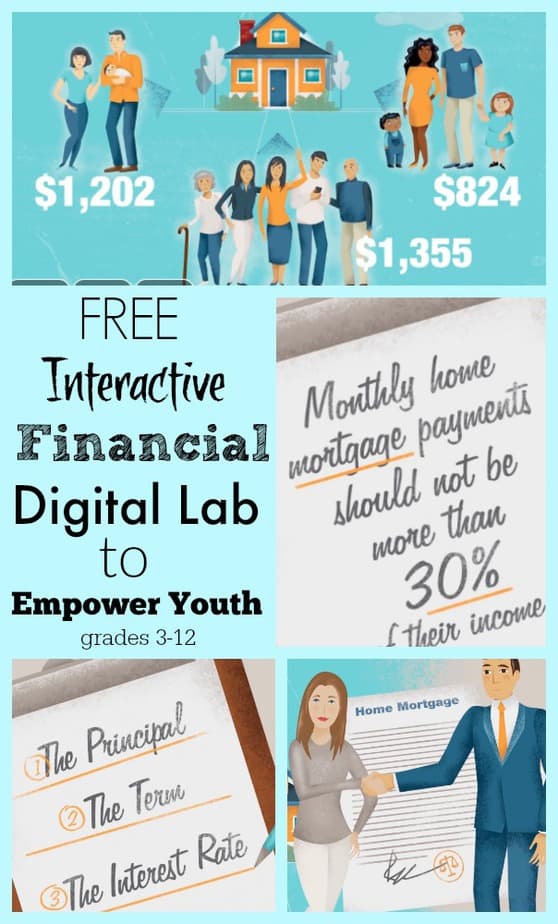 Happy Financial Literacy month! Although to be quite honest it's always time to learn about financial topics here in my house – regardless of whether my kids are 3 or 30! It's SUCH an important topic and it's never too early to impress good financial habits on our youth. That's why we've chosen to collaborate on this post featuring the Earn Your Future Digital Lab which is an interactive curricula designed to empower our youth with financial and economic knowledge.
Once I went through several of the modules I was immediately hooked. And as soon as I showed my husband he immediately requested the URL and is signing up for his students. I wish I had access to this program when I was in middle and high school!
Just last week my 4th grader took a field trip to the local grocery store. Every child had a set amount of cash and they were required to purchase a specific item(s) in their budget while factoring in taxes too. It was a fabulous learning opportunity and kids are never too young to learn how to handle money! You can bet his teacher will be signing up for these modules when they are available!

The Earn Your Future Digital Lab is a comprehensive financial program geared for students in grades 3-12 through self-paced modules. You can sign up here to view the materials. Each innovative module features custom videos, animations, and interactive activities.
Educators have embedded student assessment tools with real-time feedback as well as Level Handbooks, and Module Planning and Resource Guides to help direct them. All content is aligned with the Council for Economic Educators standards. I LOVE how they have a wide variety of topics specifically geared towards different grade levels (elementary, middle, and high school although the elementary modules are coming in the fall).
How to Sign Up
(TIP: When you sign up these directions are also in your account dashboard!)
1. FIRST, sign up for a (free) account here and set your username and password.
2. After signing in set up a SEPARATE default password for your students.
3. Add or import students.
4. Create a class and add your students to your class.
5. Check out the available modules!

Not only is everything auditory but it's also visual. At each step of the way there were little quizzes to complete to ensure you understood the information. It started the Mortgage Mystery by showcasing 3 different families who all wanted to purchase this house for the same amount – but each had different down payments, credit scores, and length of loans.
It even simply laid out the amortization schedule which I had NO CLUE about when we bought our first home! (I had never heard of such a thing and I can bet most high school students haven't either!)
It also taught how the principal would be paid down faster if you add just a little extra money onto the monthly payment along with a graph of how much money they would save over the lifetime of the mortgage! It definitely encouraged healthy and smart financial strategies.
I was incredibly impressed with the module. It was extremely simple to understand. Another really relevant module to many teens today was the "Can I Afford a Phone?" module.