Healthy Kids Snack: Strawberry Mice & Cheese Recipe
This post may contain affiliate links, view our disclosure policy for details.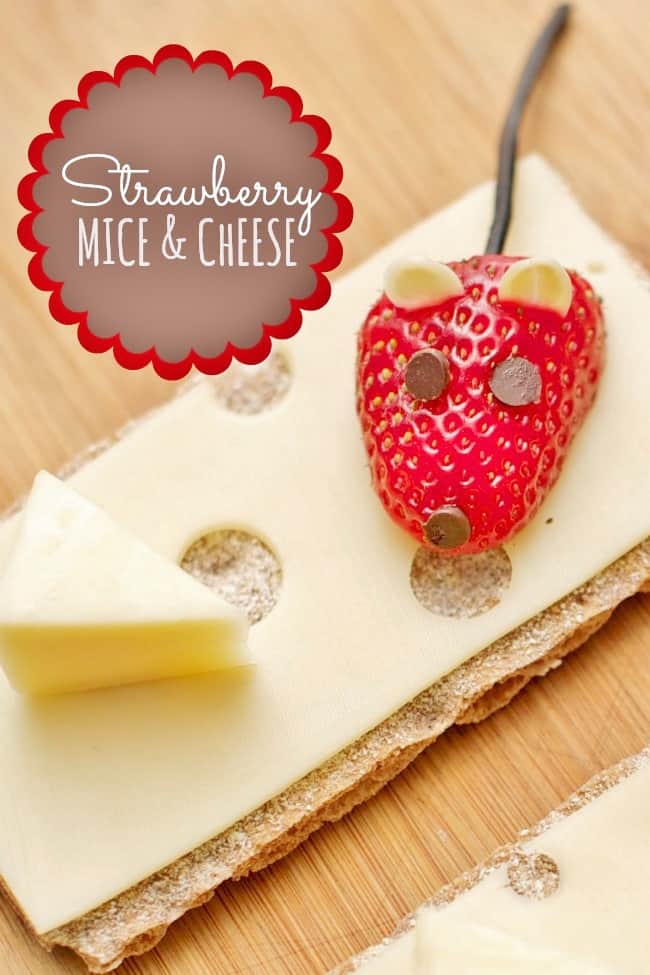 Mmmm doesn't this little strawberry and cheese mouse look delicious? You can easily pair this healthy snack idea for kids with children's books like Geronimo Stilton: The Curse of the Cheese Pyramid (ages 7-10), Mouse Soup (ages 4-8), or The Little Mouse, the Red Ripe Strawberry, and the Big Hungry Bear (board book)!
Ingredients Needed:
crackers (Wasa crackers work great but any kind will do!)
Swiss Cheese
strawberries
mini chocolate chips (3 per mouse)
1 long black licorice string
almond slices (2 per mouse)
small wheels of Gouda cheese (or cut into triangles)
Directions:
1. Cut a thin slice of Swiss cheese (with holes!) to fit the size of your cracker. (Wasa crackers are great for this but you can use any kind, or even bread or graham cracker if you have it!)
2. Cut off strawberry leaves and about the bottom 1/3 of the strawberry so that your "mouse" will sit flat on the cheese.
3. Insert your black licorice string tail under the back of the strawberry as seen above.
4. Lightly press in a mini chocolate chip pair of eyes and a nose.
5. Carefully stick in two almond slices – one on each side on top for the ears.
6. Cut a small wedge of gouda cheese (or whichever cheese you prefer).
7. Arrange your "mouse" and wedge of cheese on top of the Swiss cheese and cracker!
If you loved this strawberry mice & cheese idea you may love our Candy Mice recipe too! And this Great Balls of Cheese book is awesome for your older kids who want to try their hand at making decorative food!