Fiesta Stuffed Mini Peppers with Sausage Skillet Recipe
This post may contain affiliate links, view our disclosure policy for details.
Disclosure:  This post is brought to you courtesy of Hillshire Farm® but all the opinions and content are mine.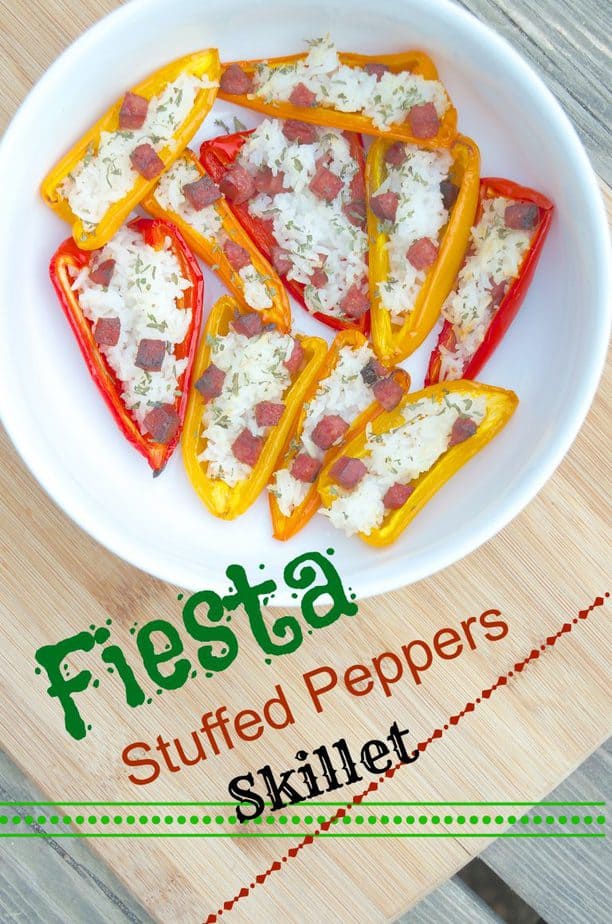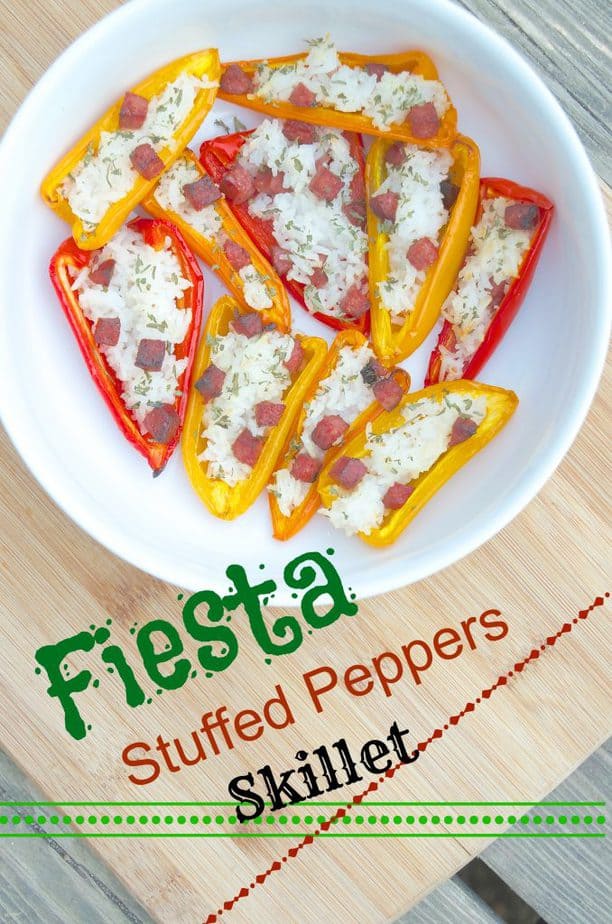 You know that feeling after a long cold winter when the air is starting to warm up and you can ALMOST smell spring? That's me right now and with spring break less than two weeks away I am getting ANCY! Ancy about everything. I want to start re-organizing the mess from the winter. I want to make sure my kids get out of their rut of eating the same thing for school lunches every day that we've been stuck in. And I want to toss up our dinners a bit and try some new things since we've fallen into the "eat the same old thing" routine. I'm ready for a fresh new season! Lately my husband has been eating those fabulous mini peppers with everything so I thought it would be great to stuff them and add his favorite Hillshire Farm® Smoked Sausage into the mix!

I needed to go to Target anyways and for me they have the best selection of things where I live. My husband has a sausage obsession and I like that the Hillshire Farm® Smoked Sausages are already cooked so I just have to warm them up (or pan fry them!) which makes my job a whole lot easier! In fact his family even makes their own homemade Russian sausage recipe that's been passed down for generations but I still prefer Hillshire Farm®! I decided to buy the smoked sausage which is my favorite but for my hubby I also got someHillshire Farm® Beef Polska Kielbasa Sausage too.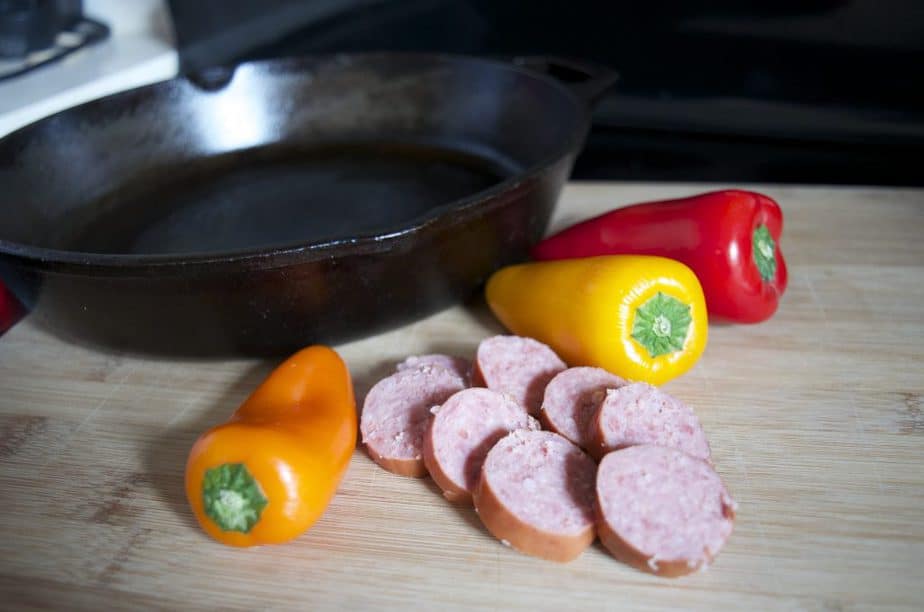 Unlike most of my recipes this one requires a little bit of prep time but is totally worth the wait! We are very fortunate to have a burner attached to our grill so we can use our cast iron pan outdoors too! This is also a great camping recipe! To make these delicious Fiesta Stuffed Mini Peppers you'll need:
1 Cup of Jasmine Rice
3-4 cups water
1/2 half of Hillshire Farm® Smoked Sausage
1 tsp. lime
fresh cilantro or dried basil
Mini Peppers
Cast Iron Skillet
optional: shredded cheese
Start by adding 1 cup of jasmine rice (or whatever rice you have on hand) and 2 cups of water into your cast iron skillet and cook until almost done. Don't overcook! While your rice is simmering slice up your Hillshire Farm® Smoked Sausage and then dice it. I cut my slices up 2 x 2 which was the perfect size.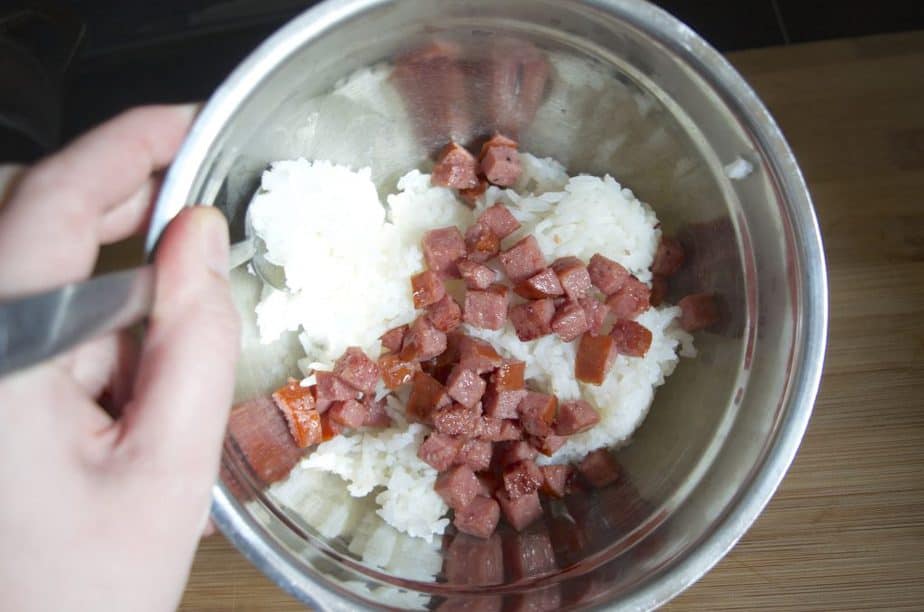 Once your rice is mostly cooked dump it into a separate mixing bowl, real quick pan fry your diced Hillshire Farm® Smoked Sausage then add that into the mixing bowl of rice. Mix in 1 tsp. of lime juice and if you are adding fresh cilantro this is the time to add that in! (I used dried basil which I sprinkled on top after I stuffed my peppers.) If you're worried about your rice being too dry you can add in a heaping spoon of butter or cream cheese if desired but I didn't do that.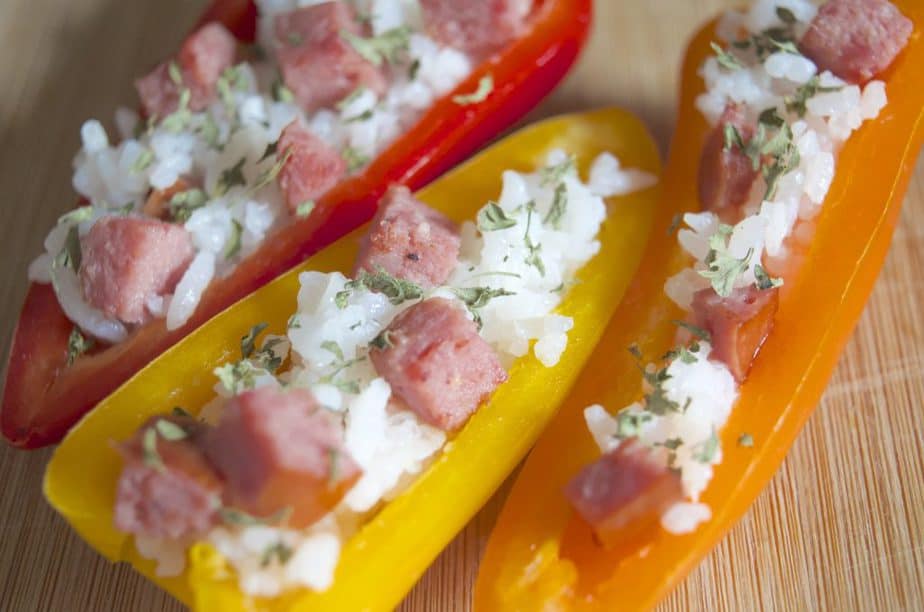 Slice each of your peppers long wise and carefully cut out any stem and seeds. Using a spoon scoop your sausage and rice mix into each pepper and sprinkle on dried basil if desired. Line them up inside of the cast iron skillet you just used and when all your peppers are in the skillet pour about 1/4-1/2 cup of water in the bottom of the skillet and place a lid over the top. Cook until your peppers are nicely steam and then you're ready to serve!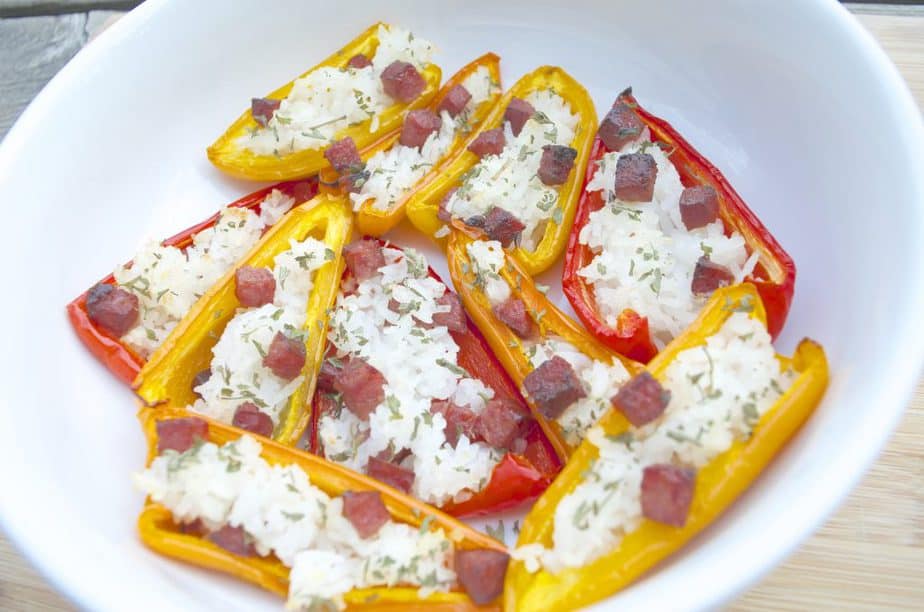 The hardest part is deciding which color pepper you want to eat first! I LOVE the extra dimension of flavor that the Hillshire Farm® Smoked Sausage added to my stuffed peppers! PLUS I saved 20% using my Cartwheel app at Target!
If you don't know what the Cartwheel app is download it right now! Just don't even ask – do it! Ok, really though, it's Target's savings app where you can add "coupons" into your cart like you see above. Just click ADD, and voila, when the cashier scans your barcode on your phone all the savings are automatically added to your receipt!
This is a sponsored conversation written by me on behalf of Hillshire Farm®. The opinions and text are all mine.