Beef Recipes – It's What's For Dinner for the Holidays
This post may contain affiliate links, view our disclosure policy for details.
This post is funded by The Beef Checkoff and brought to you by The Motherhood. All opinions in this blog are my own.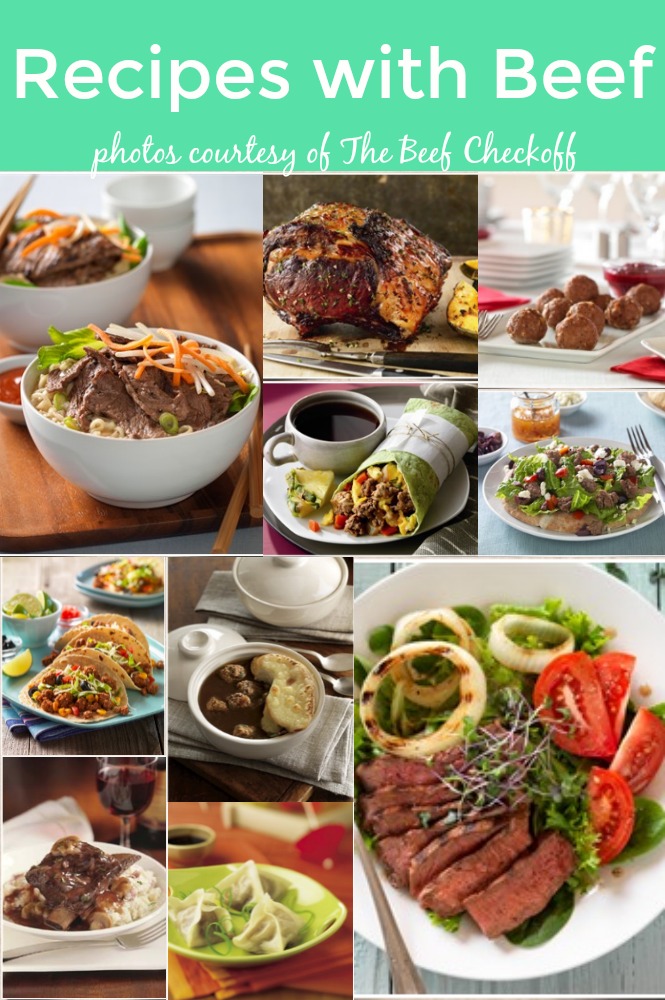 It has been FREEZING cold here in the Midwest this month but thankfully I finished all of my holiday shopping early on. I even wrapped my presents weeks ago! And that leaves me a lot of time to plan holiday meals and quality time with my family around the table. I love trying out new recipes and beef prices have been falling which means my kind of bargain! (They are down nearly 10% from the highest prices in late 2014!) 
You have to

check out this recipe guide

full of easy versatile dishes that are perfect for any occasion!
Every time I go to the grocery store I walk past the meat section and specifically look for sales on roasts, steaks and ground beef – some of our family's favorite! When I see a good price on them I stock up – and I stock up big! We actually have two chest freezers since I also freeze veggies from the garden for the year which leaves me plenty of room to fill up my cart with beef! I always make sure to buy a variety so I can make as many different meals as I can!
TIP: Make the meat department your last stop in the grocery store and if it will take you longer than 30 minutes to get home consider keeping it in a cooler in your vehicle!
This Maple Glazed Roast with Roasted Acorn Squash looks DELICIOUS and so simple to do! Visit The Beef Checkout for this recipe and others like Citrus-Marinated Beef and Fruit Kabobs or Braised Short Ribs with Red Wine Sauce and Beef Stuffing with Apples and Cranberries.

TIPS:
*Once you're home, refrigerate or freeze beef as soon as possible after purchasing.
*Always place beef packages on the lowest shelf in your refrigerator on a plate or tray to catch any escaping juices.
*For best quality, thaw steaks and roasts in the refrigerator—never at room temperature—and be sure to place the frozen package on a plate or tray to catch any escaping juices during the thawing process. Check out these refrigerator and freezer storage guidelines to ensure maximum quality.
Confused about which roast to buy? Visit the 

Interactive Butcher Counter

 for a variety of options – you pick which beef cut fits your needs!