Feeding our Zoo – A Family Fun Night #iLovemyK9
This post may contain affiliate links, view our disclosure policy for details.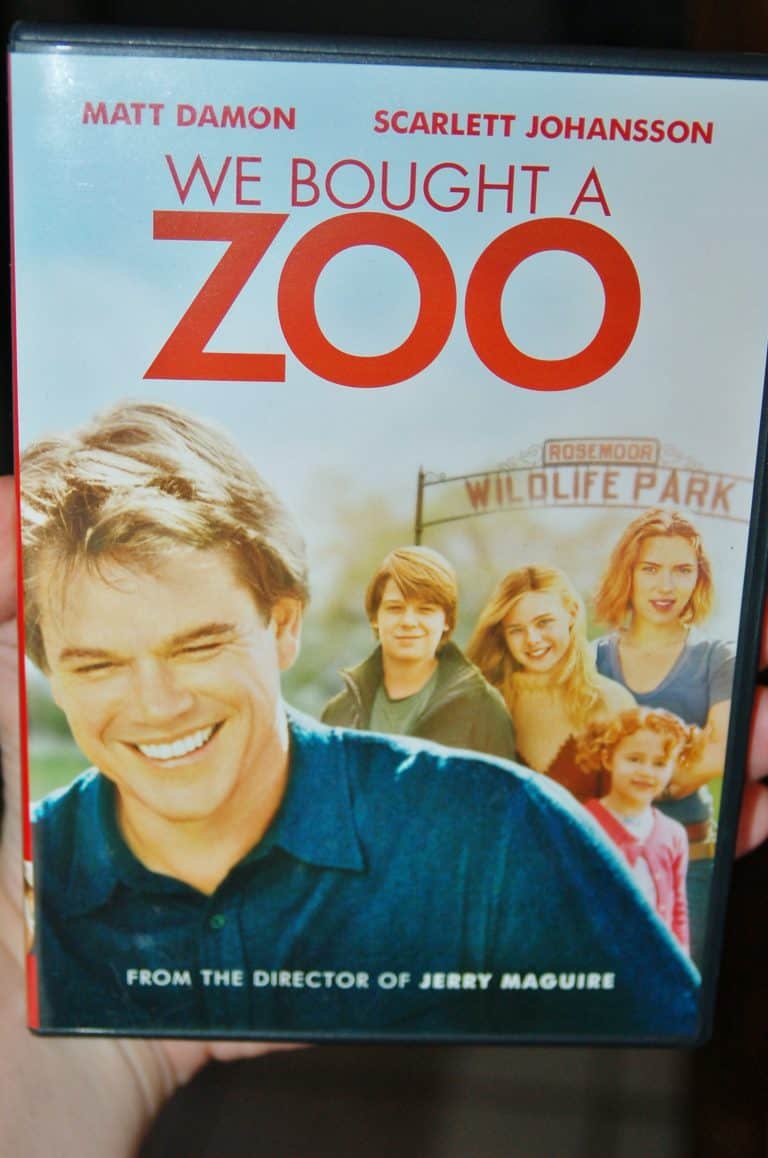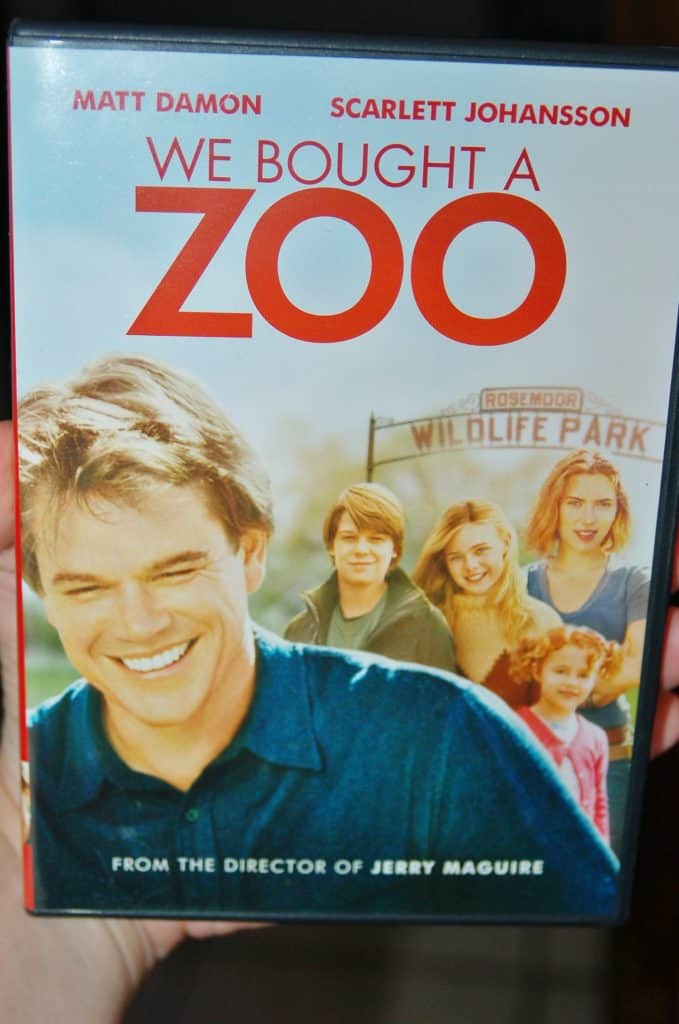 Have you seen We Bought a Zoo? It's a really great movie! (You can watch the trailer here.) I had seen the trailer but had not had the chance to watch it until we bought the movie yesterday at Walmart – it was only $14.96 which I was surprised at for a brand new movie! We really wanted to participate in this opportunity because we just love family fun nights and our house feels like a zoo….well, just about every day!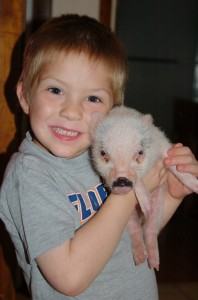 For our activity we bought "We Bought a Zoo" for hubby & I to watch at night, we bought treats for the cats & pig, and wanted to make an upside-down peach cobbler cake for the kids! So we headed to Walmart yesterday to load up on our supplies!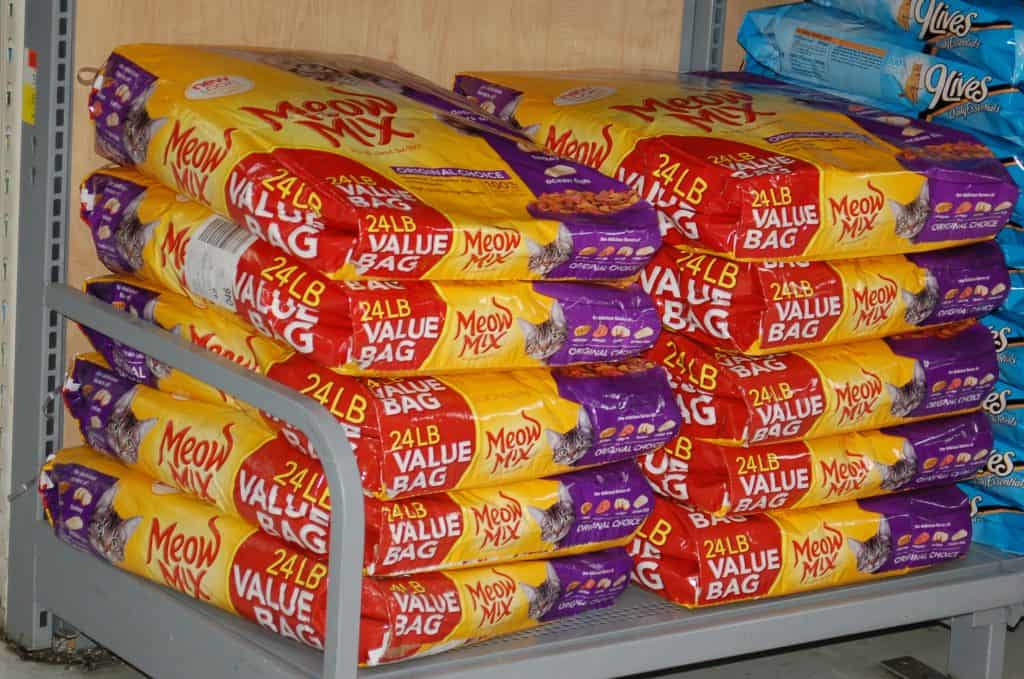 We had heard that the Del Monte pet products (such as Kibble n' Bits, Meow Mix, etc.) was supposed to have a $4 off coupon attached to them to use towards the purchase of "We Bought a Zoo" but we couldn't find the coupon. As you can see though there was plenty of cat food! We were almost out anyways so we bought 2 bags. Plus we bought a few single Meow Mix food cups as treats for our 2 cats who very rarely get treats. Unfortunately Walmart didn't have any pig treats though! Del Monte pet products are being featured in the Women's World magazine as well as the Parade magazine. Plus their is a $.50 off coupon in the First for Women magazine for the Del Monte fruit cups!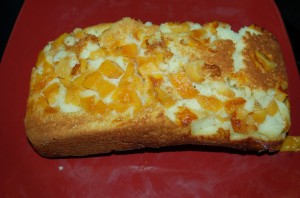 We also decided that we wanted to make an upside-down peach cobbler cake but were on a pretty tight time crunch. This week my kids had 2 Easter parties plus my son's birthday party that I was planning for so I wanted a really quick recipe. We used a box of pound cake mix that I had at home and grabbed a thing of Del Monte fruit cups. I settled on the Cinnamon & Brown sugar flavor! It was REALLY good! My kids loved it and my husband, well, his didn't last long either!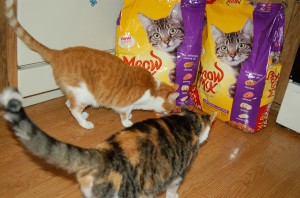 You can see that my cats were thrilled to receive their treats! All I had to say was "tunafish" and they came running!!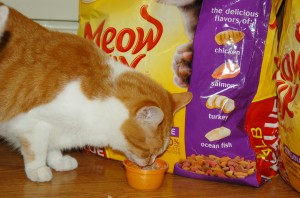 My husband & I had a great date night at home watching "We Bought a Zoo". It was a fantastic movie and we really enjoyed watching it. Even cooler is that it is based on a true story. The funny thing is that I can totally see our family doing something like that. If you haven't seen the movie or watched the trailer the premise of the movie is that the main character's wife has died and then he loses his job and his son gets kicked out of school all at once. In an effort to save his struggling family they move to try a fresh start, except that the property they fell in love with was literally a zoo. A run-down zoo! I loved it – especially Buster the bear! It's an inspiring movie that shows the difference persistence and love can make – and how only 20 seconds of insane courage can change your life. If you haven't seen it you should at least rent it to watch – it was worth seeing and I'm glad we own it now!
You can check out my Google+ Photo album here!
Disclosure: This shop has been compensated as part of a social shopper insights study for Collective Bias. #CBias All opinions are my own.