Cuisinart Countertop Grill & Griddler + OXO Goodies!
This post may contain affiliate links, view our disclosure policy for details.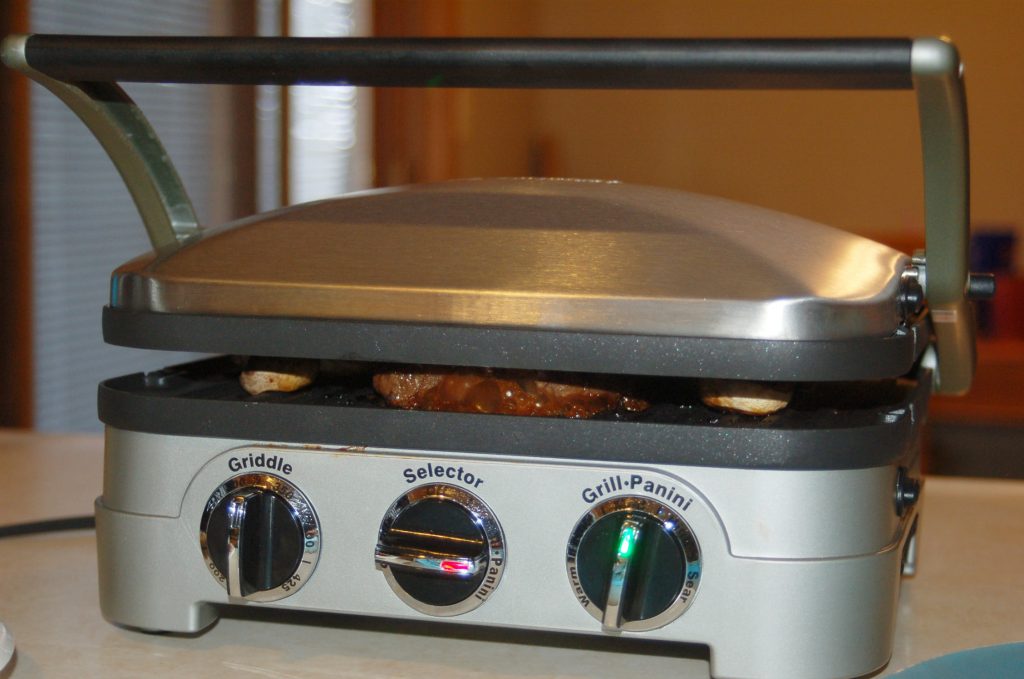 While at BlogHer the fabulous Best Buy team let me know that I would be receiving this AMAZING Cuisinart Countertop Grill & Griddler
– and let me tell you that when I told my husband what we would be getting he was just starry eyed. He is ALL about these types of appliances – I, however, wasn't so sure I would actually use it. We received so many appliances when we were married 8 years ago and most of them either sit in a closet collecting dust or I've already gotten rid of it. I certainly don't have time for little specialty appliances. BUT I knew my husband would be happy so I went along with it!
When we actually received our Cuisinart Griddler, however, I was impressed with the shiny reflective new appliance sitting on my countertop. Now what was I going to do with it? When we moved from Florida to Iowa a few weeks ago we had to leave our grill behind so my husband wanted to grill steaks.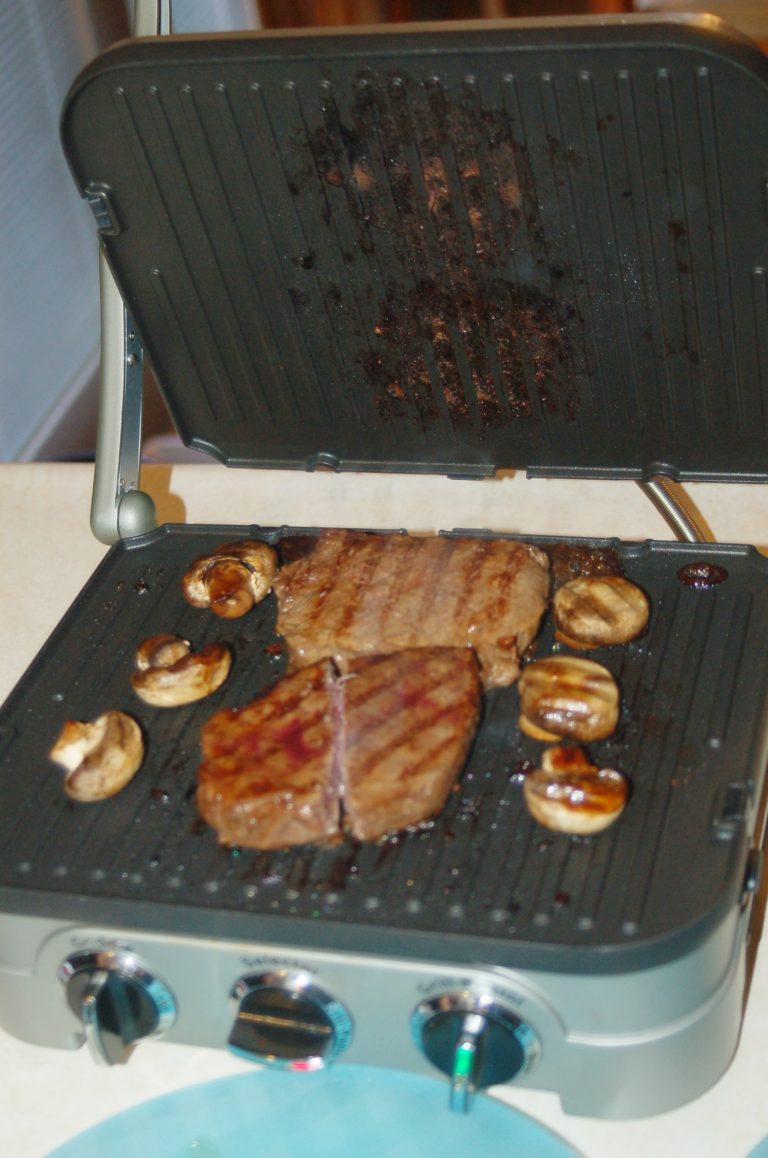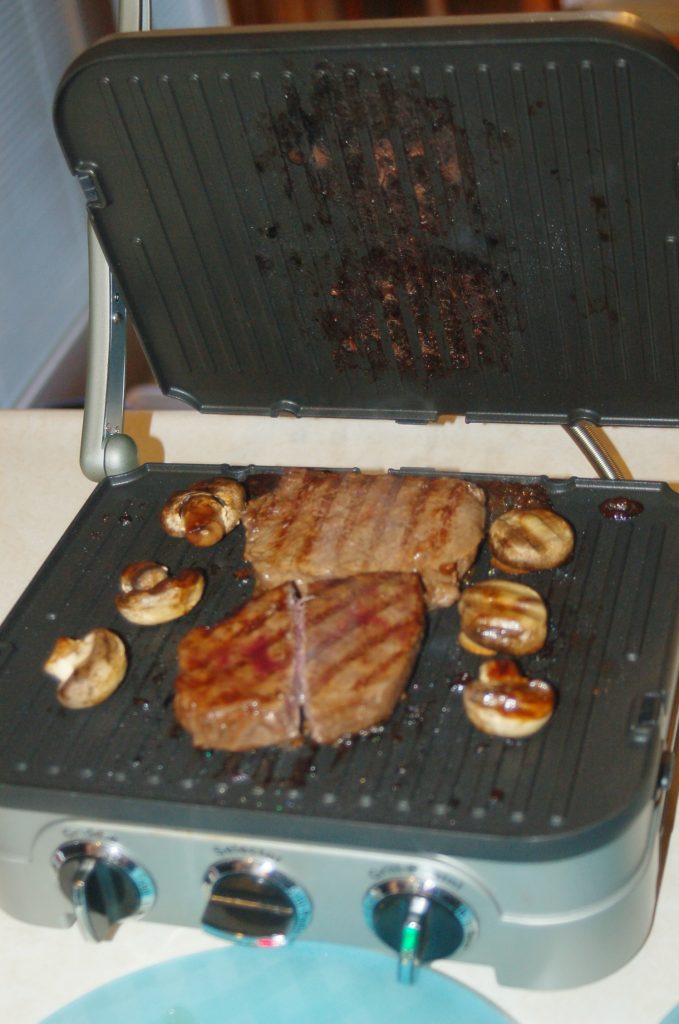 WHAT? You can actually GRILL our steaks on this? Now I was getting interested! Sure enough – we pulled out our steaks, sliced up our peppers, onions, mushrooms, and everything else I could think of to throw on the griddler! I was thoroughly impressed….and slightly hooked. So when my kids asked for hot dogs I turned on my griddler and got the kids their drinks…..by the time I was finished getting their drinks the hot dogs were ready! It seems to me that I can get them warmed up and grilled as quick as our microwave – yet tastier!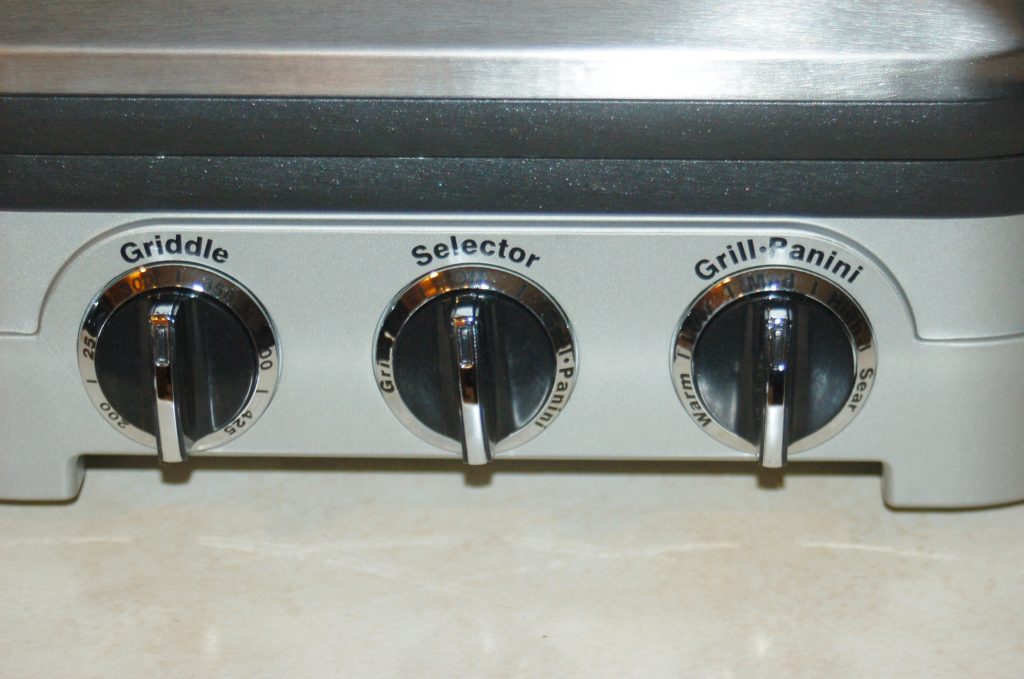 This beautiful Cuisinart Griddler now lives on my countertop – I refuse to put it away! To turn it on I just make sure my settings are right, then twist the Selector button in the middle to whether I want it to grill or griddle, walk away for a few moments, and it's ready! So the next morning, the aura of excitement still lingering, we decided to make homemade pancakes using the griddler part of this appliance. There are 2 easy press buttons (one on each side) of the appliance that you press and the plate pops right out. You just flip it over to the other side and pop it back in. It is incredibly easy to do.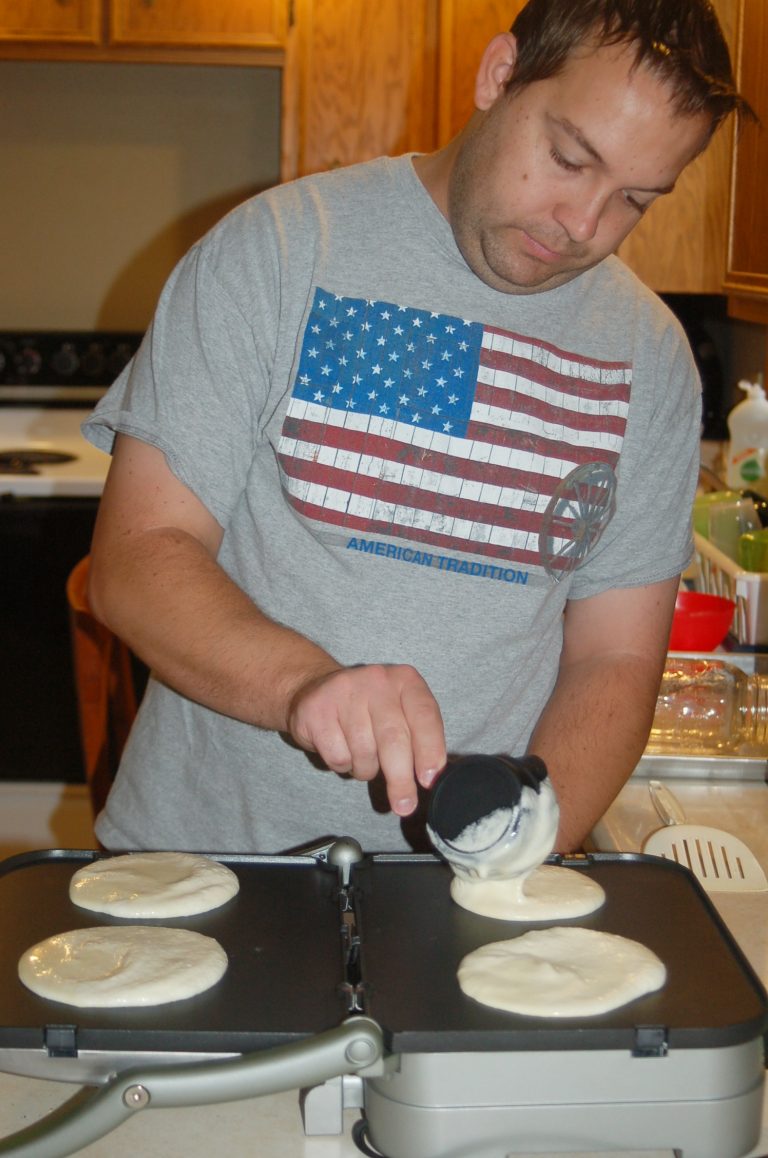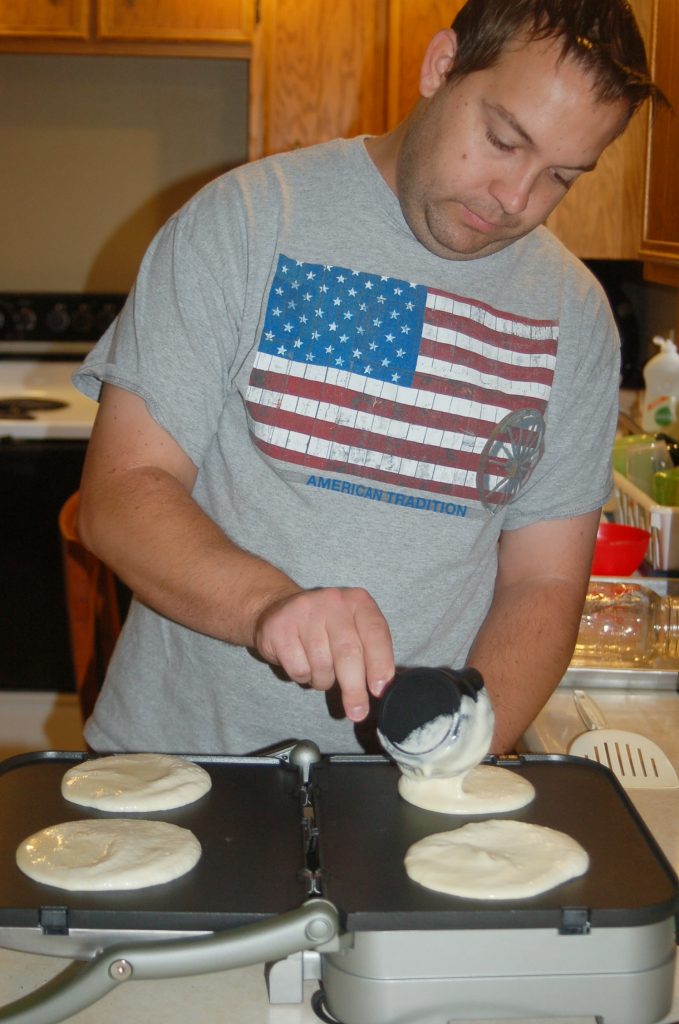 Look – I can't make 4 pancakes at a time in my frying pan! I was sold by this point – I absolutely LOVE our griddler! PLUS they make waffle plates that you can purchase separately to go with the machine. The waffle plates are on our Christmas list! (one more appliance I can make disappear – our old waffle maker!)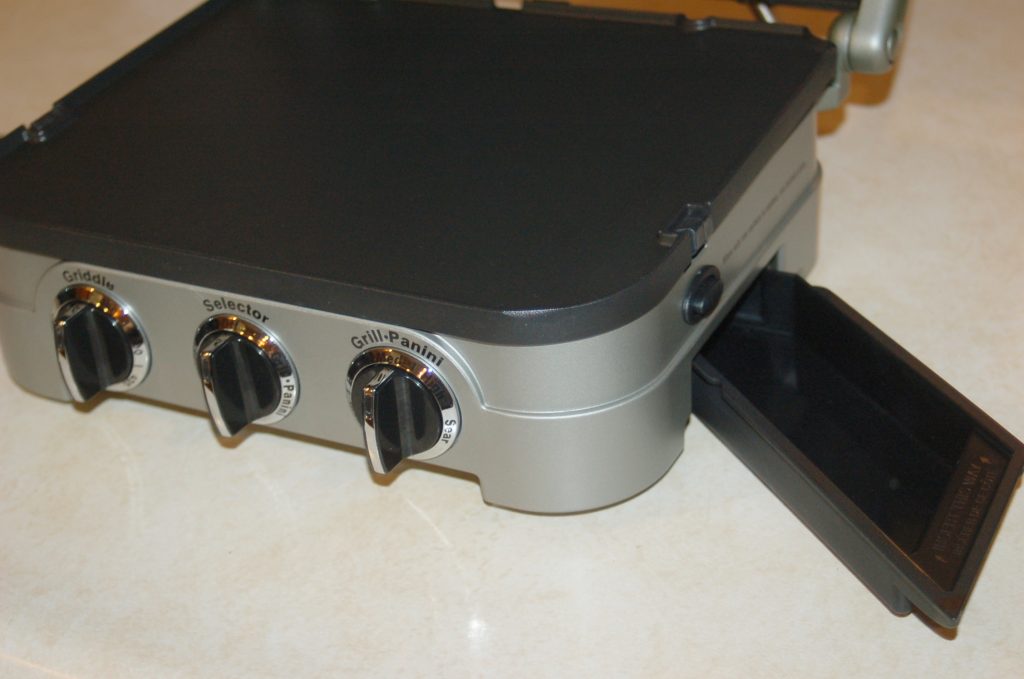 Above you can see the loooong drip pan that pops right out of the side, and just above it you can see one of the buttons that you press to pop the plates off. Below you can see what the griddler looks like opened up with one of each plate showing.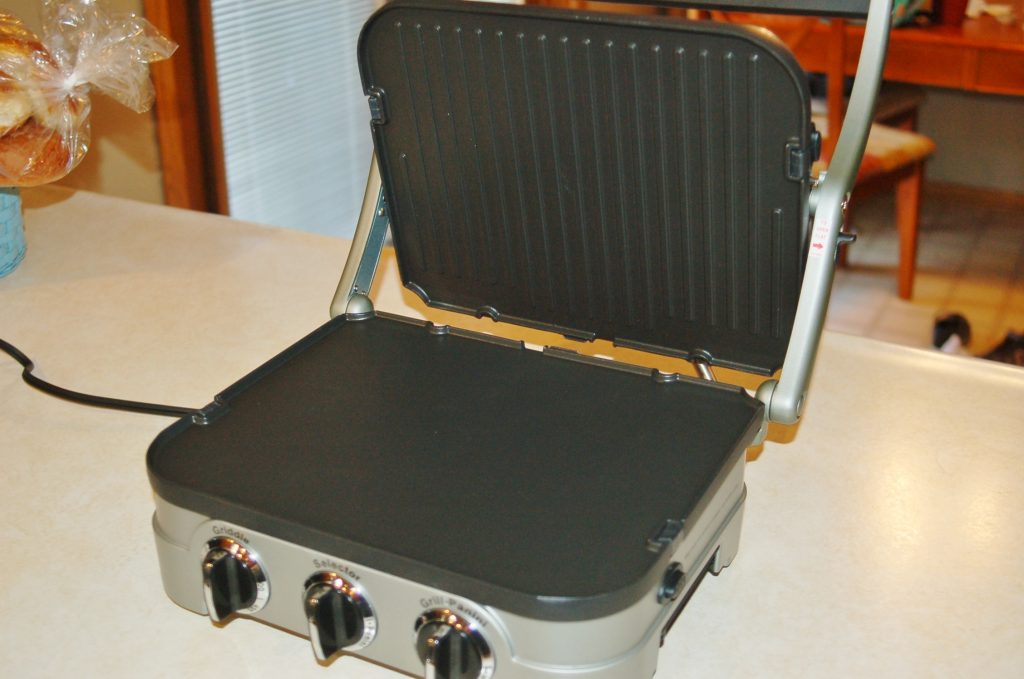 Surprising Things I Learned About our Cuisinart Countertop Grill & Griddler:
It is surprisingly LIGHT. (I thought the box was empty when I received it!)
It is EASY to use and remove plates.
The drip pan is HUGE and couldn't possibly overflow on us.
The clean up is SO EASY! (Most of the grease & burn just fell off in the water without scrubbing!)
You can grill or griddle just about anything!!
It doesn't take up much counter space but it plenty big for our meals. 
You can warm up and cook just about anything – how about some warm cookies? A fabulous steak dinner? Paninis? Hot ham & cheese sandwiches? Quesadillas? Fajitas? Porkchops? Pancakes? Brats? No problem! We are thrilled with our new griddler and I highly recommend it. I don't really have any cons about it and all of the reviews I've seen are also very good. In the long run I'm sure that the chrome will get spotty if we don't clean it right away but we haven't had it long enough to find out. So far it looks just as nice and heats up VERY quickly!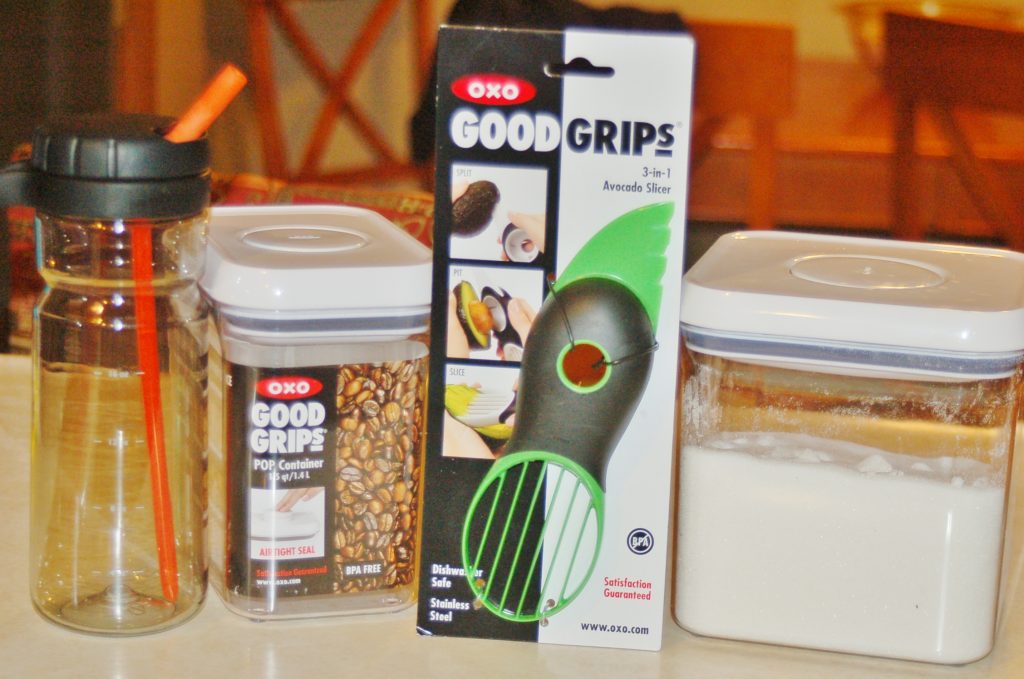 In addition to our new totally addictive but amazing Cuisinart Griddler I also received some fabulous OXO brand products from Best Buy that I had absolutely NO idea that you could buy there! Did YOU know that you could buy kitchen gadgets at Best Buy? That was new to me! I received several things, but above is shown two OXO airtight storage containers, and a 3 in 1 Avocado Slicer. (I also received a Cocktail Shaker and Fat Separator.)  I LOVE the storage containers – you just press on the top button and it pops up releasing the top. Right now I have sugar and popcorn kernels in my containers. My husband is an avocado nut and obsessed with his new little gadget from OXO which cuts, pits, and slices avocados, and my entire family is trying to steal my OXO water bottle!! Even my 5 year old keeps sneaking it when he can reach it! I don't even know why we love it so much but we do! It's VERY thick and sturdy, the top twists to expose a straw to drink out of, and there is a handle on the top on one side for easy holding or to clip to a carabiner.
All of these products are certainly the nicest household items that I've received in a VERY long time! I love the versatility and quick heating ability of our griddler. I LOVE the high quality and durability of our OXO products. I am so happy that Best Buy is carrying these items! Now I have something to look at in the store while my husband shops around for his stuff! I can't wait to check out what else my store has! Unless we are cooking for a large group of people our family has no need of a grill now – our Cuisinart Countertop Griddle is by far good enough for us! It's also MUCH more convenient and easier to clean up after!
Disclosure: I received products in exchange for an honest review. No monetary compensation was exchanged. All opinions are my own. I blog with integrity.