Coding Toys for Kids: Code-a-Pillar by Fisher Price Review
This post may contain affiliate links, view our disclosure policy for details.
The reviewer has been compensated in the form of a product for free.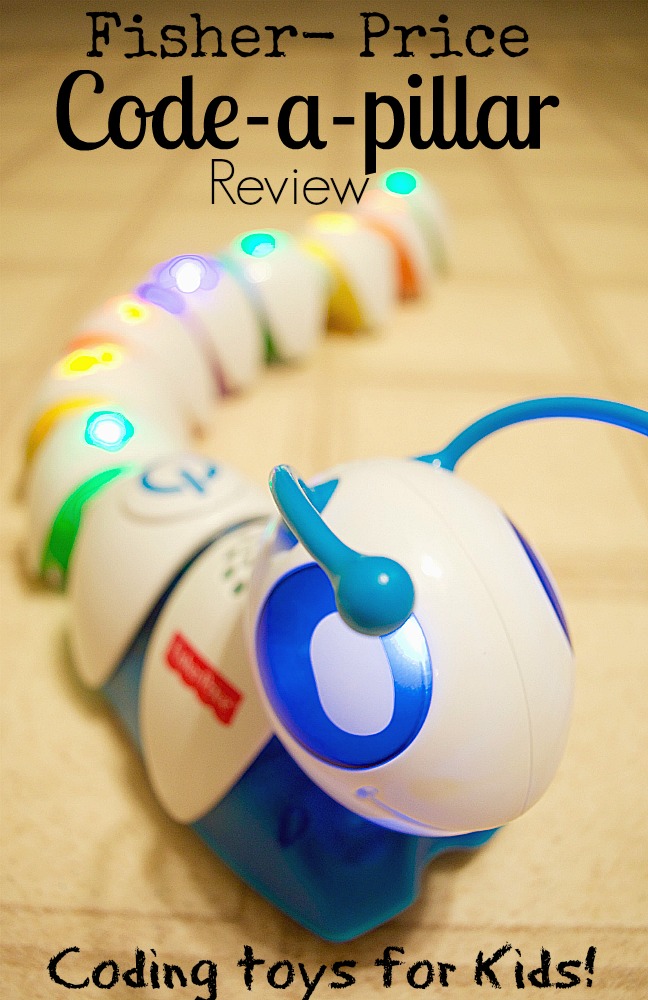 I've worked with Best Buy many times in the past as an ambassador but I have to say – this review has been one of my favorites! Nothing gets me more excited than kids toys! An educational kids toys hit the top of my list! This fall Fisher Price is launching a brand NEW coding toy for kids (geared for ages 3-6) called the Code-a-pillar
. Maybe you've seen a little bit of the buzz on social media about it already. I have to say it has absolutely lived up to it's buzz! I'm highly impressed with this awesome (and yet so simple!) coding toy for kids.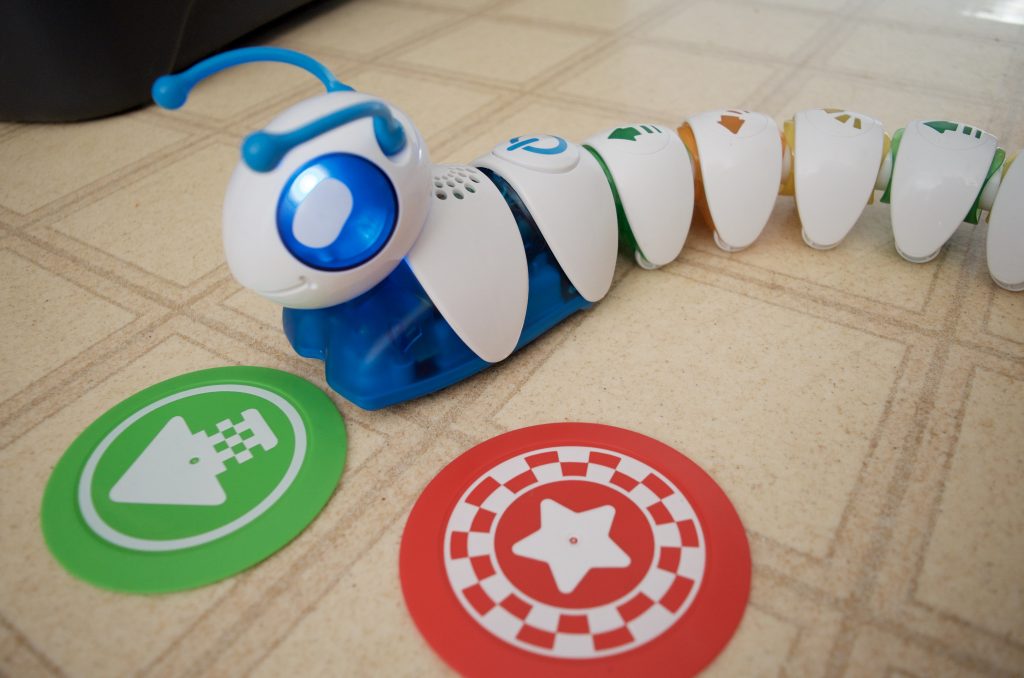 Especially the past 2 years we've reviewed a lot of coding toys and robots geared for kids but never have I reviewed such an easy coding toy for YOUNG children specifically. In fact this Code-a-pillar is SO simple to use in fact that my daughter, who is 19 months old, can use it! (Although in another year she'd be in a better range for it!) Right off the bat your little ones will be able to not only decide what they want their Code-a-pillar to do but they'll see the immediate "cause and effect" of their choices. It comes with the coding caterpillar as well as a red and green disc.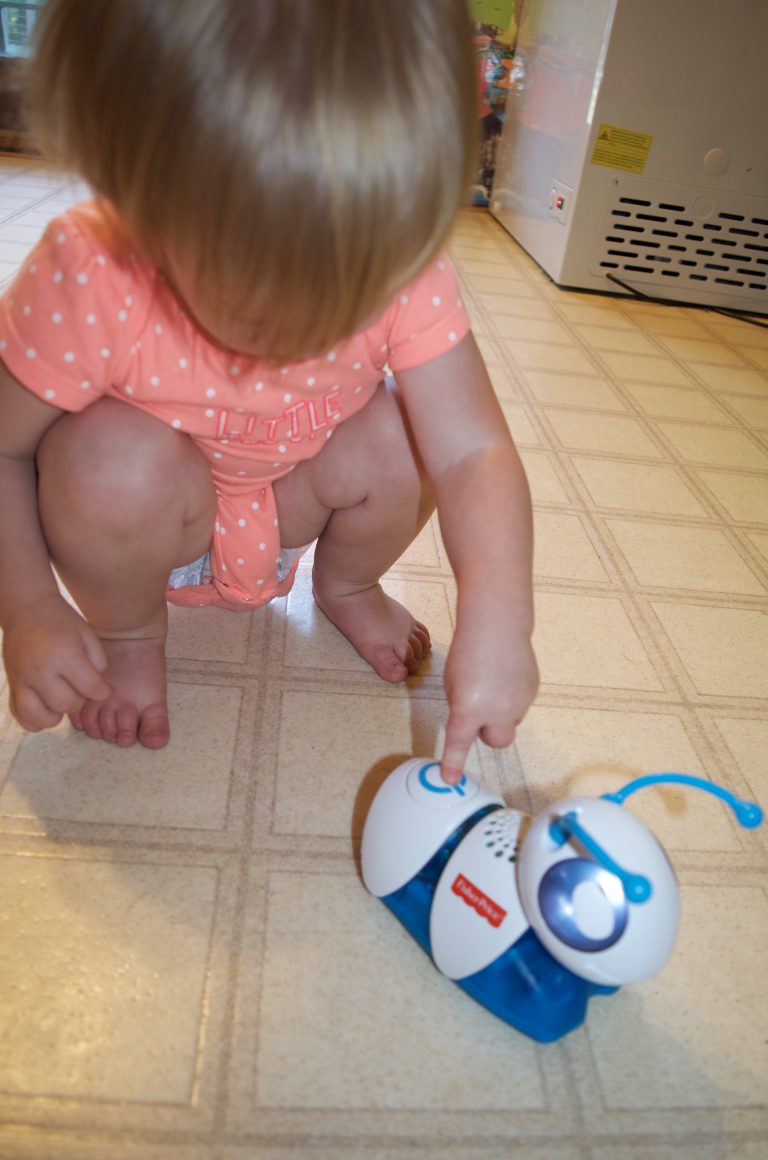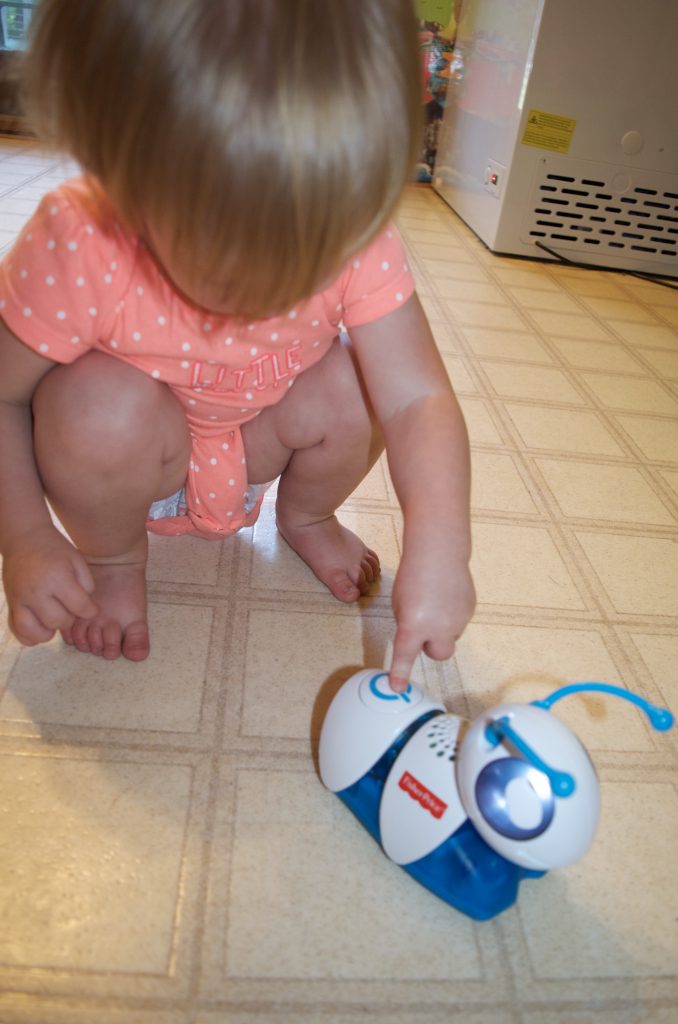 Each section of the Code-a-pillar detaches and reattaches via a simple USB port. On the top of each section you'll see a coding command such as forward, turn, music, etc. and the Code-a-pillar will play through the codes in the order the child has placed them. As each code is followed through it will light up so you can see which step it is on. If the Code-a-pillar runs into a wall or object it will stop automatically and be restarted simply be pressing the power button you see my daughter pressing in the photo above.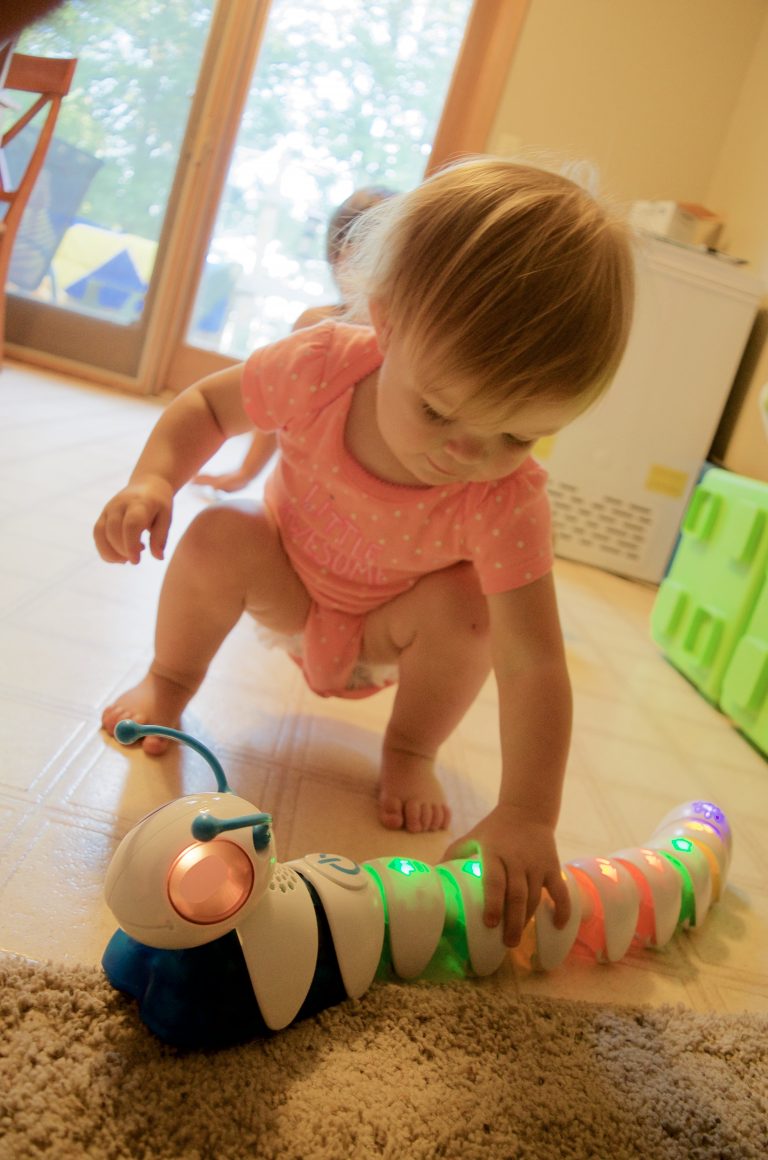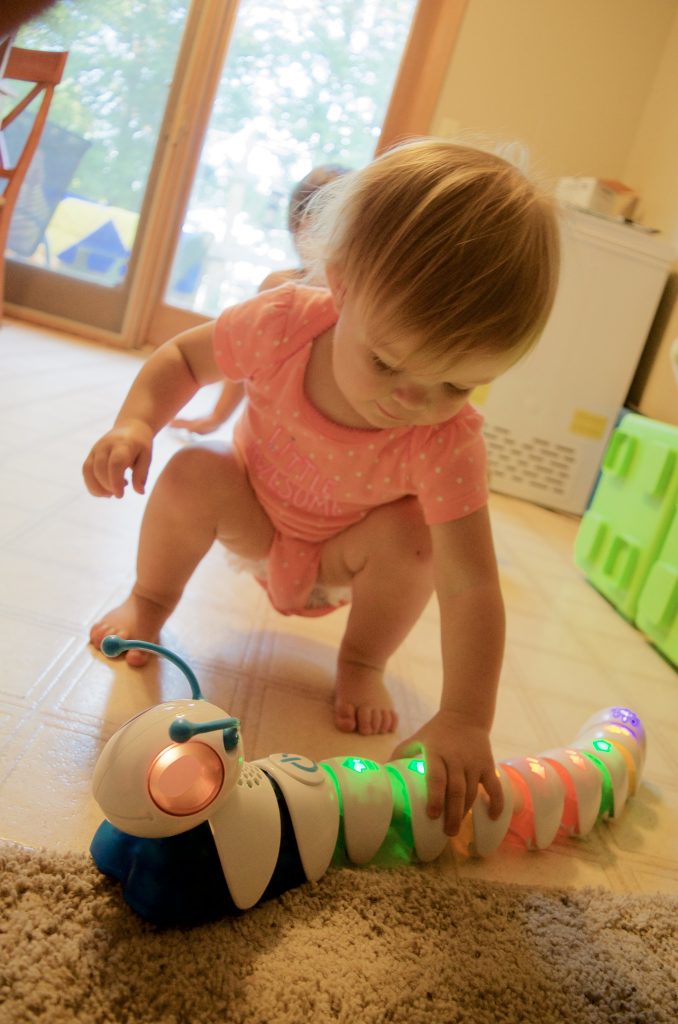 *NOTE – this toy does NOT run on carpet! It is meant to run on hard surfaces!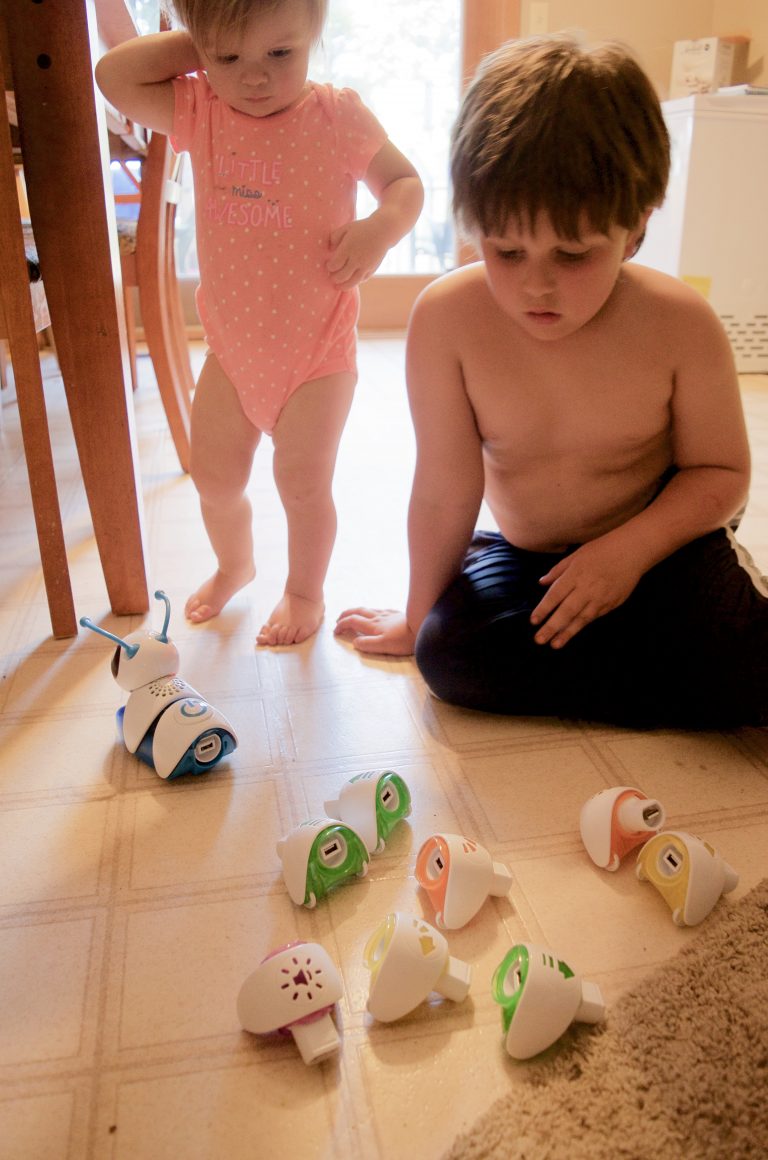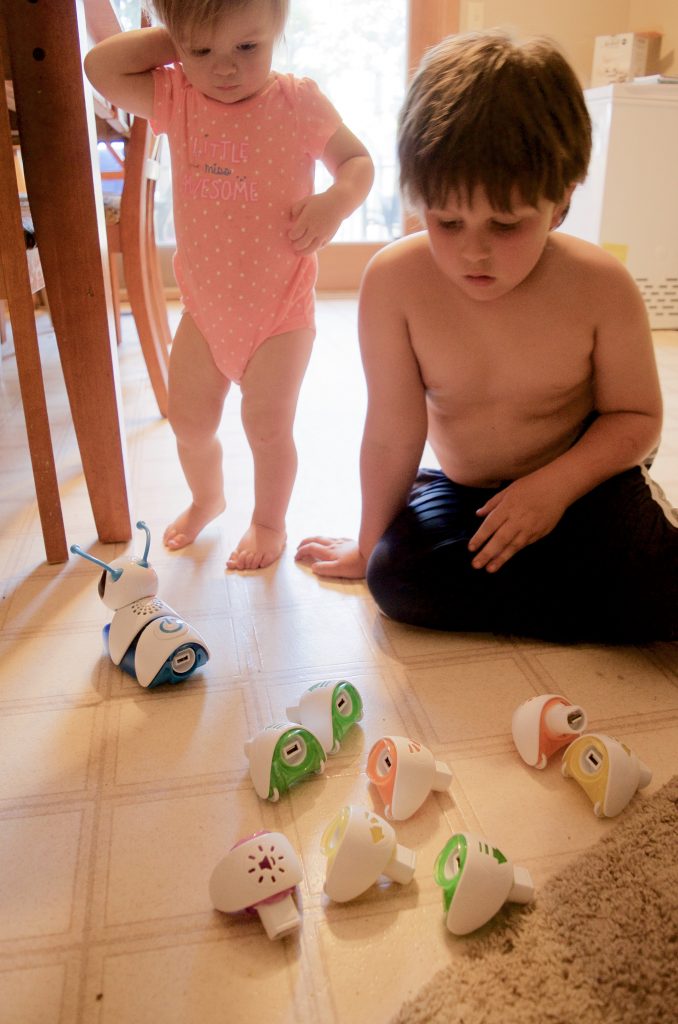 Here you can see all of the sections pulled apart. Code-a-pillar not only captured my daughter's interest but my 7 year old is hooked on it too! It was amazing to see the two of them – with such a huge age gap – sit for over an hour together and play with this coding toy!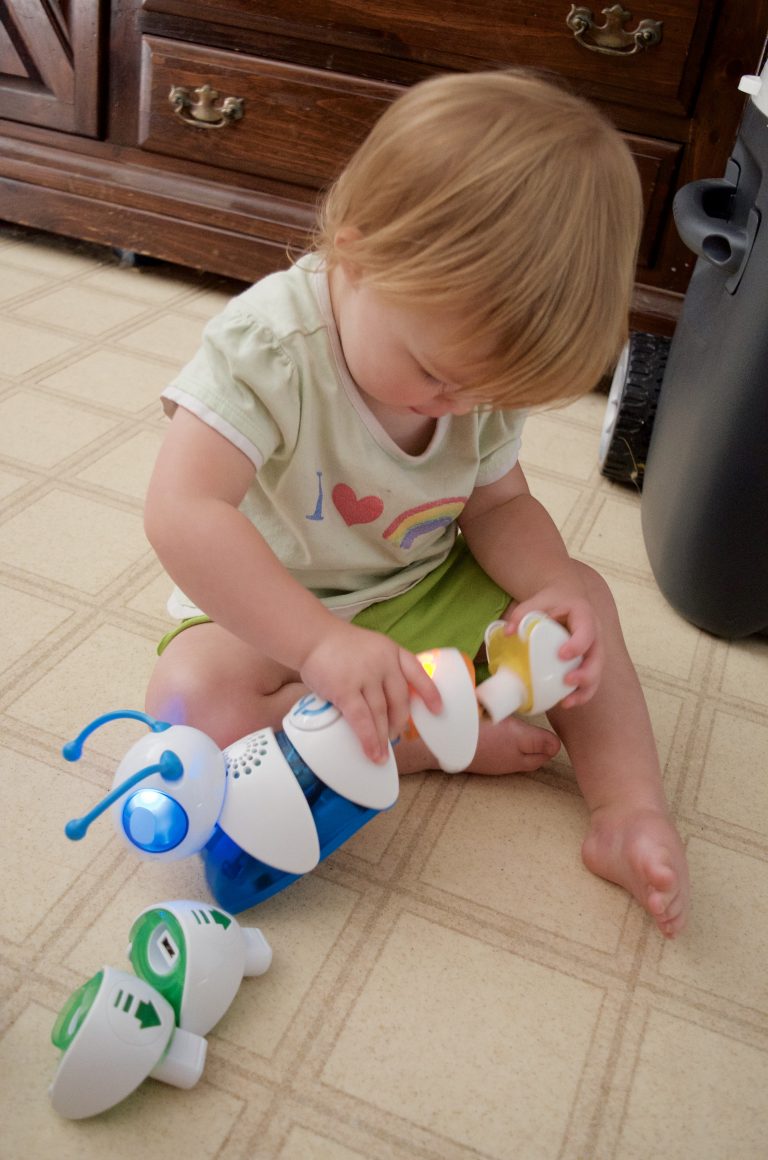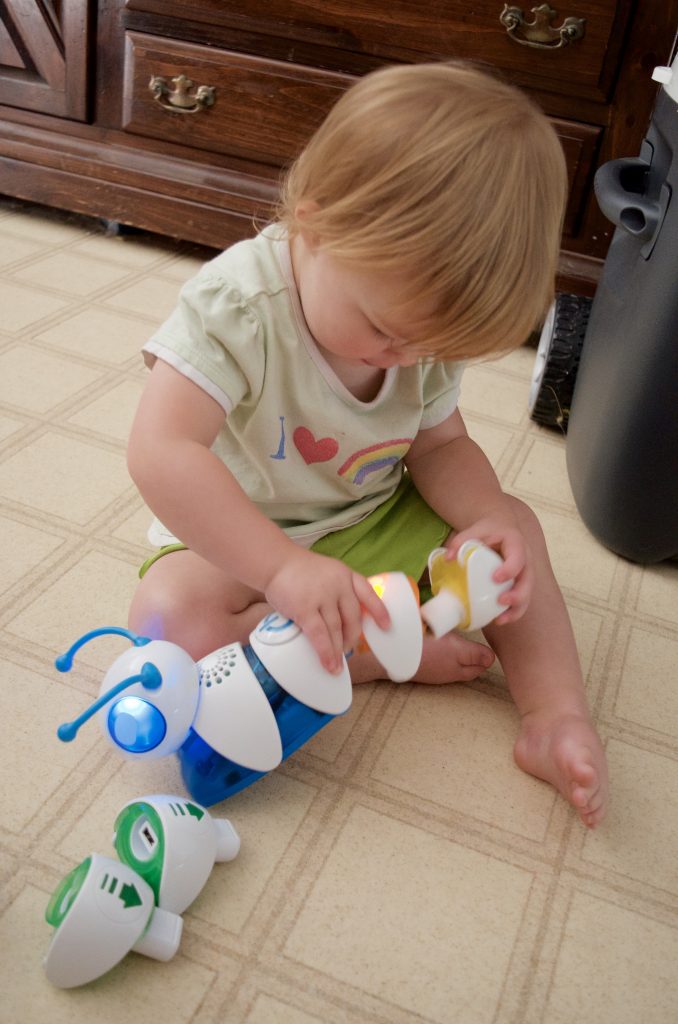 Although my daughter is younger than the age range she definitely enjoys this coding toy. In fact my 7 year old son already has requested to buy the expansion packs to add more pieces to "his" Code-a-pillar. The initial set comes with plenty however, including 1 sound segment, 3 straights, 2 right turns and 2 left turns. And of course the 2 destination targets I mentioned and the motorized head.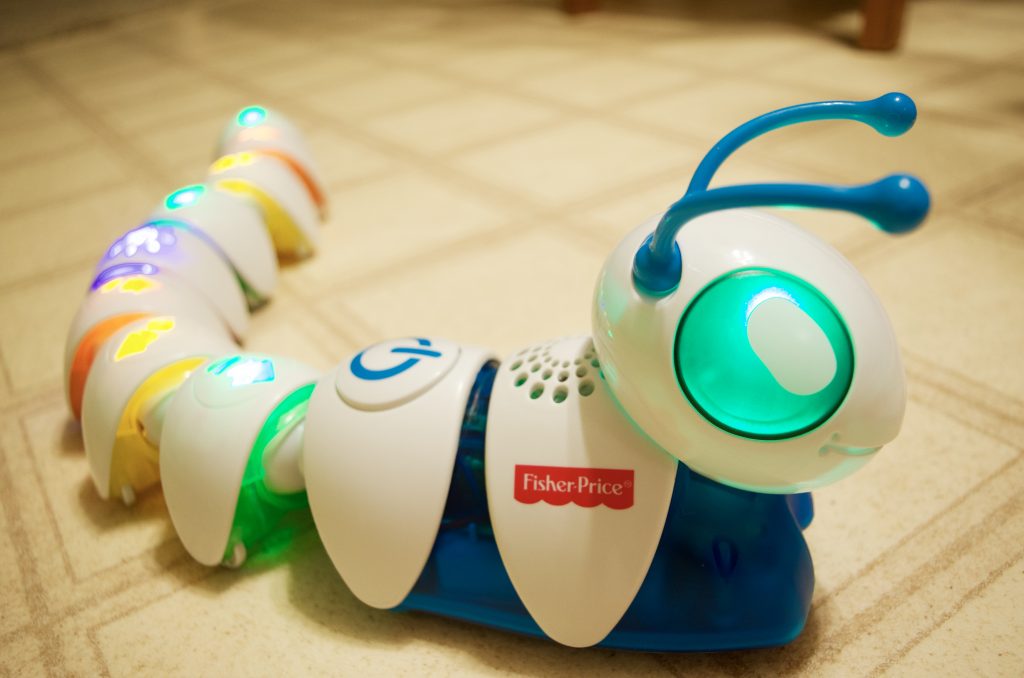 As the child adds a segment onto the Code-a-pillar
the button on the back lights up so you know that you have attached it properly. It's extremely easy to put into place which works great for hand eye coordination. I'm really impressed with this coding toy and with a retail price of about $50 it's affordable for preschools and families who want to introduce coding toys to their kids.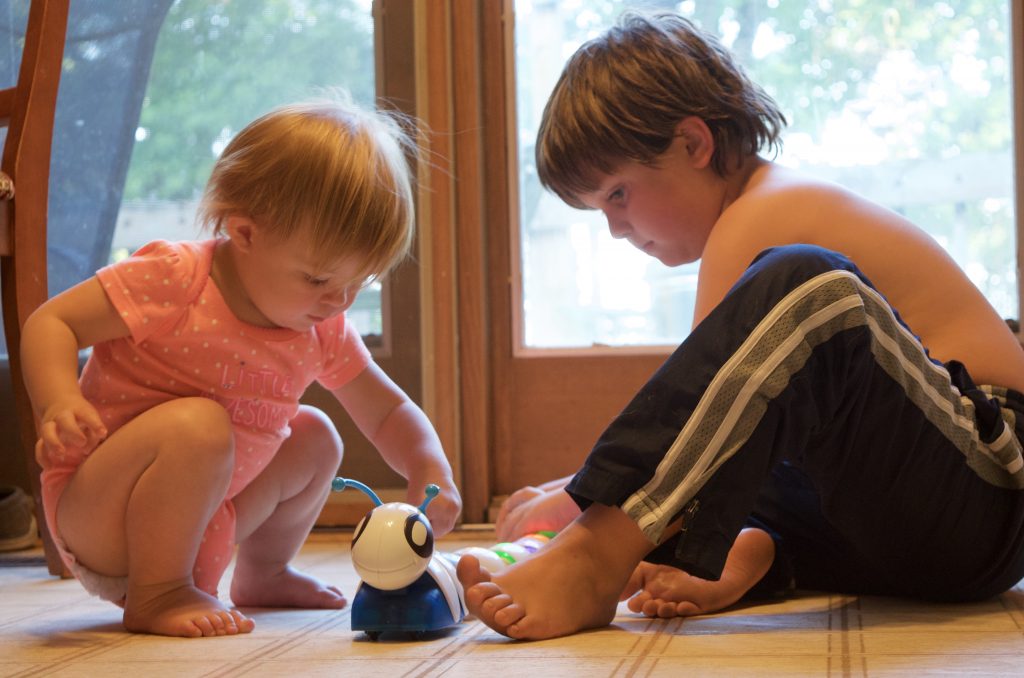 Although we've only used our Code-a-pillar for a few weeks I can imagine this coding toy can take a bit of a beating. It's designed specifically for toddlers and preschoolers just like any other Fisher Price toy you might have and the USB connection areas look very sturdy.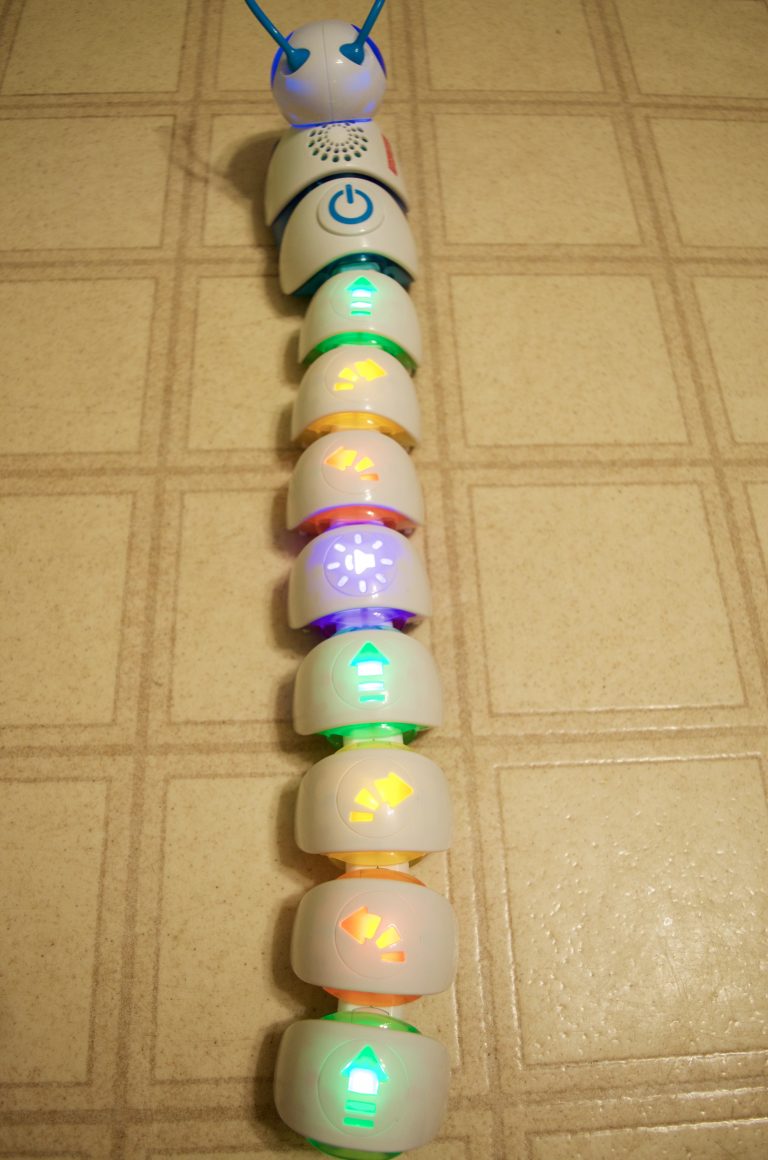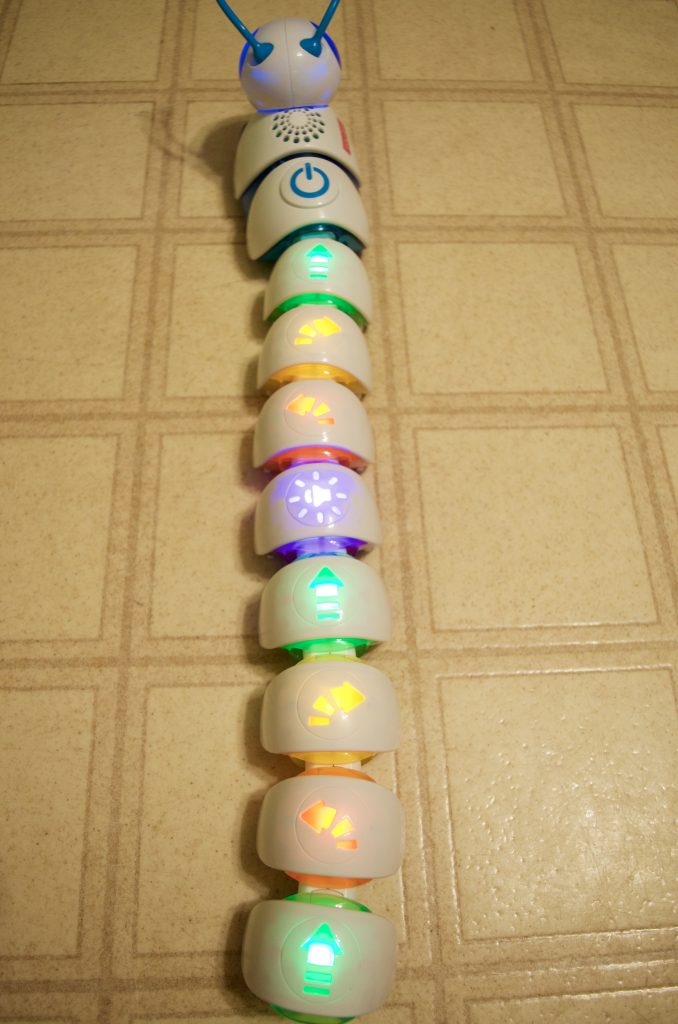 Here's a photo from the top looking down so you can get a better view of the coding commands on each section. As you pull the segments off and rearrange them the caterpillar will adjust it's direction to meet the new codes. Place the green and red target discs flat on the floor and see if you can arrange the Code-a-pillar's coding to hit each disc! If you have older kids using it then create an obstacle course with masking tape on the floor!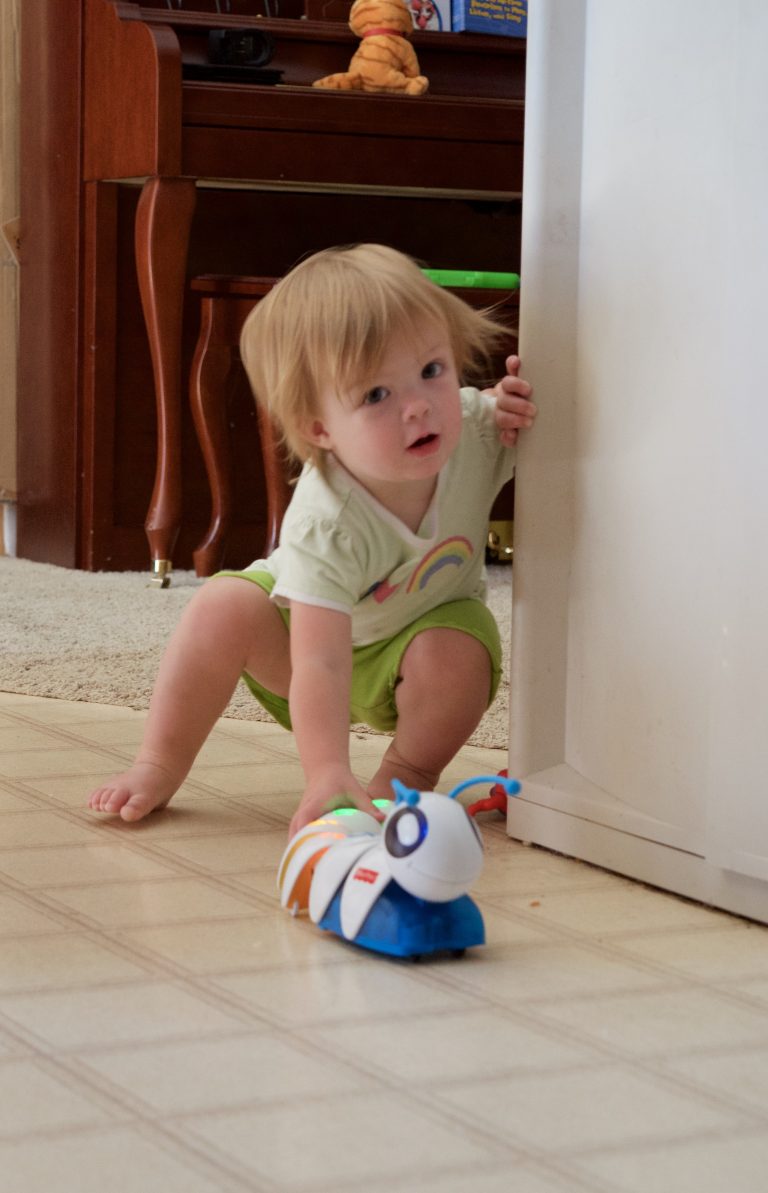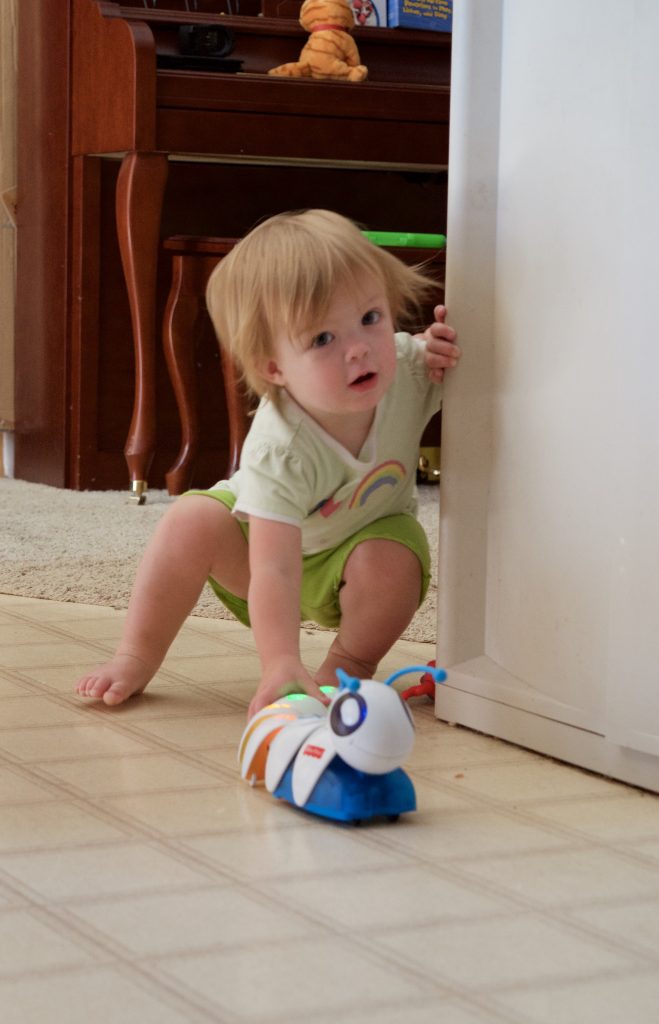 Overall the entire family LOVES the Fisher-Price Code-a-pillar! Definitely an AWESOME coding toy for kids of various ages and absolutely perfect for your younger ones. The target age range of 3-6 years is spot on. I'm really excited to see how my daughter grows into this toy! I wish my boys had this when they were younger – anything with a cause and effect were such big hits with them! This toy is definitely "all it's cracked up to be" and then some.
Below is our Instagram video so you can see a quick clip of how to detach, reattach, and use the Code-a-pillar! Keep an eye out right here at Best Buy to purchase when it's available!