Classroom Jeopardy by Educational Insights Review
This post may contain affiliate links, view our disclosure policy for details.
Classroom Jeopardy by Educational Insights is no longer available but if you can snag a used one this is still plenty of fun to use in the classroom!
Category: Interactive Technology
Question: What is an awesome hands-on way for students to interactively learn in the classroom?
Answer: What is…….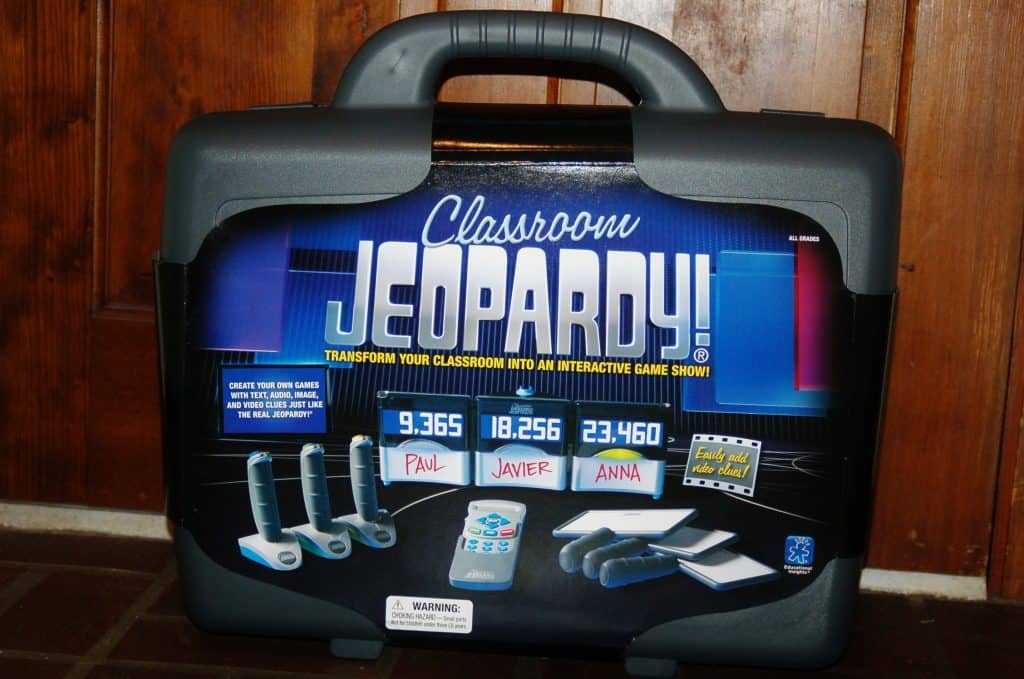 ……..Classroom Jeopardy!
Educational Insights presents Classroom Jeopardy! An (awesome) interactive way to help students learn in the classroom! (Honestly if you can afford it this is really awesome at home too!)
Just plug it into a TV, digital projector, or interactive whiteboard and you're ready to go! You can download hundreds of FREE teacher-created games OR completely customize your own game.  It really is just like playing real Jeopardy!
The great thing about using it in the classroom is that you can split your class into teams and have them work together.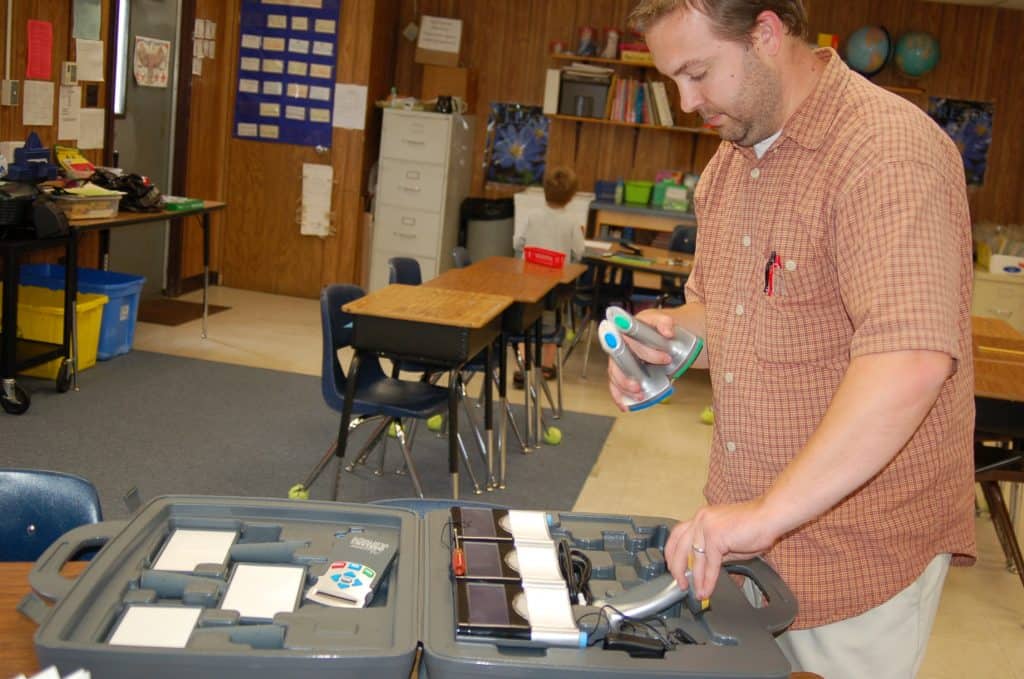 It comes in a VERY sturdy carry case where everything is perfectly placed inside.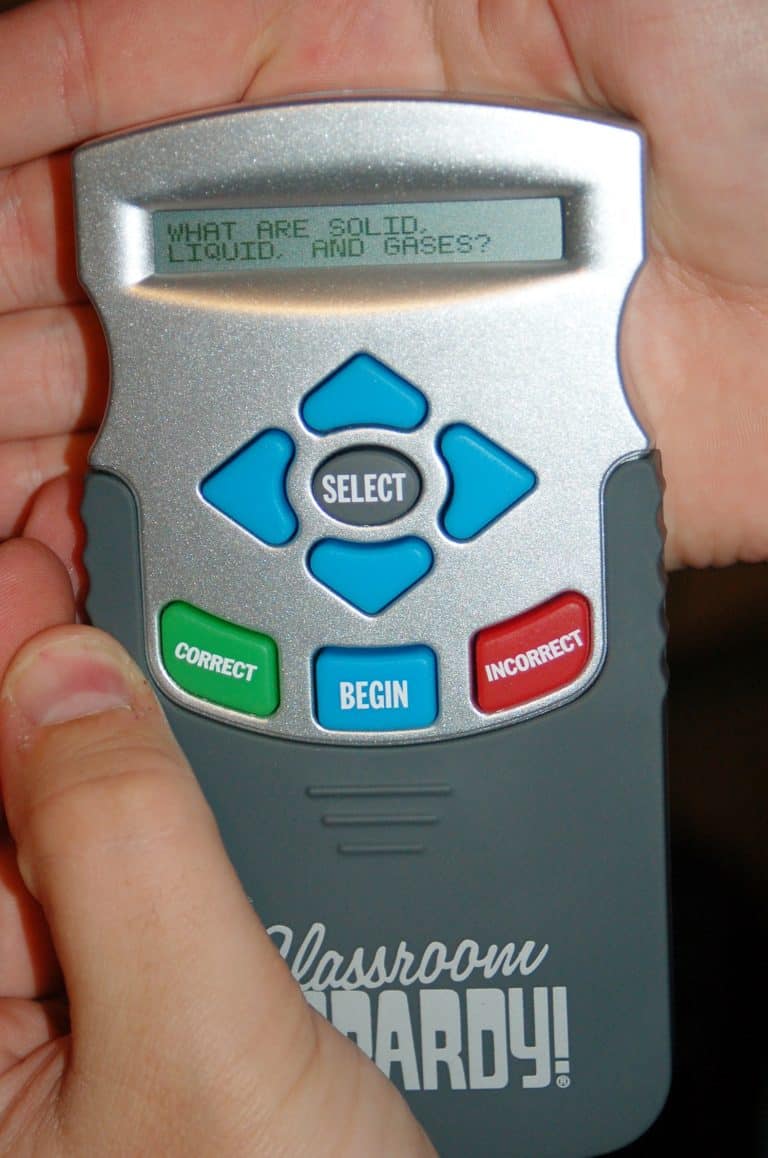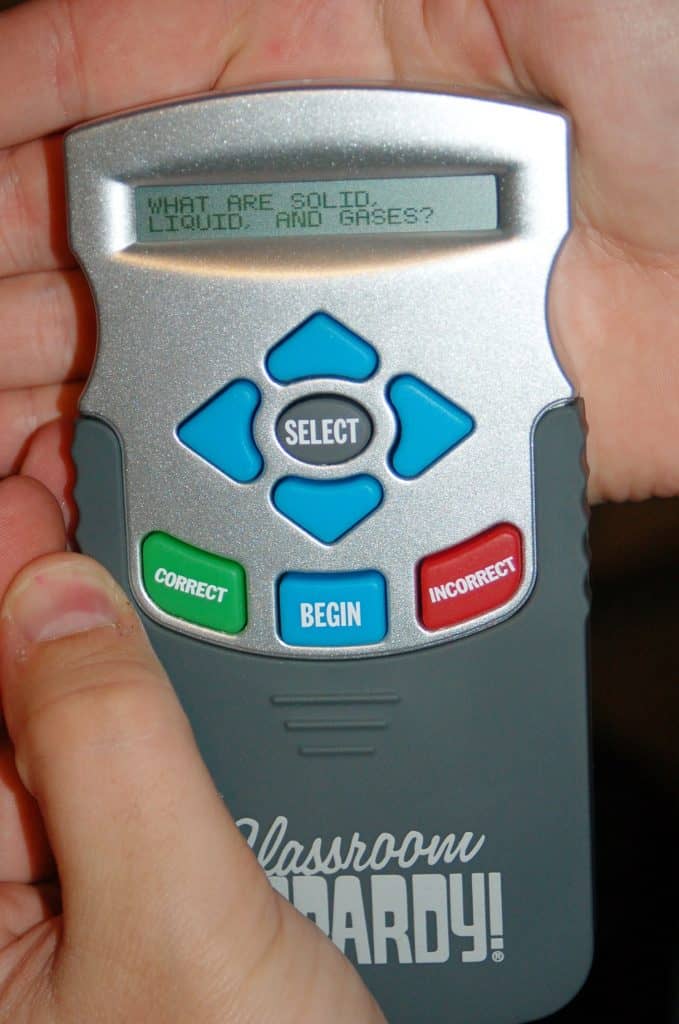 It includes a remote which the teacher can use to completely control the game. The great thing is that there is a small digital screen on the remote which will actually tell you the correct answer!
I thought this was ingenious because, let's face it, teachers are tired and have "memory loss" moments too!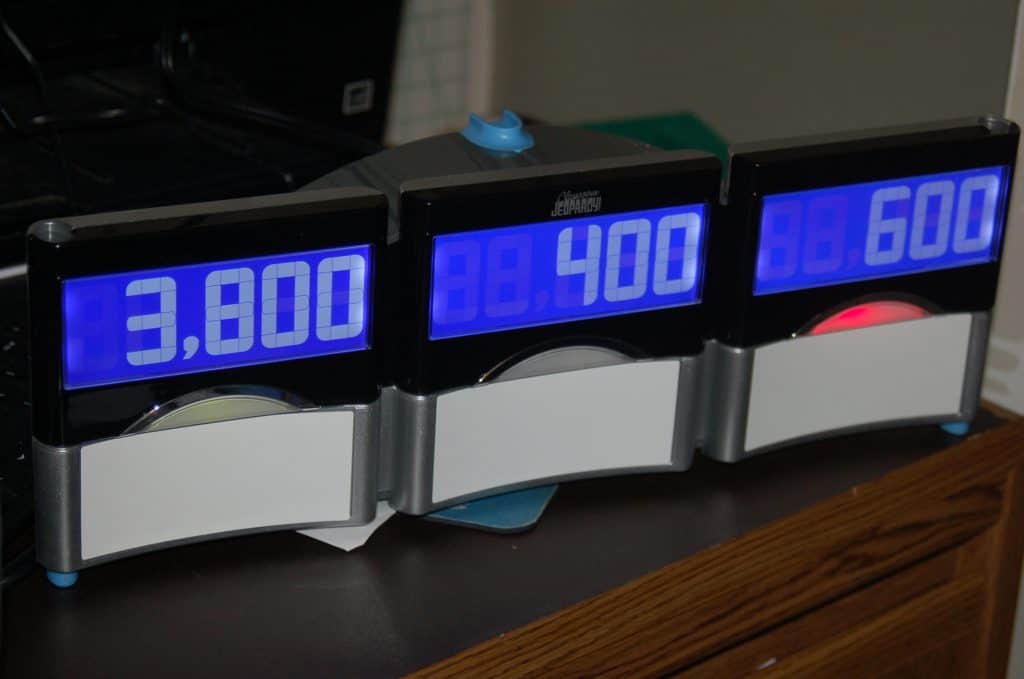 It comes with scoreboards that look similar to the real ones! You can see above that it displays the scores. It will also light up for correct and incorrect answers, and the white panels at the bottom are little dry erase sections for you to write the students names in it.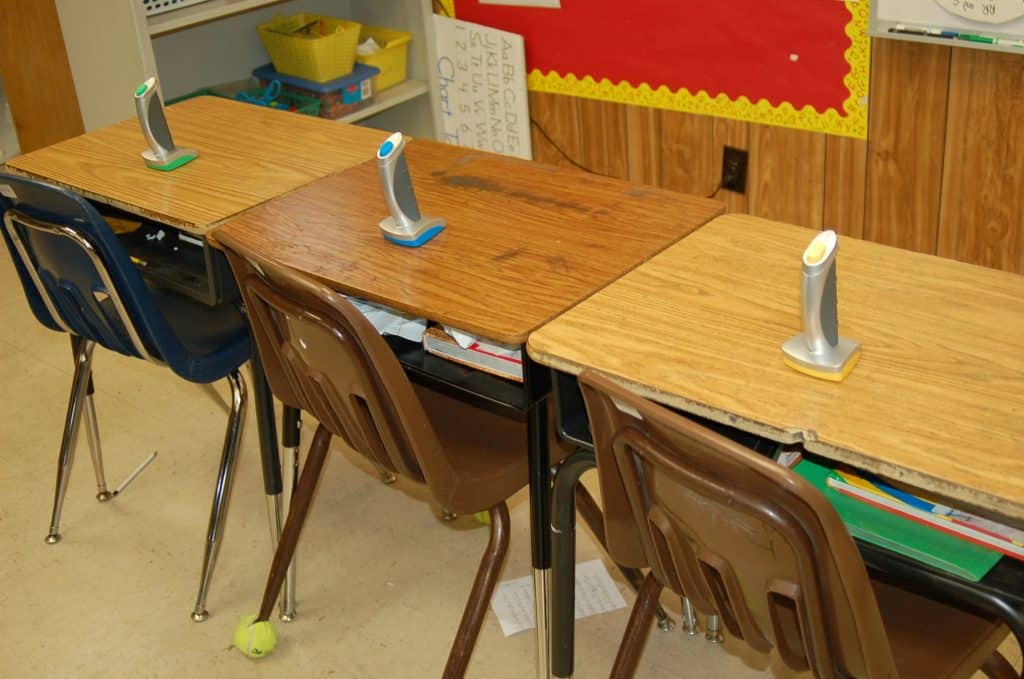 It includes 3 "joysticks" – 1 each for 3 different students.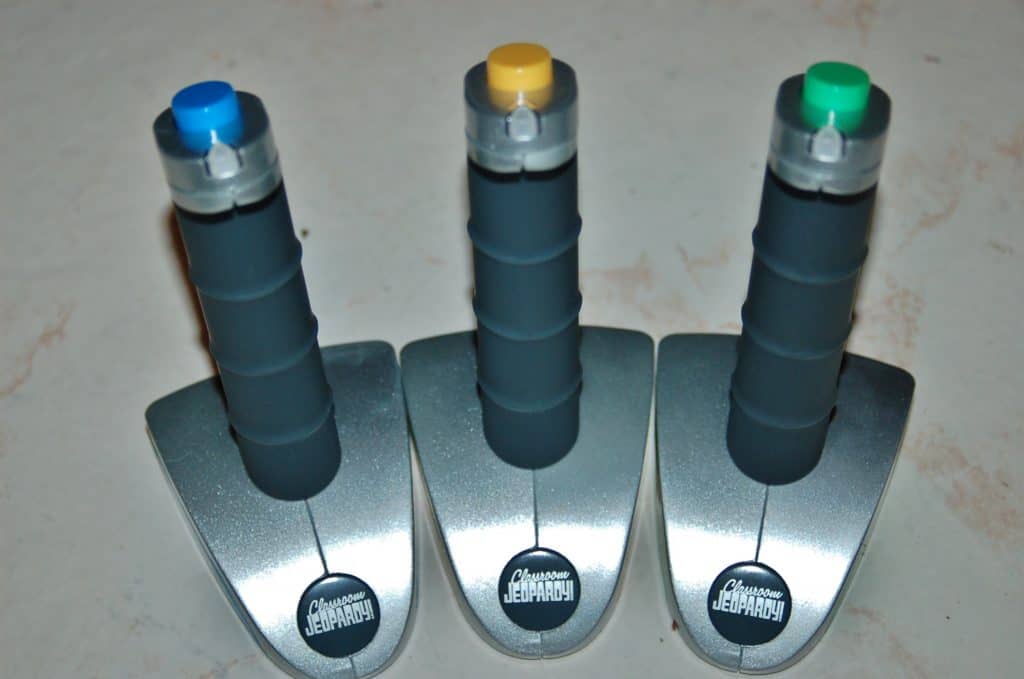 The "joysticks" have different colors  on the buttons which you can see above.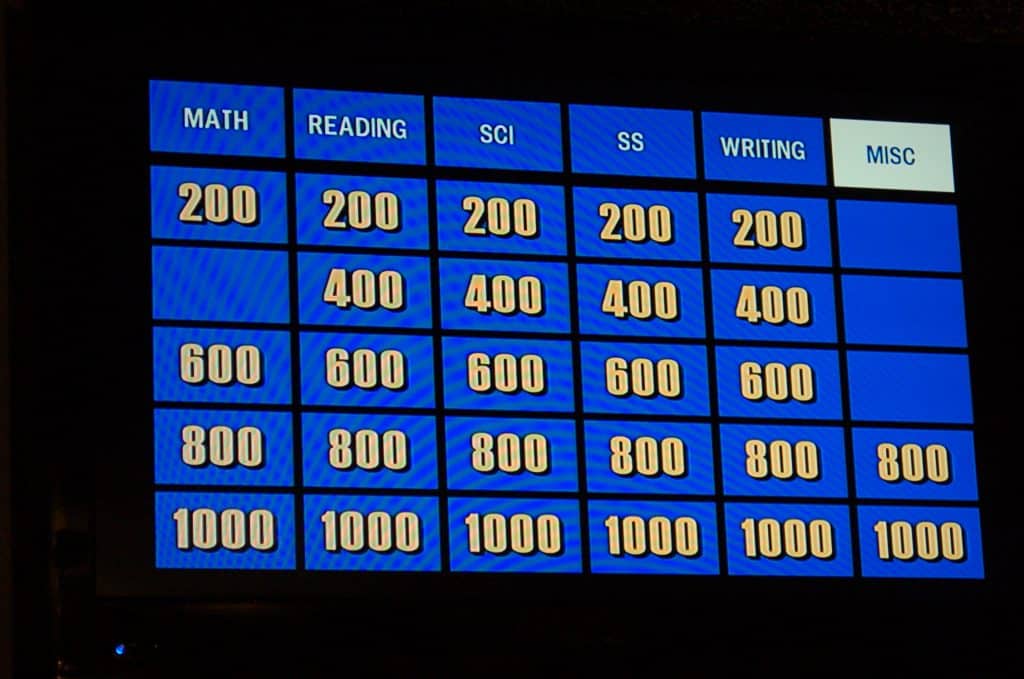 Look familiar? 🙂 When we first received Classroom Jeopardy from Educational Insights we set it up at home to give it a quick test run before my husband took it into his 2nd grade classroom. I have to admit, I didn't want him to take it to school!
The two of us had SO much fun playing against each other at home! BUT I knew his students would love it even more! It's definitely a fantastic and fun way to get kids interacting in class and jumping at the chance to answer questions!
Not only are there pre-fab or custom questions you can play with, but……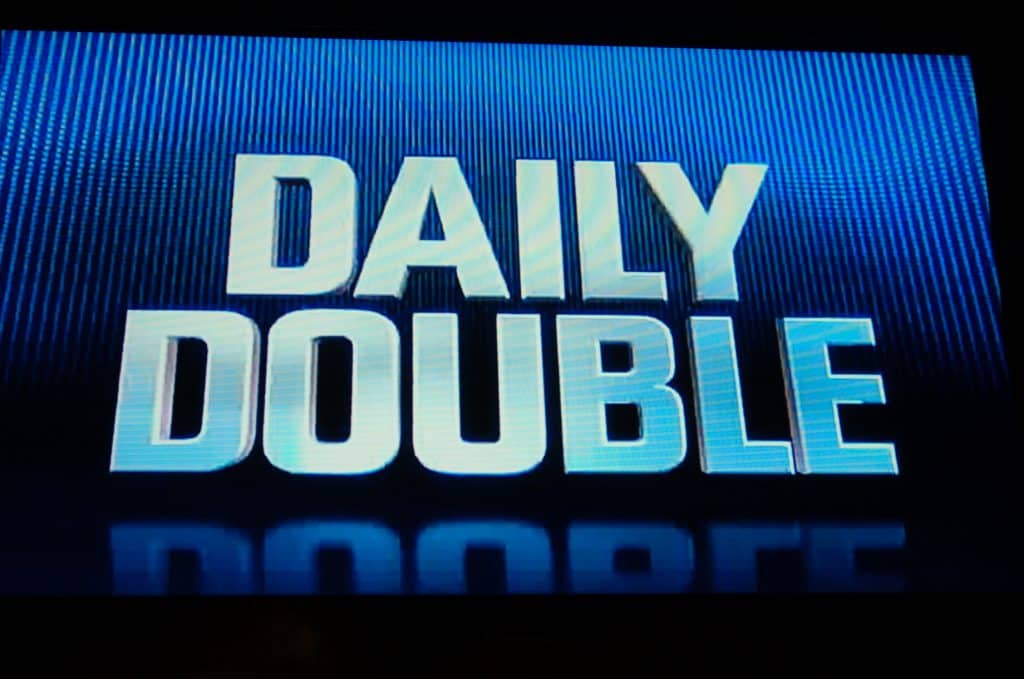 yep! Just like Jeopardy that you watch on TV there are Daily Doubles!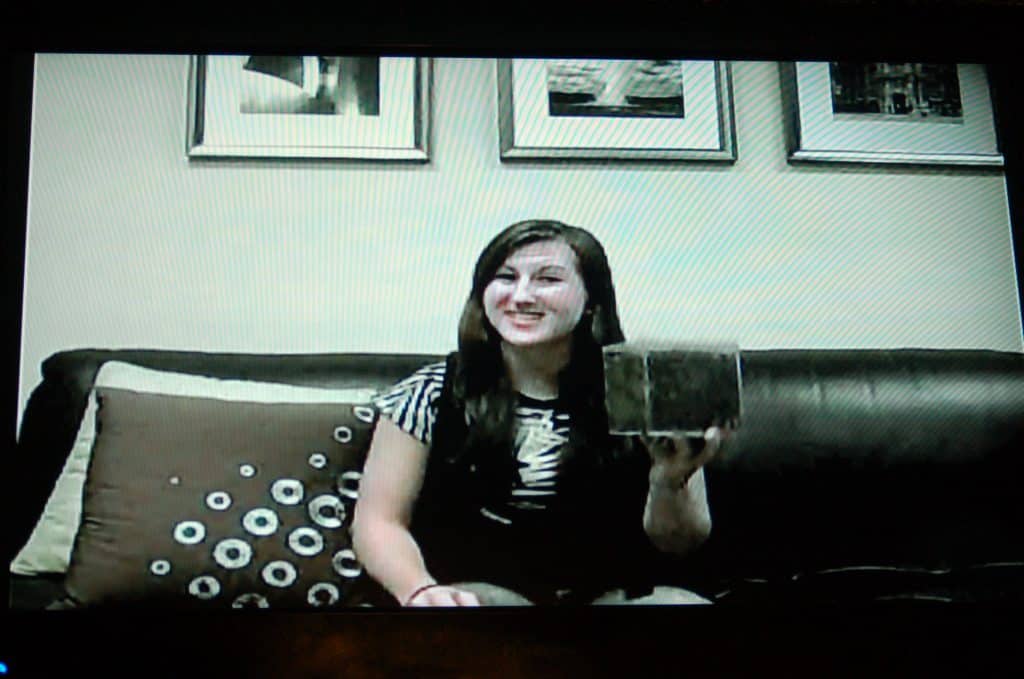 And awesome videos! (still images too!)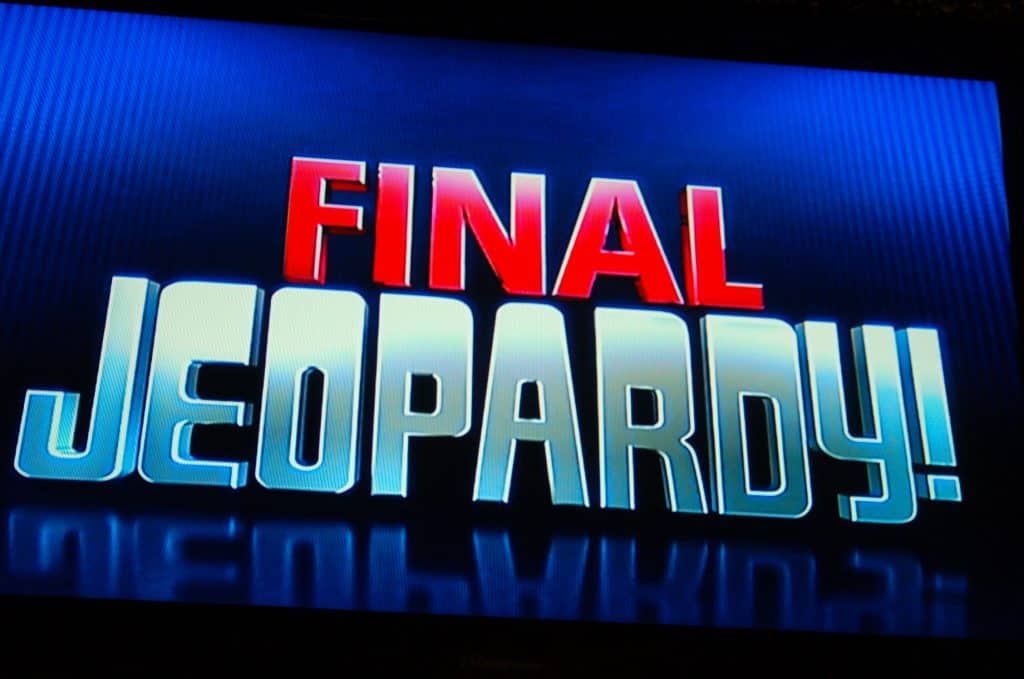 AND what would Classroom Jeopardy be without a Final Jeopardy??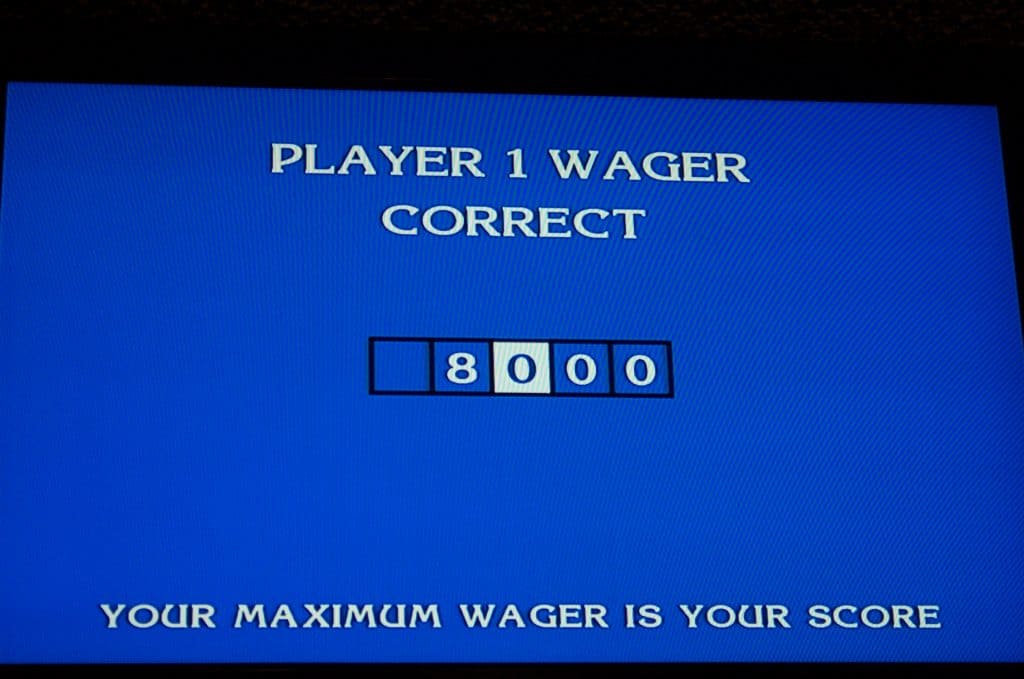 Each player can look at their digital score panel and then place their wager. True to Jeopardy rules your maximum wager is your score.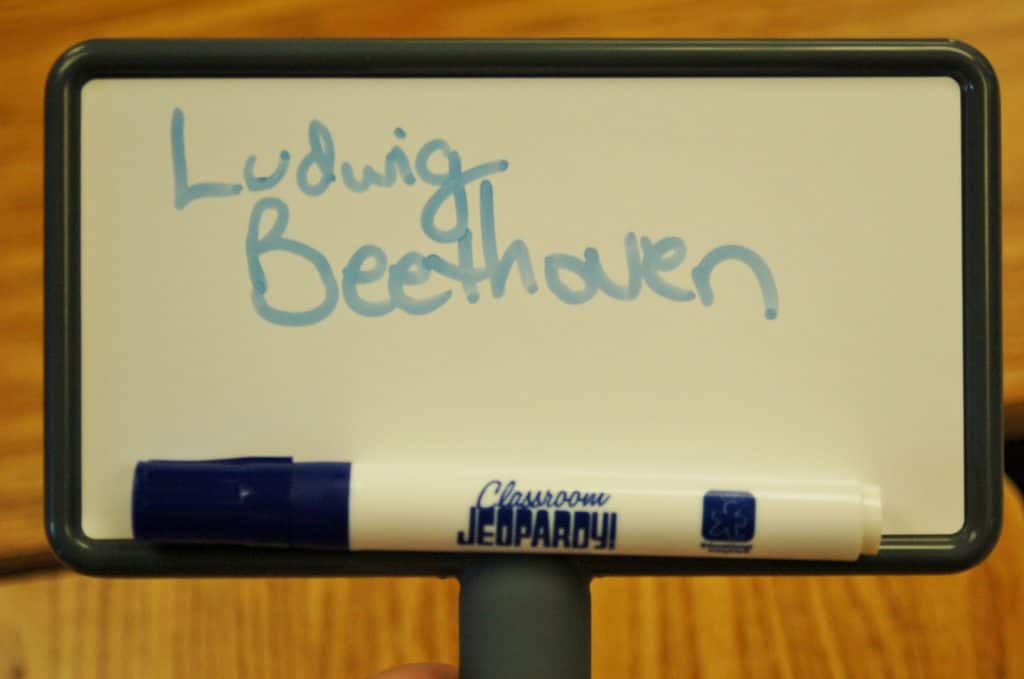 Also included in the Classroom Jeopardy set is 3 small dry erase paddles for the students to write their final answers on.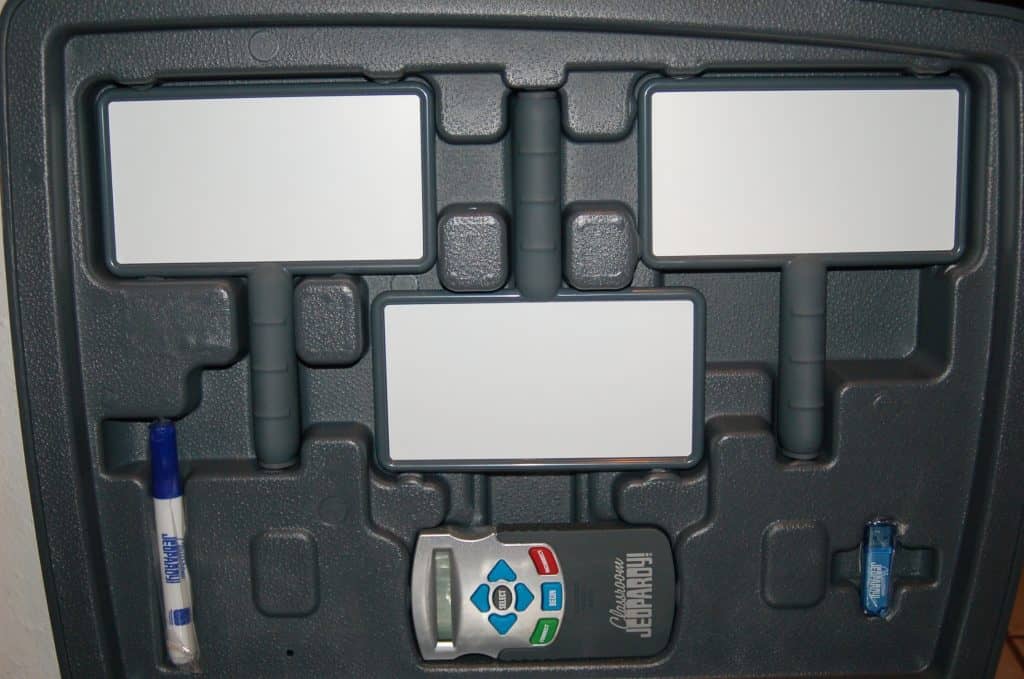 You can see inside the hard case that there is a place for everything. All of the pieces snap in to place. Even the USB drive (which has all the pre-fab and custom templates) has a place to snap in to so that you don't lose it.
The template to make your own custom Classroom Jeopardy is extremely simple to use. And if you have any problems I love Educational Insights customer service – they are very helpful!
Classroom Jeopardy  is worth it! You can easily transport this between classes to share within your grade level or school. It is very simple to set up and use. The complete system is VERY well protected in the case.
We were shocked when we saw how tough the case is – you could probably jump on it (although I don't suggest it!) and it probably wouldn't budge! Seriously, VERY heavy duty. Keep in mind the age of your students when using this.
My husband is at a Title 1 low level school and his 2nd graders had a difficult time grasping the concept of the points and why they did or didn't win BUT they loved playing Classroom Jeopardy so much they beg him daily to play it.
Honestly I know my 5 year old would love to play this even though he wouldn't be able to grasp the points concept either. So keep in mind with younger kids you may have to "ignore" the points system and just let them play to learn.
Other than this we couldn't come up with any other "cons" of the product itself- just the age factor to keep in mind. This product is so versatile – you can use it for your kindergarten class all the way up through even adult classes!
I saw in one of the reviews that even a doctor uses it to teach pathology and neurology classes at a hospital! So if you have a K-12 school any grade level can use it – and even hold teacher competitions!
Disclosure: I was not compensated for this review. I received Classroom Jeopardy to use in order to form my own opinions. All opinions are 100% mine.