Christmas Elf Paper Plate Craft for Kids
Whether you love watching Buddy the Elf
or celebrate Elf on the Shelf
, this Christmas Elf paper plate craft for kids is the perfect Christmas activity for preschool and kindergarten – or any age of kids that love elves! It's easy and you can use craft supplies you probably already have at home!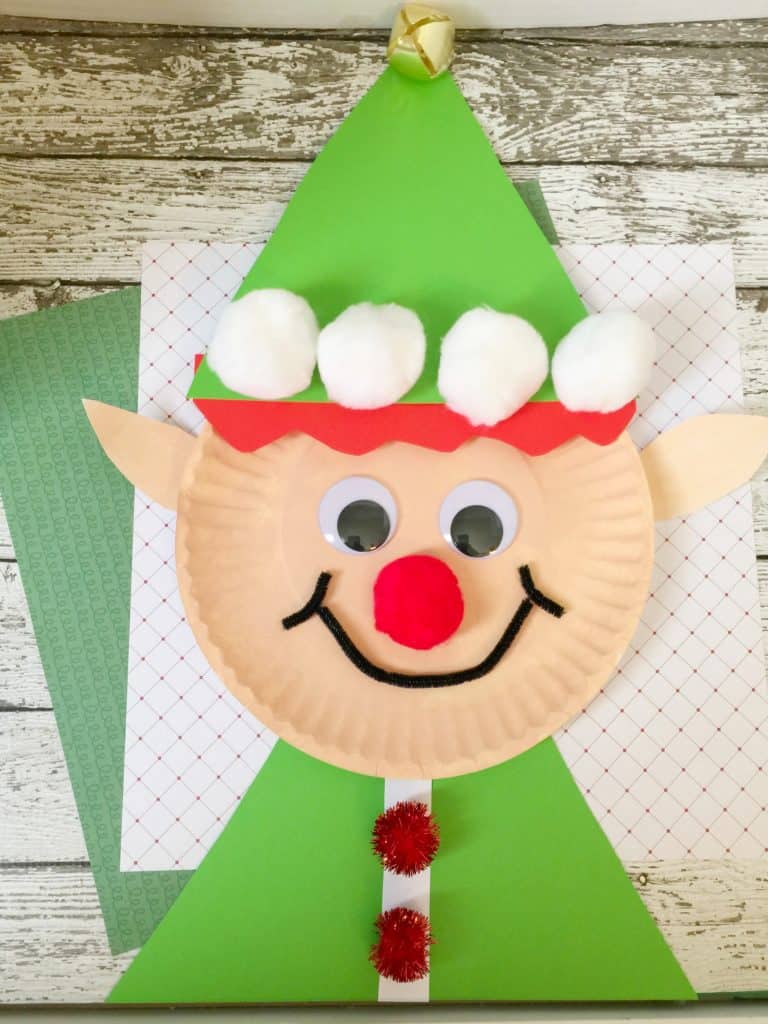 How adorable is this Christmas Elf paper plate craft for kids?! It's a GREAT holiday craft
to pass the time now that the kids are off of school (or almost off of school!) and festive to decorate your home with.
Below I will walk you through a simple step by step tutorial with photos but you can adjust anything you want to depending on supplies or age range of kids working on this craft!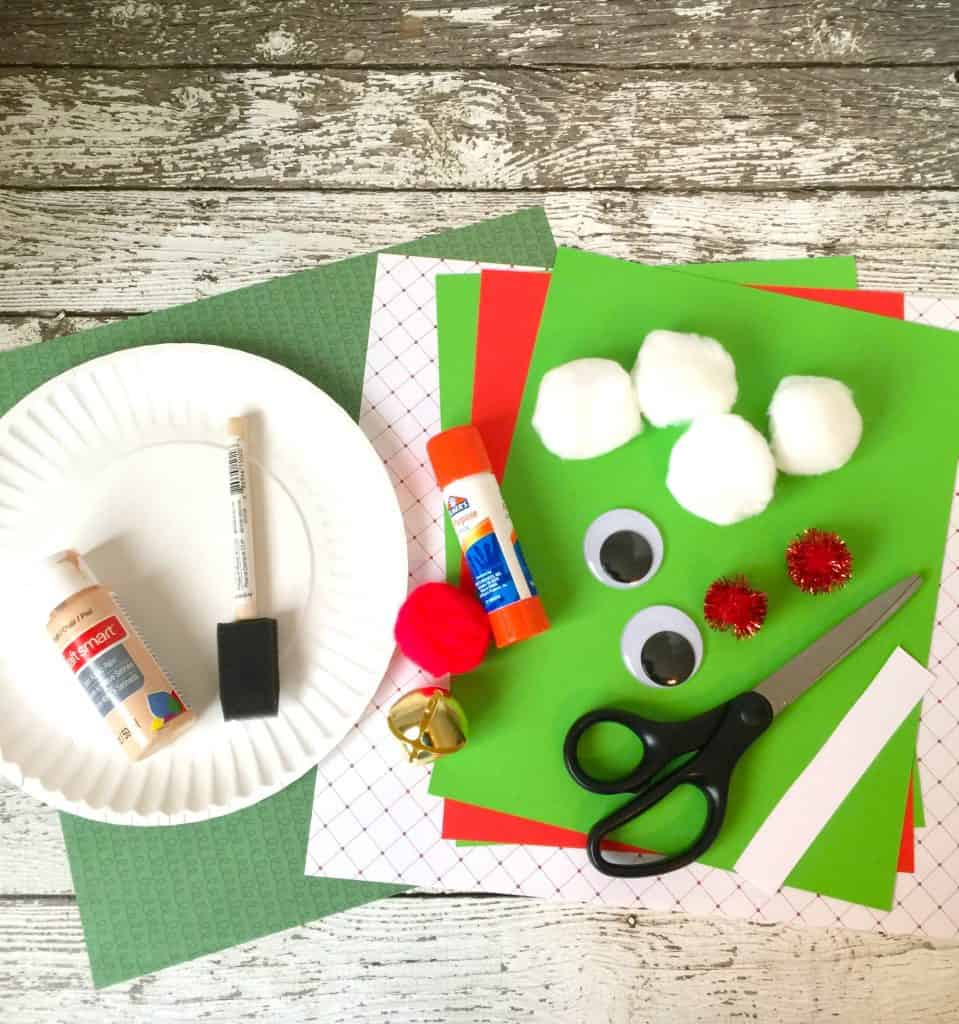 Christmas Elf Paper Plate Craft SUPPLIES:
1 paper plate

Scissors

Craft paint – flesh colored

Paint sponge or brush

Pom poms – 1 medium red, 2 sparkly red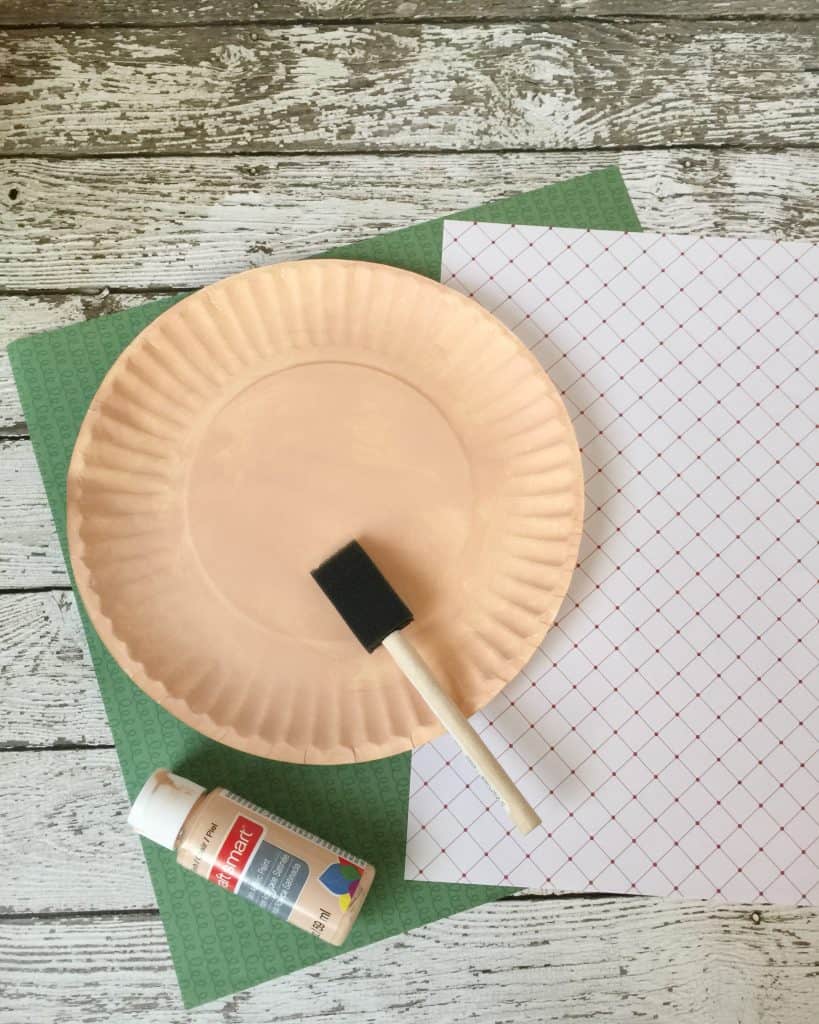 Christmas Elf Paper Plate Craft Directions:

1. With a paint brush or sponge, paint the paper plate any flesh color you desire. Let it dry for at least one hour. If you don't want the mess then let the kids use markers instead!
2. Cut 2 pointy ears or triangles out.
3. Cut out 2 large triangles from the green construction plate. One triangle is for the hat and the other is for the shirt.
4. Cut out a one inch long strip from the red construction paper the same length as the bottom of the hat. To make it extra decorative cut a wavy line into one side of the red trim like you see in the photo. This will be the elf's hat brim.
5. With a glue stick, apply glue to the very top of the hair and press the hat firmly down on it. Hold in place for 20 seconds.
6. Apply glue to the back of the hair and hat and attach to the top of the plate. Hold in place for 20 seconds. You have use tape or hot glue if you need it to hold quickly.
7. Attach the other triangle (shirt) to the bottom part of the plate with the glue stick.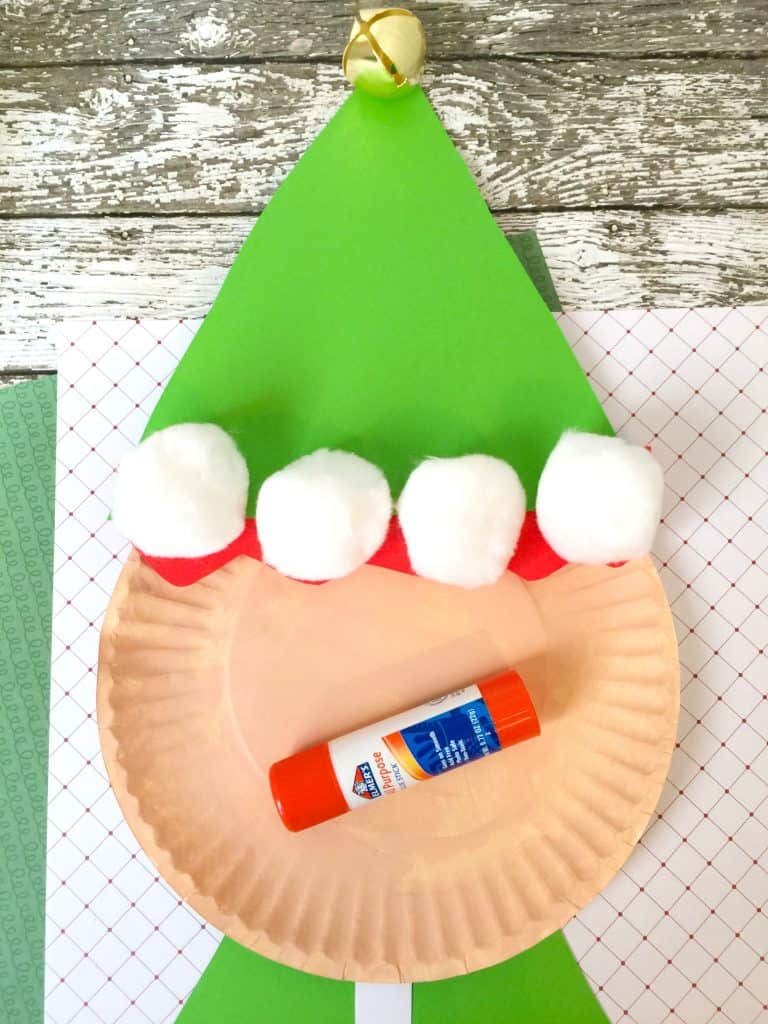 8. Cut out a 1/2″ strip of white paper the length of the shirt triangle and glue it in the middle of the shirt. Glue the sparkly red pom poms on the white strip.
9. Glue the cotton balls onto the bottom of the hat to resemble fur.
10. Glue the ears to the back of the plate. Hold in place for 20 seconds.
11. Glue the googly eyes on to the elf face.
12. For the elf nose, glue the medium red pom pom on the plate.
13. Cut the black pipe cleaner into one 4 inch strip plus two 1 inch strips and glue onto the plate for a big elfish smile.
14. And finally, glue the jingle bell into the tip of the hat. ENJOY!