Inchimals Kindergarten Math Game by Fat Brain Toys Review
This post may contain affiliate links, view our disclosure policy for details.
Fat Brain Toy Company
is one of our wonderful sponsors during our Back 2 School Bash event and they have some truly top notch quality products!
Inchimals
is one of them! Inchimals is a mathematical safari adventure that is sure to captivate your children and students into the extensive (and sometimes boring!) world of mathematics! But Inchimals has been designed to turn boring math into a math game kids will be begging to play over and over again! My four year old really surprised me with his immediate interest in math while playing Inchimals! This game can be used with as little as one player, and is geared for ages 3 and up.
When I first picked up my box of Inchimals I realized how heavy it was! It comes with 12 solid wooden blocks which are great quality and very durable. On two opposite long sides of the wooden block an animal is depicted as you can see above. On the other two opposite long sides of the block is a ruler marked off by inches. At the tip of one end of the block is a number (which corresponds with how many inches are marked on the side), and on the other end of the block are dots (also corresponding to the inches on the block).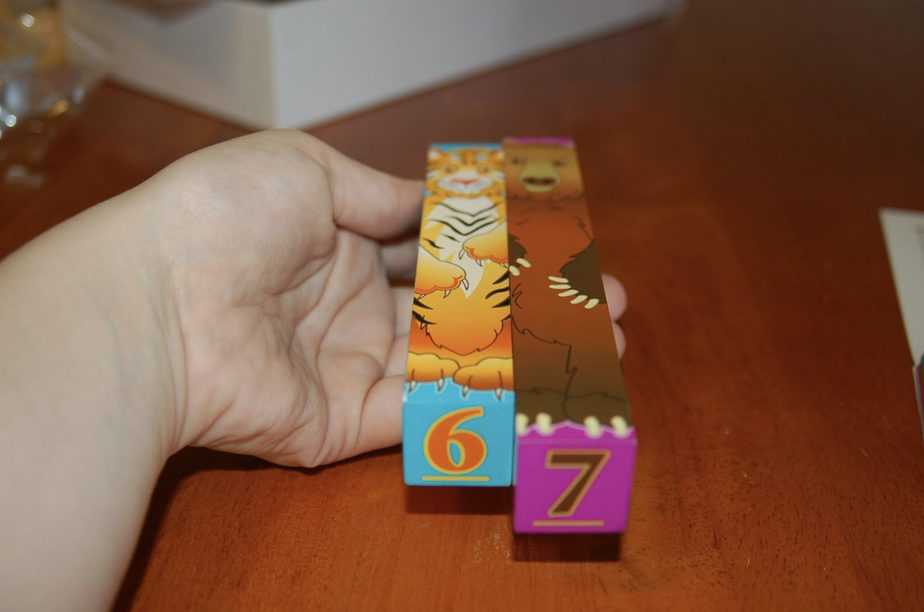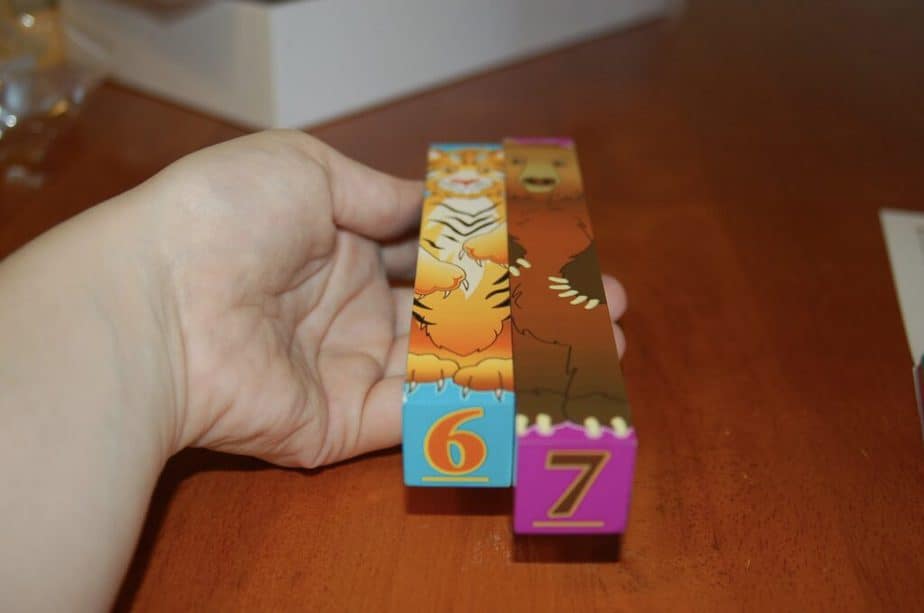 Inchimals also comes with a wipe-off math puzzle book which includes 100 different puzzles to complete!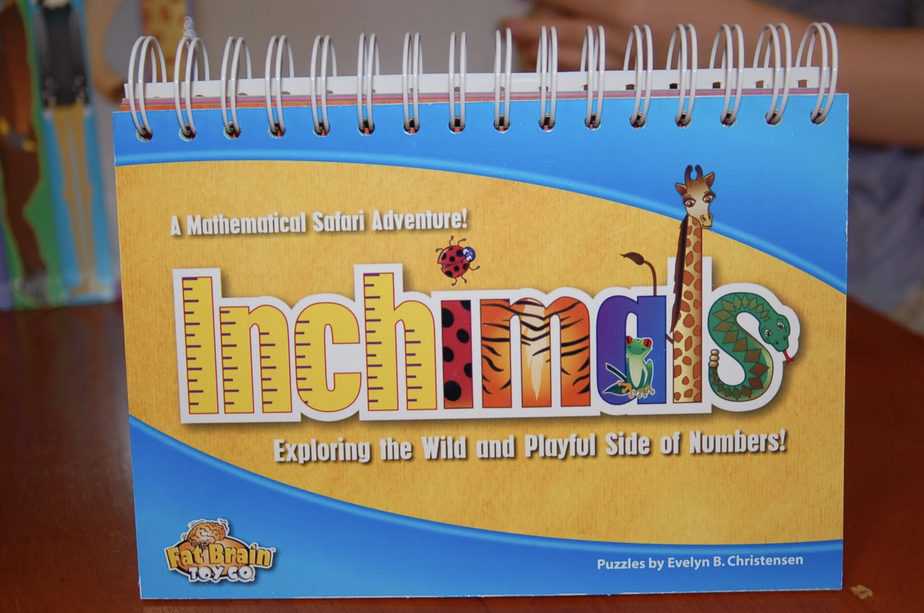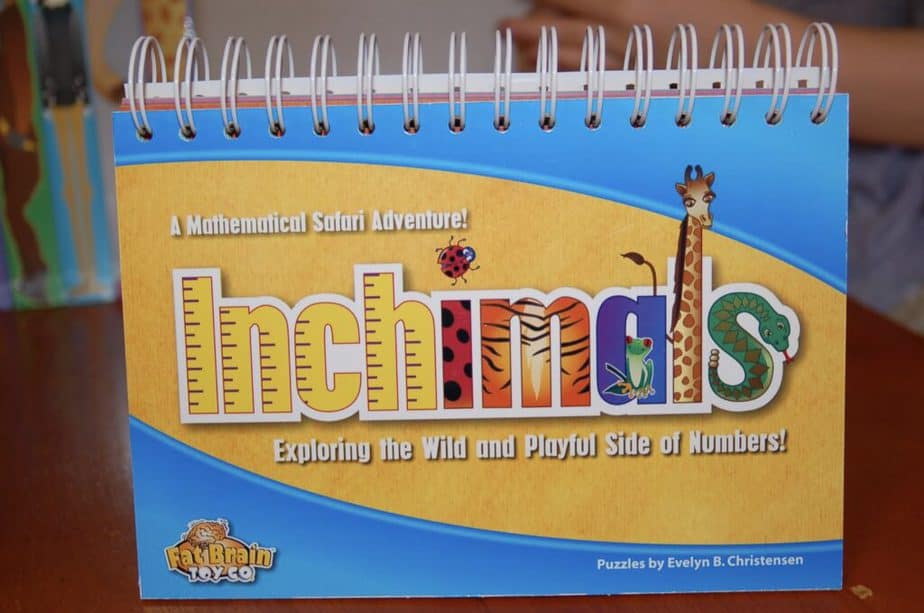 Some of the puzzles are simple addition. As you work through the flip book the math puzzles begin adding two and three numbers/animals together, and then throws subtraction in the mix as well. By the end of the book not only are you combing subtraction and addition in one puzzle, but you are also finding like pairs of numbers too. As you can see below instead of adding the numbers together, you will need to add the 'animals' together.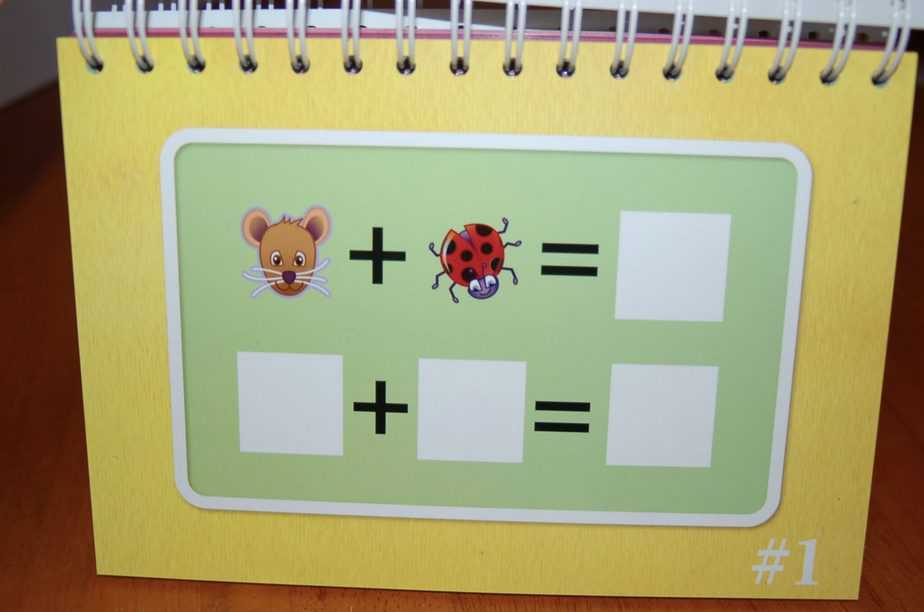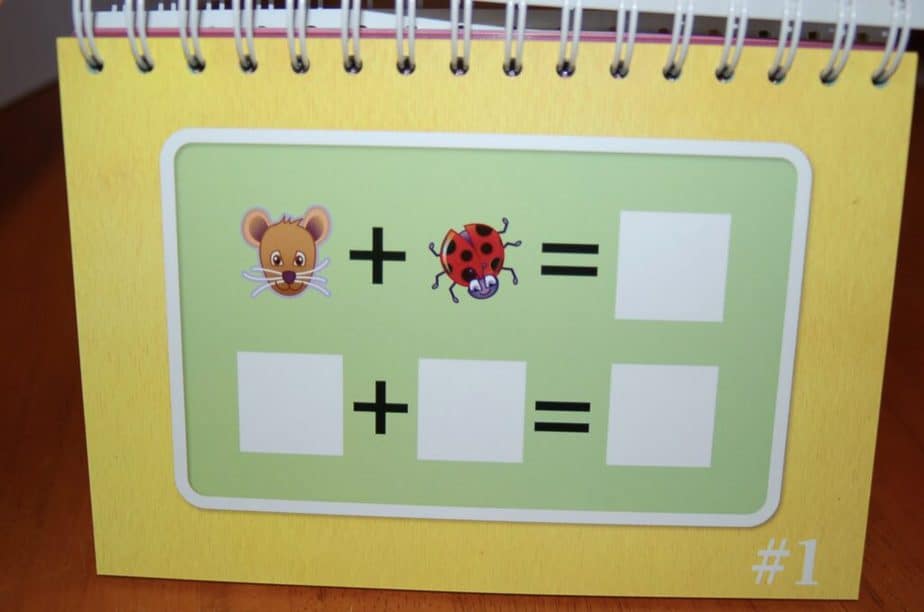 This is what really helped to captivate my son in working on his math skills. Above you see a picture of a kangaroo plus a ladybug equals ??? So my son would look through the wooden blocks to find a kangaroo and a ladybug block. We would then turn the kangaroo block to its side so we could see the ruler inch markings, and count how many inches tall the kangaroo was. With the included dry erase pen he would then write the kangaroo's number in the math puzzle book. Next we picked up the ladybug and counted how many inches were on her side as well then recorded that in the math puzzle book.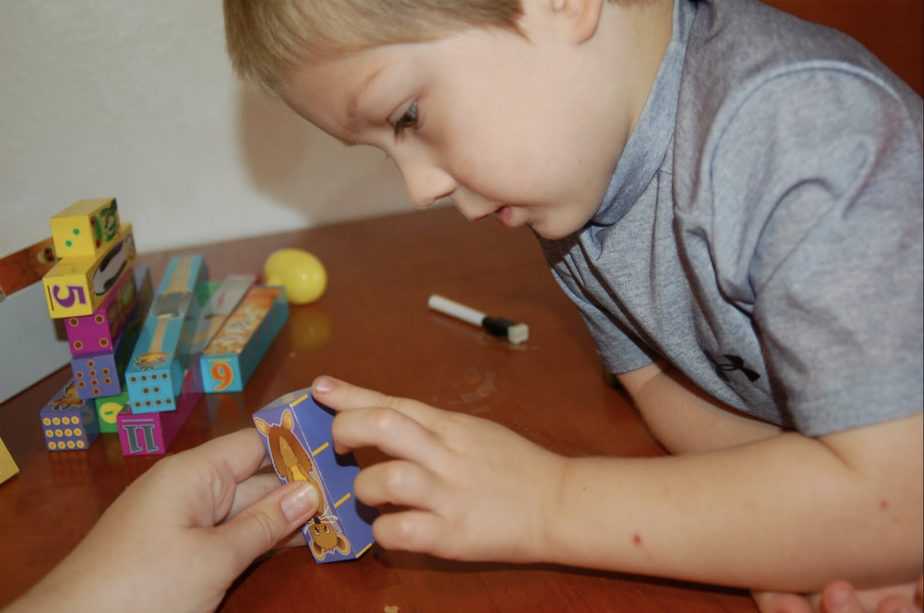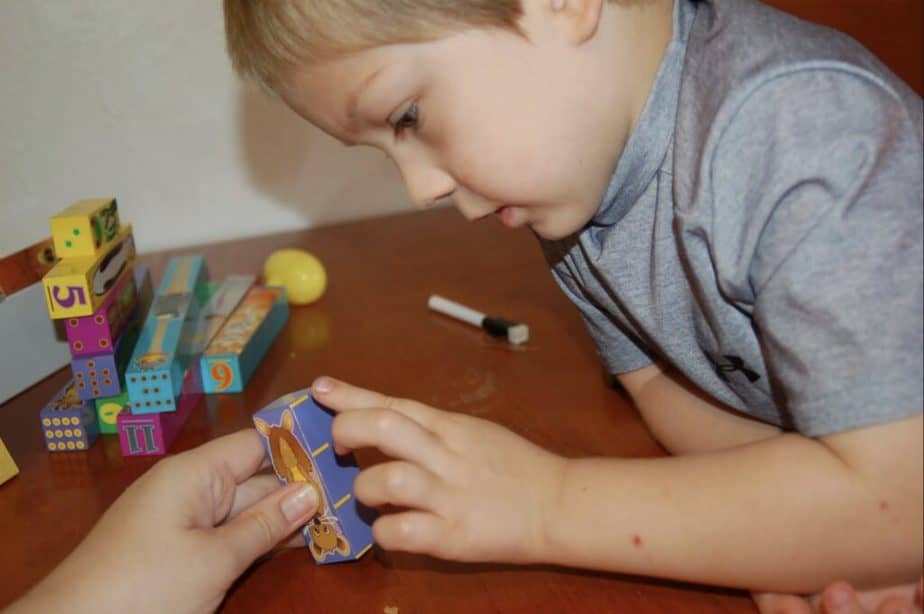 I was really proud of my son because he has a fine motor skills delay, and he has an extremely difficult time writing. It seems almost impossible most times to get him to even try writing. After we counted our inches on the ruler block I was shocked to see that he grabbed the pen and tried to write the numbers all on his own! This immediately told me he was loving this math 'game' and did not want my help!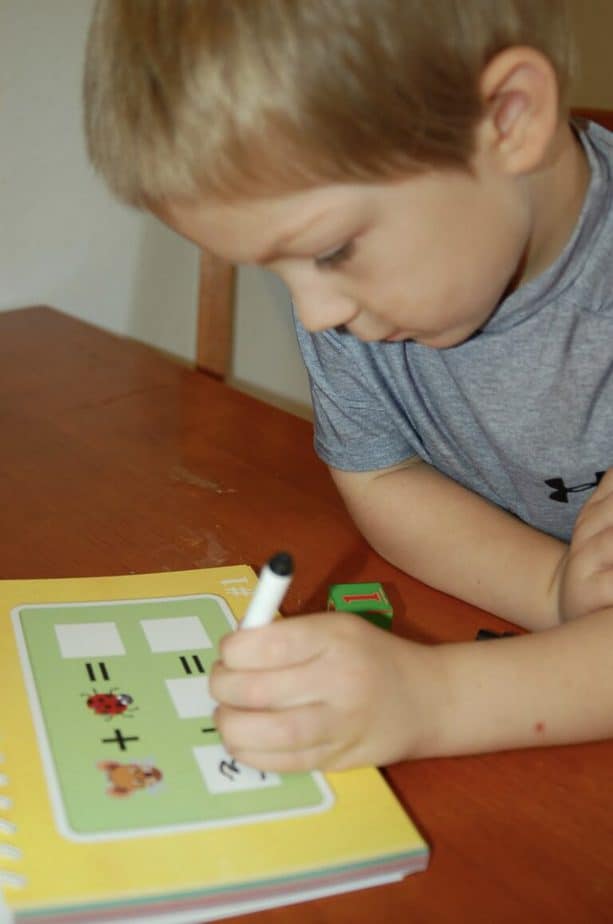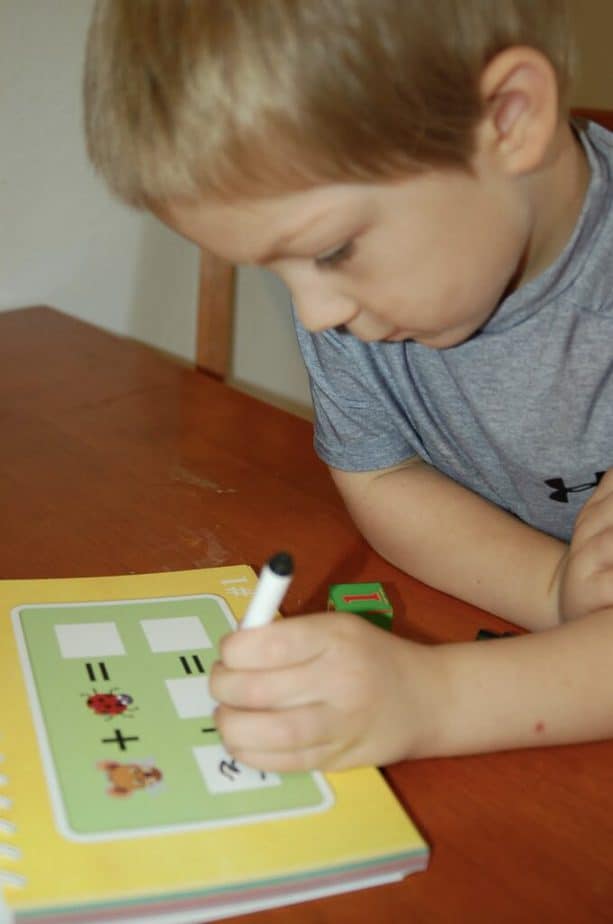 After he wrote down how many inches each of the animal blocks represented, I then showed him the ends of the block where the dots were located. We then put both the kangaroo and ladybug blocks together and counted all of the dots on them to find our new number! 3 (kangaroo) + 1 (ladybug) = 4! Once we found our sum to our math puzzle, we then looked for the block to see what animal represented 4 inches!! We counted the sides where the inches were marked, and we double checked at the top with the dots. Then we verified our answer (again!) by locating the number written at the top of the block. A kangaroo + a ladybug = a bunny!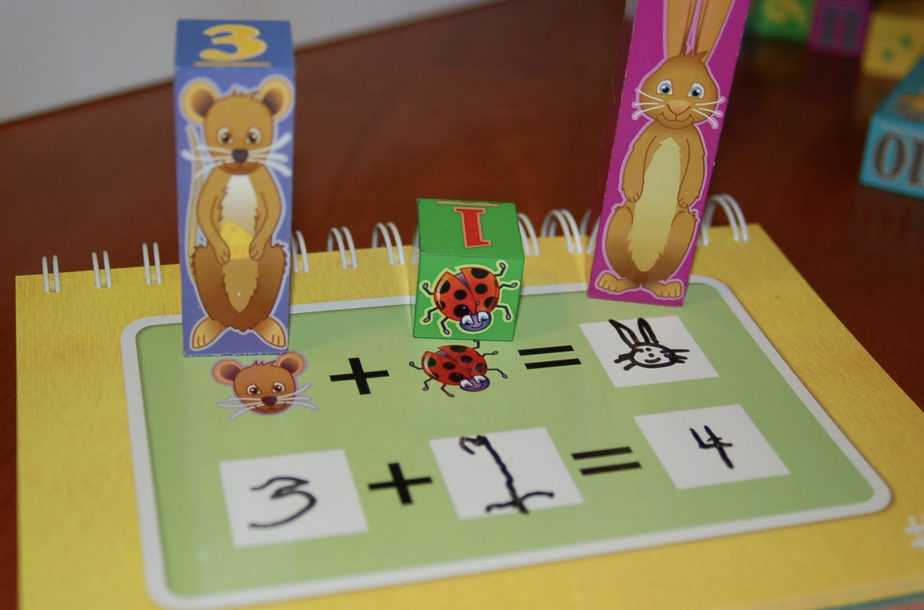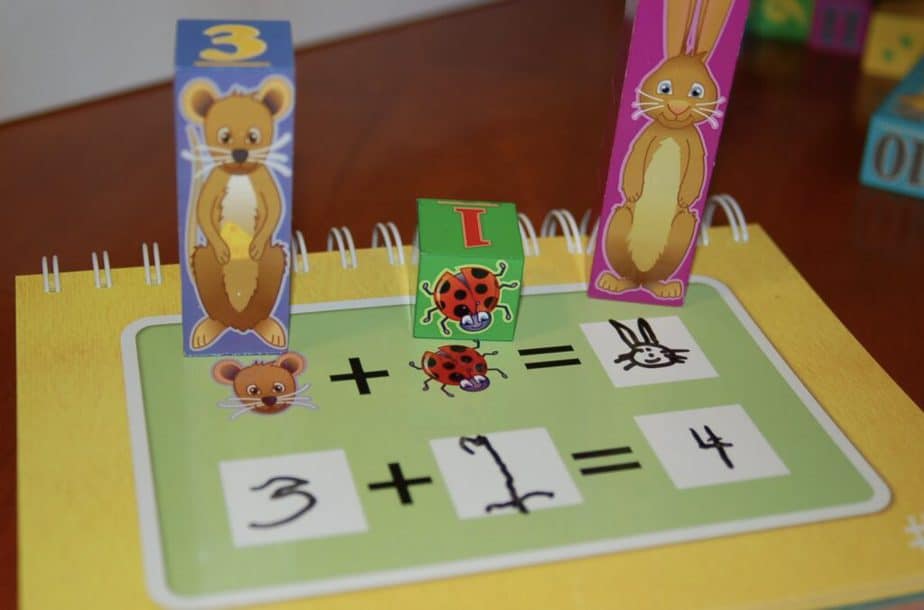 Of course he needed help from mom to draw a bunny, but I was SO proud that he wrote all of the numbers by himself, and they were legible!! There is an answer key in the back of the flip book which tells you the number answer as well as the animal answer. Inchimals helps to introduce and strengthen math concepts such as measurement, numbers, letters and symbol recognition, simple logic, and more! Below I've pictured how the blocks are stored in the box. I love it! You must pair the blocks up to equal 12 inches in order to be able to properly close the box. So after you're all done playing- the kids STILL have to do math just to put the game away.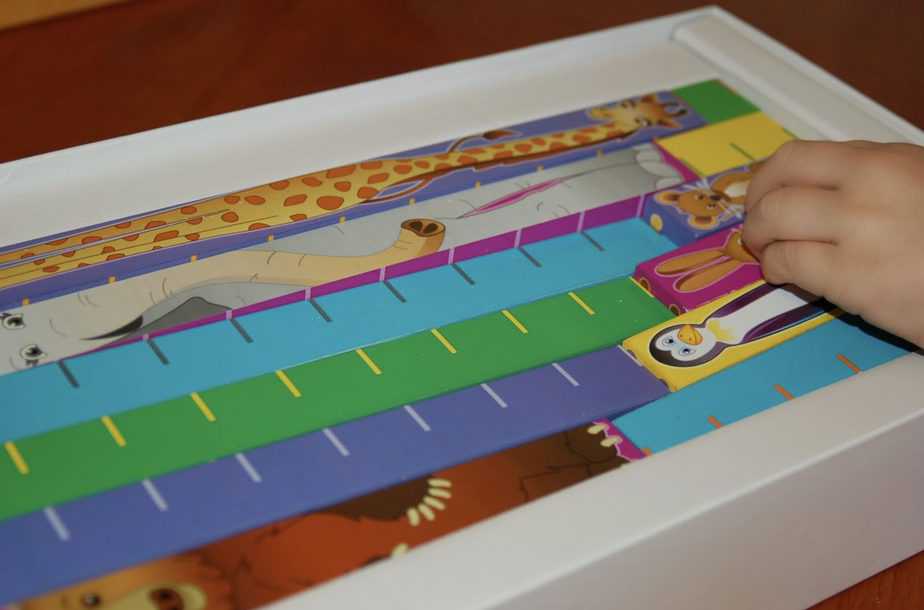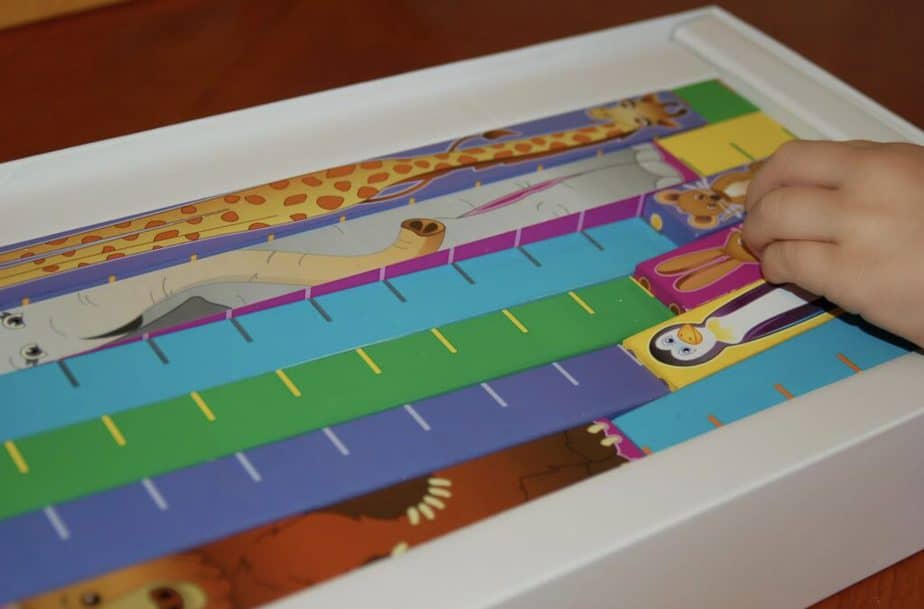 There area lot of ways that you can use Inchimals in addition to the puzzle game I just showed you. You can have the kids line the Inchimal blocks up from shortest to longest and build an animal train or a step ladder. You can use the blocks as manipulatives to reinforce mathematical vocabulary. There are quite a few ways you can use these blocks even if you don't have time or the ability to use them as a game.
I can rave only the highest praises about Inchimals. This is truly one of the best and most fun simple math games I have encountered. The blocks and flip book are extremely durable and can withstand being used by a high volume of kids such as in a classroom. It retails for $32.99 and I can promise you that it is worth every penny you will purchase it for! My son is four years old and actually asks me do to math puzzles! I highly highly highly recommend this game! It would make a valuable addition to a classroom as a center activity or even used one on one in a tutoring session.
I recommend it for at home use as well- especially for those families who homeschool or reinforce educational learning at home. I wish that every kindergarten class could have their own game of Inchimals! I have showed this game to most everyone who has come to my house since I have owned it and anytime I talk to a teacher about math I mention this game. It received the 2011 Learning Magazine Teacher's Choice Award as well as other awards too.
Disclosure: I was not compensated for this review. I received a product in order to form my own opinions. All opinions are 100% mine.
Other Math Games for Kids: