AnimaLogic by Fat Brain Toy Company Review
This post may contain affiliate links, view our disclosure policy for details.
AnimaLogic
by the Fat Brain Toy Company is designed for children ages 5 to 105 and can be played as a solitary game or as a team. The game includes a game board, a game notebook (with 60 puzzles/solutions!) and 16 wooden animals. AnimaLogic is a brilliant puzzle game, that to be honest, is still stumping me!!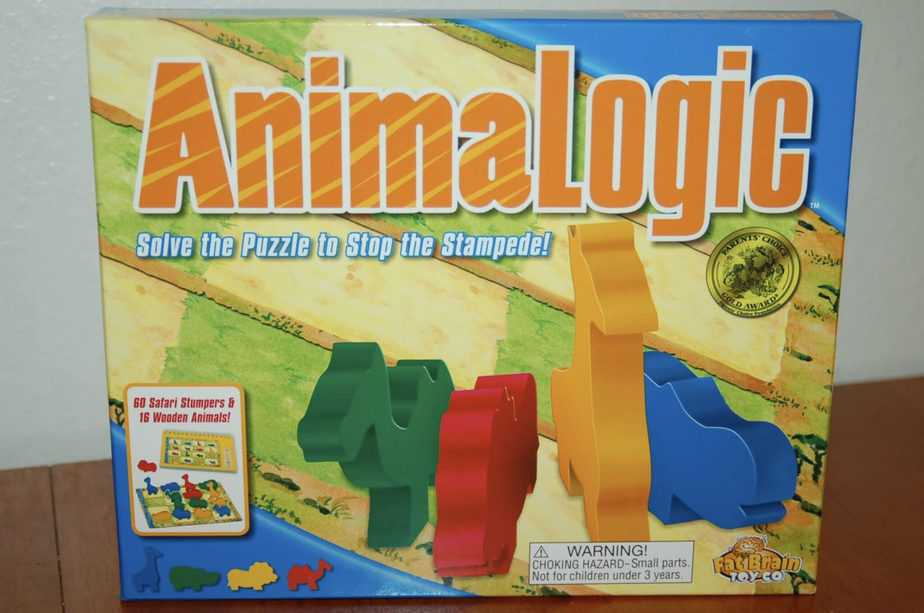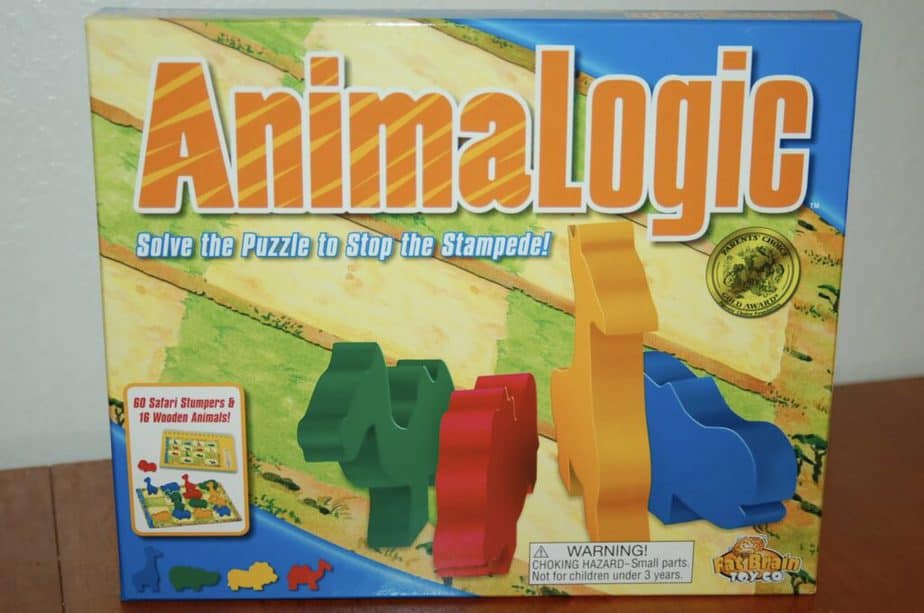 The main idea of the game is to get all of the animals (lions, giraffes, hippos, and camels) across the bridge to the other side of the river. Sounds easy right?
Animals can only cross the bridge one at a time, and they must arrive safely on the other side in a certain order. It's a bit hard to see in the picture below but there is a bridge on the left side of the game board over the river.
The idea is to clear the board completely of any animals.
How do you play AnimaLogic?
1. Move only one animal at a time.
2. Move the same color or same species of the animal just played.
So for example, if you moved a Green Lion, you can then move any other Green piece, or any other Lions. Let's say you then pick a Yellow Lion. You may then proceed to another Yellow animal or another colored Lion. And so the game goes.
But you cannot just randomly pick animals from anywhere on the board. They must have an open space in front of them for the animals to be able to cross the river.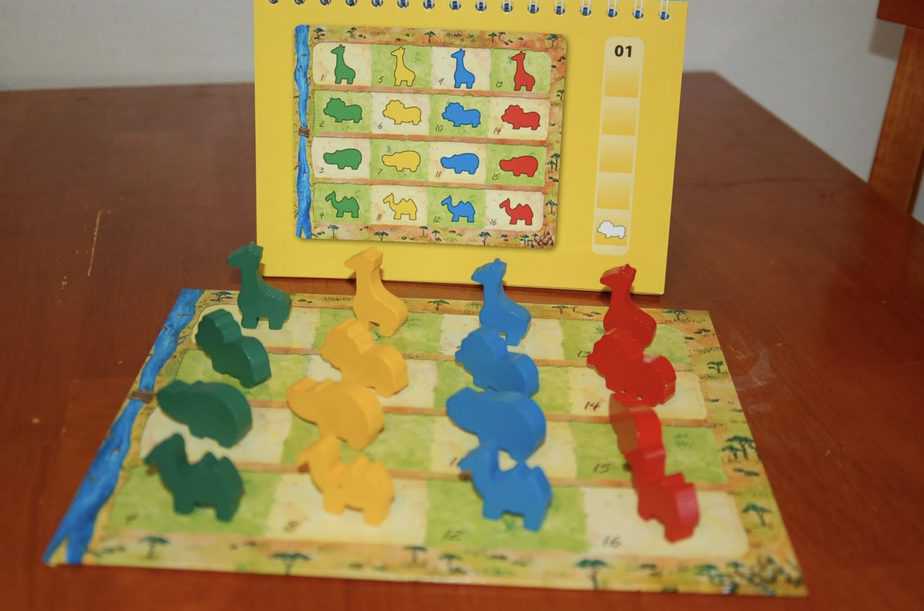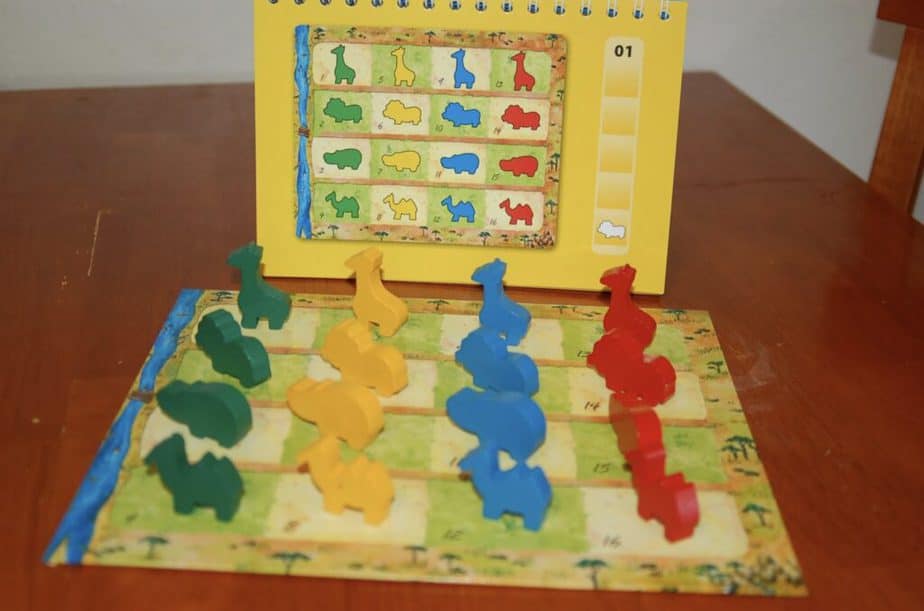 Here below you can see a closer view of the animals. When you open the flip book it will tell you exactly how to set the board up, and which square to place the different animals in. Depending on where you place the animals determines the difficulty level of the puzzle.
I have to admit, I love these types of puzzles although generally I am not good at them. And sure enough, I couldn't even complete the easy puzzles without trying a few times!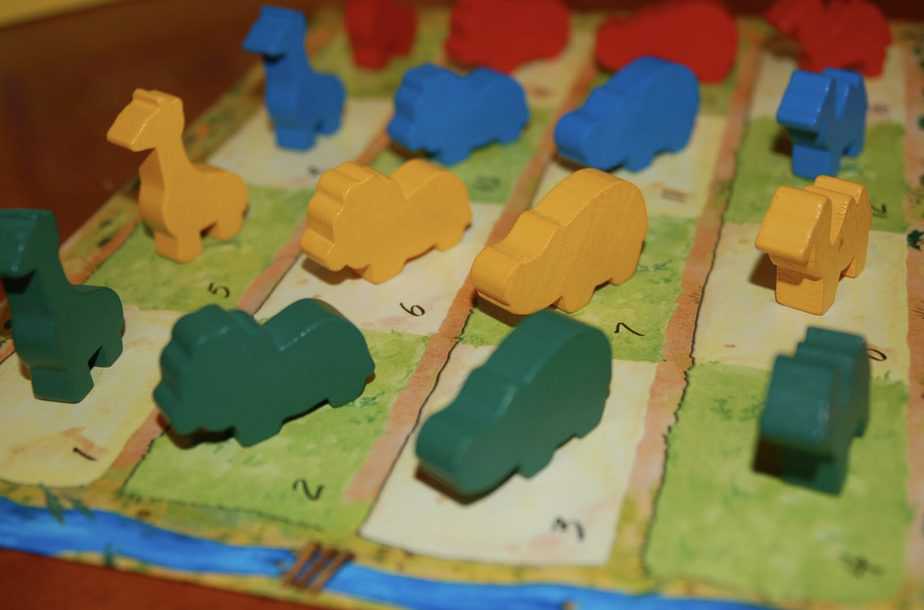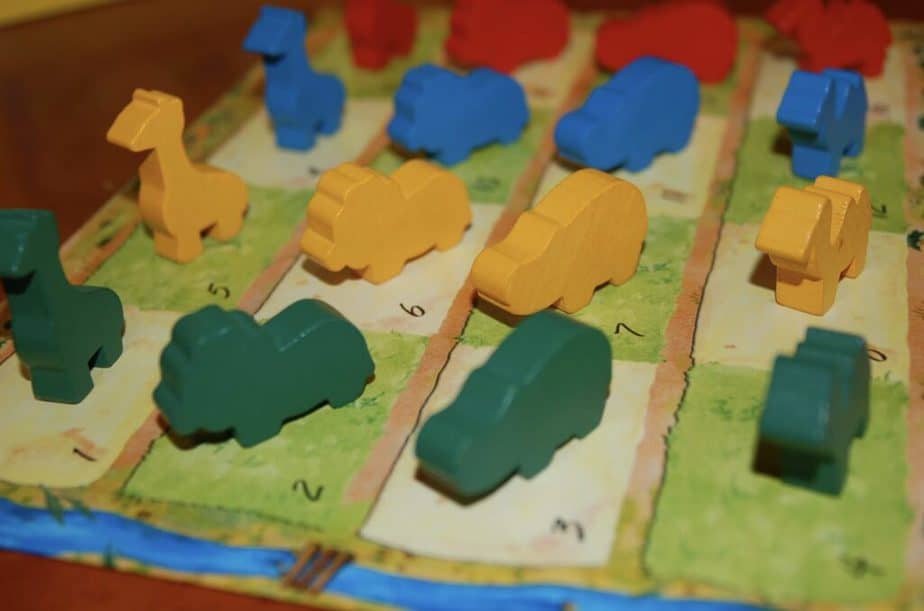 My kids are definitely way too young for this, so they couldn't help with the review, but my husband, his father, and I all took shots at solving these AnimaLogic puzzles! It's like playing a solitary chess game! We all loved the challenge!
I recommend this game for both classrooms and fun at home! It's a great brain-teasing mind-grinding puzzle that truly is for kids of all ages. Kids in elementary, middle, and high school will love the varying degrees of difficulty- as well as adults! There are 60 puzzles which would probably take me years to figure out! (I told you- I'm not very good at mind puzzles!!)
If you are a teacher and have a child in your classroom that is always done with their work early, I recommend purchasing AnimaLogic as a fun way to keep them "entertained" until the rest of the class catches up!
Want to stump your kids and see who can do the most puzzles? Grab AnimaLogic and make it a family date night! This is such a simple setup yet challenging game sure to keep you busy for hours- or, if you're like me- years!!