Tips on How to Keep Your Classroom & Kids Healthy from Dr. Jana + Lysol's NEW Power & Free with Hydrogen Peroxide Cleaners
This post may contain affiliate links, view our disclosure policy for details.
While at BlogHer last month I had the opportunity to learn more about Lysol's NEW Power & Free line which utilizes the cleaning power of hydrogen peroxide instead of bleach. That means no more tear-inducing odors and safer around kids and pets! I was really happy with the products that I tried. The toilet bowl cleaner I didn't even notice any smell and the cleaners definitely smelled much better too! As for cleaning power they have all seemed to work great so far! (just without the bleach odor!) And of course they still kill 99.9% of bacteria & viruses (when used as directed). I've been very happy with these new products!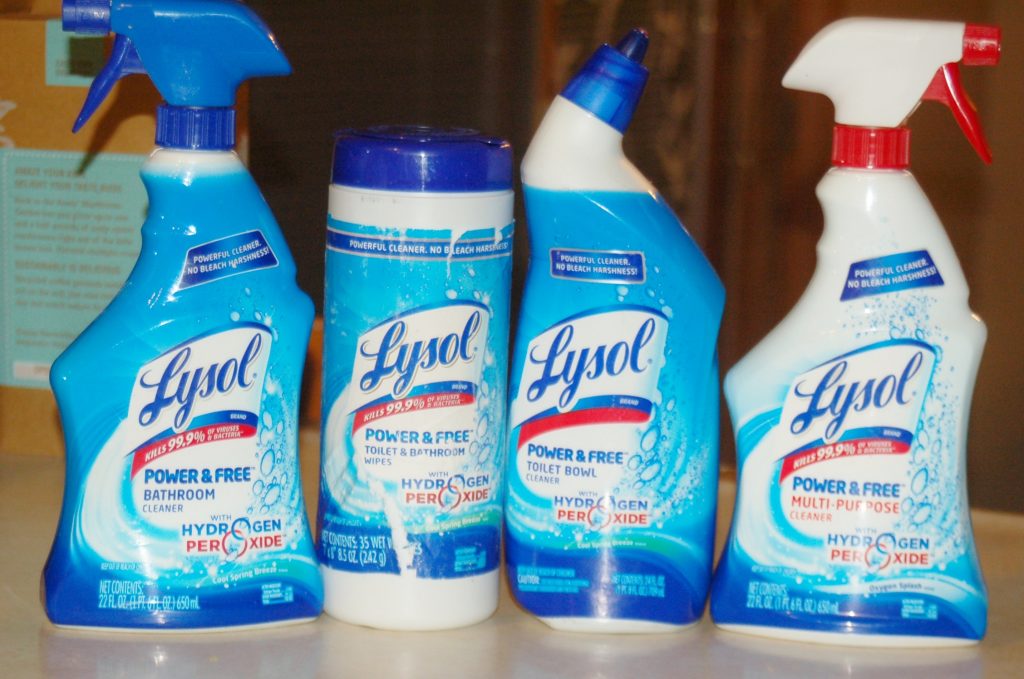 Also while I was at BlogHer I had the opportunity to interview Dr. Laura Jana, a well-known board-certified pediatrician, member of the Global Hygiene Council, and mother of three. She knows ALL about germs! I had read her tips on keeping kids at home germ free which I will include below, but I was also interested to hear her tips on how to keep your classroom germ free. Because let's face it – kids pass around a LOT of germs at school probably even more than at home! So here are a few of her helpful tips on not just getting rid of germs but also in preventing the spread of germs and ideas on how to get kids involved in cleaning.
AT HOME:
1. Turn Cleaning into a Game. Launch an assembly line, set a time limit, or play hide and seek to find unclean areas!
2. Implement a Rewards system. Use visual reminders such as a chore chart and come up with your own reward system.
3. Take time to educate. Teach kids about germy surfaces such as light switches, door handles, kitchen sinks, toilets, etc.
IN THE CLASSROOM:
1. Set a regular hand-washing time. (such as every time they enter the classroom)
2.  Worry more about not spreading germs than cleaning germs. You're already busy as a teacher, if a child can keep his germs contained in his area it will be easier on you than needing to constantly clean after 20 kids!
3. Soap and water clean BETTER than hand sanitizer because the soapy water will get in between the kids fingers where the sanitizer may not.
Read more on healthy classrooms here. Read more on healthy families here.
Disclosure: I was not compensated for this post. All products and information were provided to me courtesy of Lysol and Dr. Jana. Any opinions stated are my own.