Things to Consider Before Purchasing a Camper
This post may contain affiliate links, view our disclosure policy for details.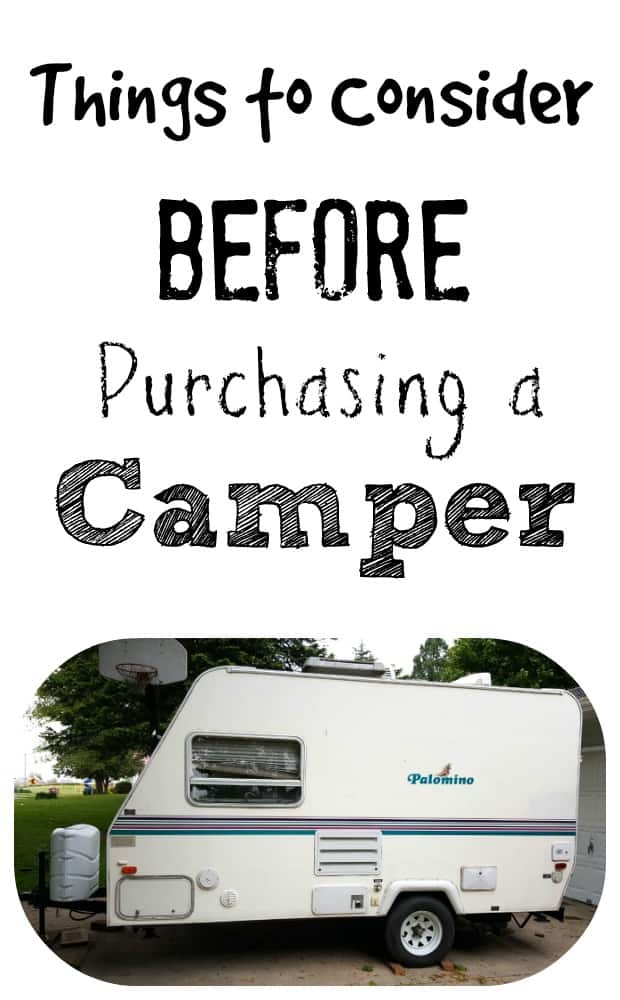 For the past 12 years my husband has been adamantly against camping (something about needing to sleep in a bed?!). I was SHOCKED this past Christmas when under the Christmas tree was a large rectangle package wrapped just for me. YEP! It was a TENT! EEK! I couldn't contain my excitement! (We bought this Wenzel 9 person tent
on a Black Friday sale.) Our family LOVES road trips but like many of you we can't afford to spend thousands and thousands of dollars on vacations. Even if I can knock my hotel budget down to $60-80 a night it still adds up over 2 weeks or more. And now that there are 5 in our family our ability to find hotels and all squeeze in one room are narrowing even more.
As our kids get older we our list of places we want to take them in the US is growing larger and larger so I knew we had to narrow down road trip expenses even more if we wanted to keep up on road trips the next few years. (This is our saving for travel method here.) Although we have talked about the idea of a buying a camper for several years now and saving for it we weren't quite sure what we were looking for so we just kept saving. Plus we have a minivan which can't tow that much. I'd LOVE an RV but let's not get too extravagant here – that's just WAY out of our budget – even a "cheap" used one. I knew we couldn't afford the maintenance costs on an RV. We did consider this type of camper set up but we ultimately went with a hybrid for the extra space.
Then it happened. We went to see one very very cheap camper someone in town was looking to dump quickly for $500. Just one look. That camper was unfortunately way too heavy for our poor minivan to tow but it really lit a fire in us to keep looking. Then we found it. An older but new to us affordable camper. (You can buy used campers for typically $500+ with a TON of options in the $1k-$6k range.) We never dreamed we would actually pull the plug and get one but for better or worse we did it. We figure it will be our learning experience. Our kids are at the age we want to make the most of our time with them before they are teens with jobs and eventually move out of the house. And we're taking our camper out TONIGHT for our first family camping outing! But we've learned a LOT of things the past month.
For example – the cost of the camper itself can be so much more depending on whether or not your vehicle is already set up to tow among other things. BUT don't let it deter you – buying a camper is the BEST investment our family has made together. So if you're considering purchasing a camper here are a few things to keep in mind that I wish we had know before buying. But definitely….you must buy a camper!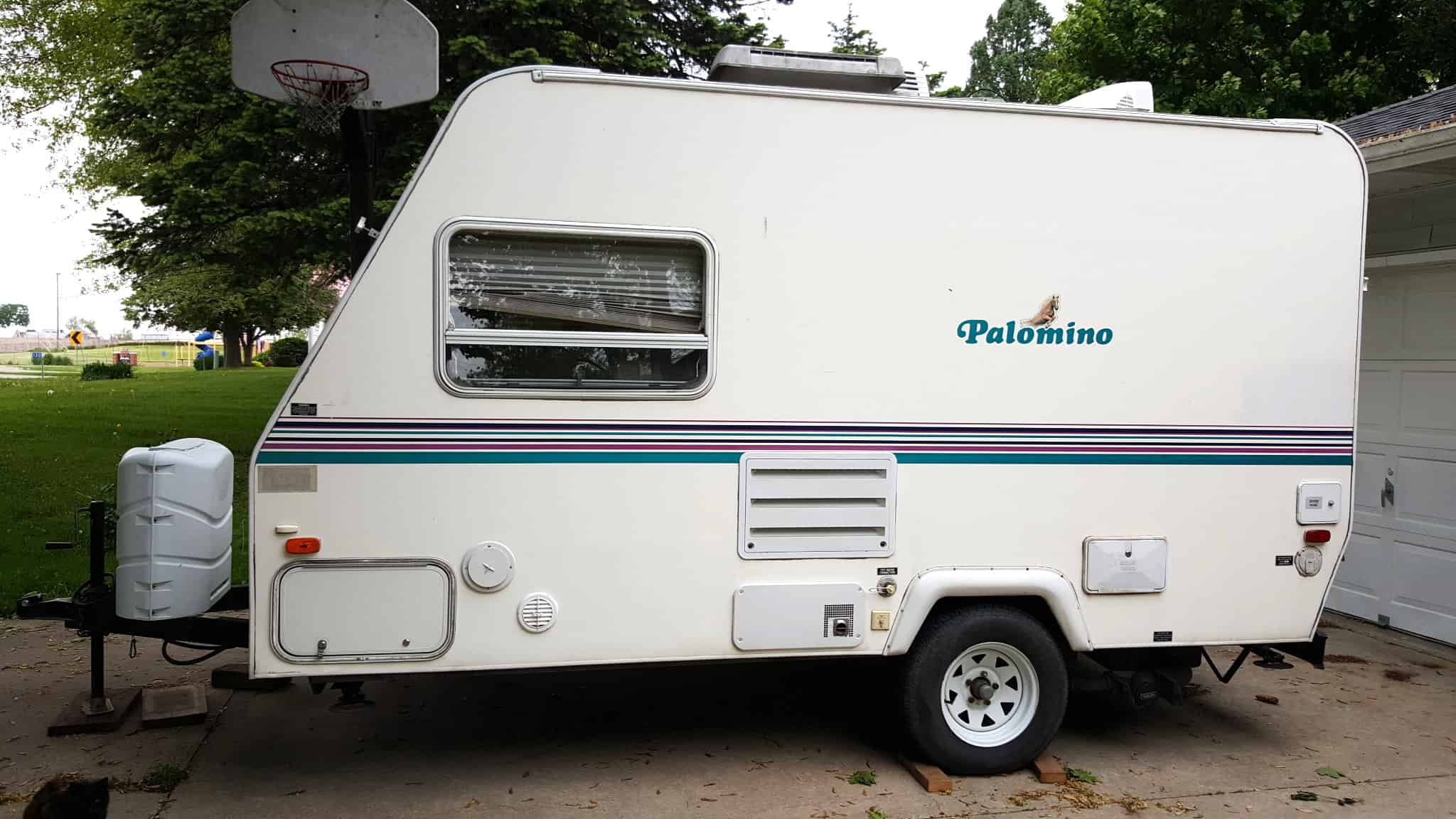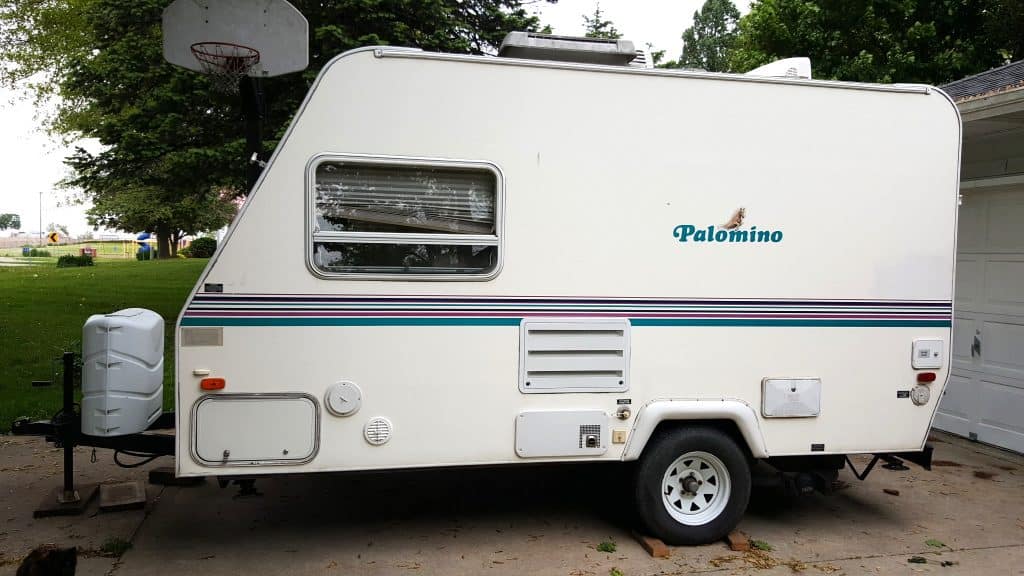 1.. Future Trip Expenses – This was the most obvious thing we considered. A camper is WAY cheaper per night than a hotel hands down, but sometimes it's more than tent camping – although usually only a few dollars more. (more below on overnight costs and tips) Sometimes there are different fees and options for hooking up (electricity, water, etc.) and of course if you have a bathroom in your camper you'll need to consider the possibility of dumping fees (although many places include dumping for free).
But you'll also need to factor in the difference on gas mileage, maintenance (tires, windows, seals, screens, etc.). Also consider if you're like us you may take more mini trips closer to home than you normally would because "it's so cheap" – but it's still an additional cost to consider. Overall for us – it's still cheaper to have the camper. We can make our own meals every day, lodging is anywhere from free to $25ish a night, and it's like traveling with a mini home! The cost of our camper will easily pay itself off in travel savings within 2-3 years.
2. Hitch & Tow Capacity – Ah yes, remember I told you we drive a mini van? Typically they don't tow much – at all. This was the biggest thing holding us back (aside from cost of course) the past several years. We couldn't figure out what exactly our vehicle could handle. After talking with several mechanics, referring to the car manual and reading a zillion online forums we finally put together what our vehicle could handle. However, in order to tow most vans will need an additional towing package installed.
Along with that you will need to have a ball hitch on the back of your vehicle. (obviously) This setup can run another $200-$600.  For our specific make and model Town & Country we also would have needed to install a specialty transmission cooling system which would have run about $600 except that again, we lucked out BIG time and found out that ours was already installed when we purchased it. As you can see some of these basic starter things are adding up already to a LOT of money if your vehicle needs to be modified. Many people don't need any of this which is AWESOME!
3. Sway Bar & Stabilizer – As newbie campers we found out about these things after buying our camper and giving it a spin in town. Although not required you may find yourself in need of at least a stabilizer depending on your vehicle and possibly a sway bar. So when we hooked up our cute little camper to our minivan we found that the van sits so low to the ground (compared to a big truck) that our camped leaned into the van and the middle tongue joint was dangerously low to the ground. Any bump we went over would hit the concrete.
Although we were able to partially adjust this by cutting pipes and can take it on close trips without a stabilizer we will definitely need to purchase one before heading on any longer trips. (a stabilizer will help redistribute the weight so that the tongue joint sits up higher off the ground) TIP – if you find this to be your problem try flipping your ball hitch around – it's made to sit higher on one side! It helps at least a few inches. A good stabilizer/sway bar can easily set you back a about 200 hundred dollars.
4. Taxes, Title Transfer, & Insurance – Ah, the nitty gritty legal details. YES – even if it's a pull behind camper it still needs to be insured! At least in my state – double check your state laws. You'll have to pay taxes based on the purchase amount, fees for title transfer (although usually nominal) and insurance costs each year. For us it added about $100 annually onto our insurance policy.
5. Propane – If you have any appliances or heater in your camper that runs on propane this will be an added expense. Or of course if you decided to use a propane grill. We have decided to use as much electricity as we can when we hook up at campgrounds to save on propane costs but don't forget to factor in the possibility of this cost! We specifically purchased this double portable cooktop burner to do our meals on which has been a life saver and completely worth the cost. We keep our Dyson Air/Heat fan in the camper with us instead of running the gas all night.
6. Filling the Camper – This isn't necessarily a cost you think of when considering the purchase of a camper but it's definitely one to keep in mind – especially if you're on a strict budget or tight income. Depending on your camper you may need things like sleeping bags
, bed sheets, RV safe toilet paper
, storage containers, pots/pans, dishes, towels, flashlights
, Command strips
, camping chairs
, cooking utensils, tarp, rope, screen/vinyl repair kits
, camper locks
, and a myriad of other supplies you may need while traveling. These are mostly all great to buy second hand and items you can purchase while you are saving for your camper.
Overall – if you're going to take your camper out more than once or twice a year, we feel it's definitely worth it. For us it's an investment in our family and making memories with our children. We can afford to road trip it out to Yellowstone, to Pictured Rocks State Park, out to Hollywood and the Oregon coast. Although the initial "startup" cost of buying a camper might make things a little tight in the long run it will save our family much more than the few thousand we put into it.
If you have or are considering a camper and I missed something on this list please leave a comment and let me know and I'll add it on!

A Few Thoughts on Lodging:
I'm not going to go into huge detail on lodging because there is plenty you can find by googling but a few thoughts and tips that might be helpful.
National Parks – If you want to stay at a National Park (like Yellowstone, Redwood Forest, etc.) I recommend getting a reservation as EARLY as possible – like 12 months before if you can. There are many places that don't take reservations and you can try your luck at driving in to see if they have open camping spots for the night but with smaller kids and the amount of miles we put on a road trip we personally want our reservations set in place. Note that many locations do NOT have complete hookups.
State Parks – This is where we have the most reservations right now since we only spend a night or 2 in one spot before moving on. These are typically CHEAP CHEAP CHEAP! I'm talking about $15-$20 a night. Some high traffic areas cost more but overall extremely affordable. Again make sure you see what kind of hookups the park offers, bathrooms, showers, electricity, dumping, etc. And some states (like Wisconsin and Michigan) require you to have a state parks pass in order to enter the parks including for camping.
Boondocking & Dispersed Camping – We don't have much experience with this yet but we will! It's absolutely FREE, there are no reservations, and they are usually outside of campground areas in the middle of nowhere. Great for peace and quiet, but remember there are no bathrooms, trash cans, water, electricity, etc. so it is primitive. I recommend a good strong Coleman lamp
for this!
Parking Lots – Need a free night or somewhere to sleep in a pinch? ALWAYS double check first but most rest areas, visitors centers, Walmarts, and other large retail stores or outdoor stores will allow you to spend 1 night in their parking lots. Again do some research and look around. Just know that high traffic area means more lights and more noise at night – but free is free.
Private Campgrounds – I use google and Roadtrippers to search for other nearby campgrounds. Not always but typically these cost a little more a night ($30-$40ish) per night but also have better amenities. Sometimes it's fishing
, tubing, laundry
, playgrounds, mini golf or other family friendly activities. You can always look for a KOA or Jellystone campground but again, a little pricier.
(PS – below is the best RV toy EVER!!! It is SO cool and comes with removable parts to play – and VERY affordable!)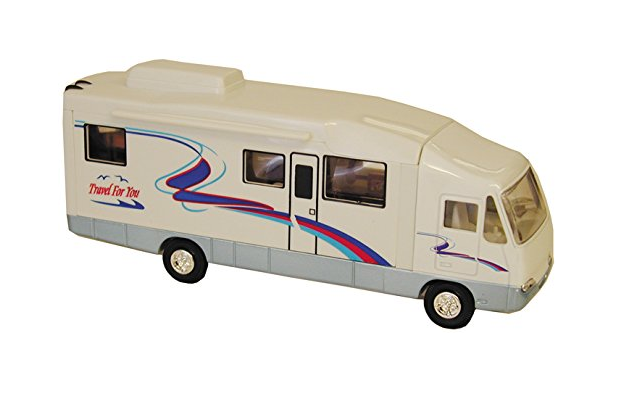 Specific Ways we Pre-Plan for a Road Trip: