FREE Google Hangouts for Classrooms Tech Webinar
This post may contain affiliate links, view our disclosure policy for details.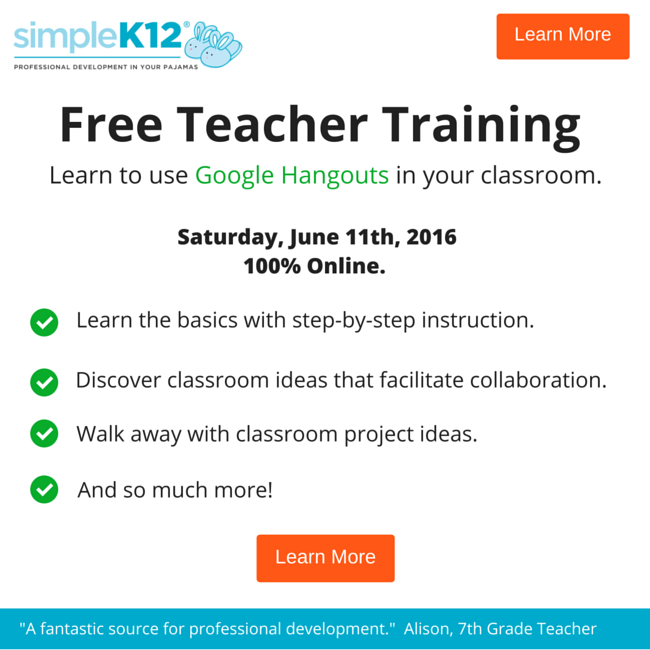 FREE Professional Development webinar for teachers – taught by 6 certified teachers with varying areas of specialty (Google certified, Edmodo certified, tech coordinators, etc.)! Trying to keep up with technology in your school or classroom? Check out this FREE Teacher Training on How to Use Google Hangouts in your Classroom! Last month they had a cool "How to Be a Tech Ninja" training! If SimpleK12 isn't on your radar yet it's worth a look into as they have free classes and trainings for teachers.
WHAT: Google Hangouts Training
WHEN: June 11 10AM-3PM EST
WHERE: Sign up HERE online!
How Much?: FREE!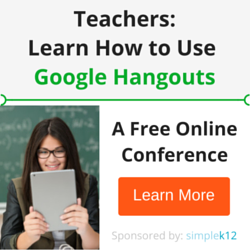 Areas Covered in the Conference:
* Chrome apps & Extensions for teachers (and HOW to use them!)
* TIPS & Tricks – (How to use Google Tools, docs, sheets, Hangouts, forms, etc.)
* Project Ideas from other teachers
* Engagement – HOW to use these tools in your classroom to boost engagement.
Get your spot in the class NOW!