The Best Complete Laser Tag Set for Kids with NEW Add Ons!
This post may contain affiliate links, view our disclosure policy for details.
I received the product below in order to facilitate this review. 
So I admit – I may be a little bias to this LaserX Laser Tag set after we reviewed it last year. My family loved it SO much that we saved up and bought several more sets so that when all of our cousins come over (10 in all!) they can run around outside playing laser tag at our house! It's been a HUGE hit, and you can read more in-depth details on the laser tag set itself in our original review. (It's like having permanent birthday party options in our own backyard!)
Not familiar with LaserX? Check out the video below:
I know quite a few have messaged me this year asking about high tech laser tag sets for kids – they are very popular right now and for good reason! I LOVE that it's a tech gift that gets kids running around and outdoors so it gets TWO THUMBS UP from me! Not to mention they are learning strategy and teamwork while they are playing! Having two boys ages 8-10 using LaserX has been an AWESOME way to connect with our kids. When my toddler is sleeping we grab our LaserX sets and compete against our kids in a few rounds of laser tag! They may be faster but mom and dad are stealthier!
This year LaserX has a Long Range Blaster as well as a Gaming Tower to complement their original LaserX Laser Tag sets. My kids actually knew about it before I did because they spotted it in Target while we were shopping.
Gaming Tower:

We'll cover my favorite one first – the Gaming Tower. You do NOT need the Gaming Tower in order to play laser tag – we owned all of our guns for a year before we received the Gaming Tower. BUT it absolutely brings an additional dimension of interactive play which is awesome! This was the one item my kids were asking for for Christmas to pair up with their LaserX guns.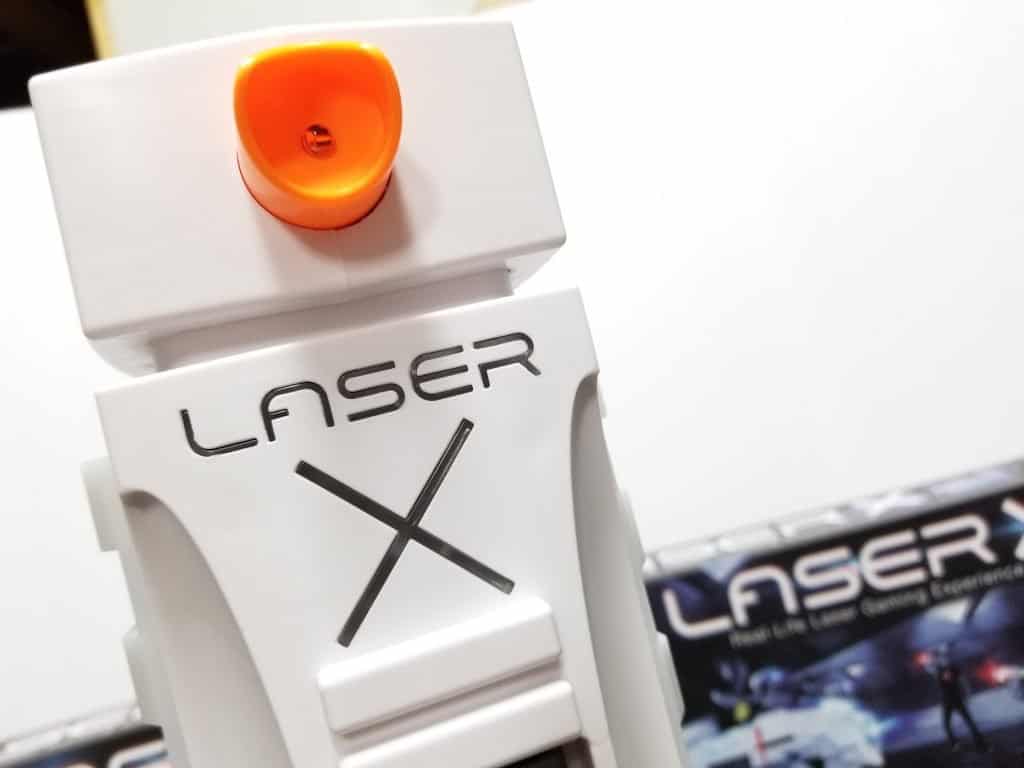 It has 4 single player games, 4 head to head challenges, capture the flag, and "repeater" mode which blasts EVERYONE in a 360* radius! This means kids can play laser tag by themselves when their grumpy siblings aren't in the mood to play! Those bottom grey "feet" fold up for easy storage and then you just fold them out to stand the tower up. I absolutely LOVE the variety of games that the gaming tower offers. It's also great for distracting kids when they start fighting over teams and who cheated who!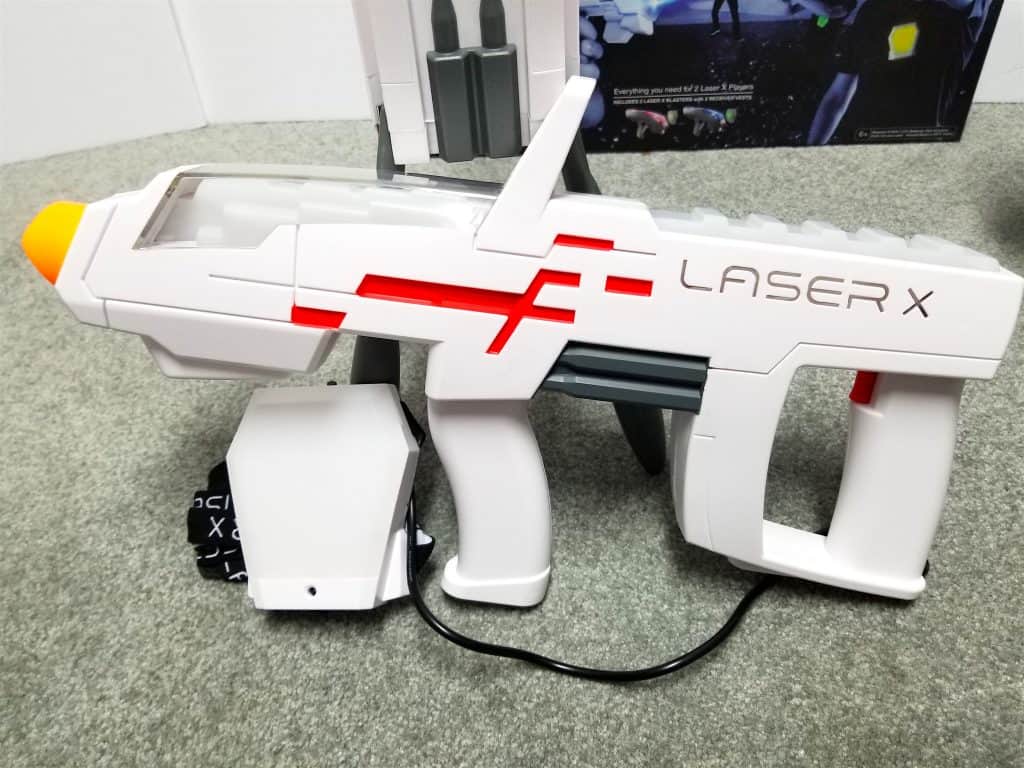 If you read my original review on the LaserX Laser Tag set you'll remember I was completely impressed with how accurate the laser tag guns were over distance. 200 feet to be exact. (and yes – we did test it!) (You wear a receiver vest that tallies your hits and after 10 hits you're out.) Well the Long Range Blaster gun goes 400 feet! It is, of course, compatible with your other LaserX Laser Tag sets. Don't worry, there are no REAL laser beams so the only safety concern is running too hard!
For my family, since we already have so many of the original laser tag guns and just 1 Long Range Blaster we have a "sniper".  The family (or cousins!) break up into teams against each other with the LaserX guns, but the sniper gets the Long Range Blaster. The sniper has NO team affiliation and their only goal is to take down every other player. Once one team has defeated the other they must also take down the sniper in order to win!
Overall – after a year I STILL HIGHLY recommend Laser X laser tag sets! The new Long Range Blaster gun is pretty sweet BUT if you could only afford one item on top of the guns I'd totally go for the Gaming Tower because it expands play in so many ways! All of them, however, are fantastic products and absolutely worth the purchase!
You can order any of these products directly from LaserX, as well as Amazon, Target!