Summer Reading Programs for Kids
This post may contain affiliate links, view our disclosure policy for details.
We love summer reading programs for kids and there are plenty to take advantage of! This is just a starter list so feel free to let me know about more summer reading programs in the comments below!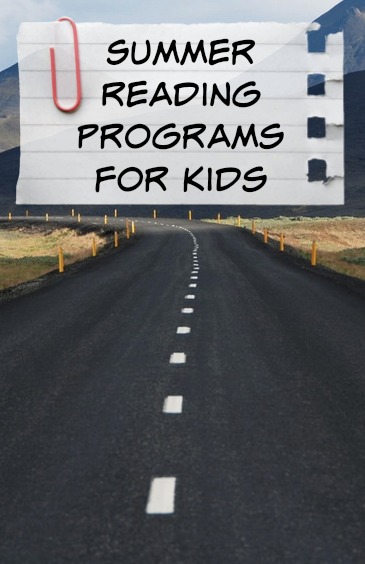 Summer Reading Programs:
Half Price Books – They are offering kids ages 14 and under a chance to earn Bookworm Bucks for reading 300 minutes this summer!
Showcase Cinemas Bookworm Wednesdays – Your child can earn a FREE movie ticket from National Amusements Theaters when they read a book and complete a book report.
Barnes & Noble Imagination Destination – This summer reading program through Barnes & Noble gives your child the ability to earn a FREE book after reading 8 books and keeping track of them in a reading log.
Local Public Library – Don't forget to check out your local libraries to find out which programs they'll be offering this summer. My kids have participated in several Summer reading Programs through the library and it always includes FREE books & prizes.
TD Bank Summer Reading Program – Read and keep track of 10 books this summer and your child will get $10 added to their Young Saver Account FREE!
Chuck E. Cheese – Earn 10 FREE tokens every time your child reads for 2 weeks in a row. Just fill out the form and bring it in to claim your free token.
Six Flags Read to Succeed – *only open to teachers and schools* – Students read books in exchange for a ticket to Six Flags!
Scholastic Summer Challenge – Log in your reading minutes to the Scholastic site and your child will be able to participate in a World Record challenge as well as earn digital prizes!
New York State Senate Summer Reading Program – This program is for New York residents. Children will receive a letter from their state senator.
Programs like these are a great way to encourage our children to continue reading throughout the summer months. If you know of any other programs that aren't listed here, please feel free to leave the information in a comment below.