HearthSong Fun Ride Zip Line Review
This post may contain affiliate links, view our disclosure policy for details.
Do you remember going on those awesome cable zip lines as a kid maybe at camp? When my son first started Occupational Therapy he began using their indoor cable zip line and I was so fascinated we began to look for our own (to put outside of course!). That's when I was introduced to HearthSong's Fun Ride Zip Line! We new we needed one and they generously agreed to work with us for our fun Spring Fling & Summer Fun event! My husband and I priced out how much it would cost us to put together our own supplies for a zip line, and HearthSong's Fun Ride came in at quite a bit cheaper than us making it ourselves! We were sold! Not only was it a fun and awesome idea for the backyard it is also a great idea for certain special needs children and it's extremely affordable! There are three different types depending on the length of the cable and the amount of pounds that it can hold but the one we received, the Fun Ride, included a 35′ cable and holds up to 100 pounds. It's currently priced at $54.98 and includes everything you need to hang up some fun! (minus the kids and the laughs of course!)
I loved that the outside of the box had the directions right on it! We were so excited to get the Fun Ride in the mail and the directions were very simple to follow. They are simply illustrated for those of us who are not quite as savvy at putting things together.
I can't believe that this is all you need to get your new cable zip line set up! It was SO simple! It took a little bit of time to set up but nothing my kids couldn't wait for. We didn't time it exactly but it took my husband about 25 minutes to set it up. Our trees were REALLY big so we had to revamp it just a bit which I'll explain later down the post.
We had never installed a zip line before so as we were waiting for the package to arrive we were thinking that it would need to be placed at an angle but it does NOT! When you install it both places that it is attached to need to be about the same level. The weight of the child is enough to pull them across the line. We were very fortunate to have two large oak trees almost the perfect distance from each other for this otherwise my husband would have had to sink a post on either side in concrete. My kids are younger (5 & 2 years old) so we didn't want the zip line high enough where if they let go & fell off they would get hurt. It's just high enough that my 5 year old can reach it but my 2 year old can't get to it with the help of an adult.
Above you can see how to tighten and loosen the cable. Although it wasn't difficult I suggest wearing gloves because it can be a little rough on your hands if you have to do a lot of adjusting.
Because our oak trees are extra large our cable wouldn't quite fit around it so we had to adjust slightly in order to put our zip line up between the trees. We were about 3 feet too short so my husband bought these eye hooks and screwed them directly into the tree in two different places to anchor it. It wasn't a big deal at all and we really wanted the Fun Ride Zip Line between the two trees so it worked out great!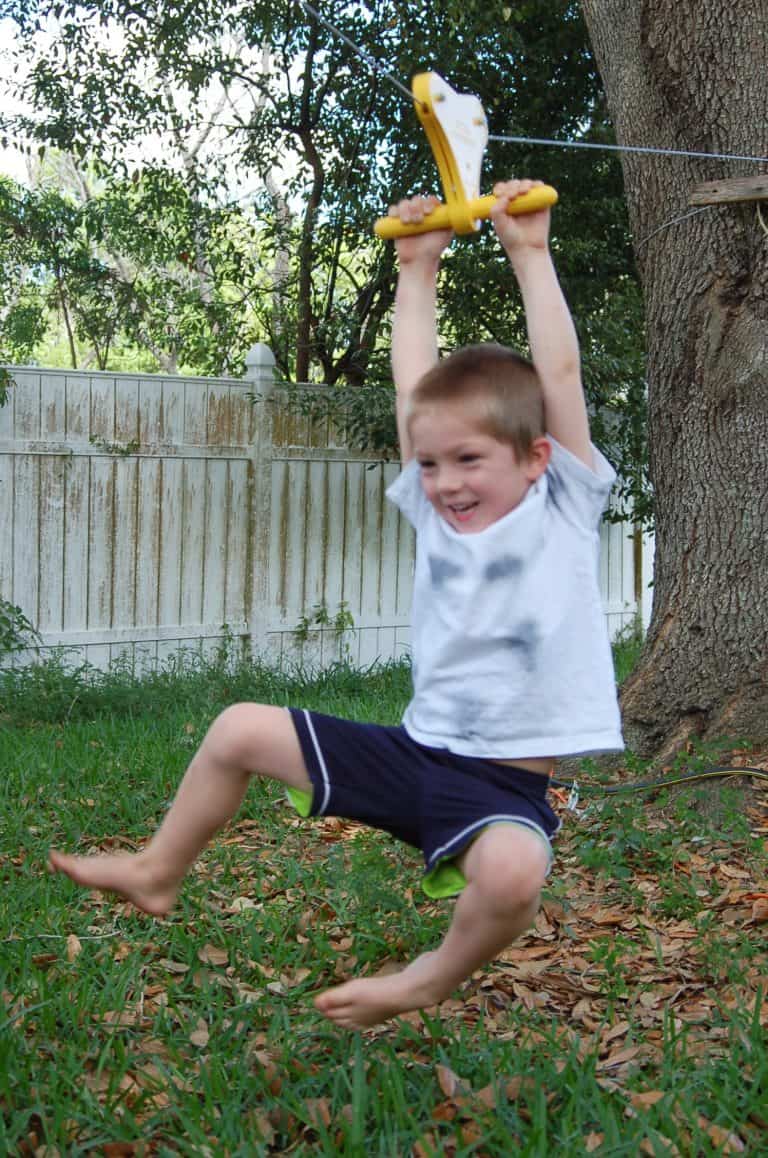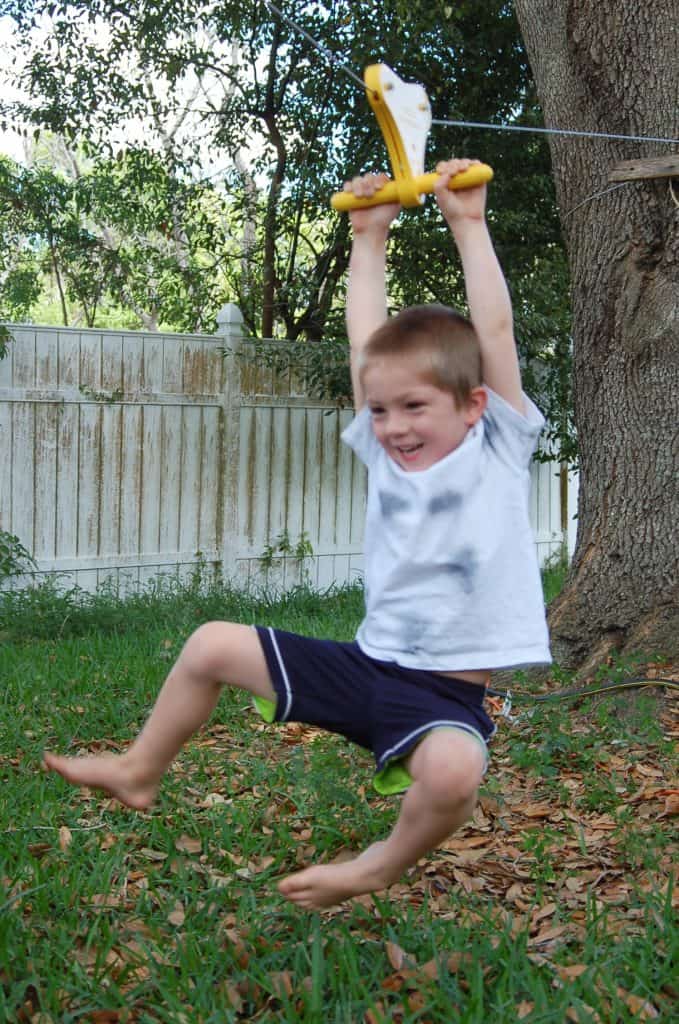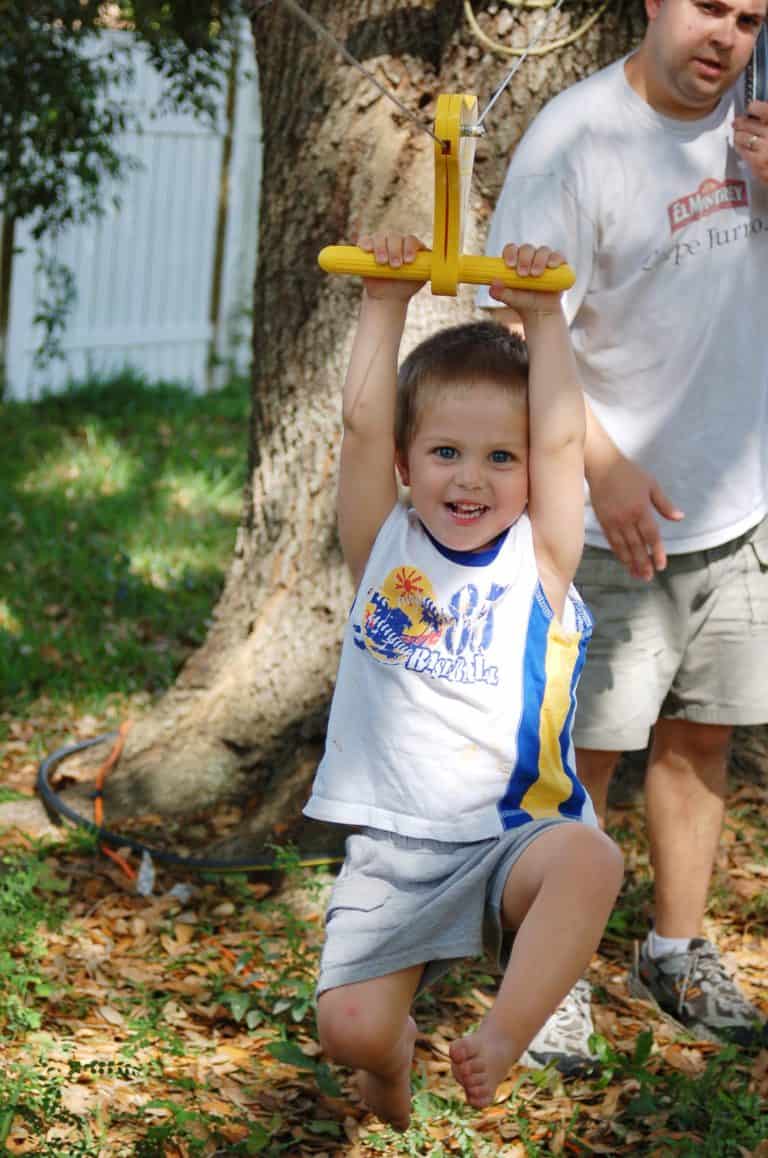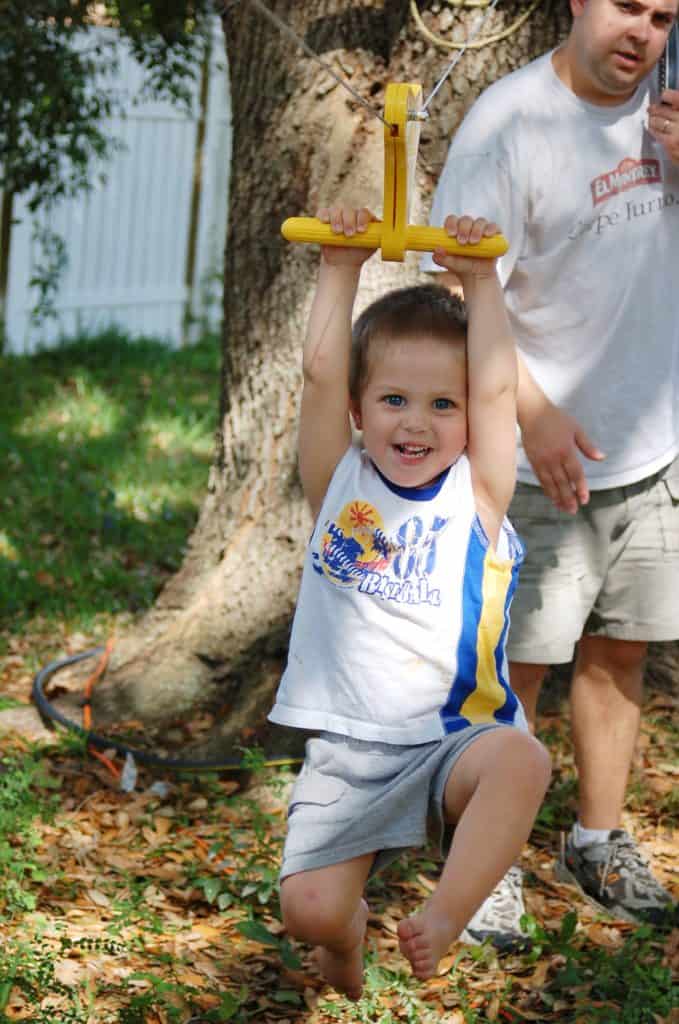 Hands down most awesome outdoor product ever! And SO surprisingly affordable. I thought for sure a zip line would be totally astronomical and out of our budget but at $60 it could easily be a birthday or Christmas gift!
OK OK – if you're like me at all you don't JUST want to see pictures – you want to see a video of it in action! He in mind that my little guy is only 2 years old, and we actually use this as "work" for my 5 year old (wouldn't you love that kind of work??).
GIVEAWAY HAS ENDED
Disclosure: I was not compensated for this review. I received the product shown in order to form my own opinions. All opinions are 100% my own. Giveaway is open to US only & ends at 12:01 am est on 5/5/12. Winner has 48 hours to claim prize.