SONIC's Limeades for Learning Voting for Teacher's School Projects
This post may contain affiliate links, view our disclosure policy for details.
I'm proud to be partnering with SONIC again on their Limeades for Learning® campaign for public school teachers! We obviously love teachers around here and I love brands that go the extra mile to help teachers and their classrooms out! SONIC is donating a MILLION dollars to teachers this month! If you're a teacher I invite you to join our Classroom Management & Engagement Resources e-mail list here!
YOU can play a huge role in getting public school teachers the supplies they need to make a difference in their students' lives! It's as simple as voting during the Limeades for Learning campaign! Check it out!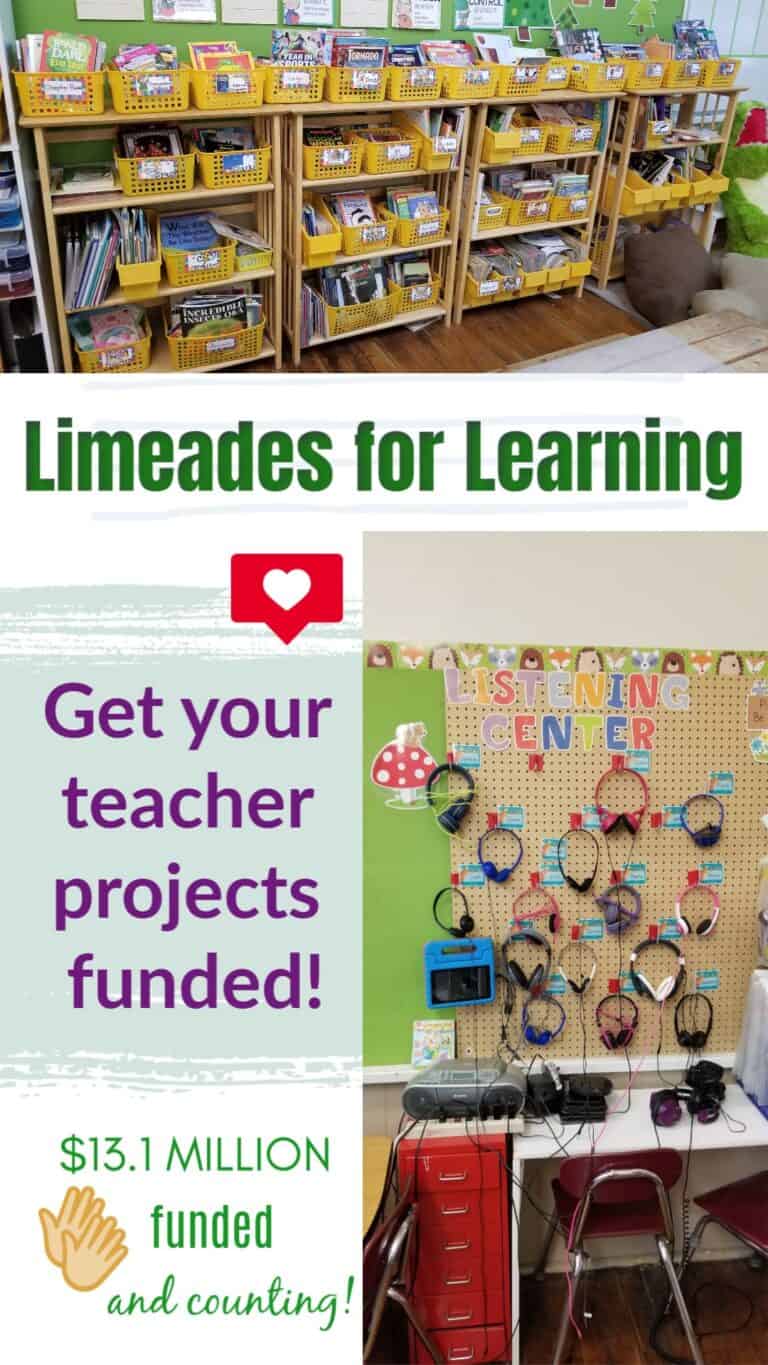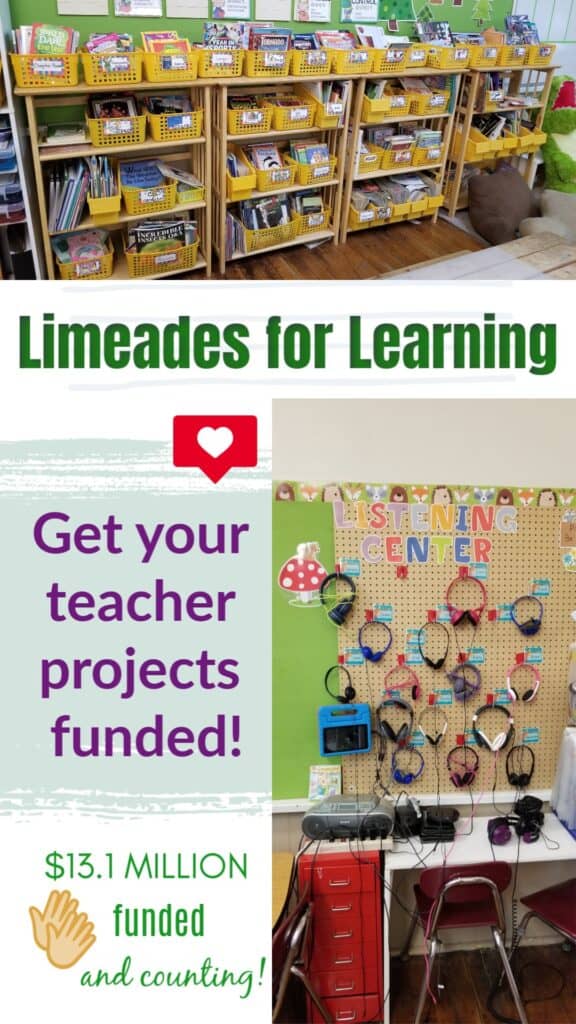 What is Limeades for Learning?
Limeades for Learning is a campaign that was started ten years ago as a partnership between SONIC Drive-In and DonorsChoose.org that has since donated over $13.1 million to public school teachers all over the country! That's reached almost a MILLION students! SONIC launched this campaign in support of public school teachers, classrooms, and students!
Teachers custom create projects with supplies and resources for their classrooms that they are lacking via their DonorsChoose project to request funding and Limeades for Learning is a great way to make those dollars stretch further!
Classrooms fill up with better resources and give children and teachers the educational tools needed to explore learning better! For more information on the Limeades for Learning program please visit www.LimeadesforLearning.com.
When is the Fall Voting Period?
The fall voting period for SONIC's Limeades for Learning is going on RIGHT NOW through October 27, 2019.
---
For Non-Teachers:


I'm a mom of three kids in school, my husband is a principal, I run my own business and I volunteer frequently at school – our time and our budget are both a tight valuable commodity! But voting in the Limeades for Learning campaign is such an easy way that you can help teachers at your local schools or your teacher friends across the country! All you need to do is visit Limeades for Learning, click on "Projects" and then find a project that you want to vote for!
You can search for projects by state, city, school district, subject area and more! OR if your favorite teacher or teacher friend has a campaign then just ask them for their link!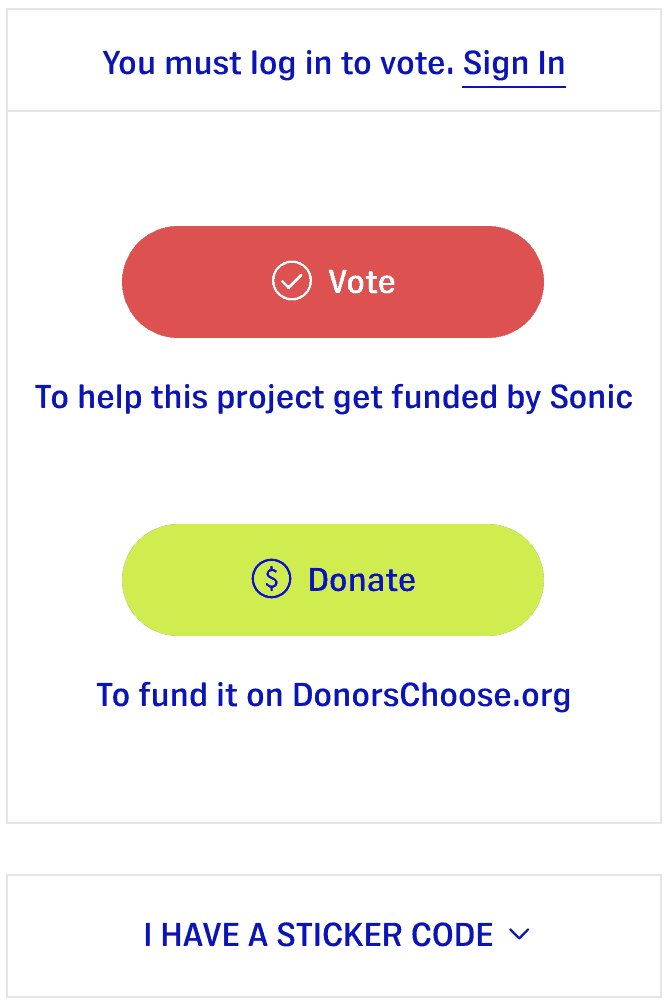 Once you've clicked on a campaign make sure you're signed in and then click "VOTE"! It's REALLY that easy! You can vote every day!
On each project page you ALSO have the option to donate to that teachers' DonorsChoose project OR to enter a sticker code from your latest SONIC Drive-In order which will give you additional votes. If you have extra codes that you don't need or want to use please send them to me and I will make sure to put them towards one of our teacher reader projects!
Pssst – If you've got a SONIC near you then you've got an easy dinner plan after school! Pre-order on their SONIC app and enjoy their monthly rewards!
For Teachers:
How do You Sign up for Limeades for Learning?

It's VERY easy for teachers to sign up for Limeades for Learning! Just follow these steps:
Create a teacher profile with DonorsChoose.org and submit your project!
Check the "SONIC TEACHER" box in your profile to be eligible for SONIC funding!
Find and vote for your project on Limeades for Learning!
Share your project link with family, friends and students and ask them to vote too!
Make sure you leave a link to your project in the comments below and I'll be dedicating my votes to our readers' projects!
How do You Get Votes for SONIC's Limeades for Learning Program?
This video lays it out perfectly!
There are THREE ways teachers can earn votes for their teacher projects!
Ask everyone to vote once daily (after signing up with a valid e-mail address).
Get TWO VOTES with a bag sticker code when you visit a SONIC Drive-In!
Vote 10 times and you'll receive an extra 3 votes via e-mail!
Don't forget to leave your project link below so we can vote for it!
Who receives funding from the SONIC Limeades for Learning campaign?
The teacher projects with the most votes at the end of each week will receive funding from SONIC! If you didn't receive funding that week, your votes will carry over to the next week!
---
$100 DonorsChoose Gift Card + $25 Sonic Gift Card GIVEAWAY HAS ENDED
Congratulations Valerie M.!
WOOOOOT! I LOVE it when brands partner with us to help teachers out and we've got an awesome giveaway for you this month! A special thanks to SONIC for providing us a $100 DonorsChoose.org gift card AND a $25 SONIC gift card to give away! One reader will win BOTH gift cards! Something special for you and something special for your classroom!
How to Enter:
Leave me a comment below! That's it! Leave the URL link to your Limeades for Learning project so we can vote for it or let me know who you are wanting to win this prize for! Make sure you put your e-mail address somewhere so I can contact you if you win!
Tiny Print: Giveaway open to USA addresses only. Giveaway ends October 20, 2019 at 12 AM EST. Winners will be contacted via e-mail and given 48 hours to respond before a new winner is chosen.